Question:
Can Someone Hack My Phone by Texting Me?
Every day, there are millions of people interested in how to hack text messages. Their reasons are not limited to the protection of a loved one (often minors), seeking and collecting evidence against cheaters, and verifying the loyalty of your employees.
Whatever the reason is, multiple online SMS hacking services have been developed and we have picked 6 best apps to hack sms messages. Go ahead!
What Can You Get from SMS Hacking Apps
Before start, you can have a look at what you can get from those hacking message apps:
View received and sent messages on target phone
You can read their text messages without their phone even without physical access to it. This means you can always keep an eye on their messages secretly without them knowing.
Get timestamps and names all SMS senders and receivers
You are able to get more details like date, time stamp, and names of each SMS message so that you can collect evidence and take actions if neccessary.
Messages keep updated in real-time in your end
All the text messages are uploaded to SMS hacking apps' online control panel that you can access from anywhere with a reliable online connection.
6 Best Apps to Hack Text Messages without Them Knowing
Compatibility: Android/iOS
Consumer loyalty rate: 96%
If you want to know how to hack someone's text message without them knowing, there are many exceptionally remarkable spying apps out there to reach your goal. And MoniMaster is the best hacking message app driving the market. You can also hack iPhone text messages online.
Renowned for the assurance it offers users through the effective monitoring of received, sent and deleted messages remotely.
And it even allows you to read Snapchat messages and monitor instant messaging apps like WhatsApp, Facebook, Line, Messenger, Snapchat and more.
Furthermore, it is relatively cheaper than other SMS hacking apps and presents varied 30+ hacking features.
The best thing about MoniMaster hacking application is you don't have to worry about being caught by target user as it works in stealth mode. Neither have you had to root the Android or jailbreak the iPhone. With built-in keyloggers, you are able to capture all entered keystrokes on the target device.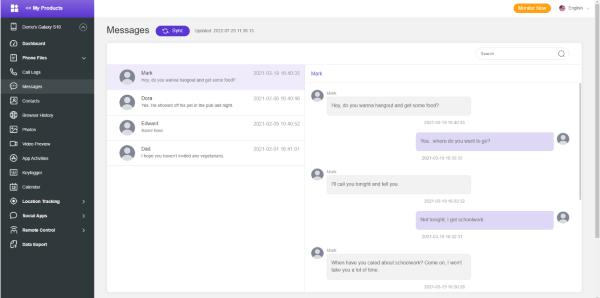 Pros
From its control panel, you can access ongoing update of SMS messages on the target device.

Has a user-friendly interface with a simple installation process less than 5 minutes.

100% discreet and difficult to distinguish.

No rooting/jailbreaking is required.

Free demo is available for everyone.

30-day money back guarantee.
Cons
You can only monitor one device for one license.

No telephone customer service, but with 24/7 online service.
2. FoneMonitor - 9.7/10
Compatibility: Android/iOS
Consumer loyalty rate: 90%
FoneMonitor is another reliablesms hacking app with charming highlights that are powerful and easy to utilize. It works out of sight of the checked gadget with no stable or commotion. FoneMonitor has been demonstrated to present multiple features amongst which are tracking cell phones and track a cell phone location, monitoring call logs, contacts, emails, messages.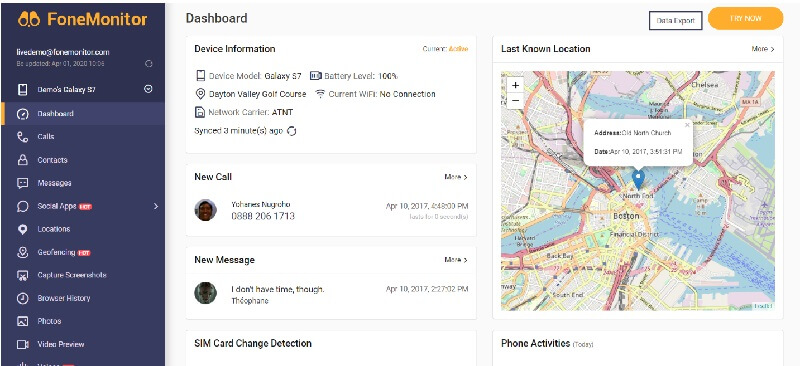 Pros
Monitors as many as thirty-nine data types on the target device.

Presents a live demo option.

No need to jailbreak or root the target device to spy.
Cons
You must have physical access to the target Android phone.

The installation process is difficult.
3. GuestSpy - 9.6/10
Compatibility: Android/iOS
Consumer loyalty rate: 87%
GuestSpy is a user-friendly application designed to hack text messages. It is compatible with both Android and iPhone. It lets you view all message conversations, names and date and time stamps of each chat. Along with regular spying features, it also supports location tracking.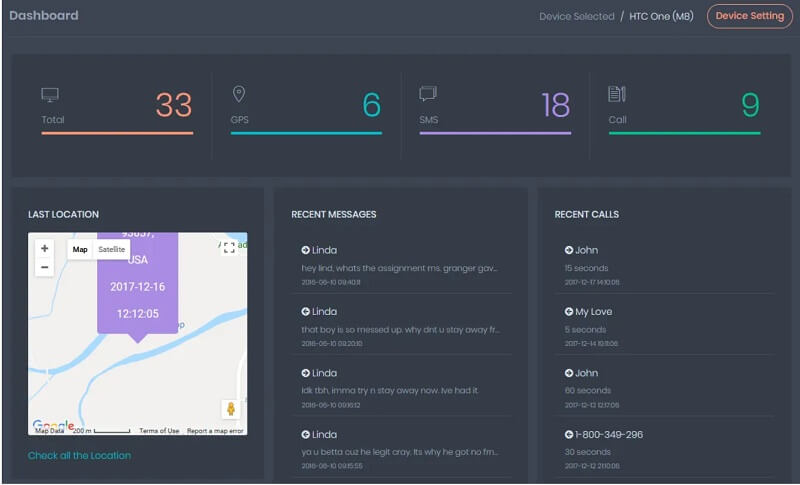 Pros
Fairly cheap pricing options.

Permits monitoring the multimedia files.

It gives you a chance to hack someone's phone remotely.
Cons
Not compatible with latest Android and iOS devices.

The app hangs sometimes when you run remote recording functionality.

Users cannot claim a refund because it doesn't have any quibble refund policy.
4. Hoverwatch - 9.3/10
Compatibility: Android
Consumer loyalty rate: 85%
Hoverwatch is created to hack text messages on Android device and thus allows you to view all the information received and sent by the target user. The information collected through this Android spy software is easy to access from any internet-ready device. Everything is uploaded to its web panel for you to review in your own time.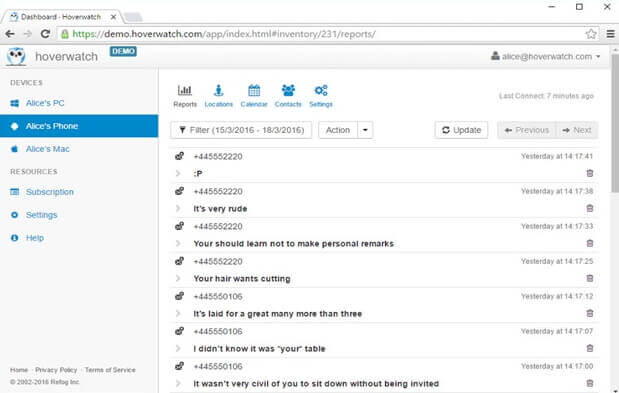 Pros
Works in stealth mode, albeit only on android devices.

With one account, you can monitor as many as five devices.

Allows you to recover deleted messages and other information.
Cons
The dashboard isn't as user-friendly as others.

Features are limited compared to other SMS hacking apps in this list.

You have to disable Google Play Protect to run this app which exposes the target phone to virus.
5. Mobile Spy - 9.0/10
Compatibility: Android
Consumer loyalty rate: 78%
Mobile Spy is a propelled checking programming application that permits simple cell phone hacking. It lets you monitor multimedia photo messages sent and received on Android devices. Besides, it enables its users to monitor others' smartphone usage in real-time. Because it functions independent of the device's call and message database to log activities, deleting usage history has no impact on the retention of the information.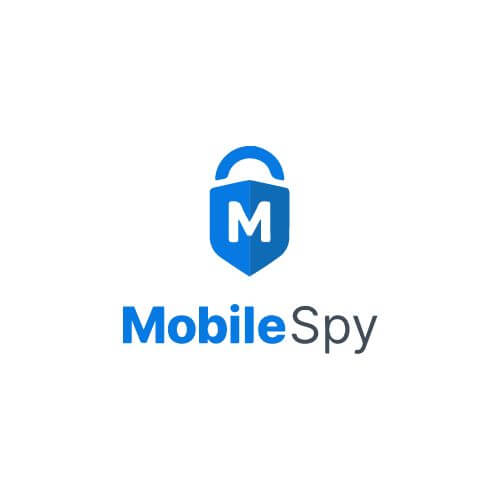 Pros
Get access to the amount of messages and calls.

Issues alerts on unapproved smartphone activities.

It has a fast and user-friendly installation process.
Cons
Not compatible with iOS devices.

The price is in higher place and not readily affordable.

Consumes more battery on target device.

It only has basic monitoring features and lacks advanced feature.
6. NetSpy- 8.7/10
Compatibility: Android
Consumer loyalty rate: 75%
With the help of netspy SMS hack, you can easily get the full access of the targeted phone, and you can read each message is send from the phone and received in the phone. With the help of this software, you can easily become a hacking expert by using and following the simple steps of the Netspy software.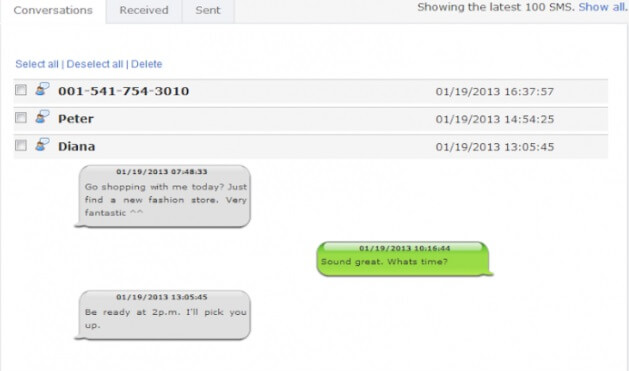 Pros
Real-time access to data is provided.

It can track messages that are erased from the target device.
Cons
Target's devices freeze sometimes.

It is not available for iOS users.

Lack of other essential phone hacking features.

Poor customer support.
Frequently Asked Question about SMS Hacking App
Question:
What is the best app for SMS hack online?
MoniMaster is considered as the best SMS hacking app for Android and iPhone. In addition to being relatively affordable to everyone ($0.27 daily), MoniMaster permits you to monitor basically everything happened on target phone in real-time, without being detected. Moreover, the app's developers are constantly striving to improve their products and users can get free updates all the time.
Question:
Can you hack text messages without having access to the target phone?
For iOS user, the answer is yes. One of the most significant features which make MoniMaster the best is that it has no need to install an app on target iPhone. What you do require is to install it on the computer often used by target user and you can start hacking text messages by scanning existing backups.
For Android user, it is not possible to hack text messages without installing an app on it. If any apps claim so, you should be careful because they are scams to steal your money. MoniMaster app'icon will hide from home screen and never pop up any notification after the installation on Android, so target user will never suspect it. If there is any chance to get the target phone, you can quickly set it up within 5 mintutes.
Question:
How often will the SMS uploaded to the MoniMaster online panel?
Live updates are continuously provided to the phone for as long as it is connected to a mobile network or Wi-Fi. You can access MoniMaster's online control panel to check data collected from target phone via any browser.
Conclusion
Here we have introduced 6 best apps to teach you how to hack text messages online. Amidst the numerous available options, as aforementioned, MoniMaster has been demonstrated to be the best alternative, presenting a myriad uses that surpass its competitors at a more affordable cost.