Why iCloud Parental Monitoring Is Important
Among smartphones, the popularity of the iPhone is high. And nowadays, many kids have their own iPhone for communication or learning. They can have access to the unfiltered internet, which may lead to their phone addiction and an insecure network environment.
To monitor the local phone files on their iPhone is not enough, the data stored in iCloud should also be monitored. This data may reveal what your kids do online.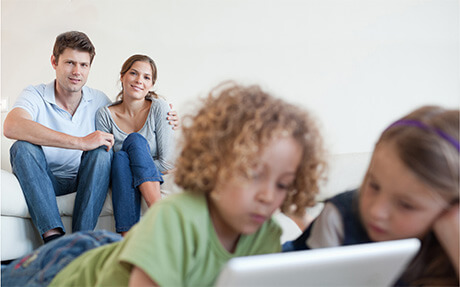 Check What Our iCloud Monitoring Tool Can Do
Our iCloud monitoring tool can help you to monitor a variety of data types on the target iPhone/iPad/iPod touch without being noticed by the user, and you can track the information you need remotely.
4 Reasons for Choosing Us
Online dashboard supported

You can check all the iCloud data on the online dashboard with no browser limitations.

No App installation solution

You have no need to install any app on the target device to ensure secrecy.

Access deleted data on device

It allows you to view not just the existing data, but also the deleted data on your child's iPhone/iPad/iPod touch.

Export the data to computer

Export the text-type data (other types of data in orginal format) to your computer as the format of CSV.
4 Reasons for Choosing Us
Real-time Locations

Photos

Videos

Contacts

Notes

Calendar

Reminders

iCloud Drive
Super Easy to Get Started with No App Installation
1. Sign up and Purchase

Create a valid account with email and select a plan that you want to purchase.

2. Verify iCloud Credentials

Enter the same iCloud account and password of the monitored iOS device.

3. Start Monitoring

Start monitoring the target iPhone or iPad remotely from the online control panel.
What Users Are Saying:

I can use MoniMaster iCloud to see what my daughter often does, who she usually contacts with and where she is. She's only 13, and to secure her safety, I choose to monitor the data stored in her iCloud, which can help me know if something unsuitable she looks through on the Internet could harm her.

MoniMaster is super helpful! This app is so powerful that I can monitor what on earth my son does with his iPhone. Since my son is always playing with his phone and seldom communicates with us recently.

The iCloud monitoring software is far beyond my expectations. It gives more than it costs. It took time to install but eventually I saw the photos and videos of my kid, which helps me better know what my kid is doing.

MoniMaster helps me to monitor the data on my son's iCloud secretly. I can also check his contacts, photos and videos he saved, and his real-time location. It not only gives him enough autonomy to use his iPhone, but also let me supervise his online activities.