Skype is a VoIP tool used for communication, and it can also be used for business for up to 25 people. After coming under Microsoft's roof, there were some changes, and the security was increased.
This tool uses a 256-bit AES encryption for all its calls and conversations. This type of security is difficult to bypass, but it is possible to spy on Skype. If you want to know how to spy on Skype remotely, check out the article below. It will introduce how to spy for both cell phone and computer.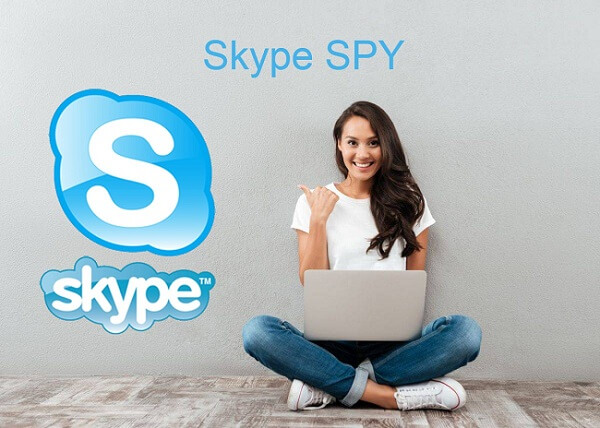 1. Can I Spy on Skype Conversations?
Yes, in a way, it is possible. Microsoft has provided the Skype Manager utility. It is a control center for Skype. If you can access it, you will be able to monitor Skype usage: you will be provided with the date, time, and duration of all the calls and conversations.
If you are an administrator, you will be able to view all the member's activities but after getting their permission. Getting permission is mandatory. Without permission, you will be able to view only the credit balance of the members.
But if you want to spy skype on cell phone, then rooting or jailbraking for the device is necessary. However, there are some third-party Skype spying tool available to access someone's Skype contents even without touching the computer or phone physically.
2. Why Spy on Skype?
Skype is a very popular way of communication, and it is also a default Windows tool that is used for online conversations by the companies. It becomes very crucial to keep track of employee conversations to ensure their integrity and prevent data leaks.
As a chatting platform , the monitoring of Skype can let you find the truth behind your child or partner's lies. Or this is a good way to improve your relationship.
3. Can Someone Spy on Skype Calls?
Yes, it is possible to spy on Skype calls using a capable spy tool. Unfortunately, not all the spy tools on the market have the capability to record or spy on Skype calls. Most of them come with the ability to monitor just the Skype conversations.
4. The Way to Spy Skype on Windows Computer
If you want to spy Skype on a Windows computer, the approach will be easy, and you will need to use a professional but simple tool that is compatible with the Windows OS. Our recommendation is Clevguard MoniVisor.
MoniVisor is a monitoring tool that supports Windows, and it has all the necessary features to successfully monitor a secure app like Skype.
The tool is excellent and provides a smooth experience to its users. What does it can get from someone's Skype listed below.
Features
Compatible with all the versions of Skype

All the chat conversations, incoming and outgoing messages will be available with respective time stamps

It also logs users videos chaps; you will be able to take screenshots of Skype calls

It runs in stealth mode, stays undetected by the task manager

Easy to use interface

Monitors remotely without touching

Compatible with Windows 10/8/7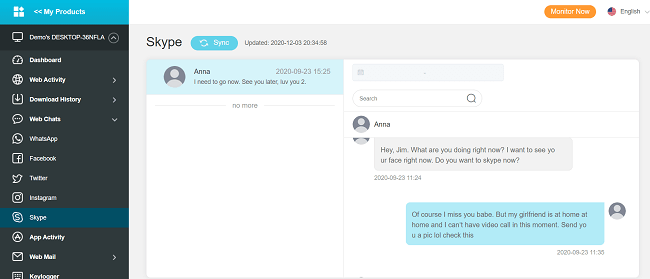 These are the available Skype monitoring functions available with the MoniVisor. Now, if you want to know how to monitor employee Skype chat conversations, check out the steps below.
How to Spy Skype on Windows
Step#1: Create an account and then click on 'Monitor Now'. Complete the registration and purchase a suitable plan. The created account is your only credentials for the further monitoring.
Step#2: After that, you will be sent to the 'My Products' Page. Click on the 'Setup Guide' and follow the detailed instructions.
Please follow the guide to download and install the software to target's computer correctly, and then use the account to activate the Skype spying feature. After the successful activation, the toll will be launched, and then it will disappear from the screen.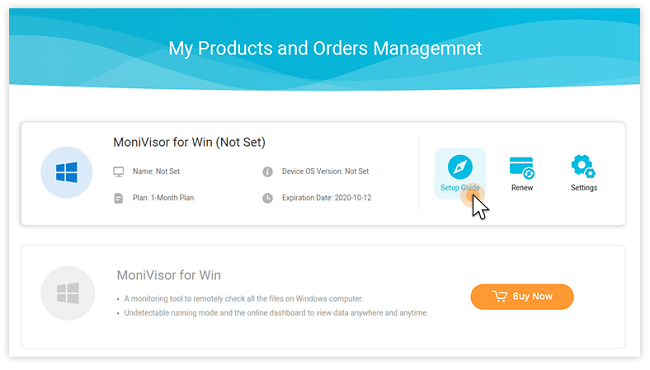 Step#4: Now, you need to visit the MoniMaster website and login into your account on your own computer. Click on the "Dashboard' option to find Skype monitoring under Web Chats tab, and all the recorded Skyped data will be visible to you.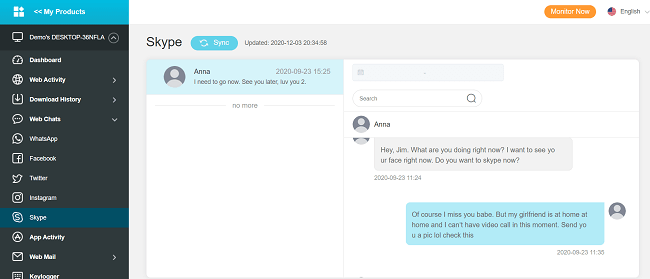 The first time data sync takes a bit longer than expected. But there is nothing to worry about. Just wait and let the data sync complete. After that, you will be ready to monitor all the Skype chats and calls from your computer remotely.
5. The Way to Spy Skype on Phone & Tablets
If you want to spy on Skype on a mobile phone or a tablet, you will require a spy tool that is compatible with the Operating System of the target device and, of course, has the capability to record all the Skype chats and calls.
4.1 What should you prepare for someone's Skype Monitoring on Phone and Tablets?
The preparation for Skype monitoring on someone's mobile phone or a tablet is a bit difficult.
First, you have to jailbreak or root the target device. It is a difficult task. But somehow, you have to access the target device and complete the procedure.
After that, all you need is a suitable spy tool ( such as mSpy) and be ready to spend money. As you have to purchase a plan from the said tool before you begin monitoring.
4.2 The General user guide for you to spy Skype on someone's phone and tablets
If you want to monitor Skype on someone's phone or tablet, you have to be ready. Just be sure to complete the tasks we have listed before. Note that this kind of spy app can only support the old iPhones running from iOS 7 - 9.
So, after jailbreaking or rooting the target device, acquire a suitable Skype spy tool. Then, follow the steps below. Here's how to spy on Skype remotely…
Be sure to purchase a suitable plan for the tool that includes all the features you require.

Complete the registration process and proceed.

Install the spy tool on the target device.

Complete the configuration

From your device, login to the account you have created.

Start monitoring Skype on the target mobile to tablet, remotely.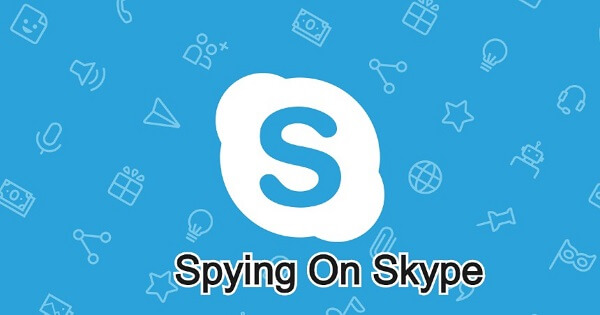 6. Can Skype for Business be Used to Spy on Employees?
Yes, Skype Business can be used to spy on employees. Most companies use Skype for monitoring the activities of their employees. But it is a different type of monitoring.
Unlike MoniVisor, you won't have access to anything. But Skype Business generates a report regularly that contains all the employee activities.
Summary
Therefore, you can spy on Skype. If you want to do it on someone's phone to tablet, you will have to work twice as hard as you have to jailbreak or root the target device.
This is not an easy requirement. But when it comes to spying on Skype via Windows PC, you will find it much easier using MoniVisor. Its use is simple, and you are only required to install the tool on the target device. Moving forward, the tool will gather data by itself, and you will be to monitor them remotely.