Do you worry that your spouse is cheating on you? Are they spending too much time on the computer? When you have an inkling about your spouse cheating on you, it can really mess up your mind and make you stress about it a lot.
The only way in which you can put your thoughts to rest and stop stressing about the whole situation is by figuring out the truth once and for all. While there are many ways in which you can do this, the best way to find out if your spouse is cheating on you is by checking their activities on the computer. This article will tell you everything about how to catch a cheating spouse on the computer.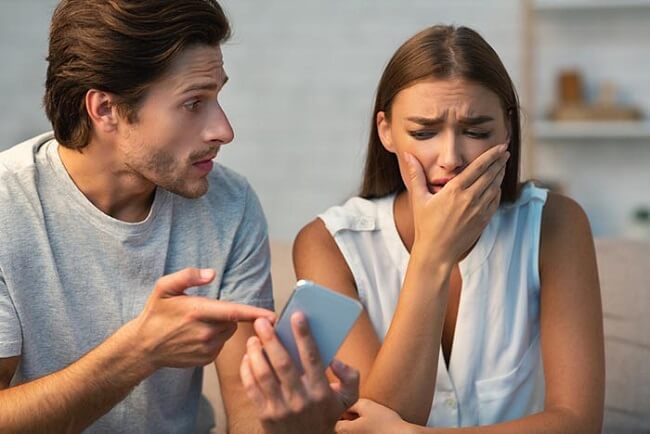 1. The Signs of a Cheating Spouse While using Computer
There are many give away signs that may indicate that your spouse may be cheating on you. A few signs which can point towards them being dishonest or hiding something are given below.
Your spouse may be searching for something in private mode. Almost all the browsers on computers feature incognito mode surfing. This means that whatever the user searches in this mode, it won't be shown in the "History" category of the browser. This can indicate that your partner may be trying to hide something from you.

You can also look for folders that have been renamed. They may contain some files which your partner may be hiding from you. Also, there may be a few hidden files and folders on the computer as well. If such folders exist, that can be a sure shot sign of your spouse cheating on you.

Another sign of a cheating spouse is when they have a secret chat on a web social platform and not on their phone. This can indicate that they are constantly in touch with someone, and they do not want you to find about this.

You can also check if your partner has been sending out email messages to an unknown receiver. Emails are also a form of communication that can be used by your spouse for cheating. This is why you need to look for signs even there.
If the above signs seem familiar to you, your spouse may be cheating on you.
2. The Software to Catch Cheating Spouse on Computer
Do the above signs seem familiar to you? If yes, then you need to find a way to catch your cheating spouse. You can do this with the help of a computer monitoring software like MoniMaster MoniVisor. This software is an excellent monitoring tool that helps you keep a check on your partner's activities on the computer.
Features of MoniVisor:
Social media monitoring: Through this software, any incoming or outgoing messages on the web-based social media platforms can be checked. Such a feature will let you see with whomever your spouse is chatting with. It include WhatsApp, Facebook, Twitter, Skype and Instagram.

Track activity on the internet: The activity and browsing history on all the popular internet browsers can be tracked with the help of this software. The website URLs visited by your spouse on the computer can be directly launched to check the content on it.

Read emails: All the sent and received emails can be checked with MoniVisor. Almost all the details regarding the email activities on the target device can be checked with this software. The subject of the email, timestamp, and the content of the email can be checked easily. Include Gmail, Yahoo mail and Outlook.

Auto screenshots capturing: You can set this software to take automatic screenshots of the target computer screen at specific time intervals. This will let you get an idea about the current activity on the target computer.

Keystroke recording: The keylogger feature of this software will record every keystroke made on the keyboard. Through this, you can get an idea about emails sent, content searched on browsers, and so much more. Even the deleted keystrokes or the keystrokes used in incognito mode will also get recorded by this software.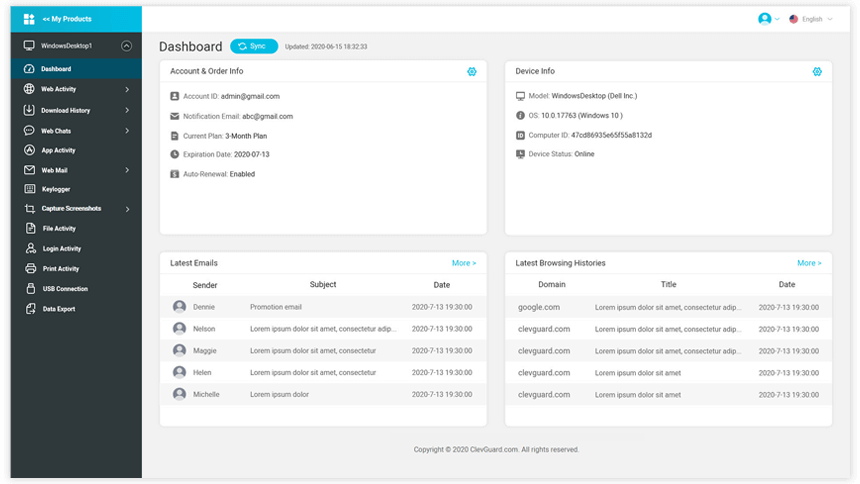 3. How MoniVisor Catch a Cheating Spouse on Computer?
If you wish to use MoniVisor on target computer to check the activities on it, you can follow the steps given below. You will need to physically access the target computer once to install the software on it.
Step 1: Create an account on MoniVisor using a valid email address by clicking the Sign Up button below, and choose a suitable plan from the given options.
Step 2: After purchasing, you will get into the My Products page to check the Setup Guide.
Follow the on-screen instructions to setup the software and make the necessary changes in the configuration of your partner's computer and download the software. This may take about 5 minutes from you and you should activate the tool with your licensed account info, and then the software will go to the hidden running mode.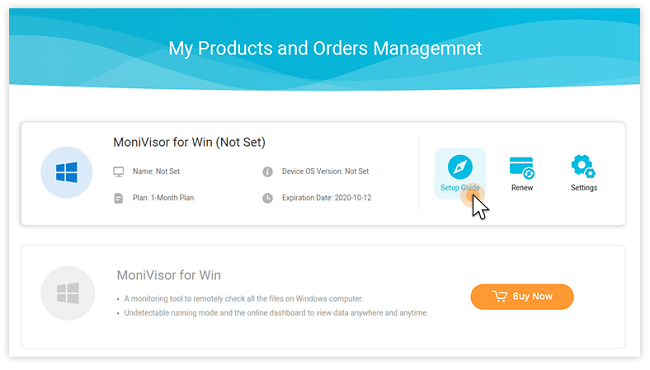 Step 3: Use the online dashboard to monitor all the activities on your partner's computer.
Here you have already finished the configuration of MoniVisor, the only thing you should do next is to go to the online dashboard on your own computer to access all the data.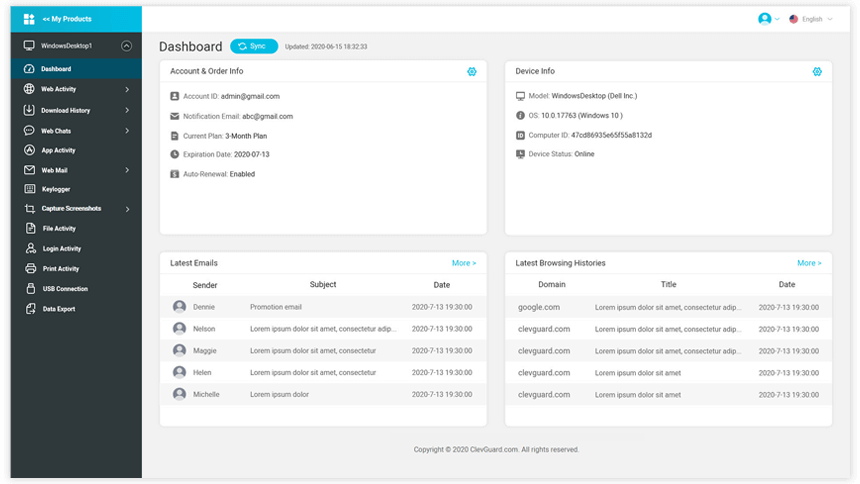 You can use your MoniVisor account and login to the online dashboard using any device, and monitor the target computer.
4. The Reasons to Choose MoniVisor
MoniVisor offers plenty of advantages when it comes to monitoring a computer. Here are a few reasons why you must prefer this over the other computer monitoring tools.
It offers plenty of useful computer monitoring features like social media chat monitoring, email tracking, keylogging, etc.

This software monitors the target computer in stealth mode without letting the target computer user know.

It is very safe to download and use since it is 100% virus-free.

You can easily login to the online portal at any time from any device to check the recorded data.

The user's data and privacy remain protected with this software, and nobody other than you would be able to access the data.

This software is very stable to use.

Clear instructional videos and guides are readily available, making it easy for even a novice user to use this software.

All the latest upgrades in features and functionality of this software would be provided to you for free.
Summary
If you ever find yourself doubting your spouse and worry that they are cheating on you, this article can be very useful for you. Although there are many ways in which you can keep a check on the activities of your spouse on the computer, the best way would be to use a monitoring software to catch cheating spouse on computer. MoniVisor is a highly recommended computer monitoring software that can be used for this purpose.