Employee monitoring in the earlier days was limited only with the camera, but now there are new ways and means to check whether the working staff does what they are supposed to do. With the modern advancement and technology, there are various employee monitoring software free for both computer and mobile phones, it gives you an insight into everything that you must be aware of.
It is not a bad decision in order to track your employee, in fact, even staff nowadays knows the importance of having such software. This enhances business growth and results in the smooth functioning of the business.
Part 1: Top 5 Employee Monitoring Apps Working on Phone
Some of the company gives smartphones to a few of the staff. This is because they may be handling work related to phone calls or emails, messaging and so on. Or this very reason, it becomes crucial to look at whether the work phone isn't used for any other purposes.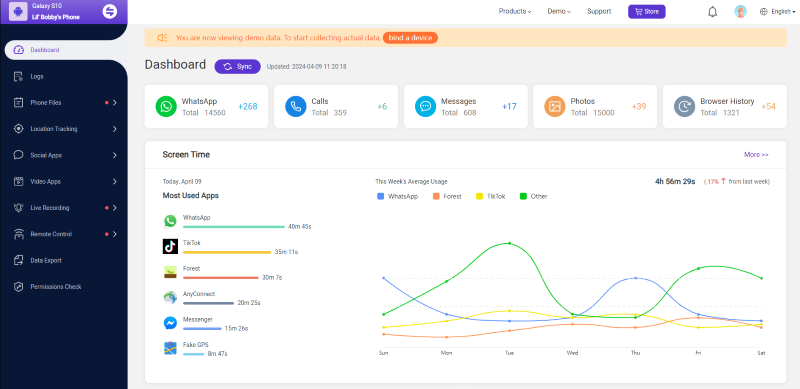 This one is one such software design solely for individuals who really want to know what is going on behind their back. Thus this software lets you track the smartphone. It gives you information about what the other person is doing. It gives you access to various data, and you can choose the panel of data that you want to track.
Keep an eye on the details of sent and received messages. You can know if they are talking any sensitive things or not. Deleted messages could also be detected.

To check if the employee have a close phone connection with competitor: you can know the phone number, caller name or the accurate duration and date.

The most frequent email contacts will be displayed.

Track the real-time locations of the employees if they have something to go out.

Record all the keystrokes on the phone.

Access the daily app activities of employees.

Know the browser history of any browser on mobile phones.

Monitor all the contents of social apps like WhatsApp, Kik, WeChat, LINE, etc.

Real-time screen monitoring.

You can even export the data on employee's phone.

Very easy installation.

The app will never be detected.
2. Hubstaff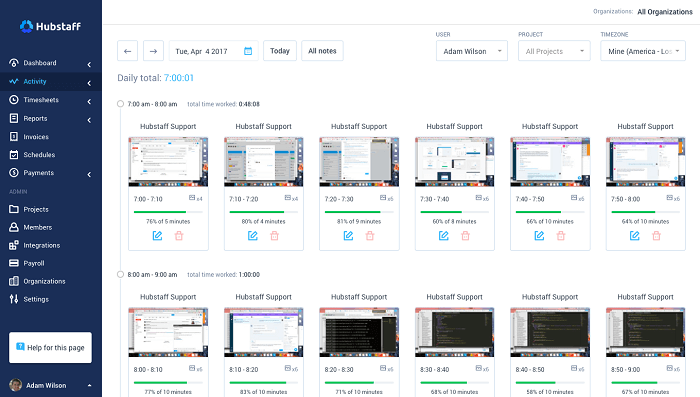 One of the most renowned tracking and monitoring software is the Hub staff. This one is real-time tracking software which is able to runs on your computer as well as on your smartphone for Android and iOS OS. The installation process is pretty simple, as well as it isn't a big deal to use it because it is convenient. You do not have to possess the professional knowledge to run this.
Time tracking.

A high-level and deep dive into productivity data.

Track apps, URL, activity percentages, and more.

Easy online schedules and attendance tracking.

GPS and location tracking.
3. Spyzie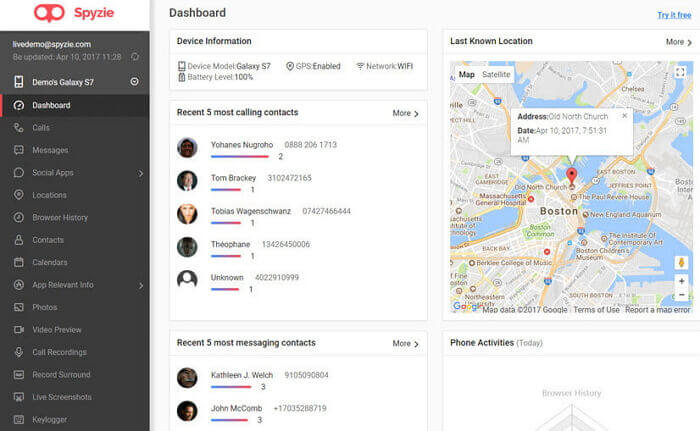 This one is a web-based as well as phone tracking employee monitoring solution. This software is extremely impressive. It allows you to get access to a variety of features. You can easily track your employees as well as your kid's activities on a mobile phone. You can check their message along with their contact details, call logs and much. You can use this tool to easily hack any smartphone that runs on android and iOS.
It captures through Screenshot.

Time tracking.

Gives you access to different social media details: Facebook, Instagram, Snapchat.

You can check the browser history.

Get informed about the call log, contain details.
4. Qustodio Monitoring for PC
It is proven to be the best third-party employee tracking app; this is mainly designed to work in Windows, Android operating system, iOS and so on. You can easily download the software for free. It lets you make use of various features that can help you identify what your staff is doing.
Track activities of the employee.

One can block online threats by using this application.

Set time limit and take a screenshot at regular interval.

Control the usage of games and apps.

It provides live notification if the employee enters or leaves the virtual circle you set for them.
5. VeriClock Monitoring Software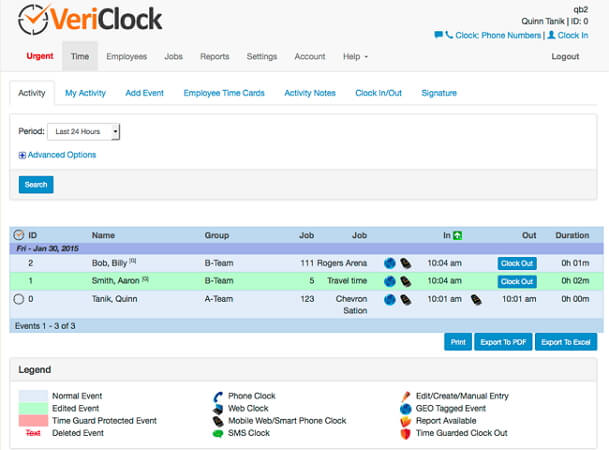 This one is solely cloud-based employee time tracking as well as monitoring service. It is one of the most popular employees tracking software's that does feature multiple things for employer. It works on various platforms like Windows, Mac, iOS and Android operating system too.
If you are a business owner, you must have this as it helps you spying on any of the employees you feel is supposing seem to be weird or behave differently. But it emphasize more on employee time management rather than employee monitoring.
Real-time monitoring of employee.

Smartphone punch clock.

Secure server.

Digital signature.

Verification tools.
Editor's Choice: Out of the 5, MoniMaster is no doubt the best one. It is important to install the software on the phone prior and then give the smartphone to your employee. It won't be visible in the targeted phone. However, you can easily access what is going on.
Part 2: 5 Employee Monitoring Software Free Working on Computer
Wondering how to track employee computer activity? Here are few best apps to help you out:
1. TeraMind Employee Monitoring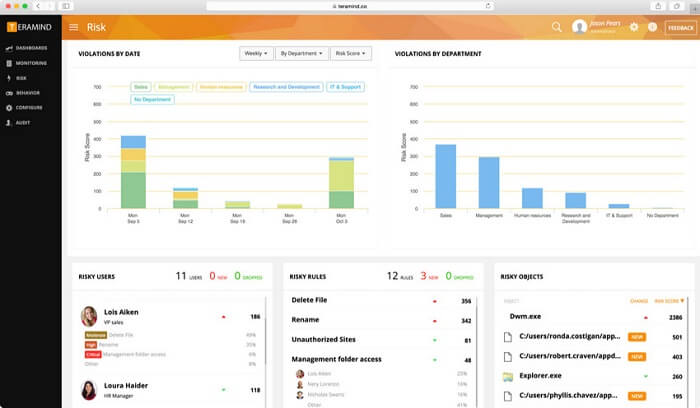 It is definitively proven to be one of the most popular employee monitoring software products available on the Internet. The best part is that it offers a user-centric security approach to monitor employee behavior and track what is unexpected in your workplace. It is only designed to obtain, identify, identify employee data and make it a complete detail for future use.
Insider Risk Management.

Employee session recording.

Internet monitoring of employees.

Employee email snapshot.

Employee productivity monitoring.
2. ActivTrak Monitoring for Employee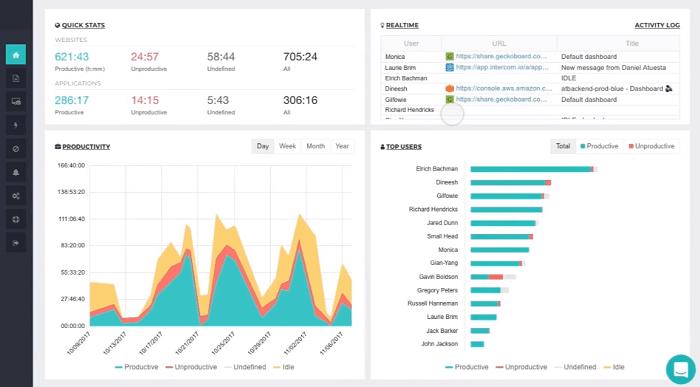 This is an application primarily to monitor the activities of your employees that they perform daily on their computer. This software actually helps to ensure that the staff is working properly, it tracks their daily work, their data and their time spent on the Internet. It is easy to use and easy to install a cloud-based monitoring solution. In addition to this, it is invisible to the user. They would never know that you installed it.
Screenshots of the remote workstation.

Real-time activity monitoring.

Document and File Tracking.

Complete user activity reports.

Blocking malicious websites.

Activity-based alarm.
3. Veriato Employee Monitoring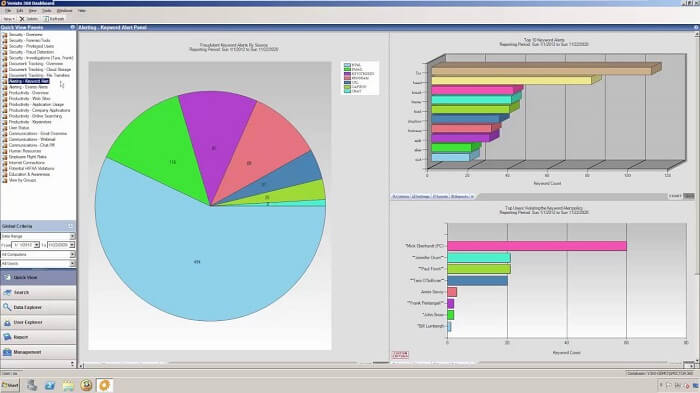 This is an absolutely exceptional and cloud-based employee time tracking service software. It is available and accessible on various popular platforms such as Windows, Mac, iOS and Android operating systems. Being an owner or a business executive, it is essential to keep the peace in the unit, monitor the activities of your employees and generate a detailed report for the future.
See which employees spend half the day on Facebook or other social apps.

Get scheduled productivity reports (daily, weekly, monthly).

Understand exactly how long employees are "actively" working.

Monitor remote workers productivity.
4. InterGuard Employee Monitoring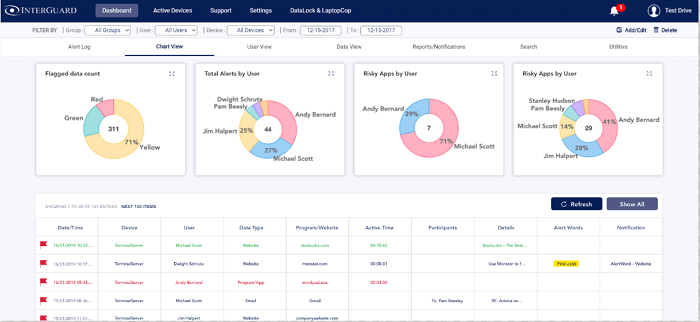 This software is a free employee tracking solution that lets you know exactly what your employees are surfing the Internet and on a computer. This extremely powerful employee tracking software includes many features including employee monitoring, web filtering and more.
Productivity monitoring: monitoring the time spent on websites and apps that you consider productive or non-productive.

Get alerted to suspicious activity and stop data ex-filtration before a malicious or negligent employee causes an insider data breach.

Geolocation tracking.

Website history tracking.

Email or wbemial tracking.
5. Time Doctor for PC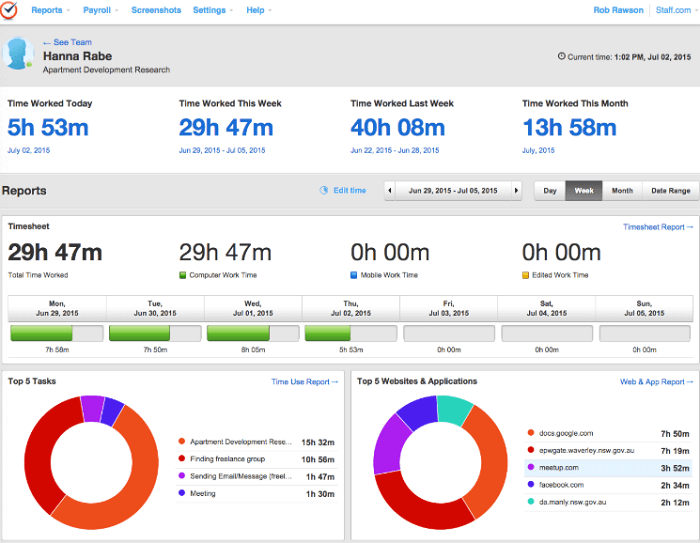 It's the best employee tracking tool as well as employee email monitoring that's probably on the market since 2012. It's also available and accessible across a variety of platforms, from Android to iOS to Windows. This actually helps the organization to properly follow the proper code of ethics and enhance work performance.
Time tracking.

Avoid distraction.

Website and application monitoring.

Screen monitoring.

Customer login.
Editor's choice: From the 5, TeraMind is definitely the best software to be installed in the PC. It does provide quite a lot of unique features for an individual to make use of. You need to install this software as it is capable of giving you the Insider Risk Management data along with snapshot, for more real-time information. Along with that, the productivity report is generated too.
Conclusion
Technological advancement and methods have made the workplace extremely focused. These software are surely to help you in the best manner into giving you the insight of what your employees is actually doing at their phone or computer during work time.