Nowadays, every kid has a phone with them. Although phones are great in many ways and make our lives very easy, there are still several aspects that make it necessary for parents to monitor their child's cell phone activities. With social media on the rise, your kids are vulnerable to get subjected to disturbing situations. The only way in which you can avoid this is by monitoring their cell phone activities.
The best way to do this would be to use any of the several cell phone monitoring apps available online. Since there are many parental monitoring apps online, making the right choice may be quite confusing. This article will help you in getting the best parental monitoring app for iPhone.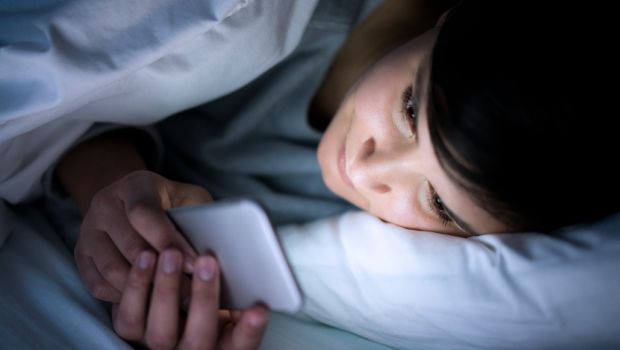 1. How Do We Rate Parental Monitoring Apps for iPhone?
There are some necessary criteria based on which you can pick an iPhone Parental monitoring app. They are mentioned below.
iPhone Monitoring Features
There are various iPhone parental monitoring apps on internet, but not all them are equipped with multiple and powerful iPhone monitoring features. When choosing this kind of app, there are plenty of essential features that you must look for. These features include location tracking, messages monitoring, incoming and outgoing calls monitoring, social apps' contents checking and iPhone files viewing, etc. Look for an app that has several iPhone monitoring features to get the best out of it to keep your children safe in the virtual world.
Pricing
How much does the App cost is one of the important aspects we should concern. We'd like to choose the apps which offer the best set of features at a lower price.
Secret Working Mode
The main purpose of the parental monitoring app is to check the activities of your kids on their phone. This needs to be done secretly as you would not want your kids to know that they are being monitored. This is why you must look for an app that lets you monitor without the user's knowledge.
Well Compatibility
We pay more attention to the compatibility of the apps. We prefer the iPhone parental monitoring apps which can compatible with most of the iPhone models and versions.
Stable Running
In addition to the iPhone monitoring features, these apps must ensure stable running of target device. That means they can't slow the slow the performance of the device significantly.
Simple operation
Since most of the parents who pick out the iPhone monitoring app are not tech geniuses, the app must be simple to use and its functions should be easy to navigate.
Keeping in mind all the above aspects, we have narrowed down your search for the best parental iPhone monitoring apps. The next section will tell you all about it!
2. Top 5 iPhone Parental Monitoring Apps [Recommended by Professionals]
There are a lot of information on internet that how to parental control kid's iPhone well. But can you really distinguish that which one is the best choice for you? Don't worry, we are going to discuss the top 5 iPhone parental monitoring apps for you.
1. MoniMaster iPhone Monitoring App - Editor's Pick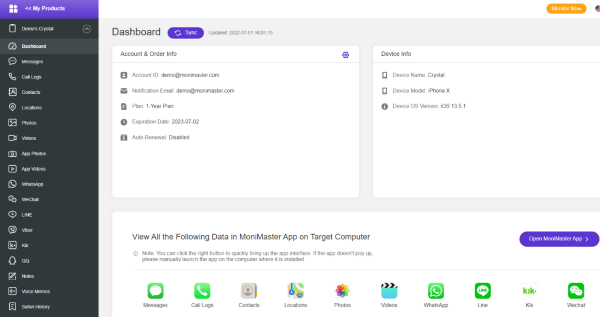 MoniMaster is an excellent app through which parents can monitor iOS devices. Through this app, parents can know what their kids are doing online and whether they are involved in unhealthy events or dangers.
This is one of the few apps that offer 2 solutions to spy iPhone: via iTunes backup and iCloud account. Both don't need to jailbreak the device, and even the iCloud way doesn't need to install any type of software. You can view all the data remotely. This app compatible with all iPhone models running iOS 9 to iOS 13. It runs in a very stable status without target user's detection. It just makes parenting a lot easier in this era of the technologically dependent world. Next, we'll give much more detailed information for this amazing parental spy app for iPhone.
Price
Features
App Installation or Not
Recommend Level
MoniMaster iPhone Spy with iCloud
1-Month Plan: $29.95/month
3-Month Plan: $16.65/month
1-Year Plan: $8.32/month
You can monitor data including: Contacts, Photos & Videos, Real-time locations, Calendars, Notes, Remindars and iCloud Drive data.
No
MoniMaster iPhone Spy via iTunes Backup
1-Month Plan: $39.95/month
3-Month Plan: $19.98/month
1-Year Plan: $9.16/month
1. Monitor Social Apps:Including WhatsApp, WeChat, LINE, Viber,QQ and Kik chat history, as well as exchanged media files, emojis and more.
2. Monitor text files: Inclusing all sent or received messages, the content added in Reminders, Calendars and Notes.
3. Track all incoming and outgoing iPhone calls including the names, timestamps and call duration.
4. Check Media Files: Check any type of multimedia files stored on the target iPhone, including photos, videos or voice memos.
5. Check Safari history and bookmarks to learn what the target user has been visited and what he is interested in.
Yes, you need to install MoniMaster iOS app on target user's computer.
Pros:
It provide the most data among its competitors.

You can remotely monitor your kids' iPhone without them knowing.

It offers the lowest price with the most features .

All the monitored data can be exported to local computer.

A user-friendly interface that makes accessing customized features easy.

The detailed using guide offerred on website lead to easy operation.
Cons:
The iCloud solution cannot monitor social apps' data.
2. mSpy App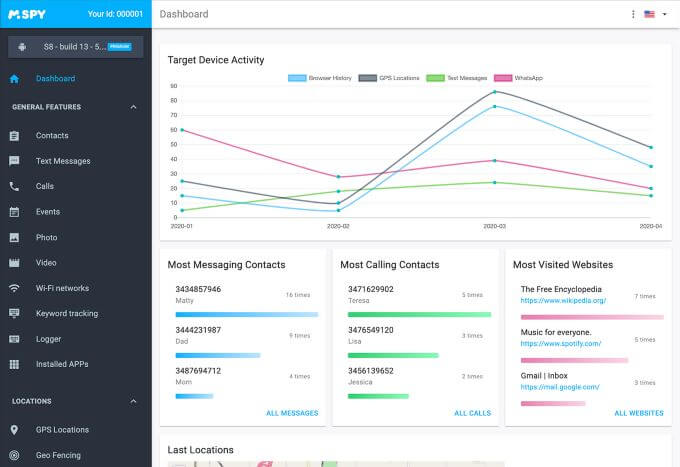 With the help of mSpy parental monitoring app, you can monitor the activities on the iPhone as well as iPad. It is an incredible app that has excellent features to keep a check on your children's activities online. The unique thing about this app is that it has 2 versions: one can work without jailbreak, and another one needs to have a jailbroken iPhone. The no-jailbreak package is cloud-based, and there is no installation required.
Pricing: 1-year plan for the non-jailbreak version is $199.99
Features:
Real-time location tracking

No jailbreak version available.

Phone call history monitoring

Text messages monitoring

Social media app activity tracking
Pros:
Very accurate location tracking.

The location history of the target device can also be checked.
Cons:
You will need to jailbreak your device.

Automatic detection of inappropriate content is absent.

Suspicious photos can also not be detected.
3. FlexiSpy App for iPhone Parental Monitoring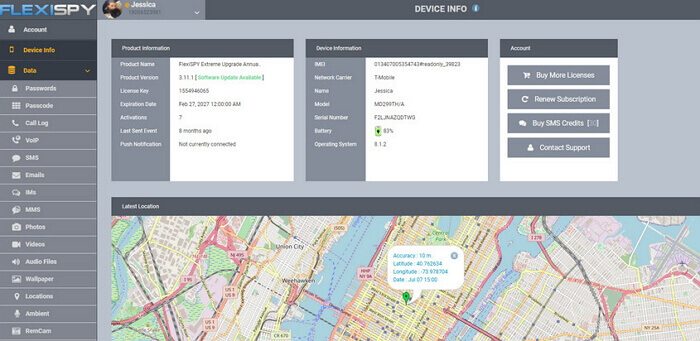 Flexispy is another highly recommend parental control app. It provides 3 different versions offer different features. Provides you with access to text messages, photos, installed apps, and lets you block apps. But the extreme version will cost much.
Pricing: The basic package costs $68 per month, and the highest version is available for $199.
Features:
Track GPS location of your iPhone devices

Spy on Snapchat, Facebook, Viber, WhatsApp + 9 more IM's (Jailbreak necessary)

View iPhone contacts and calendar entries

Access all media files on their phone. Get all images they take or that are already on their phone.
Pros:
A user-friendly interface that makes accessing customized features easy.

Multiple iPhone monitoring features supported.
Cons:
Users need to jailbreak their iPhones to use this app.

Some features like social media's message monitoring can onle be applicable for premium version.

It makes the target cell phone slow.
4. WebWatcher iPhone Monitoring App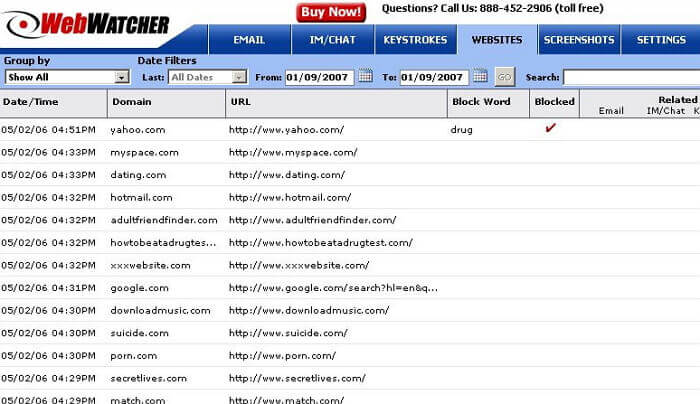 WebWatcher is a very popular monitoring app, both for parents and for employers. With full iPhone compatibility, you never need to worry about jailbreaking your child's device, which can preserve your warranty (something parents of clumsy teens need to keep).
Pricing: $129.95 for the yearly plan
Features:
See SMS & MMS text messages sent and received on an iOS device.

View photos taken and saved to the camera roll on an iOS device.

Track and follow all locations visited by the iOS device.

Monitor the contents of social app's.
Pros:
Can't find a clear app using guide.
Cons:
Social media tracking is limited to Facebook.

Web filter on browser causes VPN break.

The activity report is not always accurate.
5. FamiSafe iPhone Parental Control App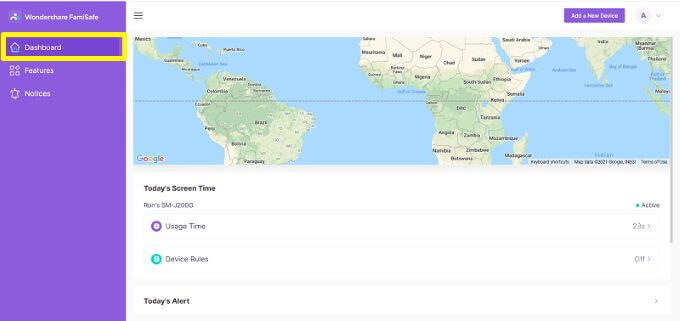 If you are looking for a reliable parental control app, FamiSafe is a very good option. With the help of this app, you can get the iPhone usage reports like the screen time usage, app usage and browsing histories, and also track the real-time location. With this app to safeguard your kids from dangers is very easy. But one thing you should be noted that this app cannot be the best choice if you want to spy more iPhone data rather than get the various phone usage reports.
Pricing: The 1-year plan is just $59.99/month
Features:
You can get an app using activity report

Screen time monitoring is provided.

Also can track the real-time locations

Block the use of certain apps.
Pros:
You can get some device using reports.

You can also set some parental control rules.
Cons:
This app can't get the actual iPhone data but just the device using report.

It can't realize stealthy monitoring.
Part 3. 3 Steps to Use MoniMaster iPhone Parental Monitoring App
The steps to use MoniMaster is pretty simple. We will provide the steps - guide for both iCloud way and iTunes backup way. Follow the easy steps given below to monitor the activities on an iOS device.
1. Using MoniMaster to monitoring iPhone via iCloud Account [No Need to Install any App]
Step 1: Create your account by clicking the Sign Up button below and purchase a license for the product you wanted.
Step 2: Enter the valid credentials of the target iPhone's iCloud.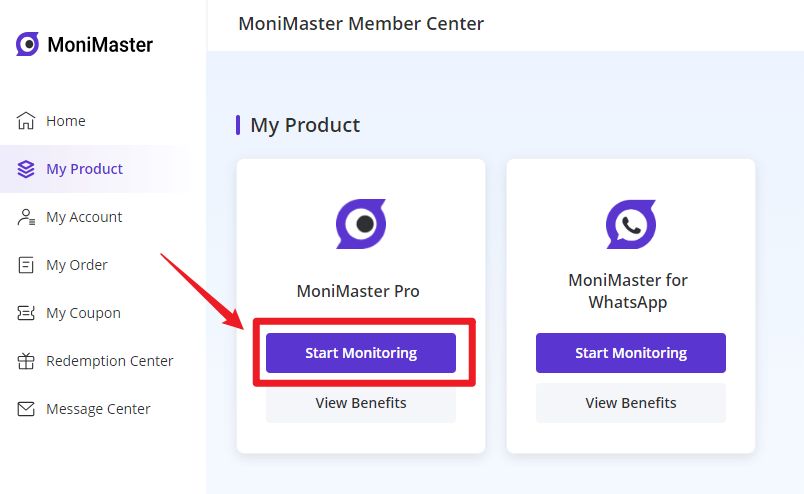 Step 3: Use the online dashboard to monitor the activities on the target cell phone.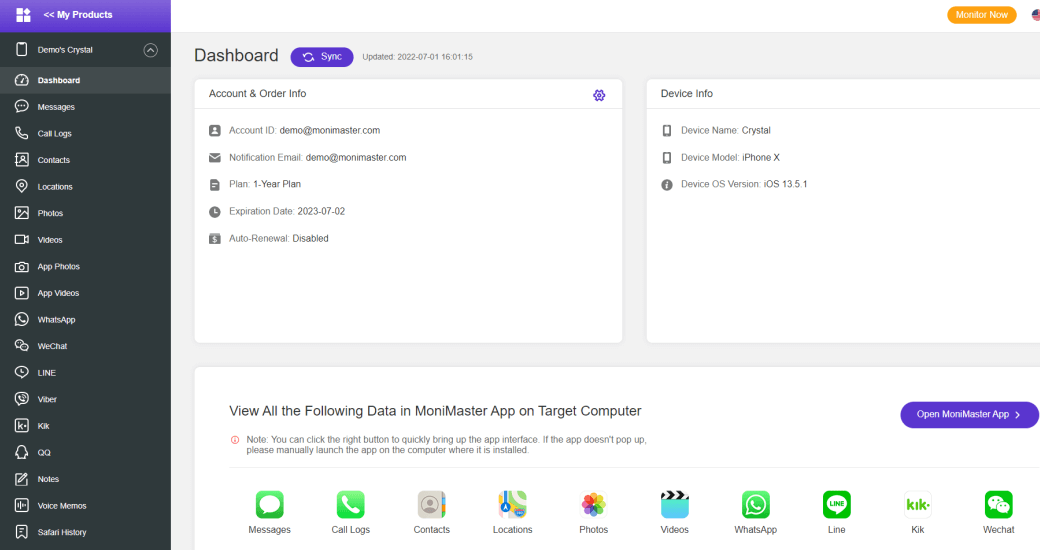 This is how simple it is to use the MoniMaster iPhone parental tool. Next you will get the another way to monitor iPhone and enjoy more features.
2. Using MoniMaster to monitoring iPhone via iTunes Backup [Need to Install an App on Target's Computer]
Step 1: Create a valid account by clicking the Sign Up button below and purchase a license for the iOS product.
Step 2: Now you can download and install the iPhone parental monitoring app onto the computer. It is better to install the app onto a computer that is often used by the target person. Just visit the website shown on below picture with the browser of the target computer to download our iOS app.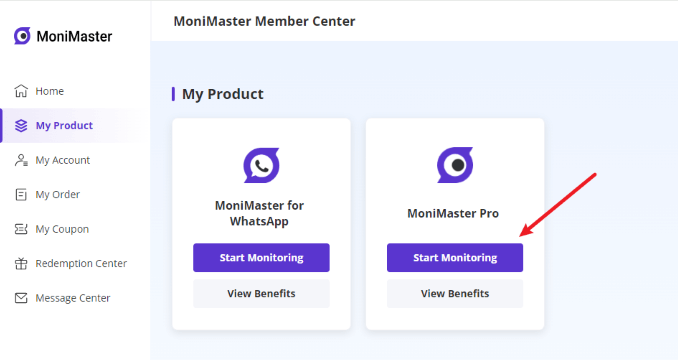 Step 3: After you finishing the configuration, then the app can auto scan the iTunes backups if there have in the computer. If not, then it may need you to connect with the target device. After the first time, this app can auto-update the backup files as long as the target iPhone is connected.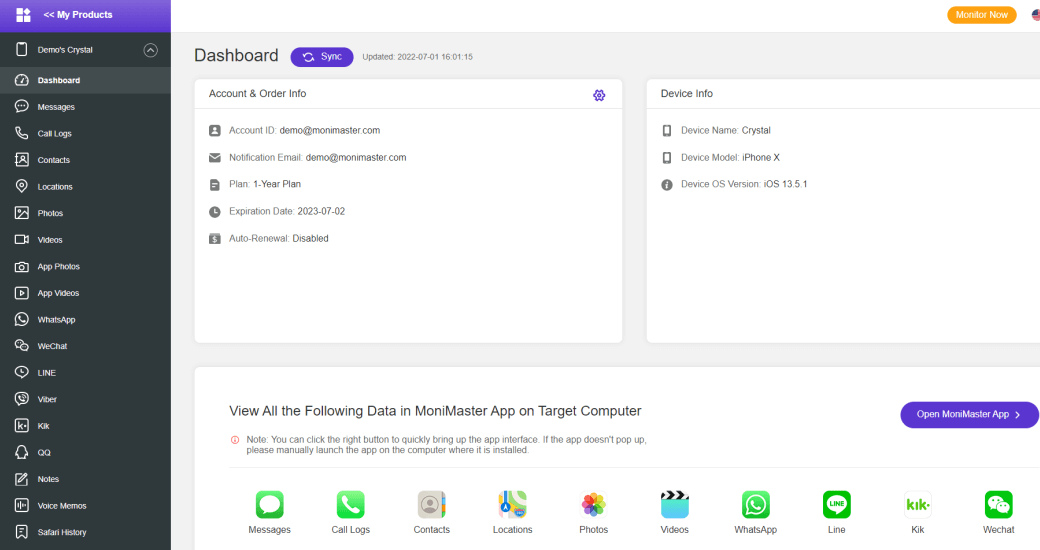 Step 4: Now, all the supported data types will be displayed in the category once the analyzing and scanning process has completed, such as Messages, Call Logs, WhatsApp, etc. You can fell free to monitor iPhone now!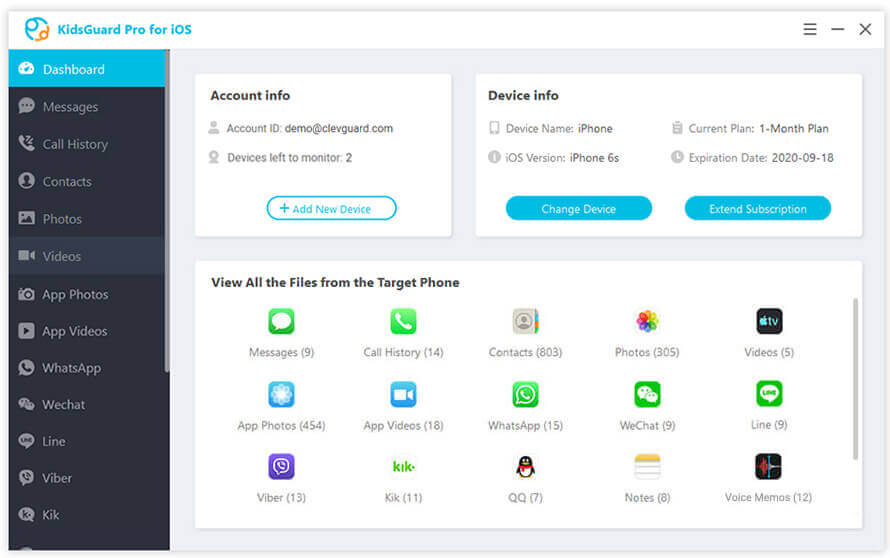 Summary
These days, parental control has become absolutely necessary when it comes to allowing your kids to use cell phones. The above parental monitoring apps for iPhone can be of great help if you wish to make parenting easier and keep your kids safe. Out of all the above-mentioned apps, MoniMaster is a highly recommended one.