Do you struggle to get restful sleep due to sleepless nights? We have compiled a selection of the top six sleep cycle monitoring applications for Android that may assist you in comprehending and enhancing your sleep habits.
Join us as we explore these methods together.
What can Sleep Tracking Apps be used for?
Sleep tracking apps have become indispensable tools in today's hectic society for optimizing one's sleeping patterns and overall well-being. These applications offer far more than simply keeping track of bedtime hours - they provide valuable benefits of phone tracking app that go well beyond simple recordkeeping.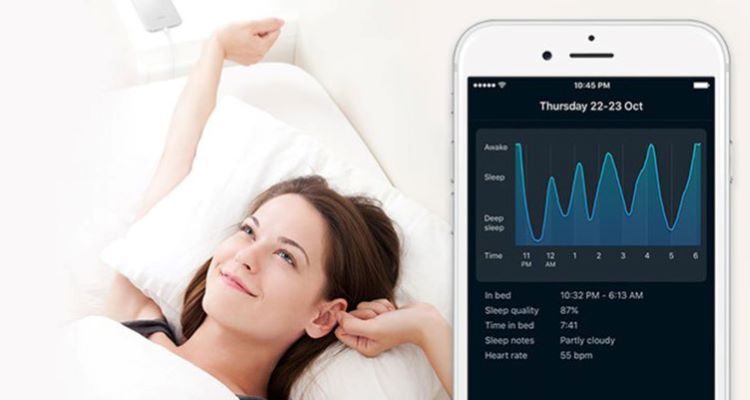 Insight into Sleep Quality:
Sleep trackers offer unique insight into your sleeping quality by monitoring the altitude and quality of your REM cycles and movements during sleep. By keeping an eye out for any patterns, such as frequent awakenings or restless periods during the night, they can reveal potential sleep disruptions that need further investigation.
Smart Wake-Up Calls:
Best sleep tracker app also makes for excellent alarm clocks, using data analysis to wake you during light sleep stages so that you start each day feeling refreshed rather than tired and fatigued.
Sleep Hygiene Guidance:
Additionally, certain best free sleep tracker app android provides guidance for improving sleep hygiene by offering recommendations regarding bedtime routines, room temperature, and lighting that create an ideal sleeping environment.
Detecting Health Issues:
Sleep trackers provide a snapshot of your overall health. They may detect irregular sleeping patterns that indicate issues like sleep apnea or insomnia and prompt you to seek medical advice if necessary.
6 Best Sleep Tracking Apps to Try Tonight 
Sleep is a valuable resource, and when disrupted or of poor quality, it can leave us feeling exhausted and irritable. Thankfully, technology offers us tracking apps to understand and improve our sleeping patterns - we will explore six of the top apps available to Android users below, each offering its own distinct features and benefits.
SleepScore
SleepScore is an innovative app designed to give users insight into their sleeping patterns, using sonar technology that detects sleeping without wearable devices or sensors.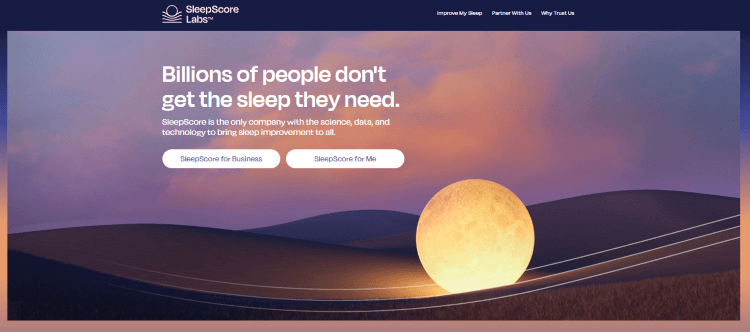 Pros
Accurate sleep tracking: SleepScore's sonar technology delivers accurate data regarding duration, cycles, and disturbances for every night's restful slumber.


Detailed sleep reports: This feature offers detailed reports with actionable recommendations to help make positive adjustments to your sleeping routine.


Cons
Subscription required: A subscription may be necessary in order to access advanced features and personalized recommendations, which may not suit budget-minded users.


User Interface: Some users find the app's user interface less intuitive compared to other sleep tracking apps.


Sleep Cycle
Sleep Cycle is best known for its intelligent alarm feature, designed to wake you up during your lightest sleeping phase - helping ensure a fresh start every morning.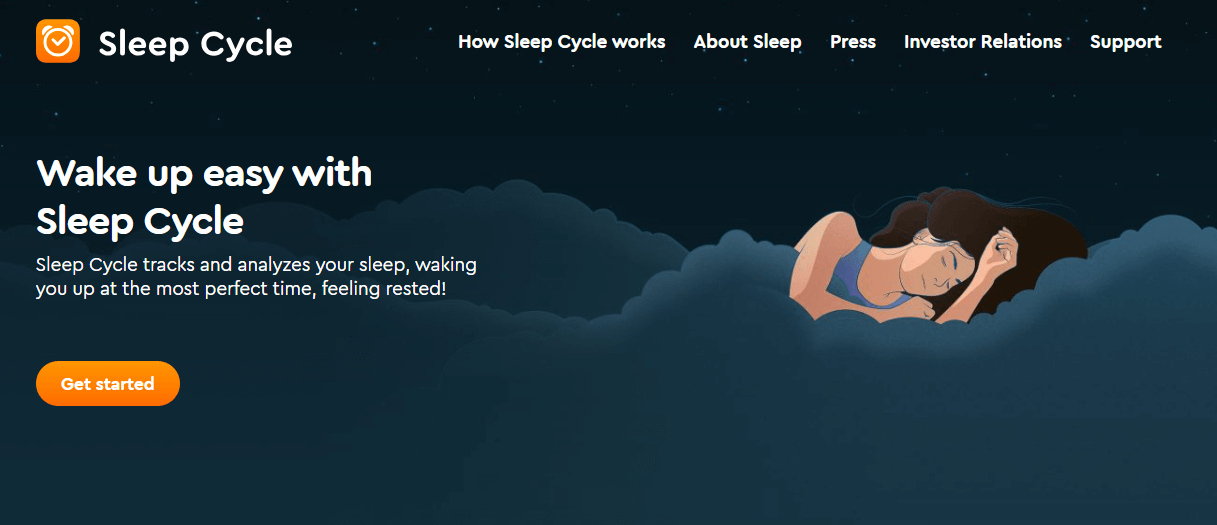 Pros
Smart alarm: Reminding you to wake up at an optimal time can give a more energetic start to the day and may reduce any morning fatigue.


Sleep quality analysis: Gains detailed insight into your sleeping patterns, helping identify areas for improvement and find areas to make changes to improve the quality of restful slumber.


Cons
Limited free features: While Sleep Cycle offers a free version, accessing its advanced statistics and trends requires a paid subscription, making it less accessible for some users.


Occasional inaccuracies: Sleep Cycle may not provide 100% accurate analysis, which can be frustrating for users looking for pinpoint precision.


PrimeNap
PrimeNap is a best free sleep tracker app android that delivers comprehensive stats to help you better understand your sleeping patterns.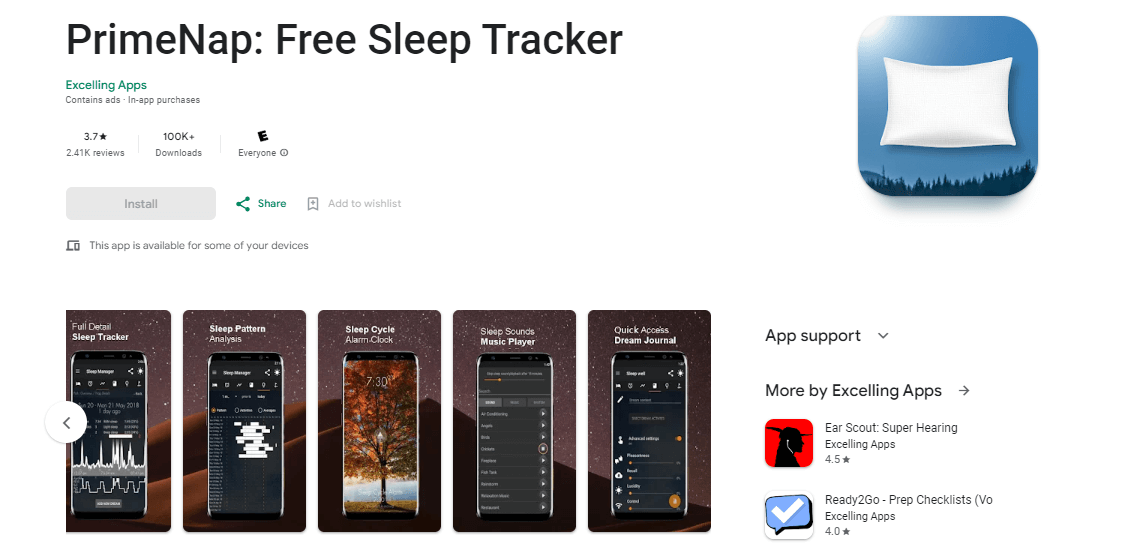 Pros
Comprehensive Sleep Statistics: PrimeNap provides comprehensive data regarding your sleeping patterns, such as duration, efficiency, and interruptions - making for an in-depth analysis of the quality of your restful slumber.


Easy-to-Use Interface: PrimeNap provides a simple and intuitive user experience, perfect for users at all technical levels.


Cons
In-App Purchases: While the app itself is free, certain features, like exporting sleep data or removing ads, require in-app purchases that could increase overall costs associated with using it.


Limited advanced features: PrimeNap may not offer as many advanced features as other sleep tracking apps, making it suitable for those interested in straightforward data about their restful or disturbed nights.


ShutEye
This sleep phone tracking app features relaxing exercises and soothing sounds designed to aid your relaxation process and ensure a faster, deeper, restful bedtime.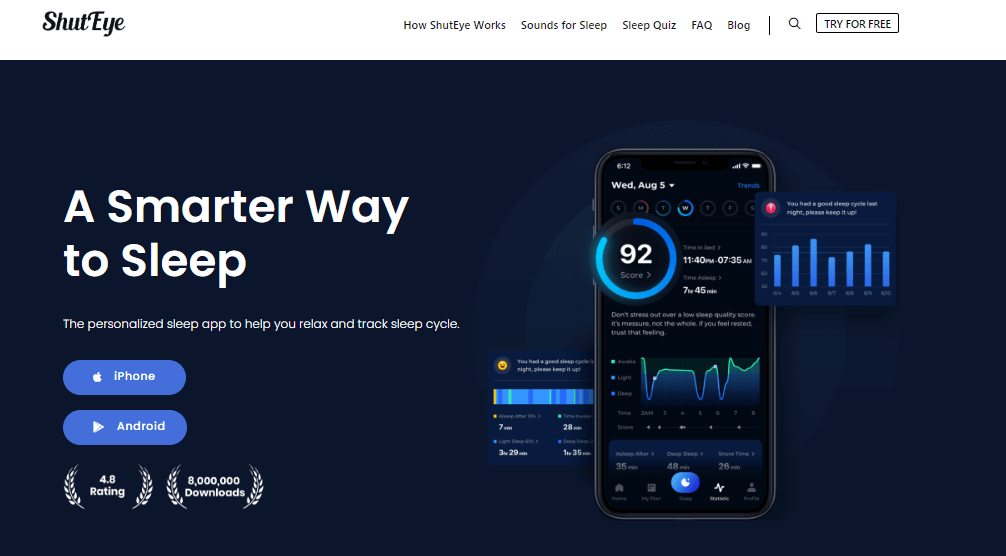 Pros
Relaxation exercises: Provides guided relaxation and stress reduction exercises to help you unwind before bedtime.


Sleep aid sounds: Provides soothing sounds such as white noise and nature sounds to improve sleep quality while masking background noise.


Cons
Ad-supported free version: Unfortunately, ShutEye's free version may include ads that could lead to occasional interruptions that might interrupt your relaxation and sleep patterns.


Sleep tracking may not be as detailed: ShutEye offers basic sleep tracking features but may not offer as comprehensive analysis as other apps; therefore, it might be better suited for users interested primarily in relaxation and sleep sounds.


Pillow
The Pillow is an advanced and best sleep tracker app that offers more than simply monitoring cycles; its heart rate monitor and ability to record snoring provide a comprehensive look into one's nocturnal life.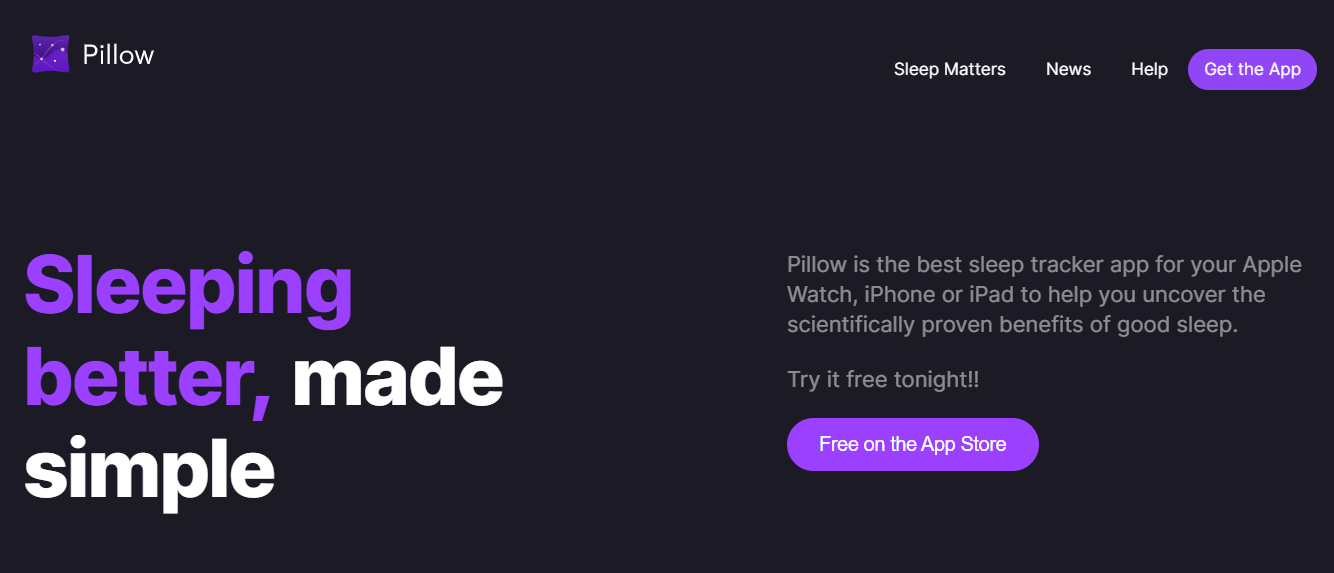 Pros
Heart rate monitoring: Heart rate monitoring provides insights into your heart rate variation during sleep, which is invaluable in terms of understanding overall health and stress levels.


Snore recording: Recording can help identify and address snoring issues, providing valuable insight to improve sleep quality for both you and your partner.


Cons
Limited free version features: Although Pillow provides a free version, some advanced features, like detailed sleep stage analysis and other more sophisticated analyses, are only accessible through paid subscription plans.


User Interface: Some users may find the app's user interface less intuitive compared to other sleep tracking apps, potentially diminishing user satisfaction and overall experience.


SnoreLab
SnoreLab is a dedicated sleep tracking app with the goal of monitoring and reducing snoring. Although its primary function is monitoring, it also offers insight into sleep patterns.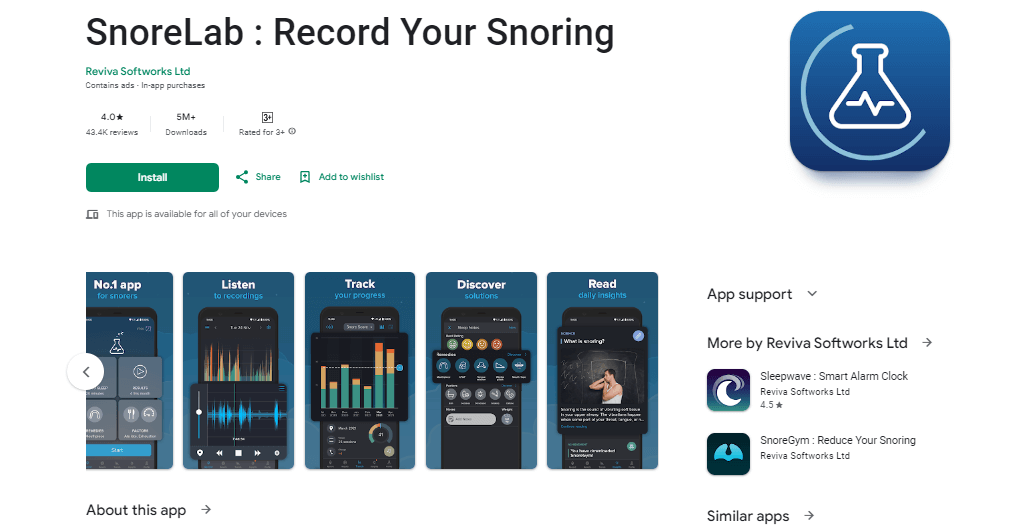 Pros
Snoring analysis: Snoring analysis provides detailed information about your snoring habits, such as frequency, intensity, and trends - providing valuable data that may help those seeking to reduce or stop snoring.


User-Friendly Interface: SnoreLab has an intuitive, user-friendly interface designed for simplicity of setup and operation, making it accessible for those at all technical skill levels.


Cons
Focused on snoring: SnoreLab's primary emphasis lies in snoring analysis, so it may not offer as comprehensive sleep cycle tracking capabilities as other apps do.


Limited free version features: SnoreLab provides a free version, but some advanced features, like personalized snoring reduction exercises, require an annual subscription and could limit access for certain users.


Bonus Tip: Sleep Schedule App for Parental Control
Are you a concerned parent seeking strategies or best sleep tracker app to guarantee your children have sufficient and refreshing sleep? The solution you need is MoniMaster the best free sleep tracker app android.
Introduce MoniMaster for Android
MoniMaster is an innovative parental control phone tracking app developed specifically for Android devices that provides parents with multiple features to monitor and supervise their children's digital activity, helping to ensure healthy sleeping schedules as well as keeping children safe online.
Key Features
Remote Control: As a parent, you have the power to adjust sleep schedules remotely as necessary. Whether that means accommodating any changes in routine or adapting to school calendars, you remain in complete control.


Keep Online Safety: Enable you to view messages, contacts, call logs, and remotely record their calls, allowing you to promptly identify and address concerning activities like cyberbullying and self-harm.


Recognize negative emotions: By monitoring content and utilizing a keylogger, you can proactively mitigate factors such as depression, anxiety, peer pressure, and more, affecting your children's well-being.


Location Tracking: Track your children's real-time location and establish geofences to prevent truancy and similar situations.


How-to Steps:
Setp 1.

Install MoniMaster:
Begin by downloading and installing MoniMaster on your child's Android device. This discreet application operates seamlessly in the background so that they won't notice its presence.
Setp 2.

Access the Dashboard:
Log on to MoniMaster from any of your devices to manage your child's device settings and manage MoniMaster for best results.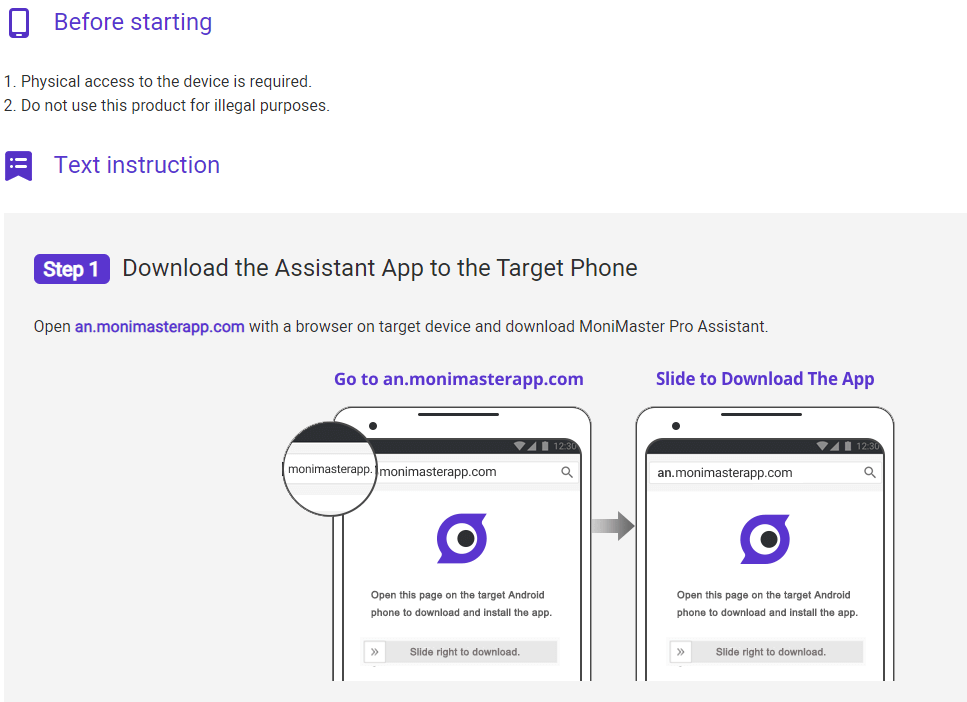 Setp 3.

Start Monitoring:
Once configured, You can start monitoring your child's phone using your own device. This includes blocking unwanted websites and apps, setting screen time limits, and blocking spam calls, among other features. MoniMaster allows you to adapt this plan as their needs evolve easily.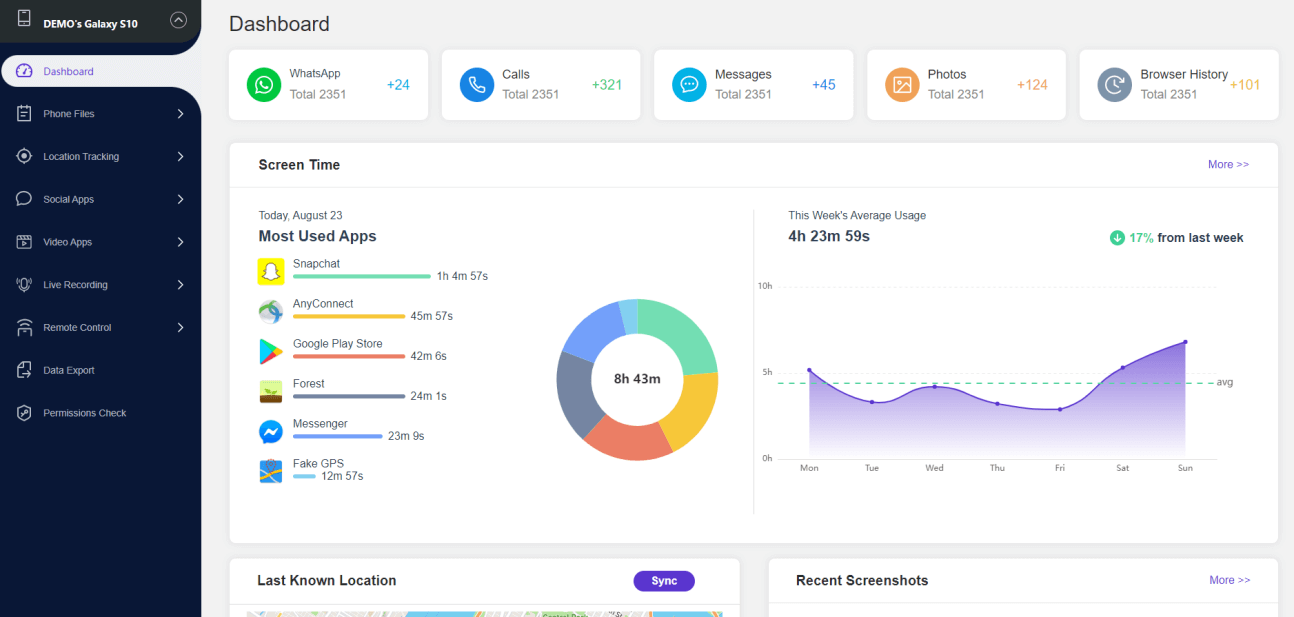 More FAQs about Sleep Tracking Apps
Question:
Do Android Sleep Trackers Work?
Yes, Android sleep trackers can be extremely useful tools in monitoring your sleeping patterns and encouraging positive transformation.
Question:
Do I Need a Wearable Device to Use a Sleep App?
Though wearables may improve accuracy when it comes to sleep phone tracking app, many apps still work effectively using only sensors found within smartphones as their basis for tracking your REM cycle.
Question:
Will Sleep Apps Improve My Sleep?
Best sleep tracker app provides invaluable insights into your sleeping patterns, which can assist with making informed choices to enhance quality restful, restful slumber.
Conclusion
MoniMaster for Android can ensure that children have a healthy sleep by restricting their device usage time at night and can also remain children safe online.With MoniMaster as their powerful guide, parents are empowered to strike an appropriate balance between exploring the digital world and protecting children's well-being.