My phone got stolen how do I track it? This is the first question that lingers in our mind when we lose our phone. The reason for this is because a mobile phone is a very personal device that is essential in our daily lives. In this modern world, we can practically do anything through our phones.
Losing a phone means losing essential contacts and other items such as photos, videos, and many more. If you have recently lost your mobile device, don't worry. In this article, we will look at some of the simplest ways on how to find a stolen phone.
Part 1: How to Track A Stolen Android Phone
If you lose your phone, do not panic. Android has built-in features that can protect your device in case you missed placed it, or it is stolen from you. So, how can I track my stolen phone using the built-in features provided by Android phones? Continue reading, and you will get the answer.
Way 1: Find A Stolen Android Phone with Find My Device
Find My Device is a feature by Google. It's a tool designed to locate phone in real time. Every time you log into your android device using a Google account, Find My Device is by default settings already on. You can use it to track your phone as well as access it remotely, lock it and erase essential data in it.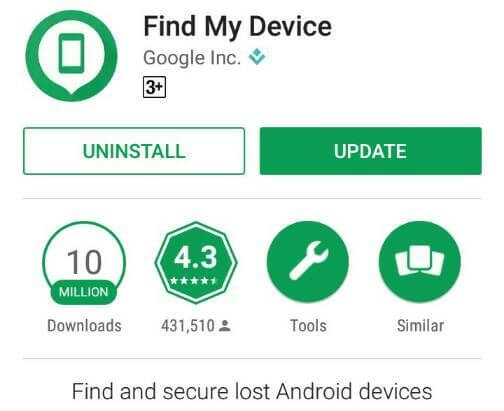 To check if Find My Device is enabled on your phone, follow the following steps.
Step 1: Go to "Settings" click on "Security & Location" then click on "Find My Device."
Alternatively,
Step 2: Go to "Google" click on "Security" then click on "Find My Device."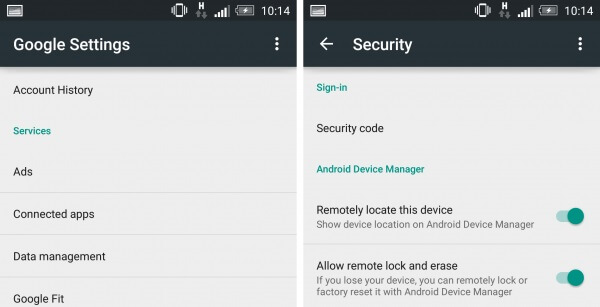 Way 2: Using Google Maps to Track the Stolen Phone
Google has another way of ensuring that you locate your phone if it goes missing. In case you have been wondering on how to locate a stolen phone, then Google Maps will help you out.
This superb application enables you to track your device in the form of timelines. Follow the simple steps below to locate your phone using Google Maps.
Step 1: Use any smartphone or computer to access the website which is www.maps.google.co.in
Step 2: Use your login details to access the Google Account that is linked to your lost device.
Step 3: Click on the three-bar icon that is seen on the right corner at the top.
Step 4: Click on "Your timeline."
Step 5: Enter the details from the day you lost your device. Enter the exact year, month, and day.

Step 6: Google Maps will be able to show you the location of your phone on the dates you have provided together with the exact current location.
NOTE: For Google Maps to work effectively, your phone needs to be switched on as well as the location services.
Way 3: Find My Mobile for Samsung to Locate A Stolen Phone
Samsung has a service that is dedicated to helping you find your phone if you lose it. The service is known as Find My Mobile. It works just like Google's Find My Device but provides more features e.g., back up services that enable you to track the stolen phone easily.
The service also enables you to see if somebody swapped your SIM card with theirs. It also allows you to force remote backups. So, how can I find my stolen phone using this service?
You must have a Samsung account. Sign in to your account.
Then go to findmymobile.samsung.com with any mobile or web browser. And now, sign in with your account then you will know the location of your phone.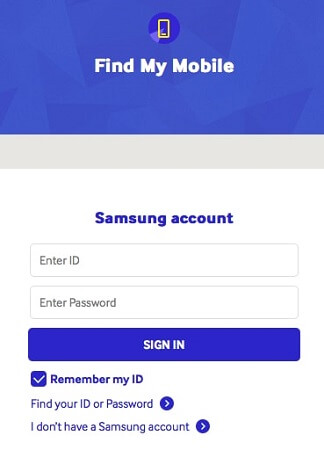 To track your phone using Find My Mobile, go to "Settings" then click on "Lock Screen and Security" then go to "Find My Mobile."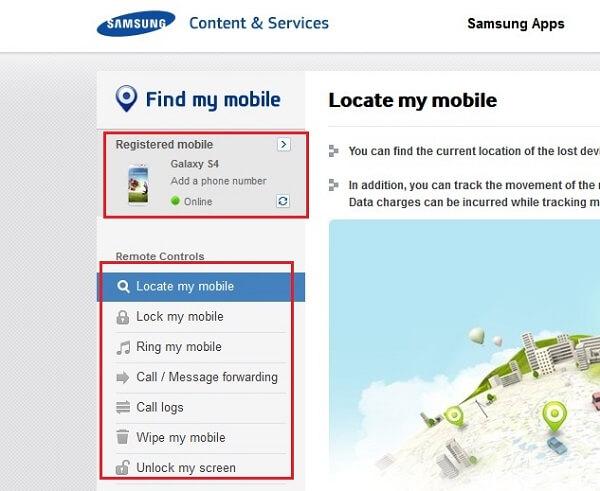 Also, you can take actions for the device, such as ring it, lock it, erase the data, or even back up the data of the lost phone.
Part 2: iPhone Got Stolen, How Can I Track It?
Losing your iPhone can sometimes trigger emotional distress. However, knowing what to do can help a great deal. You can easily track your iPhone by using the simple method below.
Using Apple's Find My iPhone
Find My iPhone is one of the seamless services that you can use to track your lost device. Follow the guidelines below to track your precious device quickly.
Step 1: Got to your device's "Settings" click on iCloud then tap on "Find My iPhone." The feature can only locate your device remotely if it is enabled.
Step 2: To track your lost iOS device, visit the legitimate iCloud website, and log in using the same credentials you used while setting up the account.
Step 3: Once you have successfully logged in, locate the Find My iPhone app on the bottom of the screen and click on it.
Step 4: Use the dropdown menu to select the device you want to track.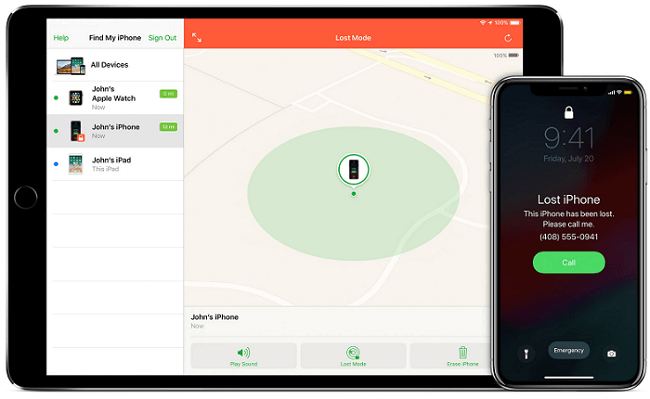 Step 5: After you have selected the device, the app will begin tracking and provide you with the last location of your phone with other necessary details.
Part 3: The Best Way to Track All Contents of Someone's Android Phone or iPhone Remotely
Several reasons can prompt someone to access another person's device. For instance, you cannot deny your child the benefits of having a phone. You have to make sure that they use the device to access beneficial material. Also, if you find yourself living with a dishonest partner, then you may have to remotely access their phone to be sure of what they are doing.
MoniMaster is the best-stolen phone tracker app that also allows you to find a stolen phone without hustle. (It can help in tracking the device which has installed MoniMaster). The software is packed with phenomenal features that can help in tracking a phone.
Top Features of MoniMaster
SMS Tracker
This feature enables you to see who your kid is texting. You will be able to see sent and received text messages in real time. Get all the details you need, such as the date and time of the message.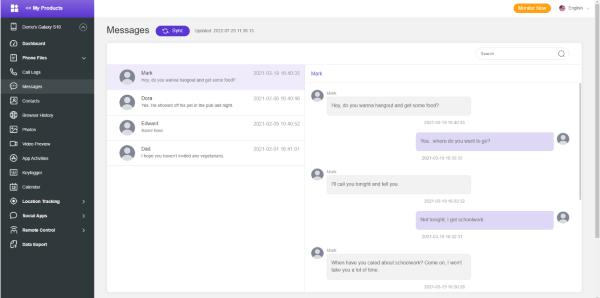 App Activity Monitoring
The feature gives you details of how frequent your child use various apps. Once you have reviewed the data, you can know the every information of the apps on target device, such as install data, or even the screen time spent on the day. It support the searching of the certain app.
Wi-Fi Logger
The information provided by this app can help you know the location of the target phone user. It also helps in knowing there are they accessing on the internet and the duration of their using. It's helpful in couple tracking.
GPS Location and Finder
This is one of its best features. It provides you with the real-time GPS location of the target phone. This helps you to know where they are precise all the time. Furthermore, the application can notify you each time the target is in a place that you had indicated as a no-go zone.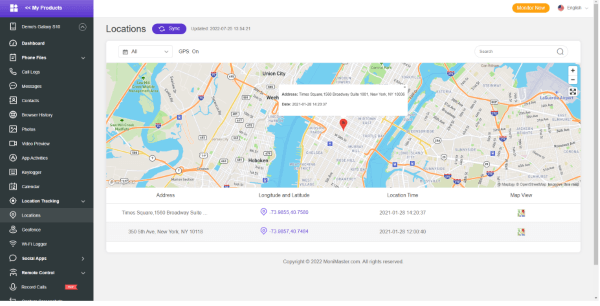 Keylogger
This feature provides you with all the log in details your child is using. You can use it to know the usernames and password to their various accounts. The feature allows you to monitor each keystroke that your child is typing on their phone.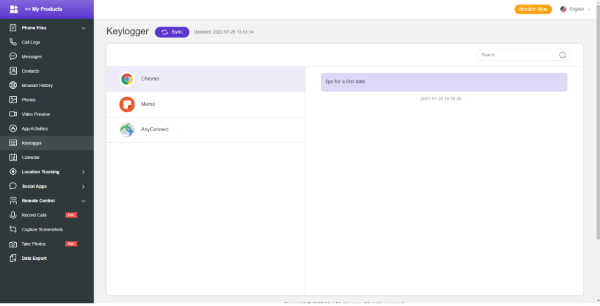 Tracking All Incoming and Outgoing Calls
Call history always can reveal something, such as who are the frequent contacts of your husband? Who always call your husband at mid-night? MoniMaster can help you track all the truth of other people's phone.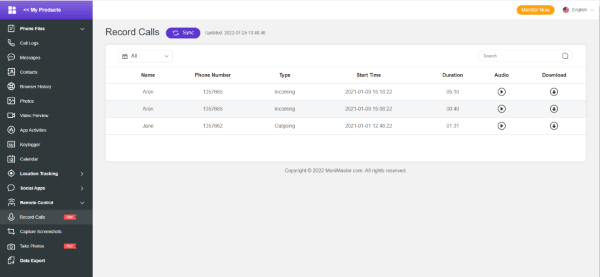 Browser History Tracker
Keep an eye on the searching history on target phone can help you know which contents they are browsing and if there are involved in dangers or not. Tracking all the browsing history with accurate URL and browsing date.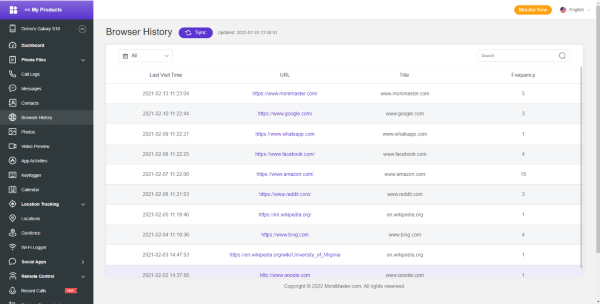 Real-time Screen Capture and Social Media Tracking
Monitor the screen of the target device in real-time to know what they are doing. And monitor all the social media messages such as WhatsApp, Kik, LINE , WeChat , Viber, etc.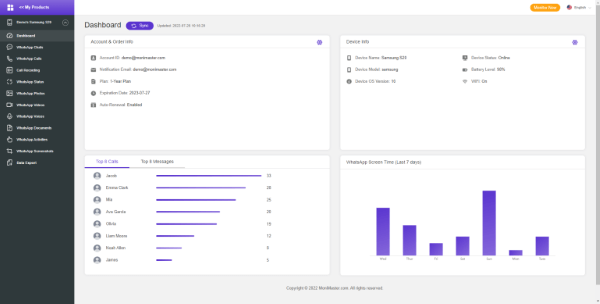 To install the software on your Android, follow the steps below.
Register an account on MoniMaster website. You will be required to buy a license to access the comprehensive features of MoniMaster for your Android device.

Visit www.installapp.net to download the app assistant.

Once you have download the App and then login with the registerred email to finish the required settings.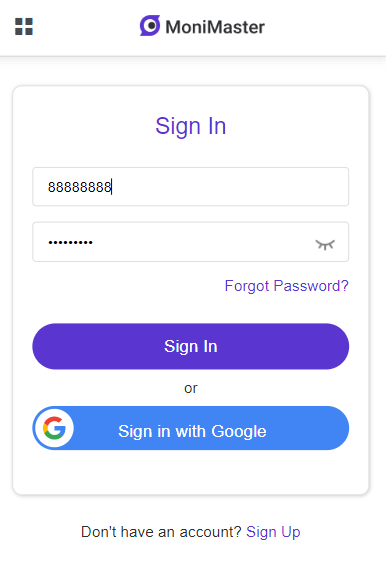 Click on "Start Monitoring," and you will notice that the app's icon has disappeared from the home screen. You can now visit your dashboard from your device and start monitoring . Gain access to all types of information that have been sent or received from the given phone as long as it has internet connectivity.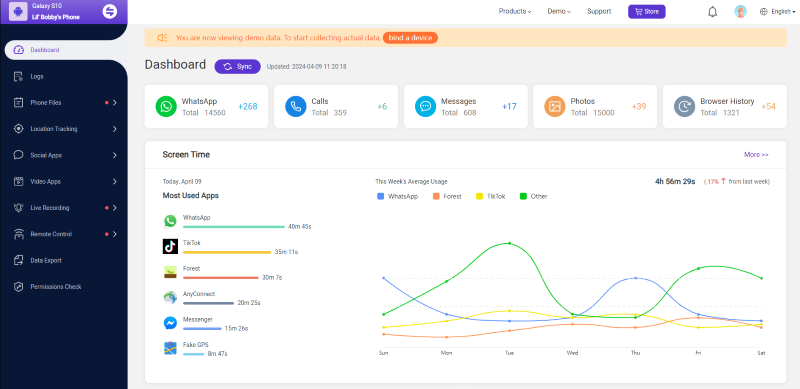 To install the software on your iPhone, follow the steps below
Step 1. Sign up and buy a license.
Step 2: Verify the target device's iCloud account.
Now you can enter the target user's iCloud to finish the verification.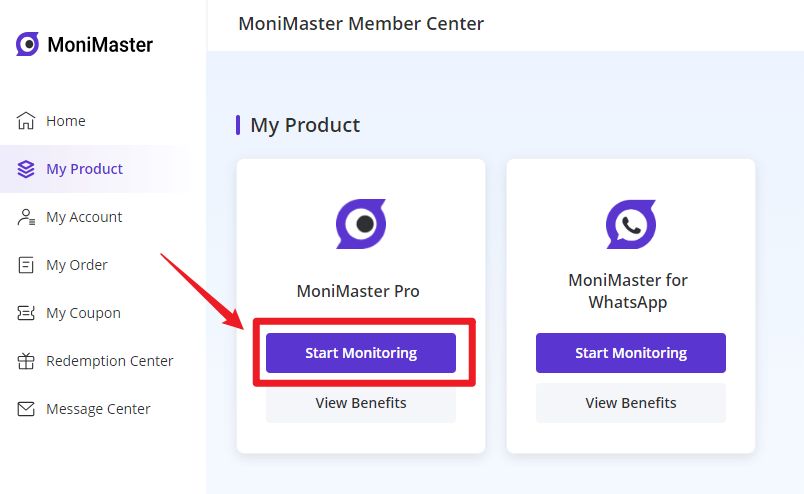 Step 3: Start to monitoring.
After the verification finished, then you can get to the online dahsboard to wait for the data e synced and start to tracking the real time locations.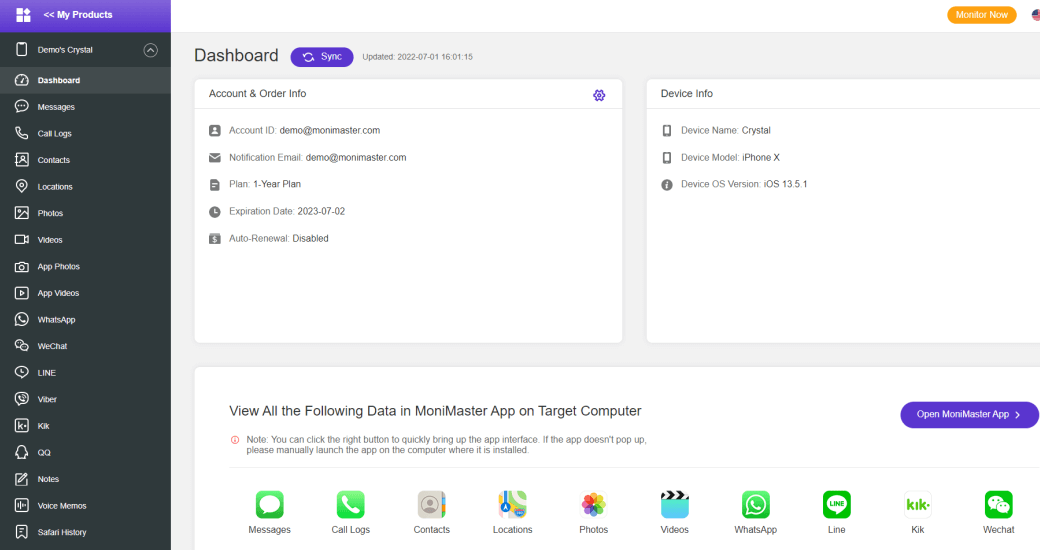 Summary
We have listed proven ways to track our phones when we lose them, or they are stolen. In addition, we've seen why how to access mobile phones remotely to ensure our kids and loved ones use their phones in offensive manners. Use MoniMaster - the best monitoring and parental control software - for efficient phone monitoring and tracking.