Many people believe that free trackers are not capable to provide accurate information but this is not true. Today we are here to end this myth. Mobile Tracker is a tool which offers tracking services for free. In this article, we will deeply analyze this tool and give the advice to choose the best free mobile tracker.
Part 1: Overview of Mobile Tracker Free
Mobile Tracker Free is a phone tracker for free with high-end accuracy. It allows you to track all the activities of the targeted mobile phone. Not even parents but the couple can also use this application to check boyfriends or girlfriends' text messages for free.
NOTE:
If you want to find the best alternative in Phone Tracking, MoniMaster is here to help! Read more in part 2 and compare these two phone tracking tools.
The application is very simple to use and includes a range of features like SMS tracking, call tracking, photos or video watching, location tracking, etc. The following are various features of Mobile tracking free application.
Features of Mobile Tracker
Message Tracking
You can read all the messages sent or received with the help of this tool. It's a very helpful feature for you to see wifes text messages. But it can be harmful for the one who is using the target device. If anyone tracks your phone's text messages, all your private conversation will be exposed to them.
Social Media Tracking
You can view all social media activities of the targeted mobile device. Social media activities are very important to know about someone. So this feature is also very useful.
Location Tracking
Its mobile tracking or location tracking feature will share the live location of the mobile phone. This is very helpful to track a cell phone location. The target device user will be sharing their location in real time.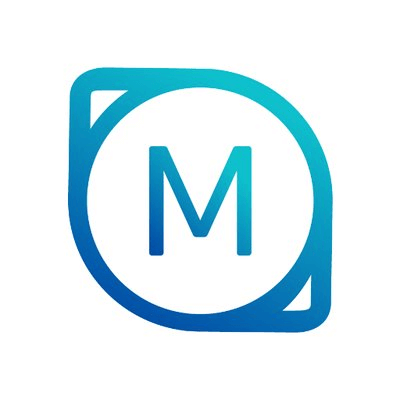 Remotely Access the Target Device's Data
You can remotely access all the activities of the target mobile device. It will allow you to control the target device and all its activities.
You can experience live monitoring with the help of Mobile Tracker Free. Live monitoring will ensure the monitoring of every movement on the target device.
Mobile Tracker Free's Pricing
As we know mobile tracker free app is a free phone tracking tool but it also provides some additional features for which you need to buy a plan. Mobile Tracker Free comes in three plans which are explained as follows:
Free: For this plan, you don't need to pay a single penny. In this plan, you can see advertisements while using this tool.

Basic Plan: The price of this plan is 6 €. In this plan there are no advertisements and also the data limit increased by 100.

Premium Plan: The cost of this plan is 15 € per month and in this, you can see unlimited data of the targeted mobile phone.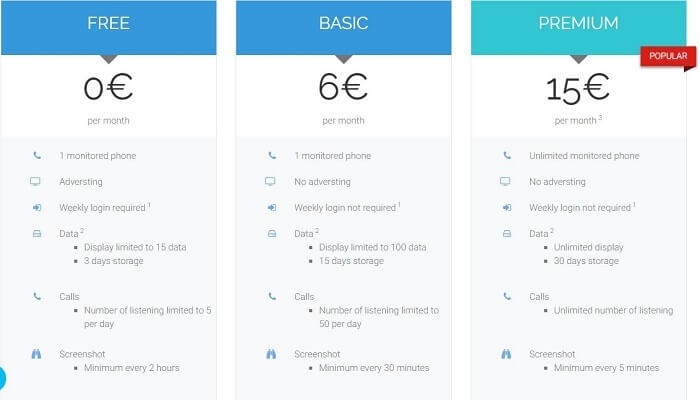 How to Use Mobile Tracker Free Online?
It is a complex method to use mobile tracker free app as compared to other tools. But if you have any questions, you can try getting help from the support page. The following are the stated steps are a guide to use this tool:
Step 1: Prerequisites
Have created a Mobile Tracker Free account with a valid email address.

Have access to the target phone and permission of the phone owner to install the application.
Step 2: Pre-Installation & Settings Configuration
To install this application enable "Unknown Resources" on your mobile device.
Enable unknown sources for Android 7 or lower: Go to Settings >>Lock screen and security >> Enable Unknown Sources.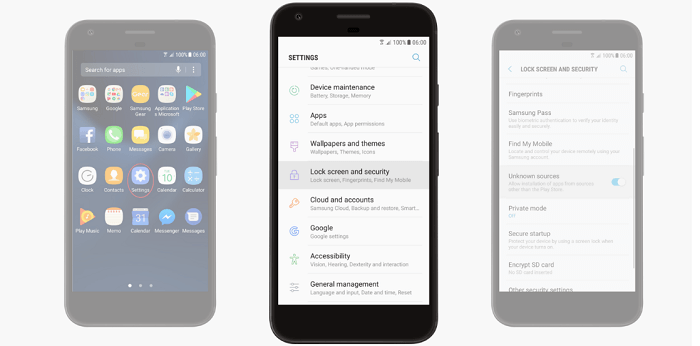 Enable unknown sources for Android 8 or up: Choose Settings, then turn on the "Allow from this source"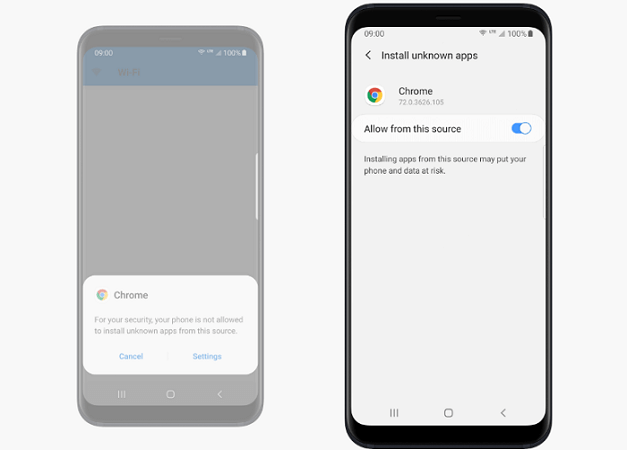 Note: This message appears when you download the application in step 3. You will need to allow the installation of unknown applications for the browser (Here Chrome).
Now disable Play Protect in Google Play to continue the process.
Step 3: Mobile Tracker Free Login and Download the App & Configuration
Now login to your Mobile tracker application and download the mobile application. After downloading it, install the app. Then, configure the application and you are ready to access the various activities of mobile devices on your free mobile tracker account.
By following the above stated steps you can configure the application. In case of any queries and doubts you can visit the support page.
Part 2: Mobile Tracker App Reviews
Mobile tracker free is a sort of free software with limited access. As we stated above the tool comes with three plans with variations. In this section, we are going to review the application based on various aspects. But the tool is lacking in many points if we compare it with other free tools like MoniMaster.
The tool is capable to track messages but it is not capable to track keystrokes, browser history, contacts, etc.
A free mobile tracker is expensive as compared to MoniMaster. You can enjoy all the features of MoniMaster's all plans.
Its free and basic plan has limitations on data access and other features.
Mobile Tracker Free is not available for iOS users.
We can know that it lacks some features in phone tracking. And if you are finding it's alternative then I think MoniMaster is apt your choice. It enables parents to remotely access more than 20 kinds of data(messages, contacts, call history, contacts, keystrokes of any accounts and so on.) on target Android and iOS devices.
Is Mobile Tracker Legit?
Mobile Tracker Free is a legitimate tool used to track the location of mobile devices. It can be helpful in various situations, such as finding a lost or stolen phone or monitoring the whereabouts of family members for safety purposes.
Mobile tracker free is safe or not? It's important to note that the use of mobile tracking should comply with legal and ethical guidelines. It is essential to obtain proper consent before tracking someone's mobile device, and unauthorized tracking is illegal.
Part 3: The Best Alternative in Mobile Free Tracker - 100% Secretly
MoniMaster is the best mobile free tracker alternative for Mobile Tracker Free. This best free phone finder app can track the text messages, incoming and outgoing calls, location and everything else of the target phone. It will help you to monitor your kid's activity both online and offline. Now let's know the main features of MoniMaster and how to use it.
Features of MoniMaster:
It will help you to monitor more than 20 file types in the target device, including media files, app data and even the deleted data which are way better than Mobile Tracker Free.
It will show you all the information of the target device on the dashboard of the control panel. You will know the device name and model, its plan, battery level, Wi-Fi status, GPS status etc. This much detail will never be provided by any other mobile phone tracker.
It can track the real time GPS location of the target device and also help you know the location history of the target device, which is way better than Mobile Tracker Free.
It will allow you to track the call logs of incoming, outgoing and missed calls, even the contact lists to understand who the target device is talking to. It will allow you to know all the details of call logs such as the caller name, phone number, call type, call duration, the time and date and even allow you to check someones call history online.
It will allow you to track the text messages of the target device with detailed information like name, time, date and everything written in the text messages.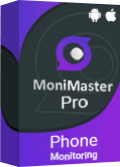 MoniMaster will help you monitor all kinds of app activities in the target device. You can also use this feature to monitor all the social media app activities, like search history on YouTube, Tiktok and so on. This feature is way more powerful in MoniMaster than Mobile Tracker Free.
MoniMaster can track the entire web browsing history of the target device with all the details such as website address, time and date etc. This is way better than any other phone tracker.
It has keylogger and Wi-Fi logger feature that will help you monitor the target device with more control than Mobile Tracker Free app.
Pricing of MoniMaster
MoniMaster has three plans. Let's figure out the various prices of both the plans :
1- Month Plan: This plan will cost $29.99 for one month. In this users can use all the features to track one device.

3-Month Plan: This plan costs $49.99 for 3 months. It only cost $16.65 monthly.

1-Year Plan: This plan costs $99.99 for 3 months. It only cost $8.32 monthly.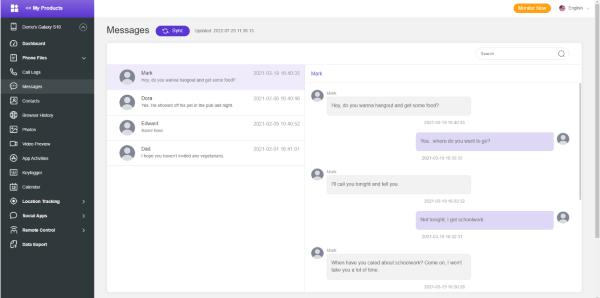 How to install MoniMaster? It's Very Simple
For Android Devices:
Step 1: First you have to register for a free MoniMaster account. Then you need to purchase a license for the app, so that you can use all the advanced features of this powerful tracking app.
Step 2: Then complete the setup process to install the app properly. Then login with the license email on target device.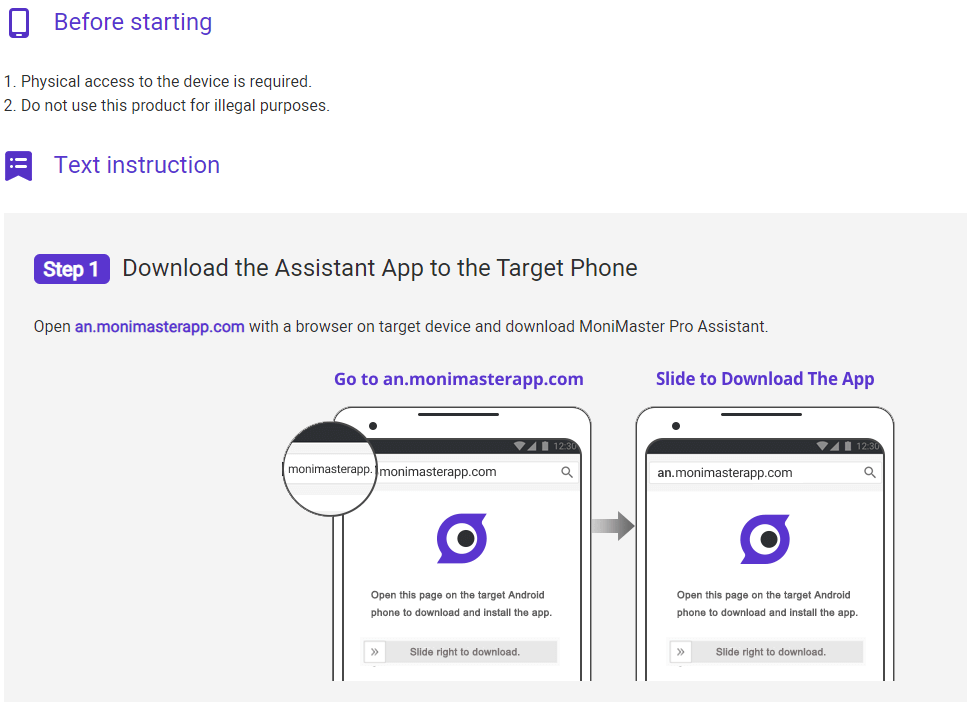 Step 3: Finally, start monitoring the target device from the web panel dashboard of the program. It will take some time to sync the data of the target device with the system properly. So keep patience until all the data gets synced and then start to track the target device.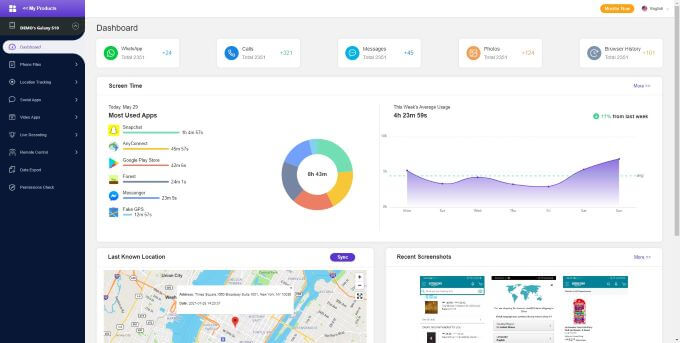 For iOS Devices:
Step 1: First you need to creat a valid account by clicking the Sign Up button below.Then purchase a license to gain access to all features of this iPhone monitoring app.
Step 2: Now, you are required to enter the iCloud Credentials of the target person to continue.

Step 3: After entering the web control panel, you can start monitoring on the target iOS device now and view all the data remotely.
Part 4: Comparison of Mobile Tracker and MoniMaster
| | | |
| --- | --- | --- |
| Features | MoniMaster | Free Mobile Tracker |
| Price | 19.99 $/m, 39.99 $/3m, 99.99 $/y | Free, 6 € for Basic Plan, 15 € for Premium Plan |
| Compatibility | Only Smartphone's | Only Smartphone's |
| Track Location | Yes | Yes(Only for Premium users) |
| Track Social Media | Yes | Yes |
| Capture screenshot | Yes | No |
| Real Time Data Syncing | Yes | Yes |
| View call history | Yes | No |
| Read Deleted Messages | Yes | No |
| Export data | Yes | No |
Conclusion
Mobile Tracker Free is free mobile tracking software but it lacks so many important features. This is the reason why users of Mobile Tracker Free app should look for alternatives.
MoniMaster is the best alternative for them. MoniMaster provides free demo for the users so that they can figure out how the tool is beneficial for them.
Also, MoniMaster has all the features and tracking controls which make it the best over free mobile tracking tool. It is compatible with the iOS devices. So, in the end, we recommend MoniMaster to you, maybe this is the end of your hunt for a perfect tracking application.