Are you looking for a method about WhatsApp hack without OTP and QR code? Perhaps you want to gain access to someone's comments on the popular messaging app and need a hacker to hack WhatsApp comments.
In this article, we will explore the various techniques and methods that hackers use to gain access to WhatsApp accounts. So if you're interested in learning more about how to hack WhatsApp, then read on!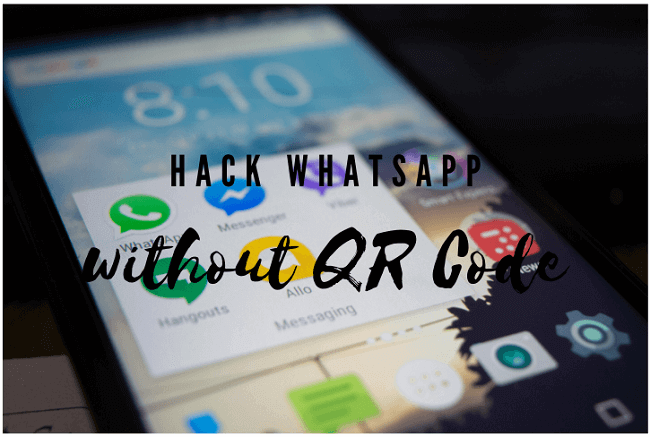 Part 1: Why It's Not a Good Way to Hack WhatsApp Using QR Code?
WhatsApp hack online by WhatsApp Web is the general method in which you can hack WhatsApp is by getting hold of the QR code and then using the same to launch someone else's WhatsApp on the web. However, in such a method, you will need to access the target phone physically to know the QR code.
Cons of Hacking WhatsApp with QR Code
If the target phone gets disconnected, you will not get the information being exchanged on the target phone's WhatsApp.
This process will only work with a stable internet connection.
This is why the need for finding out ways to hack WhatsApp without a QR code has emerged. This article will tell you the different ways in which you can do to hack someones WhatsApp.
Part 2: How to Hack WhatsApp Without QR Code? - 4 Ways
As you have seen in the above section, there are many disadvantages to hacking WhatsApp via web version. Here are a few ways in which you can hack someone's WhatsApp without QR code.
1. Hack WhatsApp Without QR Code with an Absolute Hidden Spy App - MoniMaster
If you want a way in which you stay hidden and still access all the information on someone's WhatsApp, you must try MoniMaster for WhatsApp. So you can solve the problem of how to link WhatsApp to another phone without QR code.
Now MoniMaster offers a number of coupon codes that allow customers to receive special discounts on MoniMaster products. Use it and enjoy our products!
Coupon Code:
30% off Coupon Code: 70Sepcial
Features of MoniMaster for WhatsApp:
View WhatsApp Messages:
MoniMaster for WhatsApp allows you to access and view the content of WhatsApp messages, including text conversations, multimedia files (photos, videos), and documents sent or received on the target device. You can also see deleted messages on WhatsApp.
Check WhatsApp Calls:
It offers call tracking features, allowing you to see details about WhatsApp voice and video calls made or received on the target device. This can include call logs, timestamps, call duration, and even the ability to track WhatsApp calls and listen to call recordings (depending on the specific app and its features).
Media Viewing:
MoniMaster enables you to view media files shared through WhatsApp, such as photos, videos, and other attachments. You can access and download these files for viewing.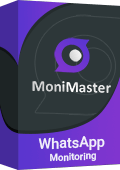 Track WhatsApp Activities:
It can provide insights into various WhatsApp activities, including message timestamps, contact details, and information about sent, received, or deleted messages. They may also track user online/offline status and indicate when messages have been read.
Monitor WhatsApp Status:
MoniMaster offers the ability to view WhatsApp status without them knowing updates of the target device. This allows you to view the photos, videos, or text-based updates shared by the user in their WhatsApp Status.
How to Hack WhatsApp Without Code by MoniMaster for WhatsApp
Step 1. Create a Monimaster valid account..
Click the button "Sign Up". Use an email address to sign up and create your account. Then, buy a plan to unlock all the features of the MoniMaster. So that you can take advantage on all the features of Monimaster.
Step 2. Install the MoniMaster Instagram spy app on the target phone to finish the process.
Then, the website will lead you to "My Product" page. Find the plan you just purchased and click "Setup Guide" option to learn how to download and install the app on the devices you want to monitor.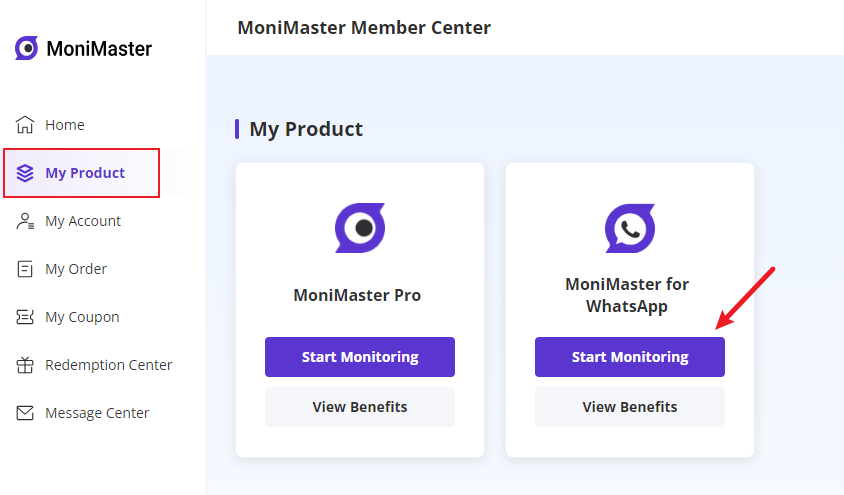 Step 3. Discreetly Monitor all the WhatsApp Activities on the Target Device.
Once you are done installing it on the target device, verify setup at the bottom of the "Setup Guide" page. This is where you are able to check all the activity and messages on WhatsApp and all data types you want to supervise on the Dashboard.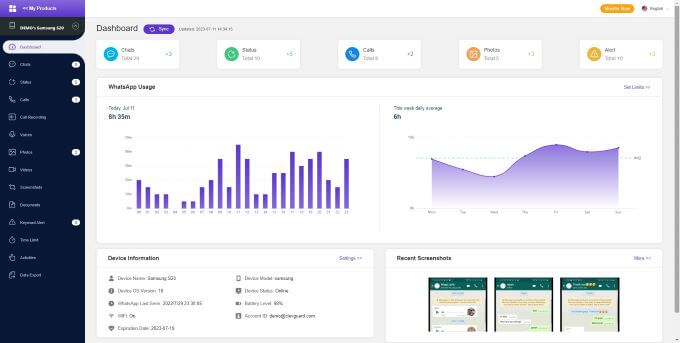 NOTE:
This is the safest and the easiest way to hack into someone else's WhatsApp without the QR code and get WhatsApp QR code without phone. If you ask the question about I need a hacker to hack whatsApp comments, and this method could help you.
2. Hack Someones WhatsApp By Download WhatsApp App on Windows or macOS
Discover how to hack WhatsApp without QR code and gain instant access to WhatsApp Web on your Windows or Mac computer. WhatsApp Web is a widely used method for hacking WhatsApp, and now you can do it without the hassle of scanning QR codes.
Follow these simple steps to unlock this powerful feature and start monitoring WhatsApp activity effortlessly.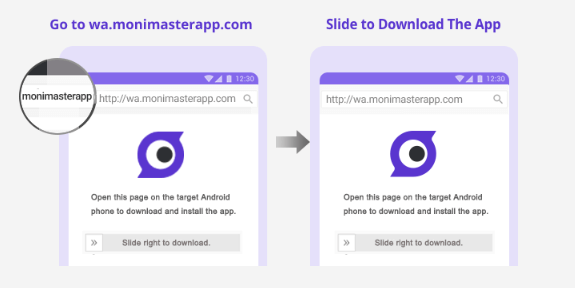 Step 1. You should first download WhatsApp for macOS or Windows.
Step 2. Now you will have a .exe file on your Windows computer or a .dmg file on the macOS computer.
Step 3. You should open up the file and proceed with completing the installation process.
Step 4. When the installation is complex, you will be able to launch WhatsApp application on the computer. This is where you will see a QR code to set up.
Step 5. You should now launch WhatsApp on the smartphone, visit WhatsApp Web without AR code and proceed with scanning the QR code.
Step 6. Now you will be able to scan the QR code, and you can get WhatsApp to be available on your computer.
Step 7. Whenever you want to send or read WhatsApp messages without their phone, you don't have to open the browser. You can simply do it from the application you have installed on the computer.
3. How to Hack a WhatsApp Account Using Spoofing Method
Find the ultimate WhatsApp hack: how to hack someone's WhatsApp without QR code using the powerful spoofing method.You can also use the spoofing method to hack someones WhatsApp. Follow the steps given below to know how you can do this.
Step 1. Uninstall WhatsApp from your device and then get the target phone's Wifi MAC address by going to "Settings", tapping on "About Phone", selecting "Status," and then selecting "Wifi MAC address".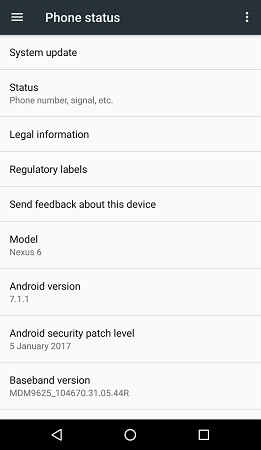 Step 2. From Google Play, install Terminal Emulator, and Busy Box.
Step 3.With the help of these two tools, change the Wifi MAC address on your phone to the Wifi MAC address retrieved from the target phone.
Step 4. Install WhatsApp on your device and enter the target phone's number and login using the verification code which gets sent to the target phone.
NOTE:
Be careful about deleting the verification code on the target device once you have accessed it.
4. How to Hack WhatsApp Using Phone Number?
You can also hack WhatsApp using phone number. This is another straightforward method available for anyone who wishes to gain access to WhatsApp without QR code. Following are the steps that you should follow to get the job done.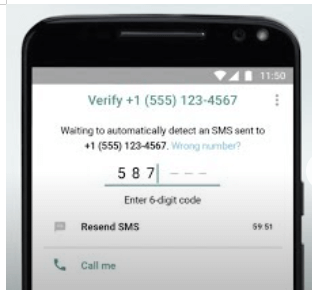 Step 1. You will need to own the phone in order to do this. When you have the phone physically with you, you can try to log into the targeted number on WhatsApp.
Step 2. Once you do this, the verification code will be sent to the target phone. Enter this verification code on your phone and begin accessing the target phone's WhatsApp on your phone.
NOTE:
Although this method may seem easy, the verification code sent on the target phone can be easily detected by its owner, which can come in the way of hacking their WhatsApp.

FAQs about Hack WhatsApp Without QR Code
How to Hack Someone WhatsApp Using Chrome?
If you want to hack the WhatsApp account of someone with Google Chrome, you should do it from WhatsApp web. You will need to visit web.whatsapp.com and you will be asked to scan the QR code. This is where you need to get physical access to the device one time and scan the code. After that you will not need it.
How to Recover or Retrieve Someone's WhatsApp Messages after Deletion?
You will need to check and see whether there is a backup of chats available on Google Drive or not. If there is a backup, you can log into the Google Drive, access the backup, and restore all the deleted messages.
Can a WhatsApp message hack your phone?
No, it is not possible for a WhatsApp message to hack your phone. However, you should not share the verification codes sent by WhatsApp to your phone with anyone else. People you know would ask you to send the verification code and hack you.
Can someone see my WhatsApp messages from another phone?
If your WhatsApp is connected to another phone or a device via WhatsApp computer application or WhatsApp web, it will be possible to see your messages. This is where you should go to the Linked Devices section under WhatsApp and see what devices are linked.
Summary
If you want to know how to hack someone's WhatsApp without QR code, this article can be of great help to you. Instead of trying out the less effective methods, the best way to safely hack into someone's WhatsApp is by using MoniMaster for WhatsApp, which is highly recommended due to its effectiveness.