If you are connected with a person on any social media platform. That has a casual profile and doesn't remain online all time. And ask you for personal info or money. Then there might be a possibility that this is a fake account.
Using a fake account for any purpose is catfishing. Is catfishing illegal, in this article, we will brief you in detail.
What Is Catfishing?
It is defined as when a person(Male or Female) makes a fake profile on any social media, Dating, or any other online platform. And deceive, abuse, access personal data, or demand money from someone.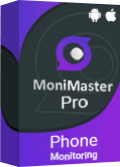 Use MoniMaster Android Monitoring to Protect Kids From Catfishing
Check all incoming and outgoing calls & SMS

Spy on social media apps like WhatsApp, Instagram, Snapchat, Facebook, Viber, WeChat and more

Track cell phone location in real time and view location history

Remotely access the files on the target phone, like contacts, photos, call logs, etc.
In fact, the person in the profile is someone else. Different laws exist in different countries of the world regarding catfishing. But one thing is clear it is not a specific crime, that can cause different crimes. Different aspects of catfishing results are
Financial frauds
Personal Data Leakage
Emotional Abuse
Psychological effects and many more
Signs of a catfish
We already defined what is catfishing. Now We will discuss signs of a catfish. So that it is easy for you to detect such types of people and avoid any inconvenience.
The profile may be newly created. Or they have fewer number friends and Followers.
The person stays offline for a long time, which means that he /she goes online for a short period of time.
The hot teen selfies is either fake, stolen, or professional.
Oher signs of a catfish are avoiding Audio, Video calling, and Chatting.
A catfish will try to get your personal data or demand explicit images or videos.
They can ask you for Money.
The last signs of a catfish are that these people are pro in excuses.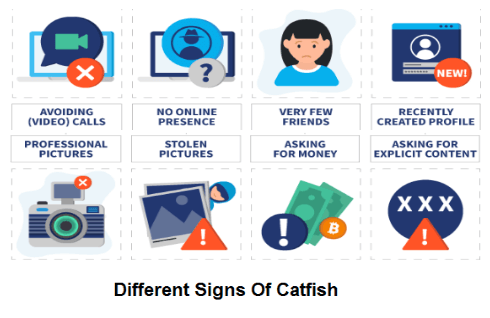 Is It illegal to Catfish?
A lot of people are looking for the question, Is It illegal to Catfish? So today we are going to brief you on whether Is It illegal to Catfish or Not?
Well, Catfishing is pretending to be someone else. Which is not always illegal. Pretending to be someone is not a crime. But when you commit a crime while pretending to be someone else. It is a crime.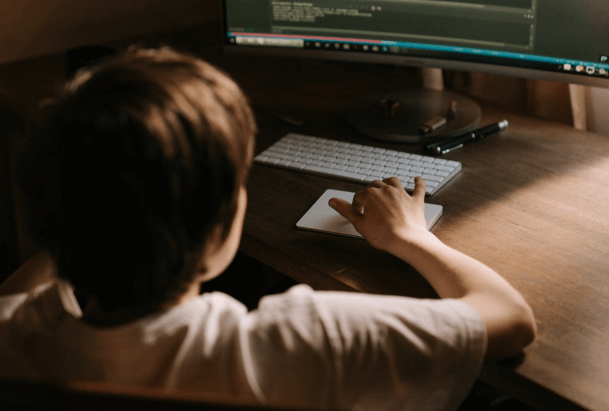 Different crimes that are punishable while you catfish someone are. Accessing, leaking someone's data, Financial fraud, abusing, psychological, and emotionally blackmailing are different types of crimes.
All these crimes are punishable as per every state law. If we take an example, Millions of fake accounts on Facebook. Thousands of people are trapped via catfishing. And we can read hundreds of scam stories on the internet every day. So if you still looking for the answer of is it illegal to catfish is Yes. Because catfishing leads you to commit a crime.
Is Catfishing a Crime?
In the previous topic, we discussed and tried to answer the question. Is It illegal to Catfish? In the end, we come up with an answer that it is illegal to catfish. Because it leads someone to commit a crime.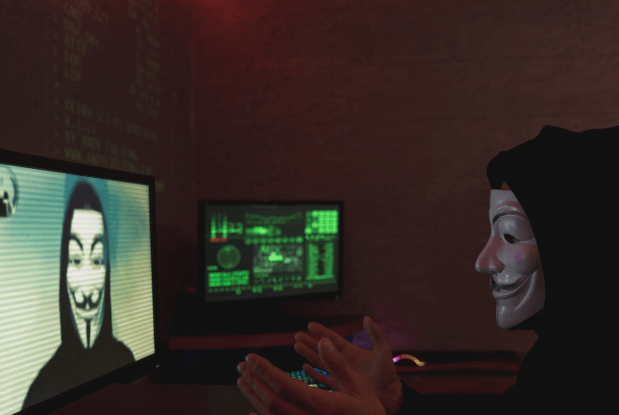 Different crimes that are directly related to catfishing are Romance scams, Aggravated identity theft, Pedophilic relationships, Intellectual property crimes, and many more.
Different countries have different types of Punishments depending upon the crime you commit. And they consider catfishing a crime.
How to Protect Kids From Catfishing?
If your kids are using social media and you are worried about the. Then you have to take practical steps to protect your kids. The same is the case for catfishing. So we have decided how to tell if someone is catfishing you. You can use this method to protect your kids as well as people you care about a lot. The best way to protect kids from catfishing is using MoniMaster Android Monitoring. Here are some common features of MoniMaster.
Track Instagram:
Just like Facebook, MoniMaster let you track Instagram activities to avoid catfishing. As it is another commonly used social media platform. And the best choice for catfishers.
Track Facebook Activities:
MoniMaster let you see someone's activity on Facebook. If someone is connected with your kids on Facebook, And it seems that someone is catfishing at your kid. MoniMaster let you know.
Track Other Social media Apps:
Besides the above-mentioned platforms, MoniMaster tracks other social media apps to avoid catfishing. Monimaster makes it possible how to tell if someone is catfishing you on other social media Apps. Such as Twitter, Messenger, WhatsApp, WeChat, etc.
Tracking of Dating Apps:
Monimaster let you track dating apps installed on the target device at your fingertips. It doesn't matter, Which dating app is being used by a target user. It gives you complete access and enables you to know If someone is catfishing you.
Monitoring of Web activities:
Besides dating apps and social media platforms, Monimaster let you track web activities of any target device. It gives you complete detail of internet history and other online web activities.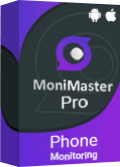 Steps of using MoniMaster:
If someone is catfishing you or your kids. You can protect yourself or your kids in three easy steps using MoniMaster.
Step 1. Make an Account:
To protect someone from catfishers, Create your MoniMaster account using your email and Buy a membership plan.
Step 2. Setup Process
Now, Follow setup instructions. You will need to access to the target device for setting up. This is an important step in eliminating catfishers. On the "My Products" page, you can find the detail you bought, and afterward, click on "Arrangement Guide." Go through the policies cautiously to figure out how to download and introduce the application to set it up.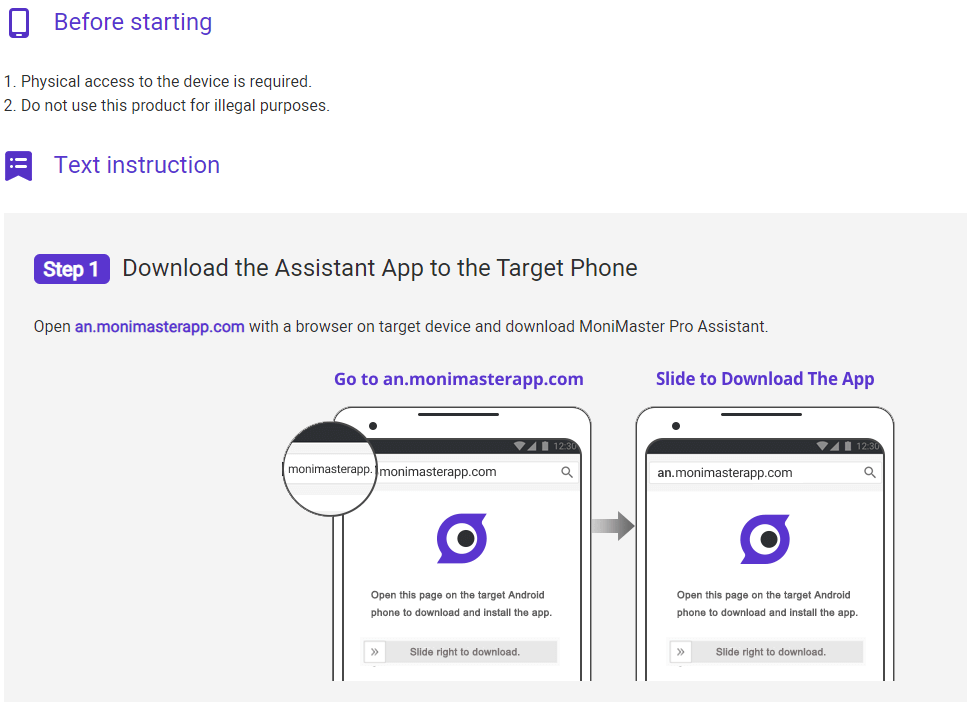 Step 3. Start Monitor Kids' Phone
The last step is verification, once everything is set up, you are ready to find and eliminate catfishers. After adding all the requirements, go to the "Check Setup" page. The process is complete, and you are ready to start monitoring on your phone.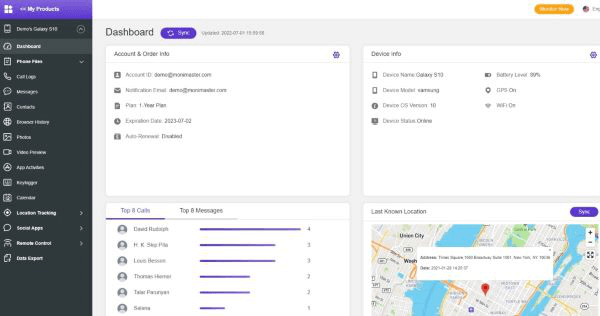 FAQs about Catfishing
What is catfish in a relationship?
A catfisher has always a secret purpose in mind. This may be either getting personal data, Getting money, or something else. So a catfish is always friendly in a relationship. He/She will always try to blackmail their target emotionally.
Why would a guy catfish you?
If a person is unable to express himself/ herself freely in the real sense. Then they will try to catfish. Another reason is a lack of confidence, a secret purpose, or anything else. While pretending to be someone they can express themselves freely.
What is the purpose of catfishing?
There are different purposes for catfishing. some of them are listed below.
Harassing someone.

To get money from someone by blackmailing.

Get personal data of a person.

Persuade someone for any other purpose such as illegal relationships etc.

Abusing someone
What does it mean to catfish a girl?
If you are unable to create a connection with a specific person. People someone else name to create their online profile. This process is called catfishing. Where you pretend to be someone other than real. In most cases, people use these tricks to connect with females.
How do I stop catfishing?
In different ways, you can find and stop catfishing. The first thing is to do some background checks before accepting a friend requests. Similarly, you can use MoniMaster App to check the Web and App activities of your kids to stop catfishing.
Conclusion
If you or your kids are using social media or any other platform. And receive a connection request that seems to be fake. Catfishers may try to scam you in different ways. In this article we discussed what is catfishing? is catfishing illegal? what are signs of a catfish and how to tell if someone is catfishing you? To protect yourself and your kids from catfishing use MoniMaster.