Question:
How to see all photos of someone on facebook?
Being one of the biggest social media platforms, Facebook is used by everybody regardless of the age factor. So, there is a huge number of people who wish to dig out how to see Facebook photos without being friends.
Here you can read the below 3 easy ways to find how to see someone's Facebook profile without being friends.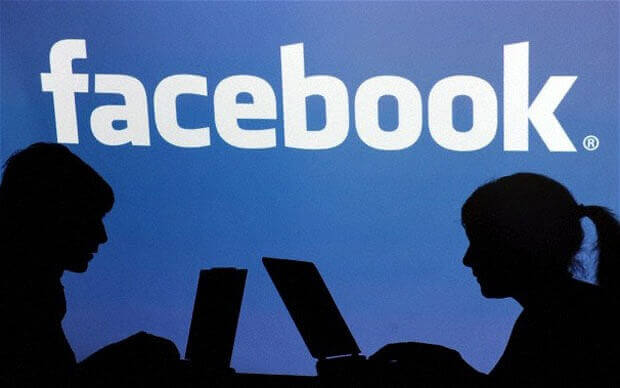 Way 1: View Facebook Profile Without being Friends Using MoniMaster
Difficulty: Very easy. Everyone can set it up within 3 minutes without technical knowledge.
Risk of detection: No
Suitable user: Keep track of someone's Facebook photos, videos, chat history, activities, interactions and profile even in private.
The internet is fully loaded with software that commits that they can help you to see Facebook photos without being friends, while MoniMaster is by far the best way and vetted by millions of users around the globe.
NOTE:
The great thing about this software is that it doesn't ask you to enter the target user's Facebook account and passwords or log them out. You simply have to activate the MoniMaster application on the target phone and after that, whenever the target uses Facebook, you will be able to remotely track all of his/her activities through an online dashboard.
Why choose MoniMaster to view Facebook profile without being friends?
It allows you to view all photos and videos on the target profile.

It can monitor private chats on Facebook or Messanger. Either they are incoming messages or outgoing, it equally tracks the whole chats with their usernames.

Whatever notification receives on the target phone, MoniMaster is capable to read all those without letting the account owner knows.

It can even track the photos from target user's friends remotely, as if you are owning target's Facebook account.

You would be capable to track multiple Facebook accounts without logging them out.

It can capture the Facebook screen automatically and you are allowed to take screenshot manually.
How to view private Facebook photos without being friend using MoniMaster - 3 steps only
Step 1: Create an Account
Click the below Sign Up button to create an account with a valid email address. Buy a license that fits your need to have access to the premium monitoring features.
Step 2: Download and Install the App on Target Phone
Simply vist www.Monitoring.net with the browser of target phone and download the app. Then open the downloaded APK file and log in to your account. You will need to allow some necessary permissions on target phone. After the setup, the app's icon on the home screen is hidden which means it is activated and starts collecting every detail of target device.

Step 3: Start Monitoring Facebook Profile
You can go to your online dashboard to view all the data that's available from any browser. By clicking Facebook button in the left module and you'll be able to check Facebook profile right now. Try its features in the free demo first.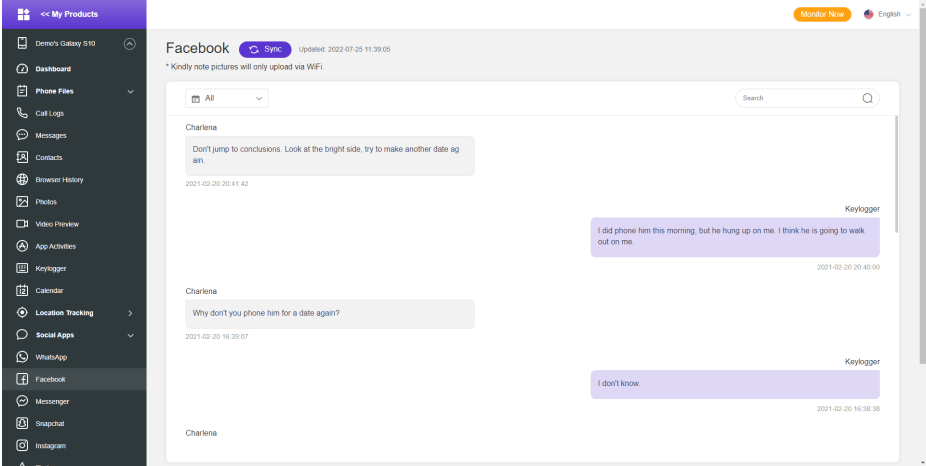 Way 2: Search the Person Directly
Difficulty: Very easy.
Risk of detection: Maybe. Because you have to add the person if his/her Facebook is private.
Suitable user: For those who have a Facebook account and search the persion in Facebook page.
It would be great if you know the username of that user otherwise you can use the search feature on Facebook. If you can't find the person in search results, click on see more results and scroll down to find if it appears there. Moreover, you can utilize search filters like location, education, workplace, etc to get more precise search results. And it can help you to see facebook photos.
Limitations:
If you are succeeded in finding the profile but unable to see photos of that account it means that the user has set privacy on its account and only allowed people can see his/her photos. In this case, you can't see the photos of that person without being friends.

If you can't find a person on Facebook, there is a probability that he/she might have blocked you. If that is the case, you can't ever see the profile of that user until you are unblocked.
Way 3: View Facebook Hidden Photos by Chrome Extension
Difficulty: Medium
Risk of detection: No
Suitable user: For those who want to see someone's hidden photos without being friends.
PictureMate is an exceptional extension that is used to see hidden photos of anyone on Facebook. Regardless of either you are Facebook friends with the target or not, it allows you to view all the private images of the target account as well as capable to figure out with which people the target user's photos are tagged.
Step 1. You need to visit the official website of PictureMate to get the free extension of it. Simply, add the extension to your Chrome browser.
Step 2. Here, you need to wait until it is successfully added to your browser. After making sure it is done, reboot your operating system.
Step 3. After the restart, you will find the PictureMate extension on the top-right pane of the screen.
Step 4. That's it, you are free to search target user's photos and find with whom people he/she have been tagged.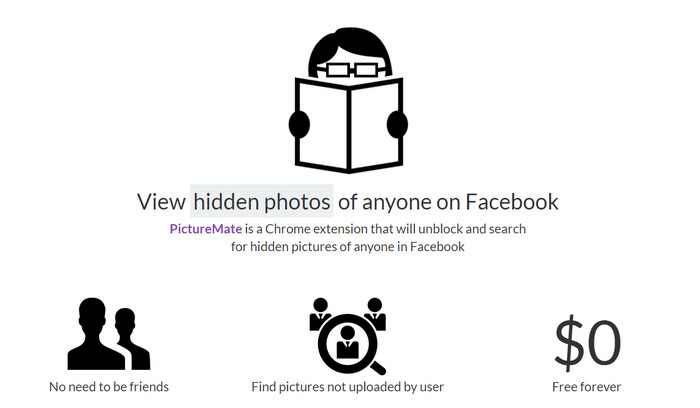 Limitations:
Picturemate won't find privacy protected photos, but it may find tagged photos from other Facebook accounts more easily. Due to it's stated anti-privacy purpose, we don't recommend adding this to a browser with access to a personal Facebook account.
Conclusion
In a word, if you want to find a Facebook hacking tool that is constantly able to keep a watch at someone's Facebook activities, you must try MoniMaster. Because it is the most effective way to view Facebook photos without being friends. Still, have questions in your mind or want to share some other useful methods on how to view private Facebook photos without being a friend? Put your thoughts in the comment section and we will try our best to reach you as soon as we can.