Question:
Are you worried about who your boyfriend is messaging on Facebook? Are you concerned that he may be talking to another woman behind your back?
If so, you can now take comfort in the fact that there are ways on how to see who your boyfriend is messaging on Facebook. In this article, we'll take a look at some of the methods available to you so you can feel secure in your relationship. So, how can you see who your boyfriend is messaging on Facebook? Here are 3 possible ways.
Way 1: How to Check Boyfriend's Facebook Messages For Free By MoniMaster
With a Facebook spy app, you can completely track the Facebook activity of your boyfriend. These are invisible apps meaning they are completely anonymous and undetectable.
There are numerous Facebook spy apps out there, but MoniMaster is the one that serves the purpose best. MoniMaster is a highly trusted phone spying app that has become the unquestionable champ in the spy market. With the assistance of it, you can see who my boyfriend interacts with on Facebook 24/7 and without him knowing.
Sign Up Free View Facebook Messages
Advantages of MoniMaster Facebook Tracker
Let's now have a quick look at key advantages of using MoniMaster:
Track and monitor Facebook activities:
MoniMaster allows you to see someones activity on Facebook such as posts, messages, and comments, enabling you to stay informed of what is happening on the platform.
It allows you to monitor Facebook activities and locations in real-time, as well as get detailed reports on where the user has been and how long they stayed in each location.
Screenshot on Facebook:
MoniMaster enables you to capture screenshots of the target phone's screen remotely. This feature allows you to visually record significant moments or essential information on the phone, including screenshots from Facebook.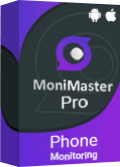 Listen to Phone Surroundings:
It provides the capability to discreetly listen to phone surrounding live, allowing you to gain insights into your boyfriend's activities and the people he interacts with. This feature helps you stay informed and aware of your boyfriend's ongoing conversations.
Access detailed reports:
MoniMaster provides detailed reports on all Facebook activities, helping you to gain insights into the performance of your page, also help you solve the problem of how to see deleted messages on messenger of your boyfriends.
How to check boyfriend's Facebook messages by using MoniMaster?
Let's have a look at its simple process. Below is how to see who your boyfriend is messaging on Facebook with the help of MoniMaster.
Step 1. Create an Account and Purchase a Plan
To begin with, create your MoniMaster account using a valid email ID. Thereafter, choose a package that suits you and proceed.
Sign Up Free View Facebook Messages
Step 2. Follow the Setup Guide to Install the App
Now, you'll be redirected to the My Products page. Get your boyfriend device access and install the app on his phone. Then sign in your MoniMaster account and complete the rest setup process.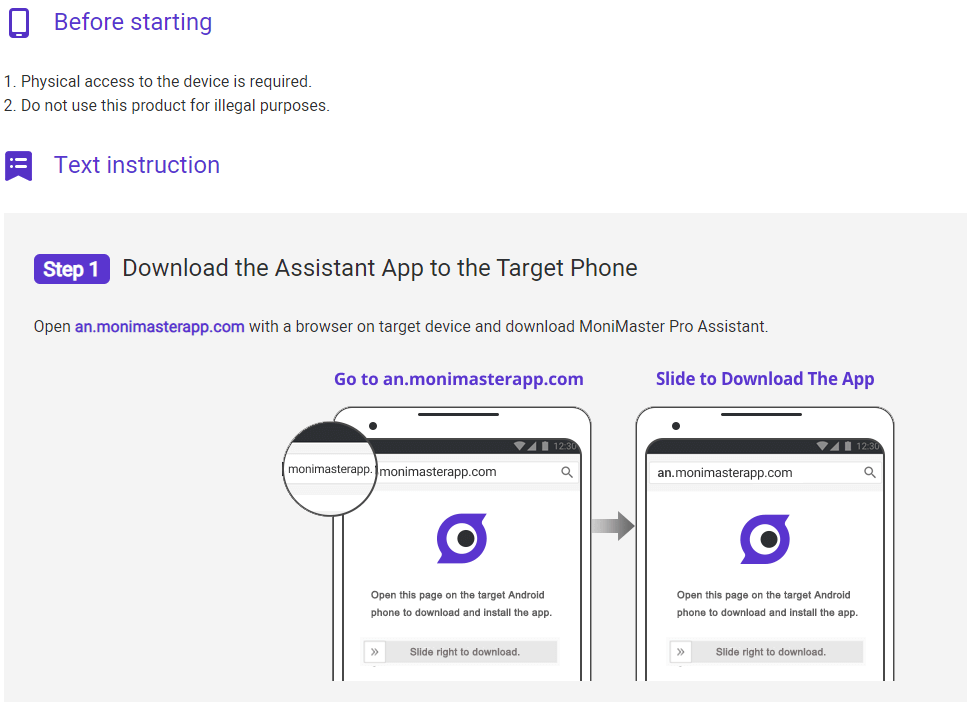 Step 3. Verify Setup and Start Checking Boyfriend's Facebook Messages
After finishing all of the setup procedures, you will access MoniMaster's online dashboard. And then go to "Social Apps"; "Facebook" and "Messenger". Here, you'll be able to see all of your boyfriend's Facebook activity.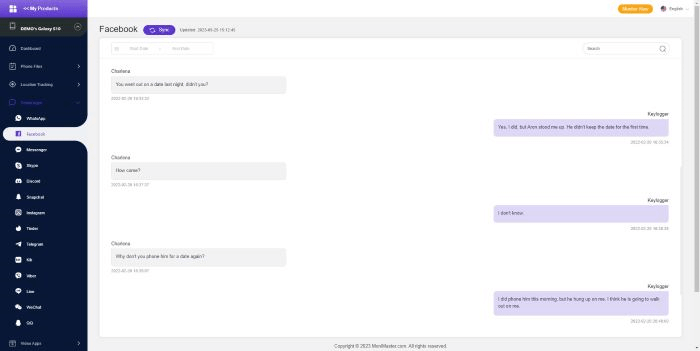 MoniMaster is More Than Just Facebook Spy App
With the help of MoniMaster, you can do much more than just spying on your boyfriend's Facebook activities. So, let's explore what else you can do using this spy app:
1. Track where your boyfriend is and where he has been to.
2. Monitor all the popular social media apps - WhatsApp, Snapchat, Instagram, Tinder, and Line etc.
3. Remotely record your boyfriend phone calls and capture screenshots of his phone activities.
4. View your boyfriend's phone files such as call logs, SMS, browser history, photos, and videos.
Way 2: How to Check Boyfriends Facebook Messages Without Touching His Phone for Free With Email Spoofing
When it comes to how to check boyfriends facebook messages for free, you can take advantage of email spoofing that can help you get his Facebook account.
Email spoofing is when the sender sends an email using a forged sender address. Generally, the sender's email address or name and the message body are formatted to mimic a legitimate source like the company. By pretending to be someone else the receiver trusts, the sender directs the recipient to a fake webpage that garners their personal information (a procedure called phishing).

Here is a quick overview of how email spoofing works to get your partner's Facebook account:
Step 1. Create a look-alike site to fool your boyfriend.
Step 2. After making the webpage, get a domain name that appears similar to Facebook URL such as Facebouk.com.
Step 3. Once your webpage is live, sent it to your boyfriend through email.
Step 4. Wait for your partner to sign-in to his Facebook account through the fake login page. When he does, his login details like password will be redirected to you.
Pros
No need to get access to your partner's phone or computer.


Your boyfriend won't notice that you have gained access to his account.
Cons
Not a legal approach.


Require technical knowledge.
Way 3: Find Out Who My Boyfriend is Talking to on Facebook Via Resetting Facebook Password
If you have your boyfriend's email address, you can reset his Facebook password and access his messages. Here's how to see who is he messaging on messenger:
Go to the Facebook login page (www.facebook.com) on your web browser.


Click on the "Forgot Password?" link located below the login fields.


On the next page, enter the email address or phone number associated with your boyfriend's Facebook account.



Click on the "Search" button.


Facebook will then provide you with several options to reset the password, such as sending a verification code to the email or phone number, or identifying the account through your boyfriend's friends.


Choose the option that is most convenient for you and follow the instructions provided by Facebook.


Once you have successfully verified the identity, you will be able to create a new password for your boyfriend's Facebook account.
Pros
No requirement for third-party spy tools or software.
Cons
You'll need temporary access to your boyfriend's email or phone to reset his Facebook password.


He can change the password afterward, limiting your access to his account.
Way 4: See Who Your Boyfriend is Messaging on Facebook With His Phone
The last way is to check your partner's Facebook account directly. What it means that you may need to get access to your boyfriend's phone or computer. In this scenario, you may also need to know his Facebook account and password.
Well, this method will definitely help you find out your husband secret conversations on Facebook. When it comes to how to catch a cheating husband or boyfriend on Facebook, tracking like this way is good to be bad.
Pros
Easy, quick solution.


No need to use any kind of third-party spy tool or software.
Cons
You may need to know your boyfriend's Facebook account and password.


You're very likely to be found.
Conclusion
So, how can you see who your boyfriend is talking to on Facebook is not hard at all if you choose MoniMaster - Isn't, it yes? It is indeed the best phone monitoring solution out there that has made spying on someone's phone or social activities quite easier. It offers a demo, so give it a try right now!