In this day and age, Facebook Messenger serves as perhaps one of the most functional and easy ways to stay in touch with people. Through Facebook Messenger, people can reach members in their social circles within seconds. Facebook Messenger is extremely private, and cannot be accessed by anyone without the username and password associated with a particular account, at least without the help of a spy software like MoniMaster. If you're wondering how to tell who someone is talking to on Facebook Messenger, it's quite simple - using a third party app like MoniMaster can help you keep tabs, view messages, capture screenshots and much more, making these the only viable solution in tracking, monitoring and overseeing other phone users and their Facebook Messenger accounts.
Can I See Who Someone Is Talking to on Messenger?
By default, there aren't any built-in ways in which users can see who other users are interacting with on Facebook Messenger. Without an additional third-party service, users can see very limited information on other users' Facebook Messenger. This typically includes things like when the user was last online, a timestamp for the conversation, messages that were deleted, and notifications notifying you of the user's birthday or their participation in a particular event. So can you tell who someone is talking to on Facebook Messenger? Not by default. But through a spy app, you can definitely check them out!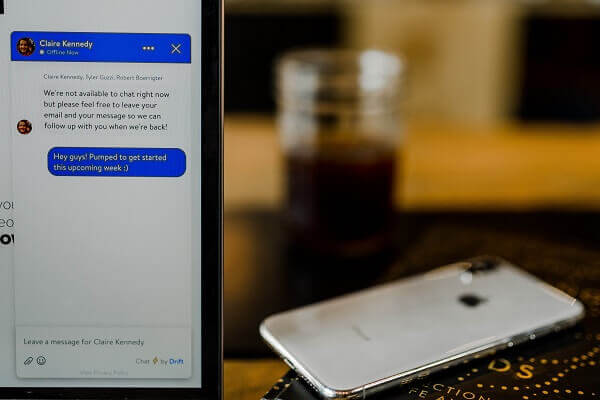 For example, parents who want to keep an eye on their children's Facebook interactions, may wish to monitor their conversations, particularly if they have a cause for worry. If you do, for whatever reason, need to monitor someone else's conversations, don't worry - Third party services like MoniMaster can give you access into another user's Facebook Messenger in just 3 steps!
How to Tell Who Someone is Talking to on Facebook Messenger?
As we mentioned earlier, services like MoniMaster allow users to monitor other devices. For the purposes of Facebook Messenger in particular, MoniMaster is especially effective. Typically, Social Networks like Facebook and Instagram are tied to username and passwords, which prevents other users from logging in and monitoring all of the activities tied to that particular username-password combination. With MoniMaster, users can bypass that entirely, without any need for unethical practices like hacking or phishing.
In just 3 simple steps, MoniMaster can let you access other devices and see who someone is talking to on Facebook Messenger:
Step 1. Sign up for an Account and Purchase a Suitable Plan
Click on the "Sigh up Free" button, register a valid account and login. Then you'll be directed to the purchase page, where you can view different plans and pricings available. Choose the plan that works best for you.
Step 2. Follow the Setup Guide to Install the App on the Target Phone
After purchasing, the website will automatically jump to "My Products" Page. Here you can click on the "Setup Guide" to watch a guide video. In this step, you are required to download the app directly on the device you wish to track and finish the setup procedures.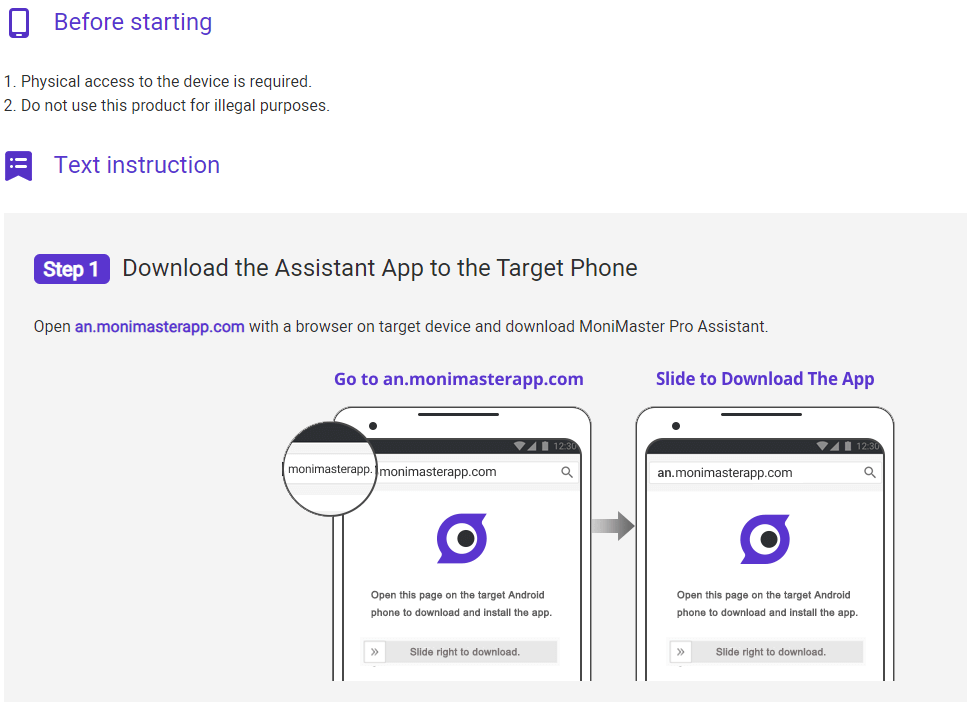 Step 3. Starting Monitoring on the Web Control Panel
Once you've downloaded the app successfully, all you have to do is to click on the "Verify Setup" button to finalize your setup. Then, you will be led to the online dashboard, and you can start monitoring Facebook Messenger data form "Social Apps" options.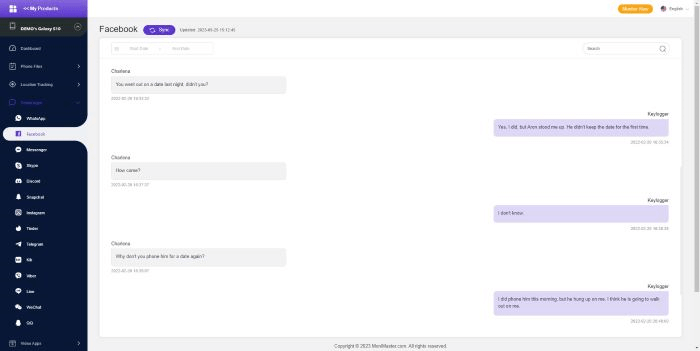 From this point, MoniMaster can be personalized in the dashboard, so users can assign it to track exactly what they want it to track. This is as simple as checking those options on the dashboard, and is very intuitive, making it that much easier for users to get started. In a nutshell, this should give you an idea as to how exactly MoniMaster works, and the different ways in which it can be applied.
What Makes MoniMaster the Go-to Spy Software?
If you've spent time with the demo, it should be almost immediately apparent to you that MoniMaster works seamlessly, and has a very easy-to-navigate and intuitive user interface. Apart from its user-friendliness, it also offers a more comprehensive tracking and monitoring solution than most of its competitors.
More than a Facebook Messenger tracker: With MoniMaster, you aren't limited to finding out who someone is talking to on Facebook Messenger. In fact, Instagram, WhatsApp, Snapchat, Tinder and any other social apps the target person is using, can all be monitored, making it a powerful spy app unlike any other, which let you monitor all kinds of app data on the monitored device.

All-encompassing Monitoring Solution: You can track a plethora of different things like text messages, call logs, photos, videos, browser history and much more, while the app also offers location and remote control tracking. The spying process is pretty much the same, all of the information will be reported to you directly in your dashboard. It's really that simple, which is why MoniMaster is strongly recommended and is the most efficient, effective and convenient monitoring app.

Incredibly discreet: The user who is being tracked by you will not receive any indication or hint that they are, in fact, being monitored. This means that it doesn't require any login information and will never send any notification. This makes it the go-to monitoring platform, both for its effectiveness, as well as it's discreet functionality.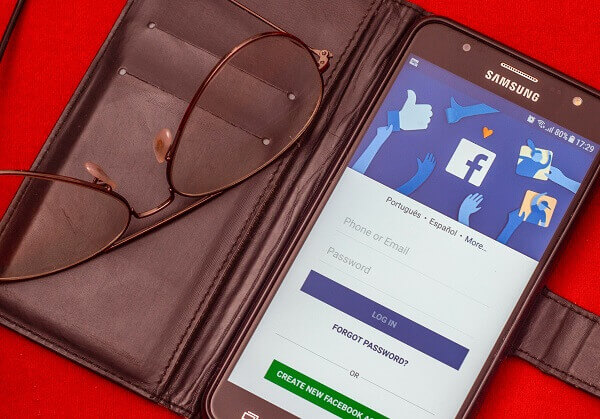 Conclusion
MoniMaster carries a seal of approval when it comes to being an all-in-one solution. If you've ever wondered how to see who someone is talking to on Facebook Messenger, or what they're saying, you've probably hit a brick wall! With MoniMaster, that simply isn't the case anymore. It's ease-of-use, adaptability, integration with various social networks, effectiveness and seamless functionality all make it the most viable option in tracking, monitoring and overseeing user activity across a multitude of devices!