Question:
Can you track someone on facebook without them knowing?
Yes, you can. With the advancement in the technology now people can use Facebook to track someone on facebook without being friends. All you need is the right method and right tool or application to do this.
In this article we will discuss everything on how to see someone's location on facebook without them knowing. Continue reading to know the technique and method.
Part 1: Why Is It Possible to See Someone's Location On Facebook?
Track a cell phone location is possible. Sharing your location on Facebook helps you in planning events, get relevant ads, mark yourself safe in a crisis and share your favourite places with friends.


It also helps Facebook to recognize if your account has been compromised. For these reasons, then tracking someone's location with Facebook is possible.
Facebook's Location Data Changes Since May 2022
As of May 31st, 2022, Facebook has ceased recording location data, rendering the "Nearby Friends" and "location history" methods ineffective. These changes mark a significant shift in the platform's approach to user privacy and location tracking.
Part 2: How to Find Someone's Location on Facebook Easily?
Method 1. Using MoniMaster to Find Location on Facebook
There are many spying software or applications available to track the location of Facebook. So, to make this easy for you, we recommend MoniMaster for Android . This facebook location tracker is easy to see friends location on Facebook, which can use and provide exact details of the targeted device. It has all the advanced options but easy to handle for anyone.
Why Choose MoniMaster:
MoniMaster track target with built-in GPS and it has high accuracy, which is an excellent GPS tracker for kids.


View call history and other information sent are transferred to your web-based account, which can be accessed from any place utilizing any program, from a distance and quickly.


You can know all the location history of the target with accurate time.


It support searching for the location history with address keywords.


You can even find deleted messages on Facebook.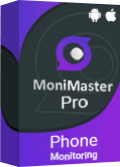 Now let's know how to use MoniMater in Android devices.
How to see someones location on facebook by MoniMaster:
Step 1: Installation and Setup
Create a MoniMaster account and provide the necessary permissions.
Step 2: Account Configuration
Begin by downloading and installing the MoniMaster application on the target device. Follow the setup instructions to establish a connection.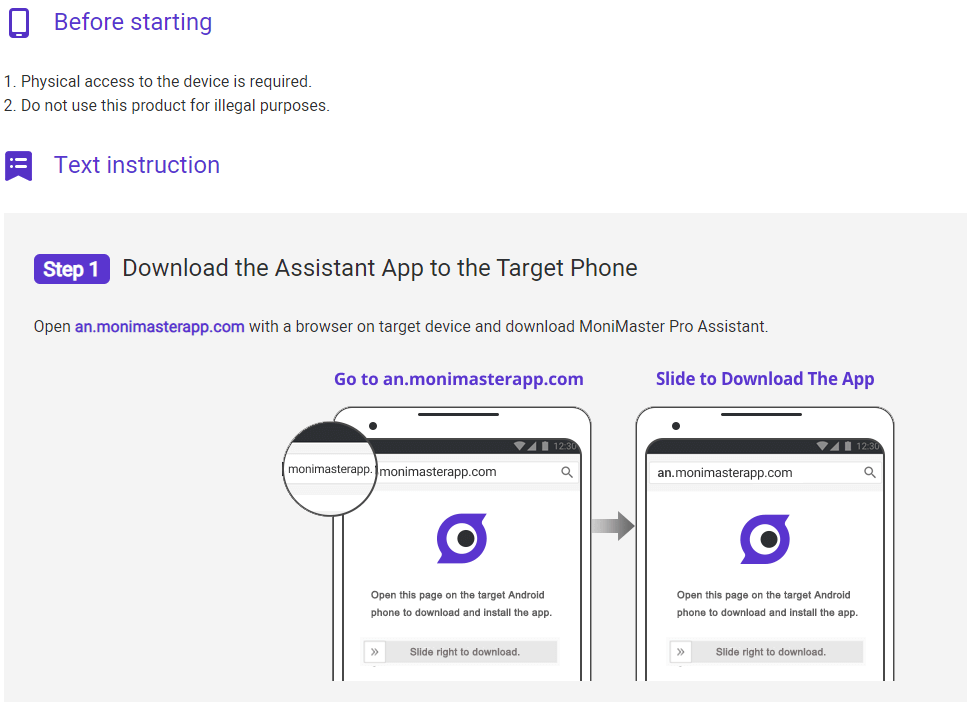 Step 3: Location Tracking:
Within the MoniMaster dashboard, navigate to the "Location" tab. This feature provides real-time updates on the person's whereabouts, offering a comprehensive map view.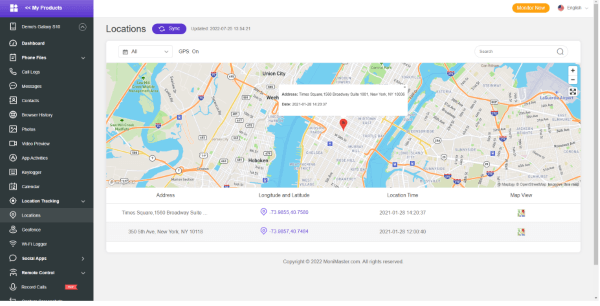 Method 2. Sharing Location on FB Messenger
Assuming you possess a Facebook account, have FB Messenger installed on your phone, and have linked Messenger with Facebook, you're ready to proceed. Here is how to see someones location on Facebook using sharing location method:
In your ongoing conversation, ask the person to tap the four-dot icon (Android) or the (+) icon (iPhone).


Once inside the conversation, have them tap the four dots icon in the upper left corner.


Instruct them to select the location icon.


They should then confirm by clicking "Allow Location Access."


Messenger will request permission to use their phone's GPS. Instruct them to click "Allow."


A map displaying their location will appear.


You'll receive a notification of the shared location. Open the link using Google Maps.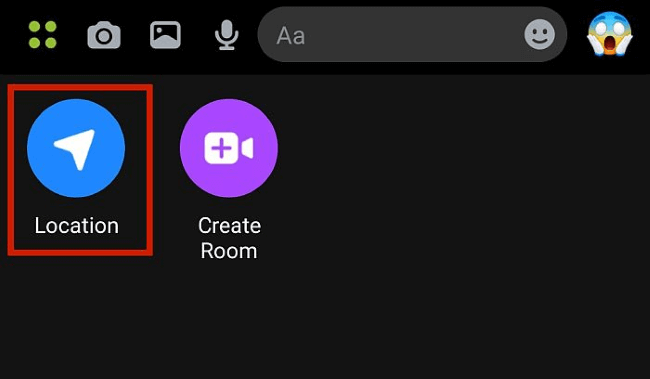 Status
A live location includes a "Direction" button below the place's name.


A non-live location, such as a pinned location, won't display the "Direction" button.
Please note, this feature is exclusive to the full version of FB Messenger and is not available on Messenger Lite.
Method 3. Checking the Facebook Stories
Seeking to pinpoint a person's Facebook location via their stories? Encountered a friend's recent story with location tags? Here is how to check location on Facebook using Stories: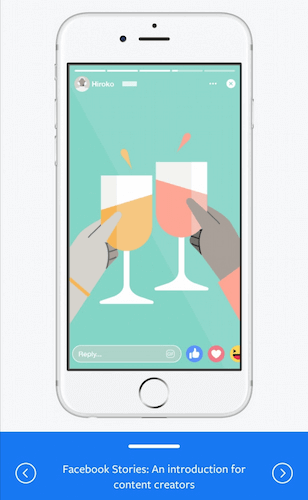 Steps
For a glimpse of their whereabouts, navigate to the stories segment within the Facebook Messenger app.


Access "People," click "Stories," and tap the story featuring the location.
Limitations:
This approach offe rs a rough estimate of someone's location, granting you a basic sense of their presence.
But here's the catch: Often, stories sport fabricated locations. Furthermore, you won't encounter an exact fix on your desired individual. At most, you'll discern the city and country.
Method 4. Checking Location Tags and Hashtags
Finding a friend's location on your list is just a few clicks away through a location tag search. You can search facebook friends by location here! Here is how to find someones location on facebook using Tags and Hashtags:
If an image bears a location tag, tapping on it and selecting "show location" unveils the spot.


Clicking the tag text directs you to Google Maps, displaying the target's location.
Limitations:
However, this approach isn't the most reliable, as the shown location reflects when the image was posted and might not be current. The location tag can also be misleading, as publishers can post any location. Yet, it's a strategy worth attempting.
Video Tutorial on See Someone's Location On Facebook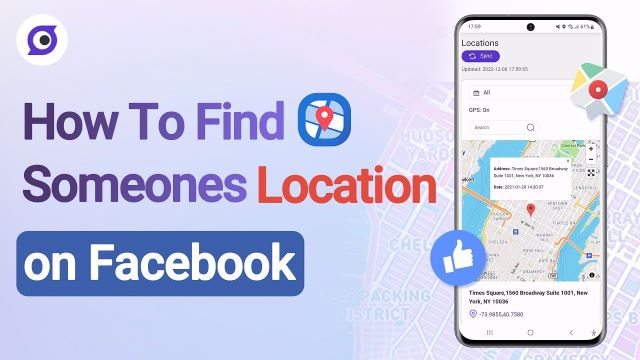 Part 3: How to Track Someone on Facebook Without Being Friends
Track someone on Facebook without being friends is also possible. In this section we will discuss how to find someone's loation without being friends and what their significance is.
Method 1: Track with Marauders Map Facebook
Marauders map is basically a Google chrome extension which is capable to track the movement on the Facebook messenger. You just need to install the map, then it will bring a map every time you open messenger.
This map will automatically detect the location of the people which are available in your Facebook messenger if they are also using the same application. It will not detect the location if someone turned off their location sharing services on the messenger.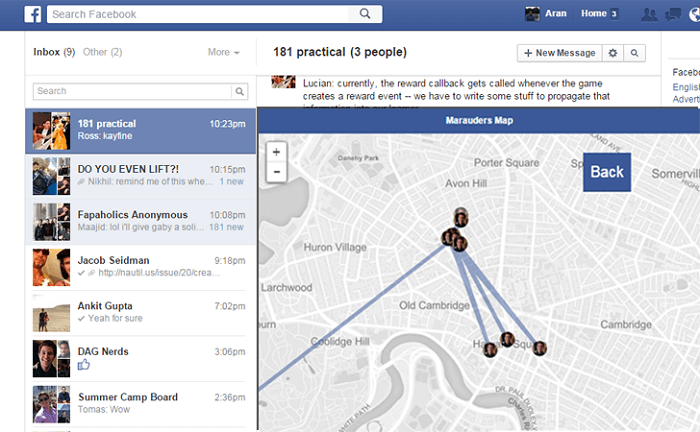 How to use Marauder's Map in Facebook location tracking?
With the help of following guide you can easily track Facebook geolocation of someone :
Go to the webstore of the Google chrome where you can easily find the Marauder's map.
Now install the extension and enable it to use.
After installation, every time when you will open your Facebook , the map will automatically launch and detect the location of all people available in your messenger.
Limitations:
You need to keep the location sharing option enabled on Facebook.


You only can track your friends. So the person you want to track must be in your friend's list.


It can only track the location who has already have chat with.
Method 2: Use Archive Data
To gain a comprehensive view of someone's past Facebook activities, accessing their archived data is a valuable option. This includes a detailed list of their historical actions like posts, comments, likes, and more.
The archive even offers glimpses into their interests, interactions with others, and personal profile details. Utilizing third-party websites or tools, you can download an archive file containing the user's Facebook data from a specified date range, offering a retrospective view of their online presence.
Conclusion:
These days with the advancement in the technology it is not difficult to get an answer of how to find friends on Facebook by location. There are many different methods and tools available in the market to track someone's Facebook location.
According to our research and experience we come to one conclusion that MoniMaster is one of the easiest and simplest tools to track the Facebook location. So without asking how to track people on Facebook, start using MoniMaster for Android from now on.