iOS 16 public beta is the most recent update by Apple. iOS 16 beta is equipped with multiple advanced features such as revamped lock screen option, share Play feature, Undo messages, and editing features.
The iOS 16 public beta app is working fine on iPhones and iPad.
What is iOS 16 Beta?
iOS 16 is apple's latest update released in September 2022 for the public. This new version of an operating system is compatible with all iPhone 8 and above models and iPad 3 generation and onward.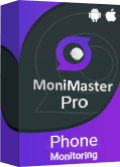 Use MoniMaster iOS Monitorig to Monitor iOS 16 Without Knowing.
Check all incoming and outgoing calls & SMS

Spy on social media apps like WhatsApp, Instagram, Snapchat, Facebook, Viber, WeChat and more

Track cell phone location in real time and view location history

Remotely access the files on the target phone, like contacts, photos, call logs, etc.
Pros of iOS 16 beta:
In this version, developer teams have worked extremely hard to add a new features and optimized the existing features of the previously available versions. The iOS 16 Beta has some worth mentioning features. Let's share some features of the iOS 16 beta.
Customization of Lock Screen.

Focus mode enhancement and live activities filters.

Option to edit, delete messages, or to ark unread.

Mail is customized now user can reschedule their email and perform other tasks.

You can share tabs with multiple users.

Siri option is re modified.

Improvements added on the health and medication side.

The family sharing option is improved.

More Safety checks have been introduced and upgraded.

iCloud Shared Photo Library option let you share a photo collection with family, friends, and other people.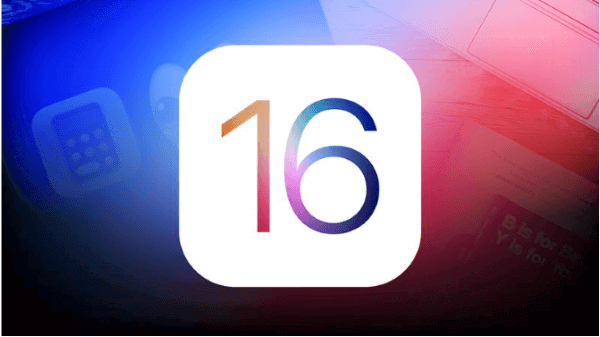 Cons of iOS 16 Beta
As clear from the name iOS 16 Beta is currently in the Beta stage. Currently eight beta versions for developers and six for public testers.
Beta means that the product is still in the testing phase before the official launch. So still there is a risk of data loss or any other misshape during the installation. So always back up your data during the iOS 16 beta download process.
When Does iOS 16 Beta Come Out?
iOS 16 Beta is the upcoming update of apple. It was introduced on June 6, 2022. The update was made available to the public in September 2022.
This version of iOS is equipped with customizable features such as a lock screen, focus mode, live text, and updates for messages, Maps, health and digital payment, etc. besides this the shared tabs and pass keys are also improv.
How to Get iOS 16 Beta?
If you have the same question about How to Get iOS 16 Beta? This article will help you. In this part of the article, we will try to guide you on How to Get iOS 16 Beta? So here is a complete guide related to the iOS 16 beta download. You will need a developer account in order to get the iOS 16 beta
How to Install the iOS 16 Developer Beta?
One of the first requirements that you will need in the iOS 16 beta download process is a developer account. You will need a membership plan for the developer account.
Step 1. Go to Apple's Developer Program enrolment website on your iPhone or iPad.
Step 2. Now sign in to your account using your credentials.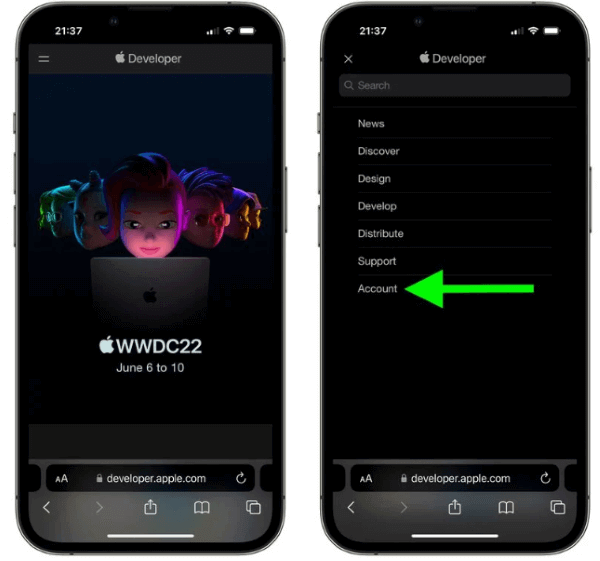 Step 3. After signing in go to Downloads.
Step 4. Move down and click on Install Profile. You can choose iOS 16 beta or iPadOS 16 beta.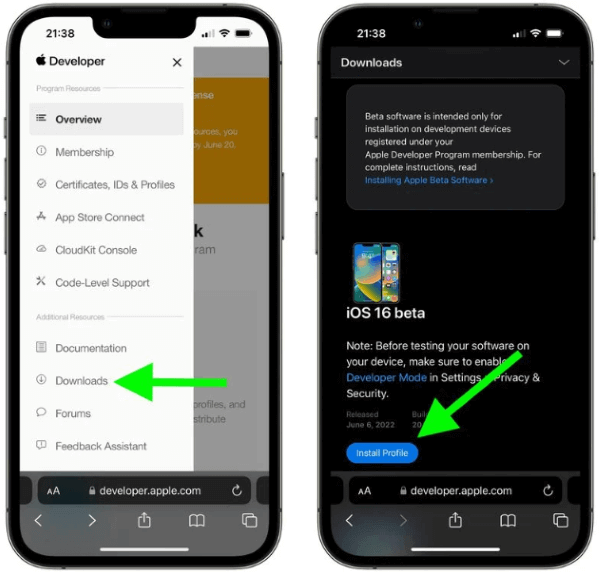 Step 5. Allow downloads and close the page.
Step 6. Go to setting and click on the profile downloaded with Apple ID.
Step 7. Start the installation by giving a passcode.
Step 8. Tick agrees to the agreement. And finish the installation.
Step 9. After installation tap on General->Software update->Download->Install->Install Now.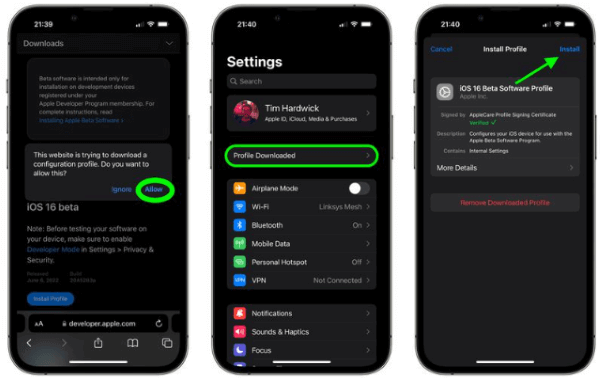 Is it Possible to Monitor iOS 16?
MoniMaster iOS Monitoring is a parental control application that let you track any type of activity on any device. As earlier explained, MoniMaster works on all types of operating systems. i.e. Android and iOS.
While iOS 16 Beta is a newly introduced version. So keeping the previous process it is possible to track and monitor iOS 16 by Monimaster. Here are some common features of Monimaster.
Location:
Monimaster let you track real-time location of the target device. It records the complete history of the location.
Text Messages:
Monimaster also tracks messages sent and received from the target device. It also gives the user access to see and recover the deleted messages.
Call Log:
It gives you access to all type of call logs. i.e. dialed, missed, and received calls.  
Web activities:
Monimaster tracks all types of web activities. It also gives you access to browsing history. Besides this, it tracks all types of applications installed on a target devices such as Facebook, WhatsApp, Instagram, etc.
Stored data:
 If you wish to access stored data of any target device, there is no better application than Monimaster. It gives you all types of data, files, images, and videos stored in the target device.
How to Monitor iOS16 by MoniMaster for iOS?
Monitoring iOS 16 using Monimaster is easy than ever. All you need is to follow these simple tips.
Step 1. Purchase Your Favorite Plan:
Click the "Buy Now" button to pursue a legitimate record utilizing a valid email address. Buy a permit to get close to all elements of this Android observing application.
Step 2. Setting up the MoniMaster App:
The next step is to install and complete the setup configuration. Download and install the MoniMAaster app on the target device and scan the data. If you need further help. You can click on the setup guide.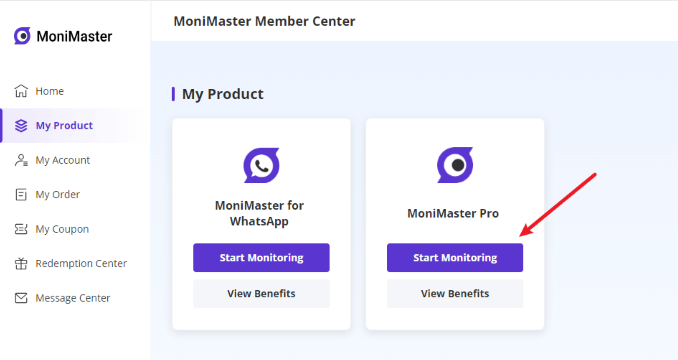 Step 3. Verify Setup:
Once the setup is verified on the target device. You are ready to use the MoniMaster and track target device activities.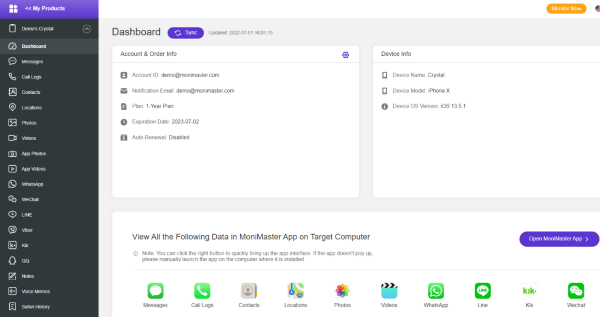 FAQs about iOS 16 Beta
How to check iOS beta version?
Normally it is on the top of the main screen to check the downloaded profile. Similarly, you can also check it in another way.
Go to General and then Tap on VPN & Device Management.
Now click on the iOS 16 beta profile. You will see the latest version installed on your device.
Can iPhone 11 get iOS 16?
As mentioned earlier, The beta version of iOS 16 works on the iPhone model 7 and above. So as for as iPhone 11 is concerned. You can download and install iOS 16on it. It will work on iPhone 11.
Which iPhones will no longer be supported?
According to a press release last year. These iPhone models will be no longer able to receive and install iOS updates. This include iPhone 6S, iPhone 6S plus, iPhone 7 & iPhone 7 Plus. So iOS 16 beta will not be installed on these phone models.
Conclusion:
In this article, we discussed iOS 16 beta in detail. we also discussed the main features of the iOS 16 public beta and how iOS 16 beta downloads. Similarly, we discussed all the steps involved in how to get the iOS 16 beta and installation. If you are worried about this update. Let me assure you that Monimaster will also work on the iOS 16 beta. And you can continue tracking your kids using MoniMaster iOS Monitoring .