Tracking is a scary job and tracking someone's phone is illegal. It can put you behind the bars. There are many articles on the internet, about how to track a phone. Mostly these are about tracking a switched-on phone. Today we are discussing, the most asked question. how to track a phone that is turned off?
Can you Track a Phone that is Turned Off?
Losing a Phone is one of the big nightmares than everything else. If the phone is on, it can be easily tracked using different tracking options. However, if your phone is turned off, it is a big problem. As there is no easy method to track a switched-off phone.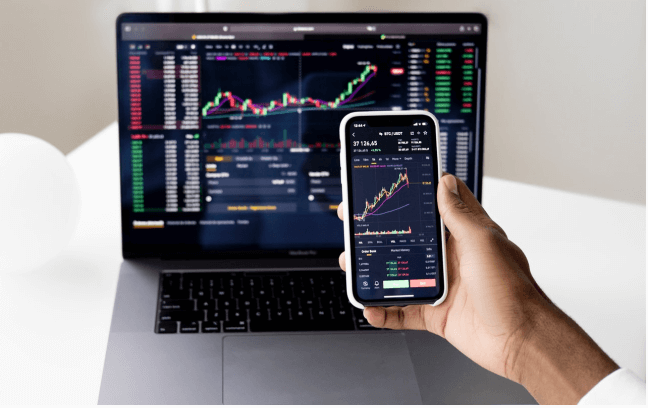 Although it is worth mentioning that nothing is impossible. People with extensive knowledge of computers and technology can track your phone that is turned off. In this article, we will share different tips and tricks to track a phone that is turned off.
The Best Way to Find Phone Location When it is Switched Off
Different ways are in practice to find a stolen phone. The basic method that involves very little or even no cost is using third-party tracking applications. Different mobile tracking applications are available on the internet. But the best application that can help you to track your phone, even if it is switched off is MoniMaster Android Monitoring.
NOTE:
Monimaster is a useful monitoring app. It supports Android and iOS devices. The application helps you to find your android and iPhone that is switched off. It consists of Location tracking. That helps you to track the location of your phone. Next we introduce Monimaster for Android in detail including its features and installation steps.
If your target one is an iOS user. You can click the "View Demo" button to know more features about iOS Monitoring.
Why Choose MoniMaster Android Monitoring
Using MoniMaster you can find the exact location of your phone, As it collects real-time location data.

The location history is available with timestamps, so it let you know where your phone was switched off.

MoniMaster supports google Maps.

Due to the Wi-Fi logger feature, it helps you to know the roundabout location, even if the GPS is disabled.

Track both Android and iOS supported devices.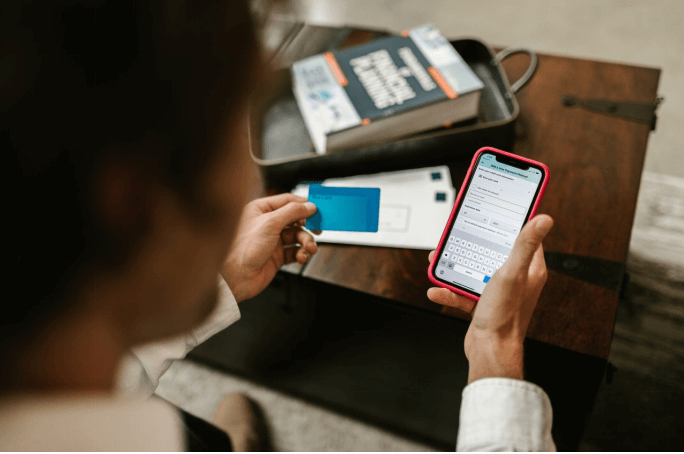 How to find the phone when lost by Monimaster?
Tracking a mobile phone via the MoniMaster application is easy as compared to other tracking applications. The app uses different tracking technologies. Like real-time GPS Location, Location history with timeStamp and Wi-Fi Logger facility. When you install the app on the phone, you can get real-time access to the phone. All you need is 3 steps.
Step 1. Create an account with a valid email address.
Click the button "Sign Up". Use an authentic email address and fill out all the necessary details. Then purchase the plan you afford. Different plans are available on the MoniMaster website.
Step 2. Install the MoniMaster app on the target phone and verify the setting.
Then, the website will lead you to "My Product" page. Find the plan you just purchased and click "Setup Guide" option to learn how to download and install the app on the devices you want to monitor. . Make sure the device is connected to the internet.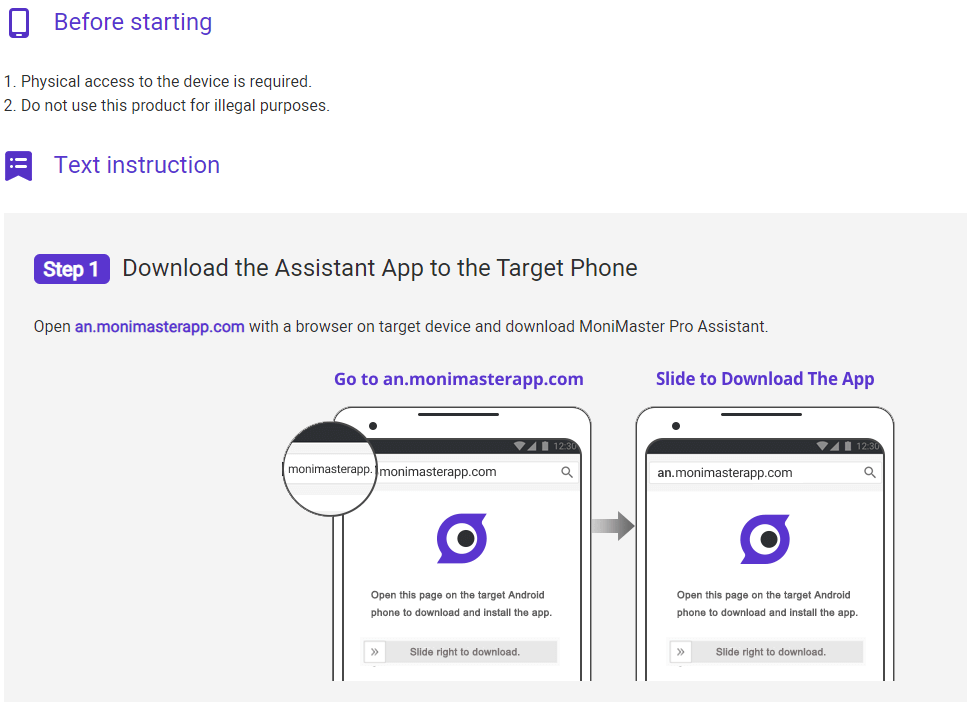 Step 3. Start tracking switch off location by using Monimaster.
After you that, you can verify and proceed with remote monitoring. MoniMaster comes along with a user-friendly dashboard. This dashboard provides access to numerous functionalities. You will be able to use them in order to track switch off location and go ahead with remote monitoring.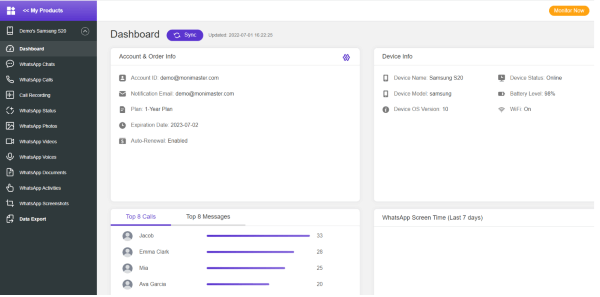 Other features of MoniMaster
MoniMaster is not only a tracking app, but it gives you a complete solution for your own mobile, your kids, and other people that you are worried about. Some other features are mentioned below.
1. The app gives you access to all types of media files including pictures and videos on the device.
2. It can be used to track all types of calls, including incoming and outgoing. It has also access to contacts on the phone.
3. MoniMaster helps you to read text messages and text files on kids' phones.
4. It is one of the best apps to monitor the social media activities of kids. MoniMaster reads and monitors all types of notifications of Facebook, LINE, WhatsApp, WeChat, Viber, etc.
5. Using the app, you can view the browsing history of your kids.
How to Find an iPhone that is Turned off?
If you have lost your phone and it is switched off. You can find your iPhone even if it is turned off. There are three different ways to find your iPhone. Let's define the three methods in detail.
1. Using Find My iPhone on Phone
Find My phone is a special procedure included in iPhone, using this option on the phone you can get access to the lost phone. iPhone always stores your last location for twenty-four hours. If your phone is lost, you can find the last place location, within twenty-four hours.

Pros
The service use location services such as GPS setting etc.

It shows your phone location on the map.

If you lost your phone, just open the option from another phone and find the last location of your phone.
Cons
Location will not be available after 24 hours.
2. Using Find My iPhone on Desktop
Another way to find your phone is to use find my iPhone on desktop. You can also locate your lost phone from a desktop. To use this feature, it is mandatory that your phone have a registered apple id. Now follow the steps mentioned below to find your iPhone.
Step 1. Visit the link icloud.com/find.
Step 2. Log in with your Apple Id credentials, such as Apple id & Password.
Step 3. Now you will see all your listed devices on the map.
Step 4. Make sure you have turned on Find My phone option. And are linked with apple Id.
Step 5. Now, you can tap the device that you have lost.
Step 6. You can tap for more options such as erase all data etc.
How to Find an Android Phone that is Turned off
Android is one of the most used mobile operating systems. Just like iOS android also offer the facility of "Find My Device". There are two methods using which we can find our device. Each method is further discussed below.
1. Using Find My Device
The find my device option enables you to locate your stolen or lost device. However, it is important to perform the action before the location is turned off. You can use this method for android OS phones like Samsung etc. Now open the link from your friend's phone.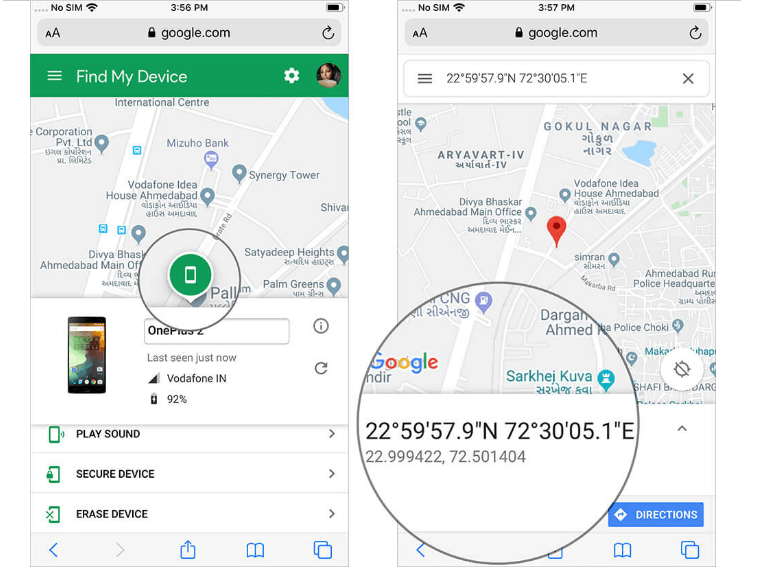 Step 1. Go to link android.com/find, you can also use the Find My device app on other phones.
Step 2. Login to your google account. Make sure you use the Gmail ID that is logged in to the lost device.
Step 3. Once you log in, you will be able to find the device attached to the google account.
Step 4. Now you can see the location of the lost phone.
2. Using Google Maps
Another way to find a stolen or lost android phone. Is using Google Maps. It is one of the best and easy methods to find your lost device when it is off. To perform this action, you must have the Find My Phone app on another device and which is linked to the Google account. Different steps involved in the method are listed below.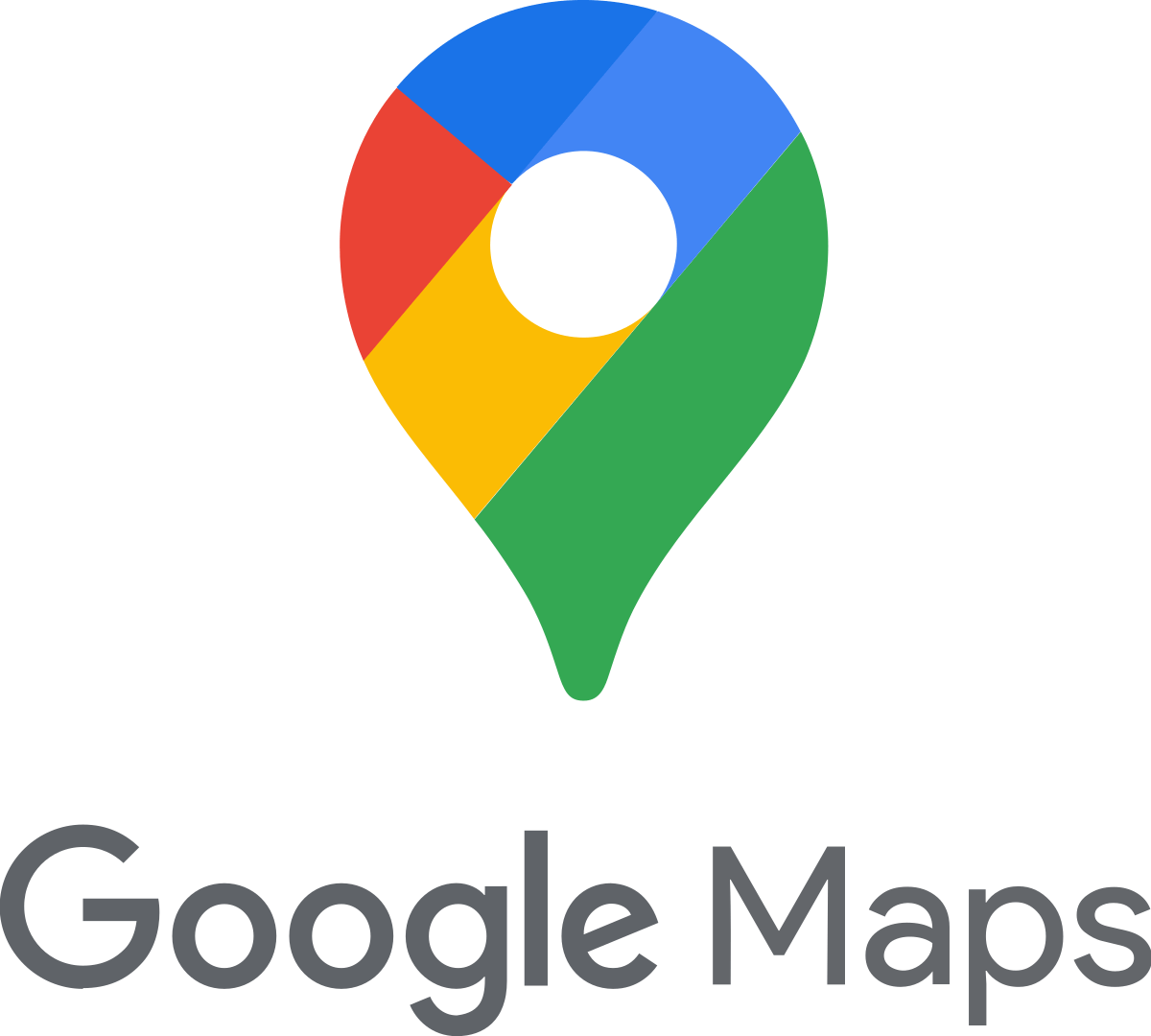 Step 1. Login to your google account and go to Google maps.
Step 2. Click on the menu icon on the top right corner of the screen.
Step 3. Tap your timeline from the drop-down list.
Step 4. Now enter the date on which you lost the phone.
Step 5. After this, you will be able to get the Location list and the last location of your phone.
FAQs about Switching off Phone
Can a switched-off phone be tracked using an IMEI number?
Locally it is not possible to track a switched-off phone using an IMEI number. It requires a lot of hard work and an approach to higher authorities. It can be tracked in the case when you get help from the law enforcement agencies. Once you contact them and they can track your device.
Can police track your phone if the location is off?
Yes, if you are involved in any illegal activity or have a criminal record. The police can track you in different ways. Even if your location is off, they can contact the cellular services provider and get your data about the latest location that you have. So, Police can track you, even your location is off.
How do police track mobile phones?
Police are a type of law enforcement agency. They have access to the latest technologies and related laws. To track someone's location police, use stingrays. It is a type of cell phone spying technology. Using this technology, police can access calls and message logs.
Conclusion
A lot of people are looking for mobile phone tracking. Different types of tracking techniques are available on the internet. iOS and Android devices are traceable via different methods. Such as Fine My device. Google play finding through the desktop. Besides this, different tracking applications like MoniMaster can be used for this purpose.