Question:
Want to log into someone's Snapchat without knowing?
Snapchat is a first-class social media application with millions of everyday users. It connects a comprehensive collection of individuals. Indeed, to log into someone's Snapchat account, you don't need to log into their confirmation to look at that large number of visit history, snaps, contacts, and others. Yet, for that, you need to use professional apps.
Is it Possible to Log into Someone's Snapchat Without Logging Them Out?
Yes, it is possible. However, to use the record and password credentials to log into someone's Snapchat, then, at that point, they will be logged out right away. They will realize that their Snapchat account has been compromised.
That is the basic reason we advise you to utilize some other tools to log into someone's Snapchat from another gadget. However, the objective user can stay logged in. Many options are available for hacking, but you need the best app to log into someone's Snapchat for better monitoring.
How to Hack Someone's Snapchat without Them Knowing?
MoniMaster Parental Control and family finder' device is designed for busy parents to make them handle their life as a parent is in a lot more straightforward manner. You can easily monitor your family members and spacially children what they are doing on Snapchat without knowing them. MoniMaster is safe and secure for monitoring.
Benefits of Employing MoniMaster Android Monitoring:
There's no compelling reason to log the record out, assuming various. All deleted data are accessible.
It won't send any notifications to the objective gadget during checking.
All information can be sent out to your PC, and you can check all information on your screen.
Steps of Hacking Snapchat by MoniMaster Android Monitoring
Step 1. Make a legal Account
Click on the Sign Up button to sign up for an account using a valid email address. Acquire a license to get to all features of this Android checking application. Then, at that point, it will be directed to the My Products page for the remaining process and put your accurate information on the page.

Step 2. Go after the Setup
On the My Products page, you can select the agreement you purchased and later click on Setup Guide. Follow the setup to complete the process. Fill in the required information for further configuration to check the monitoring.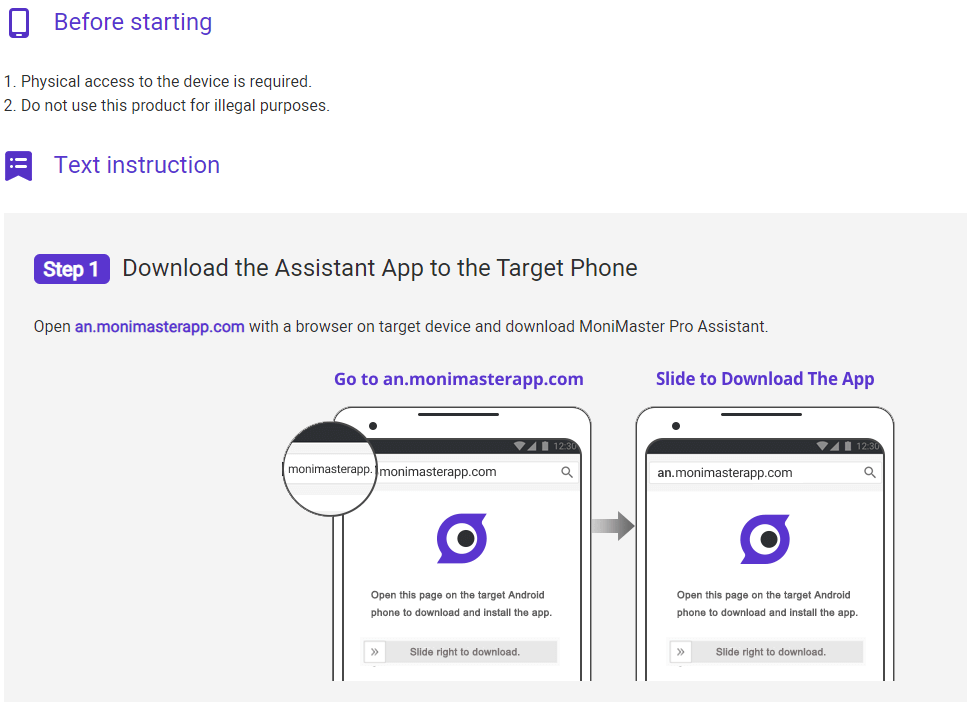 Step 3. Confirm Your Setup and initiate Monitoring
After finishing the setup and setting up on the objective phone, remember to tap on the Check Setup button at the lower part of the aide page. After all the setup, go to your dashboard to see the phone's information.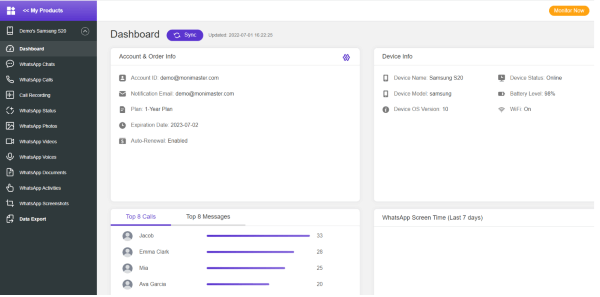 What Else can MoniMaster Hacking?
There are several ways to know whom your kids are visiting with and what they are messaging. MoniMaster is best for parents to view all activities of their kids. It has many features for monitoring. All videos, files, and contacts are in your access. Your child's phone activities will be on your phones.
Watch out for the details of the send and got messages, including recipient names, numbers, and time stamps.
Remotely track the objective's messages with 100% confidentiality. MoniMaster keeps the record and does not send any notification to any number.
The erased messages can also be in control. It is the best feature of the MoniMaster.
You might search specific messages with keywords. It is allowed to find any hidden message you want to check. If your kids delete some messages after seeing them and you want to see them, then MoniMaster is the best choice for you.
All information can be synced to the internet-based dashboard progressively. All data is reachable, and you can watch it at any time.
How to Log into Someone's Snapchat by SMS or Email?
Assuming that you desperately need to access someone's Snapchat, you can figure out their password by resetting it by SMS or email address. Follow these couple of steps to do as such: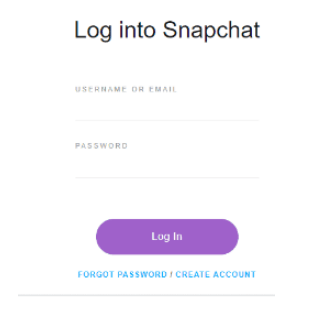 Go to the Snapchat login screen.

Tap forgot your password and follow the instructions to precede it.

Choose Reset through SMS or Reset through Email Address.

Select email to send a reset line.

Then again, sit tight for the check code to be sent to the objective gadget.

Click the reset connect in the email or enter the check code.

Set the new password.
Presently, you can log in and view the objective person's snaps.
What Are the Difficulties to Log into Someone's Snapchat
Among a broad scope of social media platforms, Snapchat is among the main ones with the most users. Perhaps to that end, the security on Snapchat is tighter than those of numerous other social media platforms, securing the interests of its millions of users. So as you need to know how to log into someone's Snapchat without logging them out, you must give very some work. Following are some of the facts why it is challenging to log into someone's Snapchat.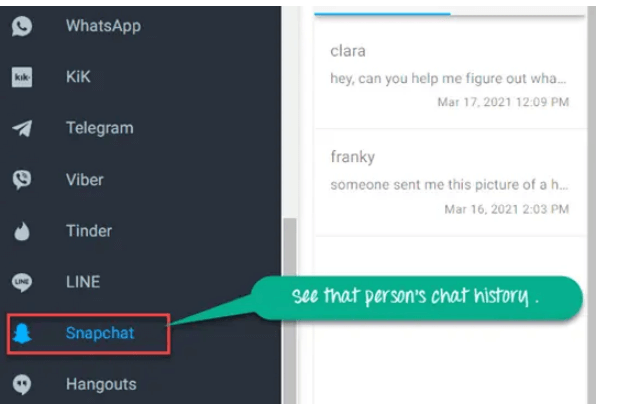 Difficulties to Log into Someone's Snapchat
Firstly, you must have the user's ID number and its password. Whenever users need to log into their respective Snapchat accounts, they are to give their ID and password. For sure, nobody will meander around saying their passwords to you.
Secondly, logging into Snapchat on one gadget makes the other gadget log out of Snapchat. Snapchat does not permit its users to log into their accounts fromtwo different IP addresses. When a Snapchat account is logged in from another gadget, it will be logged out. However, that is not all. When another administrator logs into a record, Snapchat promptly sends a warning email to the user's associated email address.
Consequently, regardless of whether you figure out how to log into one's Snapchat, they will realize it immediately. Also, as the IP address, the gadget's image, and model are remembered for the mail, your character will be exposed instantly. The specific time, alongside the date, is also recognized for the mail.
FAQs about Logging into Someone's Snapchat
1. Will someone know if I log into their Snapchat?
Luckily, any time Snapchat detects a new login for your record on another gadget, you'll get an email from Snapchat making you aware of the action for you. You will get the specific IP and the gadget brand and model from which your record was accessed. MoniMaster does not send any messages.
2. Can you log into Snapchat on two devices?
It is not allowed. As of now, the Snapchat application does not permit various users to log into one shared account. Similarly, the Snapchat application can't run on nuusmero devices immediately, so each time you log in to a gadget, it will log you out of the other gadget.
3. Will Snapchat log you out if you log in on another device?
Logging out different devices will require the use of your phone application. Once more, you can't use the application on two devices simultaneously. Log in using your favored gadget, and Snapchat will consequently log out of different devices. You did not use it on two devices at the same time.
4. How do you log into Snapchat without suspicious login?
Tap your Profile symbol and tap to go to Settings. Then strike 'Two-Factor Authentication' (Set up Two-Factor Authentication if you haven't as of now). Go to the 'Recuperation Code. Tap 'Create Code. Please enter your password to confirm that it's you. Save your code and remain safe from hacker.
5. Is it illicit to log into someone else's Snapchat?
Yes, extremely illicit. The level of this offense depends on how much financial harm is caused or compromised. It is against the law, but if you want to monitor your Childs and want to know about Snapchat activities of your kind, then you are doing for best.
Conclusion
Snapchat is the most well-known social photograph-sharing application on the stage. It is also a stage where kids are the most powerless. So it is understandable if you, as a parent, need to ensure your kids are safe at this stage.
That being said, Snapchat is an intense application to break. That doesn't mean it is impossible. With the assistance of MoniMaster that we've suggested, you'll think that it is easy.