We use Facebook for most of our communications. That's because all people we know are on Facebook. Due to the same reason, you might come across the need to figure out how to see private Facebook photos. If you continue to read this article, you will figure out a way on how you will be able to do it.

Way 1: Use MoniMaster Android Monitoring to See Private Facebook Photos
MoniMaster Android Monitoring is an app that you can use to gain access to the private Facebook profile of another person. If you wonder how to see someone's private messages on Facebook for free, you should take a look at this. It is also a user-friendly tool, which comes with some outstanding features. Let's take a look at the top 5 features on how you can use MoniMaster to monitor friends.
Facebook photos and videos:
You can use MoniMaster not only to take a look at Facebook uploaded photos and videos, even if they are in private mode, but also to view phone history. This comprehensive approach is applicable to any photo or video uploaded by a person, ensuring that you have a holistic view of digital activities.
Capture Facebook screenshots:
Capturing Facebook screenshots in locked profiles is not something possible. However, you can use MoniMaster to unlock that feature.
Facebook messages:
One of the best features you will see in MoniMaster is the ability to gain access to Facebook messages. You can read any message on the conversation with it.
Facebook status:
Going through the Facebook status of someone else will not be a challenge when you use MoniMaster. It provides amazing returns to you.
Export data:
If you want to export Facebook data, you will be able to do it with MoniMaster as well. This includes taking even a complete dump of a Facebook profile.MoniMaster is not only proficient in dealing with social media platforms like Facebook, allowing you to export data and even take a complete dump of a Facebook profile, but it can also handle free texting app. This ensures that you have comprehensive oversight of a wide range of communication methods used in the digital age.
How to See Private Facebook Photos via MoniMaster Android Monitoring?
You need to have MoniMaster app installed on the Android device of target user in order to access Facebook. Here are the steps on how you can use MoniMaster to check Facebook photos in an Android device.
Step 1. Make a legal Account
Click on the "Sign Up" button to pursue a legitimate record utilizing a genuine email address. Buy a permit to get close enough to all elements of this Android checking application.
Step 2. Follow the Setup Guide to Complete the Configuration
Then, you will need to have physical access to the target device. This is a one-time process. Then you can install MoniMaster app on that phone. At that point, you will be directed to the "My Products" page for additional interaction. You can observe the arrangement you bought and afterward click on "Setup Guide". Peruse the guidelines cautiously to figure out how to download and introduce the application to set it up.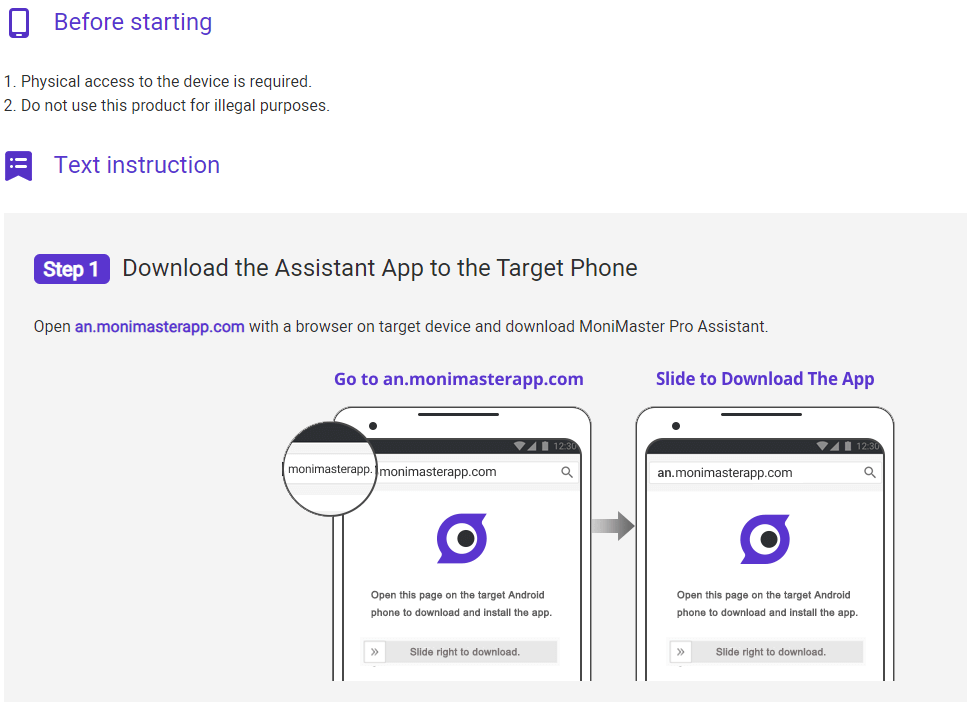 Step 3. Confirm Your Setup and Start Monitoring on the Dashboard
You can configure MoniMaster on the target phone with your email. Then you can use the same account to log into the MoniMaster account on your computer.
The user-friendly dashboard on your computer will provide complete access to the Facebook account, including photos and messages. From that point forward, you can tap the board on the passing side of the Dashboard to pick which information you need to check.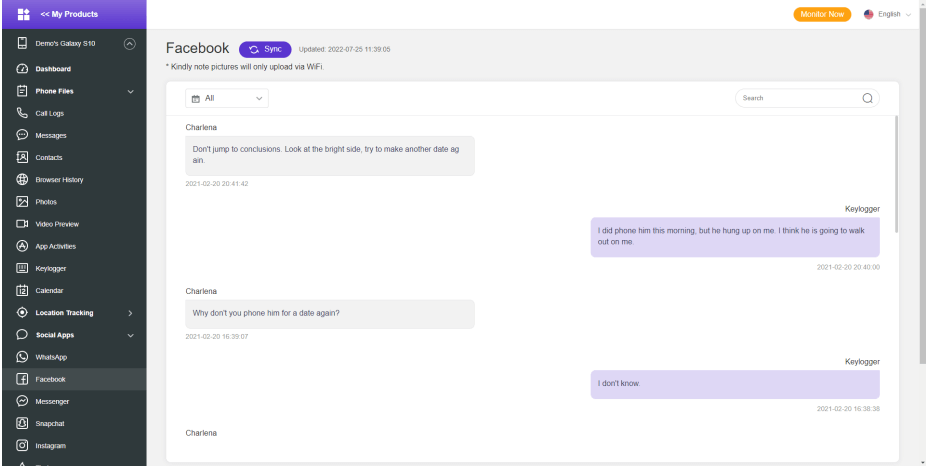 What else can MoniMaster Monitor?
You will not just be able to use MoniMaster for Facebook monitoring. There are few other outstanding features coming along with the tool. Here are examples for some other work that you will be able to do with the help of MoniMaster. Then you will be convinced to start using MoniMaster to get your work done without keeping a doubt on mind.
You can keep track of incoming and outgoing calls of the target device with MoniMaster.
You can track the contact list of the target device with MoniMaster.
It is possible for you to get data on the target device synced to the dashboard on a real time basis.
You can search for specific keywords in messages with MoniMaster.
It is also possible to use MoniMaster and find deleted messages on the targeted device.
Way 2: See Private Photos by PictureMate Extension
Another method on how to view private Facebook photos is to use PictureMate extension. It is a browser extension, which you can add to Google Chrome. After you add, you will be able to proceed with using the extension to browse through photos and few other useful data uploaded to the Facebook profile.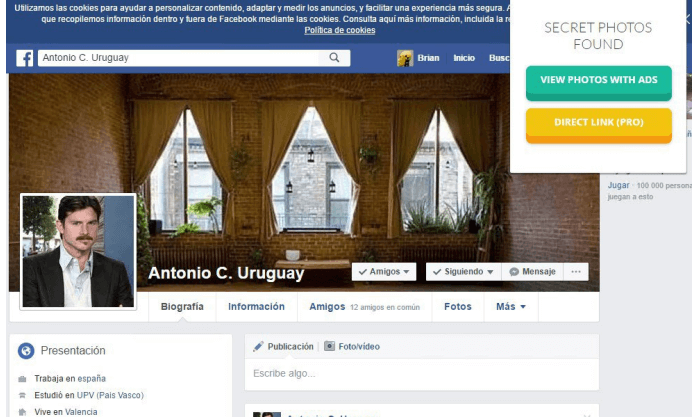 Here are the steps on how to use PictureMate to unlock private Facebook.
Step 1. First, you need to launch Google Chrome web browser on the computer.
Step 2. Secondly, you will need to download the Google Chrome extension named PictureMate.
Step 3. After downloading PictureMate extension, you can get to the timeline of the target user. Then you can click on the PictureMate icon you can see on the top right corner of the browser.
Now PictureMate will generate a numeric ID, which will help you with doing a graph search. This will help you to gain access to private Facebook photos.

Way 3: View Private Photos via Tagged Photos
If you don't want to use any tools, you may follow this method. You should log into Facebook and enter the name of the person on search bar. Then you can navigate to the tab named Photos. Under this tab, you will be able to see all tagged photos of that person. However, all photos should be in public mode for you to see.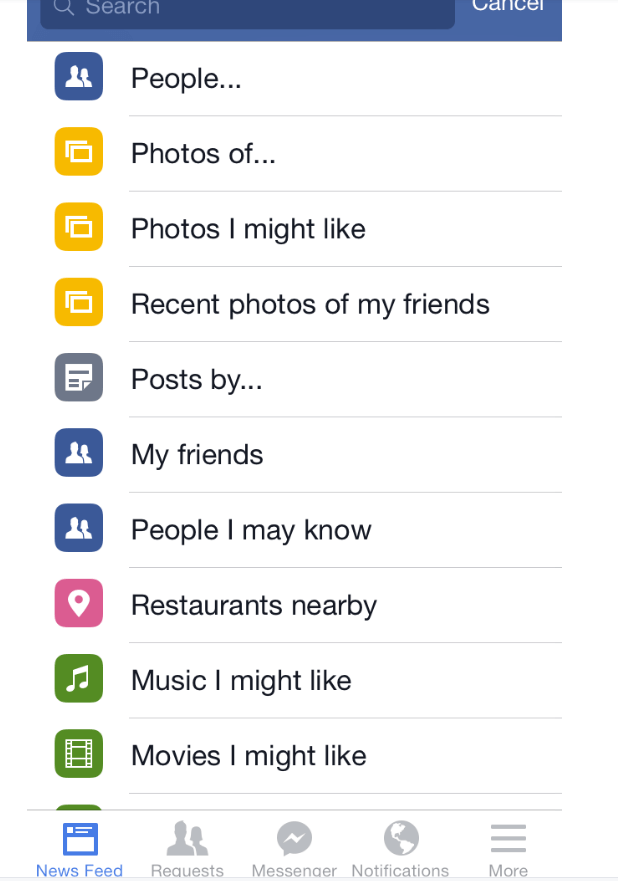 Way 4: Change the Profile Address to See Private Photos
You can also change the profile address and gain access to private photos on Facebook. Here are the steps on how to do it.

Step 1. You should first go to the Facebook profile of the page of person that you wish to see the photos.
Step 2. Next, you will need to click on the address bar and copy the username.
Step 3. Now enter following URL on the address bar and replace the username with your copied username. http://graph.facebook.com/username/picture?width=1000.
Step 4. You can hit on enter button, and now you will be able to see all photos uploaded by the person.
Way 5: Create a Fake Facebook Account to See Private Photos
Another method that you can follow is to create a fake Facebook profile and become a fake friend of the person where you wish to see photos. You will need to do a bit of social engineering and gather realistic photos of a friend. Then you should create a fake profile. After that, you can send a friend request.

NOTE:
The targeted person would probably accept the friend request from fake profile. Then you can start viewing photos. However, this will only help you to see photos uploaded in friends only mode or public mode.
FAQs about Seeing Private Facebook Photos
Question:
How do I make all my FB photos private?