Since the inception of Snapchat, a lot of users wondered, how to screenshot on Snapchat without them knowing? This is because if you take a screenshot, Snapchat will send notifications and alert the sender accordingly. There are some feasible ways but most of them are complicated.
You can save someone else's snap, even from complete strangers. This will be very difficult but you can use your device to take the screenshot of that device or if you can get hold of the device and delay the notification process. You can also use a 3rd party professional screen recorder app to do it. Simply refer to Part 1.

But there is another better way to do it. You need to use professional spy apps. This way you will be able to keep an eye on Snapchat activities of the closest people, including messages, contacts, snaps and more. For this read Part 2!
Part 1: How to Screenshot A Snap without Them Knowing
It's hard to bypass Snapchat's security feature, but there are ways you can try. So, below we have shared 4 ways about how to secretly screenshot Snapchat, have a look.
What Happens if You Screenshot on Snapchat
There are several features of Snapchat that other people may or may not agree with. After tapping on the messages they won't be lost completely, you even have the ability to save them. But saving them will make the original erased completely.
So, you can take a screenshot of someone's Snapchat but due to over the top feature of the app, the actual user will be notified. If the notification feature is turned on.
Nonetheless, this is not really a good option, because the other person will ask you questions after getting the notification.
Way 1: Use Another Phone to Screenshot or Record
So, how to take a screenshot on Snapchat without them knowing? Well, this may sound quite simple but you can use your smartphone or tablet to snap a photo or take a video recording of the Snapchat screen of that other person. This may not be a full-proof plan as the resolution of the photo and the video will not be good but this will get the work done.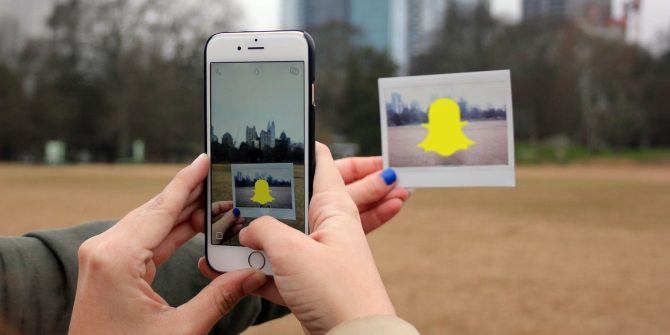 Way 2: Delay the Snapchat Screenshot Notification
If you are not willing to compromise the quality of the photo, you can manually delay the Snapchat screenshot notification.
Step 1: Just launch Snapchat, and let it load completely.
Step 2: Then, turn off your Wi-Fi, Bluetooth, and even the data; anything that keeps your phone connected. After that, turn on Airplane Mode.
Step 3: Now, go back to Snapchat and take the screenshot.
Step 4: Now, you have to restart the phone immediately. After that restart, the snapshot you took will get reloaded.
This might work for you if you are able to execute the steps properly.
Way 3: Clear Snapchat Cache - May Not Work
This is another method, but the success rate is pretty low. Still, you can give it a try;
Step 1: Launch the app, and then turn off your Wi-Fi and mobile data.
Step 2: After that, activate Airplane Mode.
Step 3: Now, go back to Snapchat and take the screenshot but don't activate the internet.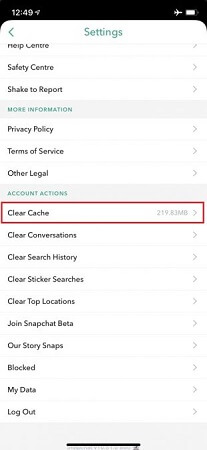 Step 4: Now, this is the most important part. You must go to the Settings of your device after taking the screenshot and click on "Clear Cache". Then, tap on "Clear All".
Way 4: Use Screen Recording Apps
This is possibly the least ineffective procedure on this list if you can get a professional screen recorder app and use it to take the screenshot of the Snapchat screen. You need to install a screen recorder on your phone in advance and keep it running while you are using Snapchat. After that, open the saved video and pause it in the scene you want to take a screenshot. This will not notify anyone. For iOS users, there is a default screen recording feature. Just swipe up from the bottom of any screen and tap the microphone icon.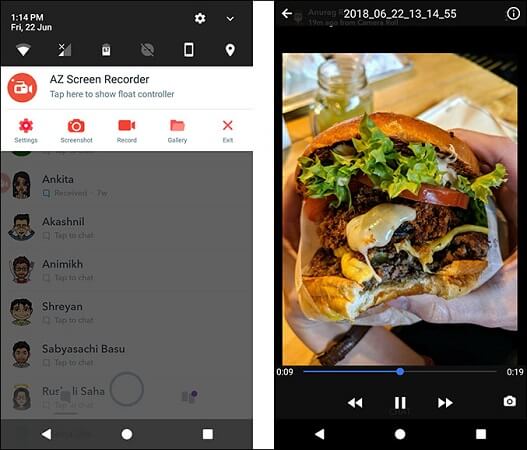 Part 2: How to Take A Screenshot on Snapchat Without Them Knowing - For Spy Purpose
If you want to spy on someone by taking a screenshot on Snapchat without them knowing, the best possible way is to use a professional 3rd party spy app. There are a lot of reasons for selecting this particular app: First of all, the performance of the app is excellent. They can work invisibly on the target device and also take snaps screenshots in real-time of the target device screen. Besides, you will be able to operate the app remotely and capture the screen any time you like.
Evidently, there are several professional apps available capable of taking screenshot Snapchat without notification but our pick for this job is MoniMaster.
How Does Monimaster Screenshot on Snapchat without Them Knowing
If the app is not able to successfully snap the screenshot using a very simple execution, it will not be very useful for the users and the app also has to do the job by staying incognito. So, let's have a look, how to screenshot a snap without them knowing is achieved by Monimaster:
First of all, the app icon disappears after launching the app on the target device.

The app will be renamed on the target device. So, even if the target suspects that they are being tracked, they won't be able to find the app.

There is no possibility that the target may find the saved screenshots because they get deleted automatically and immediately after uploading.

Lastly, there will be no notifications when you are taking the screenshot using MoniMaster.
Using this way, you will be able to monitor every Snapchat activity on the target device remotely without knowing. Now, let's dive into how to take a screenshot on Snapchat with Monimaster.
Step 1: At first you have to register an account with Monimaster using your valid email ID and purchase the app.
Step 2: Then, get hold of the target device and visit its download site (www.installapp.net) from any browsers and download Monimaster Assistant.

Step 3: After that, tap on the downloaded APK file to install the app. The installation wizard will appear on the app interface, just follow the simple instructions visible on the screen. After the installation, log in to your account and fill up all the necessary information, also allow the app all the permissions for data access.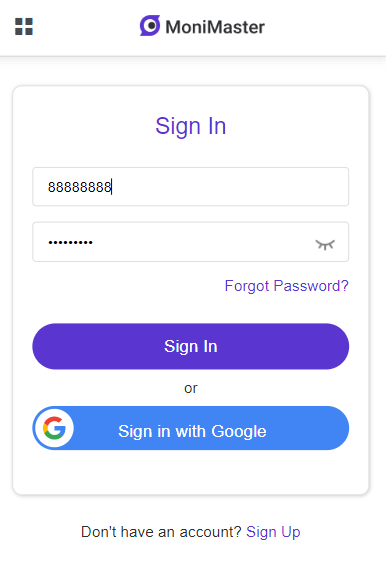 After configuring the app, run it on the target device. The app icon will disappear immediately. You can also choose to delete the downloaded APK file from the download history in order to erase its existence on the target device completely.
Step 4: Now, leave the device and log in to the web control panel of the app from your mobile or computer and access the dashboard. Then, take screenshots from Snapchat.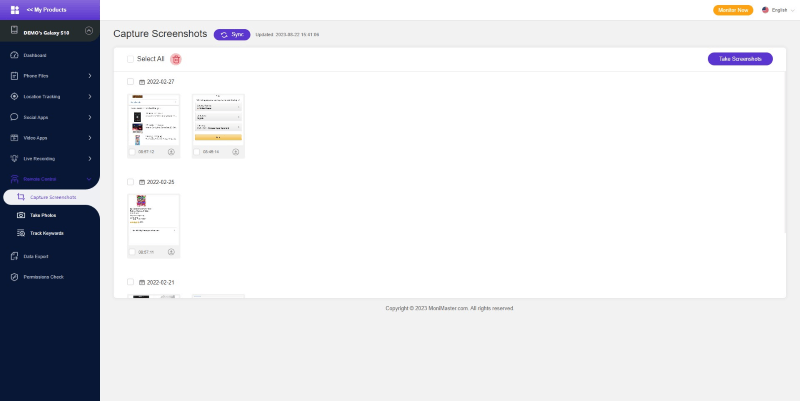 This is the simplest and straightforward way to capture screenshot from Snapchat. So as you can see, using Monimaster will be the most effective way to do it. You can also get other spy features offered by this app, like Snapchat messages monitoring, location tracking, etc.
Wrapping Up
Hence, there are ways to take a screenshot of someone else's Snapchat screen. Most of them are not really a remote option, some are too complicated and close to zero success rate. So, from the above discussion, one thing is clear that Snapchat is a pretty sophisticated app and the app has taken measure to prevent others from taking a screenshot of someone else's Snapchat page. Anyway, the answer seems impossible but Monimaster is capable of doing it, without notifying the user. Go for it!