A spy app can be a lifesaver when you need it to track someone's phone and online activities. It could be used to monitor your children, keep an eye on a suspicious spouse, or track your employees. For the iOS users, it's very difficult to spy on iPhone without jailbreak. Because the Apple's limitation and the potential of data insecurity for a jailbroken iPhone. With the development of technology, is there any possibility for the existence of a spy app on iPhone with no jailbreak? Yes. This guide will help you learn how to spy on iPhone without jailbreak and the relevant tips about iPhone jailbreak.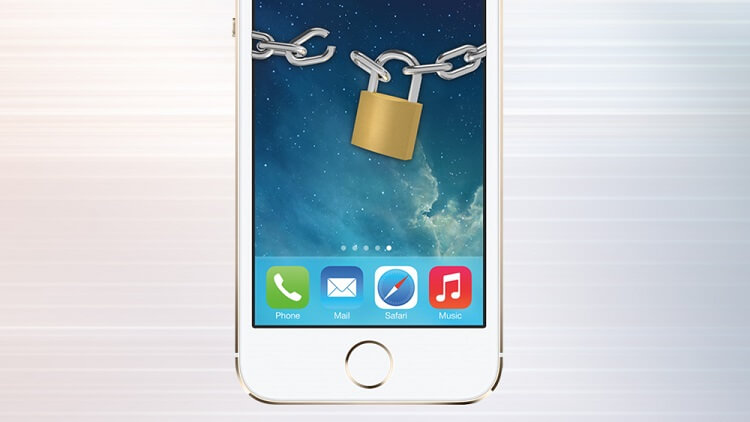 1. What is Jailbreak on iPhone?
By jailbreaking your iPhone, you're practically bypassing Apple's restrictions that have been placed on the iOS operating system.
Jailbreaking your phone gives you full control of the device and makes it possible to make certain tweaks to your device and install apps that are not authorized by Apple.
2. How does Jailbreaking Affect the iPhone?
Although jailbreaking can let you get some extra permissions, it also has a great risk involved.
By jailbreaking your iPhone, you'll lose Apple's tough security protections that have been integrated into the iOS. The greatest risk perhaps is that this will ultimately void your device's warranty. This could give anyone access to your phone and your data. Exposing personal data in order to monitor others is far from rewarding. So, pleases do not believe the app which claims that jailbroken iPhones won't have any security issues.
3. The Real Solution to Spy on iPhone without Jailbreak
Finding a good app that can spy on iPhone without jailbreak can be quite challenging although there are many apps on the internet promising to help you spy and track activities on an iPhone.
They are only as good as their promise. Many of these apps require jailbreaking your device to work. Even when you're able to get them to work, you'll be surprised and frustrated at their lack of effectiveness.
The MoniMaster tracking app, however, stands out among the rest. If you want to spy for iPhone without jailbreaking of the target device, then MoniMaster app is the best one.
This app can be set up remotely so you don't even need physical access in some cases, depending on whether you're trying to set up the app with iCloud or via iTunes backup.
Features of the MoniMaster iOS Spy App
The MoniMaster spy app is what you need for iPhone spy no jailbreak needed. It has 2 solutions for iPhone spy without jailbreak. Here are some prominent features of this app.
Stealth tracking: When you're spying on someone, you'll most likely want to do this without being detected. MoniMaster app is what you need.

Remote tracking: You can easily set up MoniMaster app remotely. In some cases, you won't even need any physical access to the target device.

Location tracking: The MoniMaster app can be used to check for GPS coordinates as well as the location address and history of the target in real time. If you're trying to find out the whereabouts of your spouse, kids, or employees, this feature will come in handy.

Data export: the data export feature of this iPhone spy app with no jailbreak makes it easy to export the data that is being monitored to a separate computer for storage or further analysis.

Multiplatform compatibility: It works across a wide range of iOS versions and even supports the latest iOS 13.

30+ data types: MoniMaster tracks more than 30 different types of data. These range from frequent contacts to chats, text messages, Facebook, Kik, WeChat, iCloud drive, browser history, location, photos, videos, calendars, reminders, etc.

Easy setup: People who are not tech-savvy won't even have a hard time setting up the app. It can only take less than 5 minutes.
3 Steps to Use MoniMaster app to spy on iPhone without jailbreak
One of the reasons why MoniMaster has emerged as one of the best spy app for iPhone with no jailbreak is because of its incredible easy operations.
iCloud setup for MoniMaster iPhone Spying
There are three processes involved when using the iCloud method to spy on an iPhone. These steps include:
Register an account with a valid email address. You'll need this to get a license.

Verify the iCloud details by entering the target iPhone's iCloud address and password.

Use the MoniMaster online control panel to keep track of the activities and data being tracked on the target iPhone.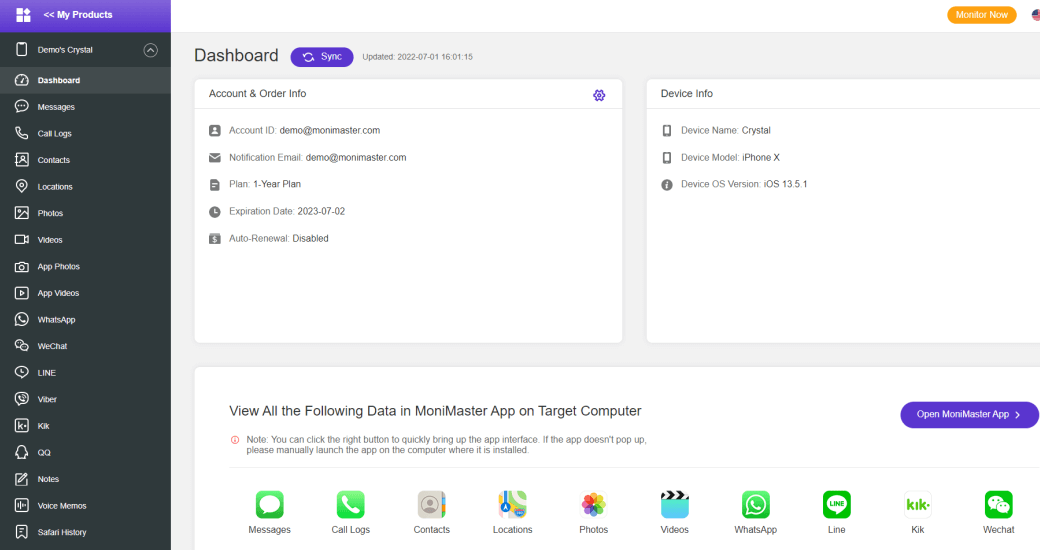 So, you can see how very simple this can be. This incredible ease of use is why many parents, spouses, and employers have rated MoniMaster as one of the best apps for iPhone spying with no jailbreak.
Using MoniMaster iPhone spy app via iTunes
Download the MoniMaster software on the target's computer and sign in with a valid account.

Secondly, scan the target's iTunes backups to get the files.

Get started with monitoring the device's or target's activities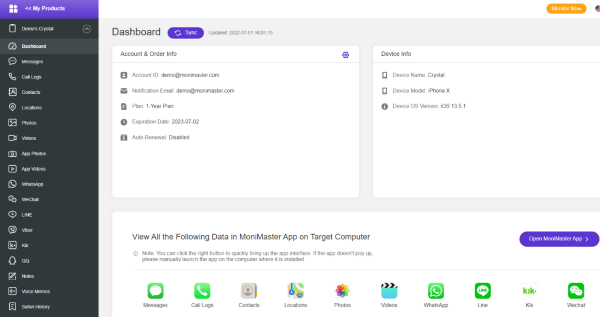 Regardless of which of these two methods, you can easily choose one of the 2 to spy on iPhone without jailbreak. You can always rest assured that this will help you uncover important information, whether you're monitoring your kids, spying on your spouse, or tracking the activities of your employees.
Summary
With MoniMaster, you can spy on iPhone with no jailbreak easily and it can compatible with the latest iOS 13. Among its features, the most wonderful is it can track the real-time location of target iPhone.The MoniMaster non-jailbreak solution can help you to keep the iPhone data secure. Be sure to identify which apps can actually spy on someone's iPhone without jailbreaking. Try the MoniMaster demo now to explore more.