Question:
Can you Track an iPhone Without the Other Person Knowing?
Yes, you can. Whether it's checking on family members, keeping an eye on your spouse, or monitoring your employees, there are a lot of reasons that can make you decide to track someone's iPhone.
But while deciding to do this is one thing, the major challenge exactly is how to track an iPhone without knowing. That said, there are two main ways to do this and we'll discuss both of these methods in this guide.
1. 100% Workable Way to Track Someone's iPhone - MoniMaster
There are a lot of applications on the Internet promising to help you track someone's iPhone without being detected. If you've tried many of these apps, you might have gotten disappointed at some point.
Most of these applications suck and are only out to rip you off your money. Only a few actually work, with MoniMaster being one of the best. What's MoniMaster? Why should you choose MoniMaster? What are the key features that make MoniMaster different from all other apps? Let's see!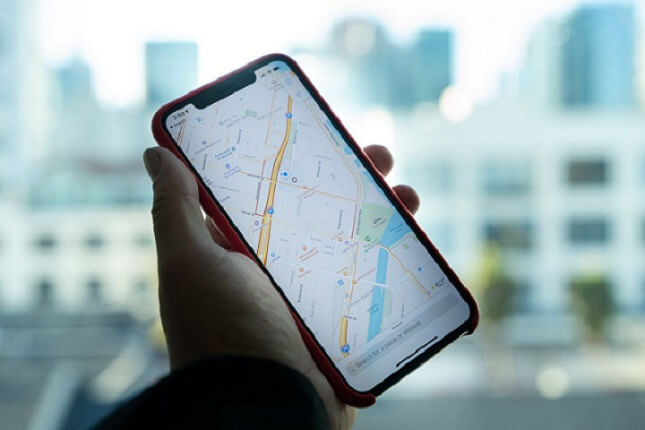 1.1 Why choose MoniMaster?
The MoniMaster cell phone monitoring software allows you to track someone's iPhone without being detected. This app is available for parents, spouses, employers, and more. It is available on both iOS and Android platforms.
If you've always wanted to know how to track an iPhone without them knowing, MoniMaster is all you'll ever need -and for good reasons.
No need to install software on the target's phone
You can get MoniMaster to work, even without physical access to the target's device. This means you can always keep an eye on their activities stealthily without being detected since you don't need to install any app on the target's phone.
No need to jailbreak the device
MoniMaster is a no-jailbreaking solution and a godsend for anyone looking for how to track someone else's iPhone. It can be set up so easily and you won't even have to take on so much risk as jailbreaking the target's phone.
Keep the real-time location tracking and record all the location histories
MoniMaster lets you track a device's live location. This is one of the best tracking software for real-time location tracking, making it easy to retrieve location address, GPS coordinates, date, and more.
Super easy setup and operation
While you may have a hard time setting up many other apps while trying to track someone's iPhone, the setup and operation of MoniMaster are super simple. While installation is a breeze, getting it to work whenever you want is also very easy.
Affordable price
For a premium software, MoniMaster is reasonably-priced and so we consider it highly affordable. That means while you'll never have to worry about how to track an iPhone without them knowing, the cost of the service won't also break your budget.
1.2 How to Secretly Track an iPhone by MoniMaster
Setting up MoniMaster and getting it to monitor another person's iPhone is as simple as A, B, C.
Sign Up:
Start the process by creating an account using a valid email address. At the end of this process, you'll get a license.
Setup Guide:
Now visit the My Products page; you will see the arrangement you have bought and click on the Arrangement Guide button. Add valid data on the page and complete the setup for monitoring.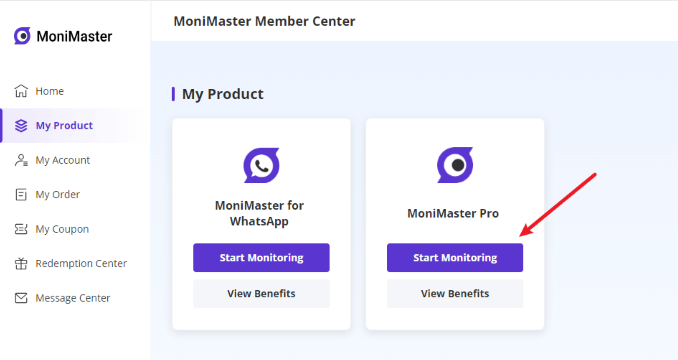 Start Monitoring:
Use the simple iOS control panel to monitor the target's device and activities remotely.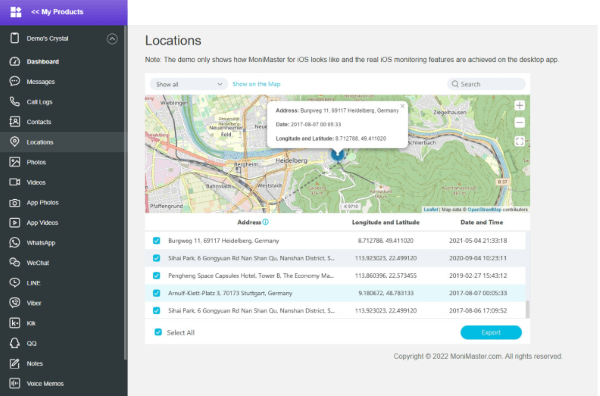 1.3 What else can MoniMaster do for iPhone contents tracking?
MoniMaster is packed with valuable features and helps you track 30+ data types.
Some of these include:
Contact tracking: MoniMaster monitors text messages and phone loggers so you can know the frequent contacts the targets talks to often.

Photos and video tracking: MoniMaster keeps an eye and monitors media files such as photos and videos.

Calendar tracking: MoniMaster's calendar tracking feature helps you keep an eye on the target's calendar events so you can know about their activities.

Reminders and notes tracking: The app also tracks notes and reminders so you never get to miss out on the details kept on the target's device.

iCloud Drive data accessing: MoniMaster gives you access to every data stored inside the iCloud drive on the target's phone.
2. How to Track Another iPhone with Phone Number Online
Aside from premium solutions like MoniMaster, there are also a few other ways to track someone's iPhone online, using just their phone number. These other solutions may not be as feature-rich and come with their limitations. But they are still good to an extent, too.
The thing, however, is that platforms like this only give you access to limited details of the owner such as their general location, owner's details, and past address history.

There are usually location restrictions so you can only get approximate location details.

In the worst-case scenario, you may find yourself bombarded with surveys and the unscrupulous elements behind some of these fraudulent apps may steal your private information.
Steps on how to track someones iPhone using a phone number
There are platforms like ZoSearch that lets you get things done if you're looking for how to track someone else's iPhone with just their phone number.
To use this, there are certain steps involved:
Step 1. Visit the lookup page of the platform you intend to use. It could be a platform like ZoSearch or some other types.
Step 2. Punch in the phone number of the iPhone you want to track. In most cases, there will be a "search" or "enter" button which you'll need to click after inputting the number.
Step 3. The platform will take a few minutes to generate your report. After this, you can then read the report to find out the approximate location (neighborhood details) of the phone you're tracking.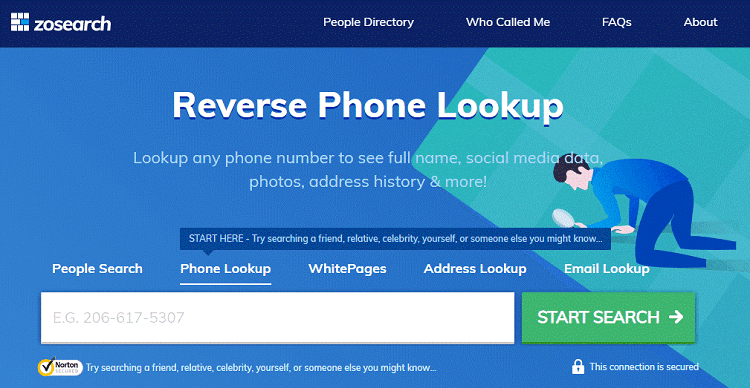 3. Paid vs Free iPhone Monitoring Software
If you've always wanted to know how to track an iPhone without them knowing, a paid service like MoniMaster will truly wow you and likely exceed your expectations.
But there are also free software applications as well, although the saying that you get what you pay for is always applicable here. If you're contemplating between choosing a paid or free software to track someone's iPhone, below are a few details you may want to consider.
| | | |
| --- | --- | --- |
| | MoniMaster Cellphone Tracking Software | Free Cellphone Tracking Software |
| Features | Tracks more than 30 + data types | Only limited to a few details and approximate location data |
| Security | Uses a secure payment method and advanced encryption method to protect data | May bombard you with survey and can put you at risk of data theft |
| Data accuracy | Track the GPS location with 100% accuracy | Location details are approximate. There are location restrictions in many cases. |
| Real-time monitoring | Offers real-time access to location details, an you will get the updated data with every few minutes. | It does not have real-time access to data and details. |
| Cost | Affordable with $8.32 monthly | No-cost |
Conclusion
If you've been looking for the easiest, quickest, and most convenient way to go about how to track an iphone another iPhone, the MoniMaster Cellphone Monitoring Software is what you need.
It's super easy to use, priced affordably and comes with lots of useful features. If you've always been searching around for how to track an iPhone without them knowing, this software makes all of that pretty easy as you won't even need physical access to the target's phone to set it up.
Want to start monitoring your kids, spouses, employees, or anyone else? Try MoniMaster to help!