In order to know more about the one you care of their social activities, you need to monitor WhatsApp message without access the target phone. Is it possible to do that? In this article, there is an effective way can help you, read and try it.
Reasons of Tracking WhatsApp Messages
WhatsApp is one of the most popular messenger apps in use, both the young and the old use it to share messages, videos, photos, files and audios with one another. There are necessities to monitor/spy their WhatsApp messages for some reasons, as below three of them listed:
WhatsApp allows inappropriate content.

It has no age limit, making it available to children and adults.

It has security problems since privacy is not guaranteed.
Is It Possible to Track WhatsApp Messages without Their Phone?
The answer is there are possible solutions can achieve that. Below are several ways you can read other people's WhatsApp messages without their phone:
You can use a spy app tool to monitor the target phone remotely, you just need to install an app and follow some simple steps to accomplish;

Read their backup files on the phone, but you have to access their phone with password and the backup files could be fragments but not the complete files;

Use some third-party tool to hack the account and get the data, but the owner of this account would lose the account and you can't have the follow-up messages since then;

Create a phishing website to induce target user to login in then get the account & password information, but it needs a high technical threshold.
Except the method 1 others exist relatively bigger limitations and not easy to operate. If you use a good spy tool that specializes in such monitoring, you can easily spy on WhatsApp messages without target phone and you will never get caught.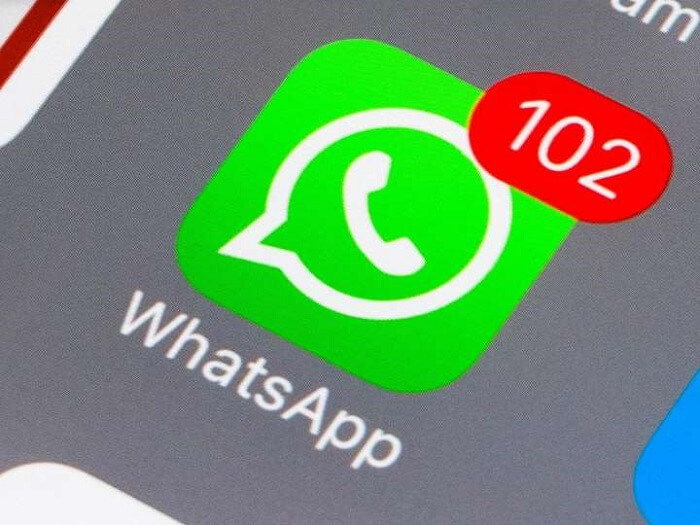 How to Spy on WhatsApp Messages Without Target Phone-MoniMaster
The best third party tool to use when seeking how to read others' WhatsApp messages on Android is MoniMaster. It is the most preferable tool because of the following reasons:
No concern of being deleted:
As the app was installed, its icon will automatically get into the stealth mode also the name will be changed. You don't need to worry about to be discovered and deleted on purpose.
Accurate time recording:
It allows you to track all the WhatsApp messages with the accurate sending time. So, you will always be aware of the exact time that a message was received or sent.
Keyword orientation:
MoniMasters also enable you to search for a certain message with keywords. Therefore, if you are using it to spy on your loved one, you can find certain conversations by typing in keywords like study.
Even the deleted data can be retrieved:
If the important chat history or pictures were deleted or expired the erase data still can be recovered by Monimaster.
Export all the WhatsApp messages to CSV:
Keeping record of the conversations that somebody has had is important especially if you are sure that they will be deleted. You can use the information later when addressing certain issues.
Real-time screen capture feature:
Using the real-time screen capture feature, MoniMaster monitors the real-time WhatsApp message. As a result, you stay informed about the real-time communication.
Free spy without log out the account:
Using Monimaster to get the WhatApp's information it won't have to log out the user's account, you can spy freely without the concern of being detected.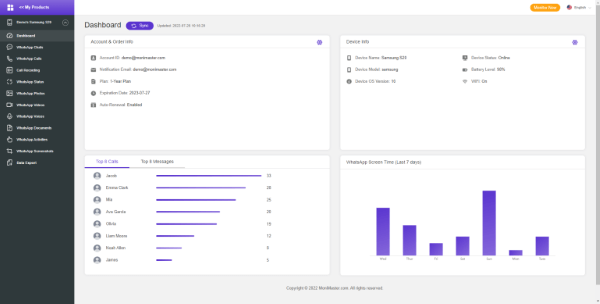 How to Use MoniMaster :
If the person whose WhatsApp messages are relevant uses an Android phone, MoniMaster can be helpful. This use-friendly app does not need prior knowledge in technical matters or computer. You just need to know how to read others' WhatsApp messages on Android phone using the following steps:
Step 1. Create an account and buy a plan.
Signing up to create a MoniMaster account using your email address. And then purchase a plan according to your need.
Step 2. Download the App Assistant and prepare the devices.
There is a setup procedure that you should follow to prepare your device. First, you should download the app from http://www.Monitoring.net/ with guidance assistant and then finish the setup on target device. Now you can sign into the account after downloading the assistant.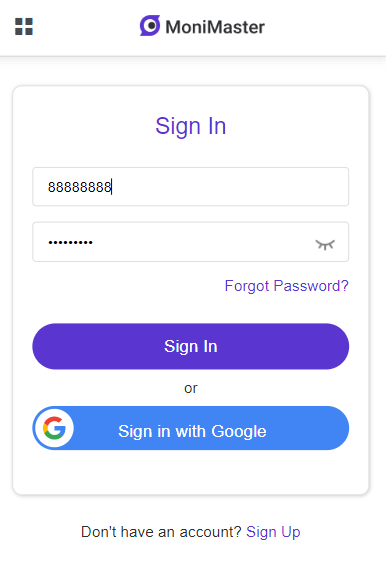 Step 3. Start monitoring.
When all the devices are set, access the monitoring panel on the browser of your device and start monitoring the devices you have targeted. You should be able to spy WhatsApp without target phone.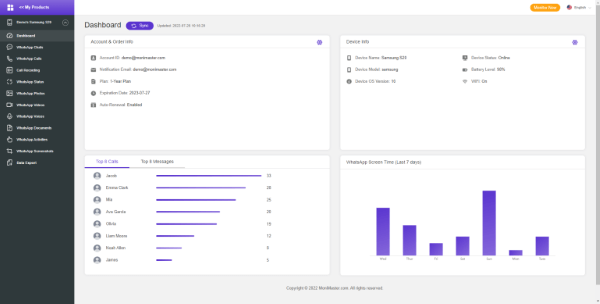 Conclusion
MoniMaster surpasses all other third-party tools that you can use to read other people's WhatsApp messages. It functions with all Android brand and all Android system versions.
It is the best option for you by offering multiples features to monitor and read someone's WhatsApp messages without them knowing.