An undetectable keylogger for Android can come in handy when you need to extract information or details from another device, for whatever reason. But anyone with a good knowledge of how keyloggers work would know better than to just go for any available type.
However, not many people even know what a keylogger really is or what it does. Before we dig deeper into this guide on the best undetectable Android keylogger, we'll shed some light on what a keylogger actually does.
Part 1: What Does a Keylogger Do?
A keylogger helps to reveal all of the keystrokes being pressed on another phone.
These apps can help you uncover someone's texts including all social media passwords as well as some other details, such as search histories and and every typed messages. There are a lot of Android keyloggers you can choose from. But if you want something that truly stands out, there are a few criteria you should consider.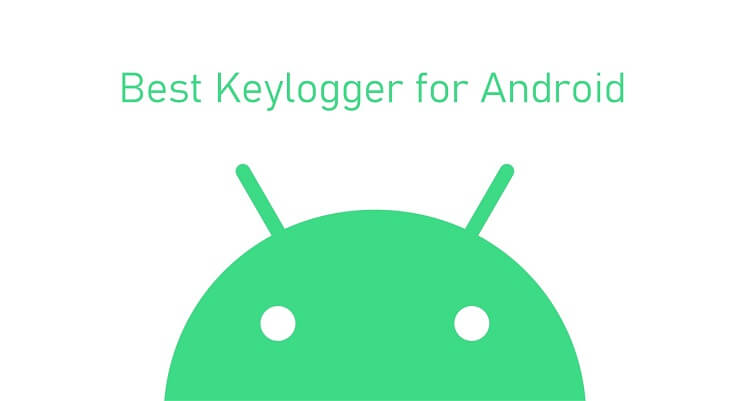 Part 2: Get a Quick Choice Among the 10 Apps
We've compared some of the best keystroke loggers for Android in 2022. If you're in the market for an undetectable keylogger for Android, you can choose from these ten options:
App Name
Key Features on Spying
Invisibility
Root Requirement
Online Demo
MoniMaster -
2022 Editor's Choice
Over 30 spying features, including Keylogging, Social media tracking like Messages, WhatsApp, Facebook , Snapchat; Contact, Media Files checking, Internet browsing tracking, Real-time Location tracking, etc
View Demo
mSpy
Keylogging, SMS, Chats, GPS, websites history tracking
Hoverwatch
Keylogging, WhatsappMessenger, GPS Tracking, Browsing history checking
iKeyMonitor
Keylogging, Browsing history checking, GPS Tracking
Root for social media features is necessary
MobiStealth
Keylogging, Whatsapp, Facebook, Snapchat messages tracking
Not completely invisible
Copy9
Keylogging, Social Media, Ambient Recording, etc
Spyera
Keylogging, SMS, Social media tracking, GPS Tracking
Kidlogger
Keylogging, SMS, Chat apps tracking, Websites history recording
The TruthSpy
Keylogging, SMS, GPS, Calls tracking
FlexiSpy
Keylogging, Social Media messages tracking
Part 3: Review of the top 10 keyloggers for Android
Anyone looking for a good Android keylogger app can choose from among these top 10. However, if you want an undetectable spy app for Android with self-activation, I should tell you that not every app can do it. So, because of functionality and differences, we'll scratch the surface of every one of these apps so it can be much easier to make your decision.
1. MoniMaster - Editor's Choice
The MoniMaster is our top pick for a variety of reasons.
Aside from being packed full with lots of extremely impressive and incredible features, the MoniMaster undetectable keylogger for Android does well in keylogging, it can record every keystrokes and sync them to the online dashboard in real time. So, even the deleted messages can also be detected with this feature.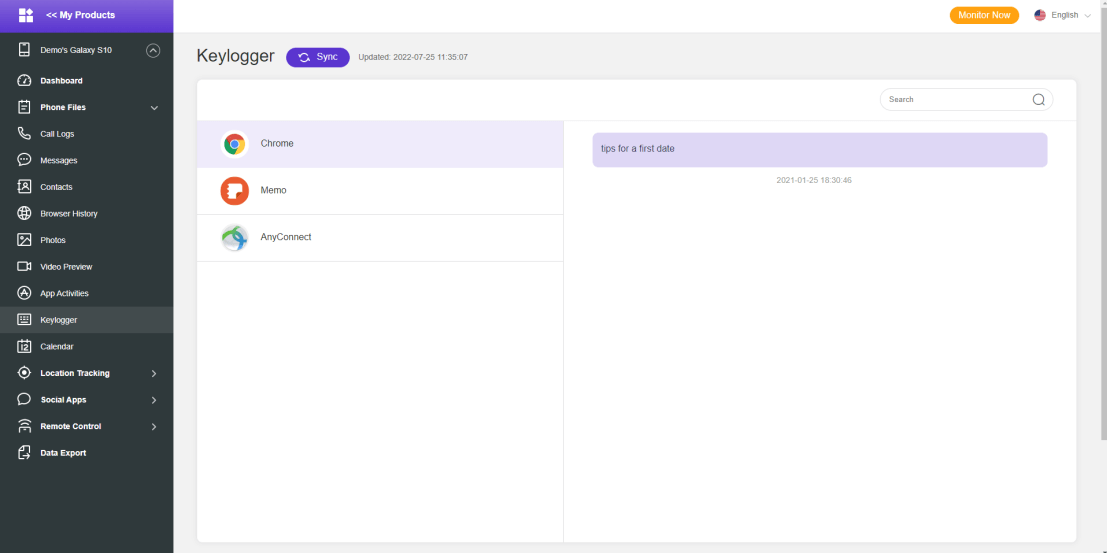 Pros
Super-simple installation (About 3 minutes and video guide provided)

Easily navigable dashboard with real-time data syncing

100% stealthy and hidden mode while working: The app icon will disappear from desktop automatically and the app name will be changed.

The 100% accurate keylogging feature can tracks social media (Facebook, Instagram, LINE, WhatsApp, Twitter, Snapchat, etc), browsing history, every type of texts and browsing histories even the deleted ones.

Tracks more than 30 + data types

Does not require rooting to use, keeping data secure.

Can work on almost all Android phones and iOS version.
Cons
The keylogger feature doesn't compatible with it's iOS version yet.
While there are free spying apps, those are usually very limited in functionality. Some people say that MoniMaster is even worth more than the small fee it costs. It's however left to you to decide whether you'll go for a free app with limited functionalities and possibilities for malfunction compared to one that truly stands out.
The mSpy app is also another option for anyone looking for the best undetectable keylogger for Android. It also boasts impressive features as well and can be easily used to monitor activities on another Android phone. mSpy can also track SMS, chats, browsing history, location, and more.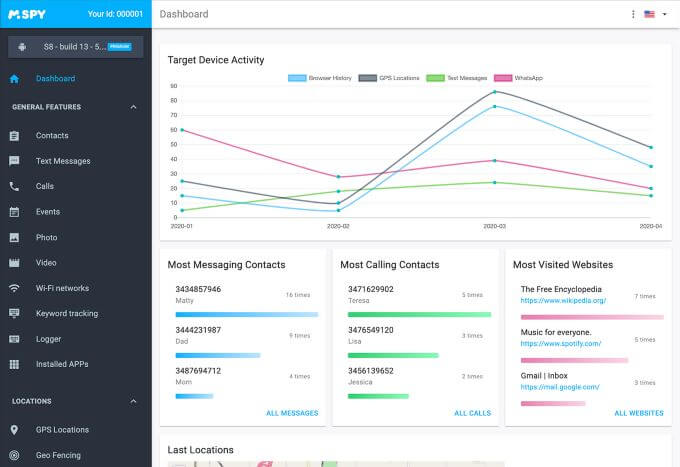 Pros
mSpy is easy to use with the online dashboard.

The app has some other wonderful phone tracking features.

It cab also be used to track location details.

It has great balance of features and price
Cons
To use on Android, you have to purchase the premium version to truly enjoy its full features.
The Hoverwatch is also a popular undetectable Android keylogger.
The app also tracks keystrokes in messages and on the phone as a whole. It can stay undetectable and can be installed and set up for use easily.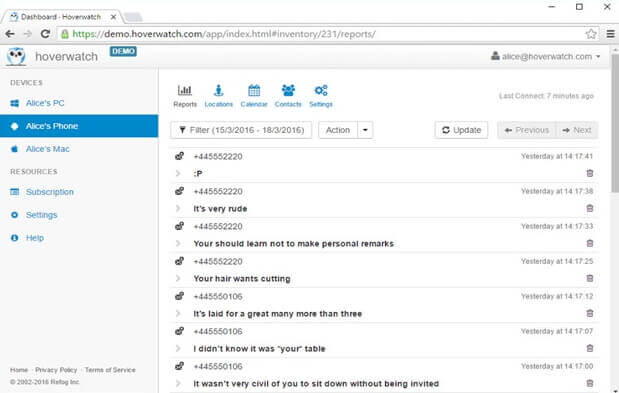 Pros
Undetectable keylogger for Android that won't get the app noticed

Attractive pricing policy for personal usage.

It can help track location, chats, and internet activity
Cons
The installation guide is a bit complicated and you should take much time to finish.

Root for target Android phone is necessary.

you cannot export the data to computer.
Anyone looking for a keystroke logger for Android can also consider the iKeyMonitor.
The app also has very good features that can make it easy to keep an eye on the target. It can track locations using GPS info as well as chats, SMS, and screenshots of browsing history.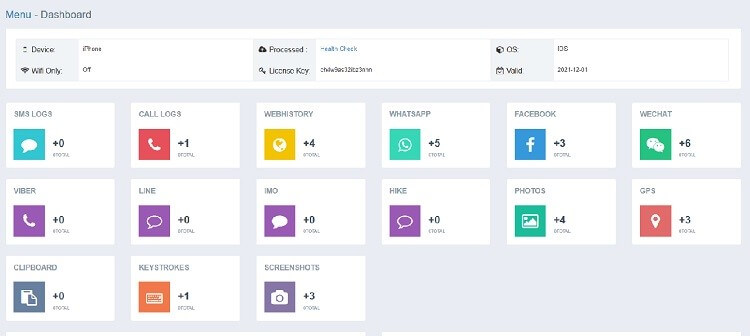 Pros
Good for parents who want to monitor their kids

Can work on different Android models

Can work on unrooted Android phones
Cons
Android version has very limited functionality compared to the iPhone version.
This keystroke logger for Android is also good for anyone looking to monitor another Android phone. But the Mobi Stealth app, unfortunately, cannot be completely hidden like some of the other apps on this list. The app comes with keylogging features and can be used to track SMS, social media chats, web history, etc.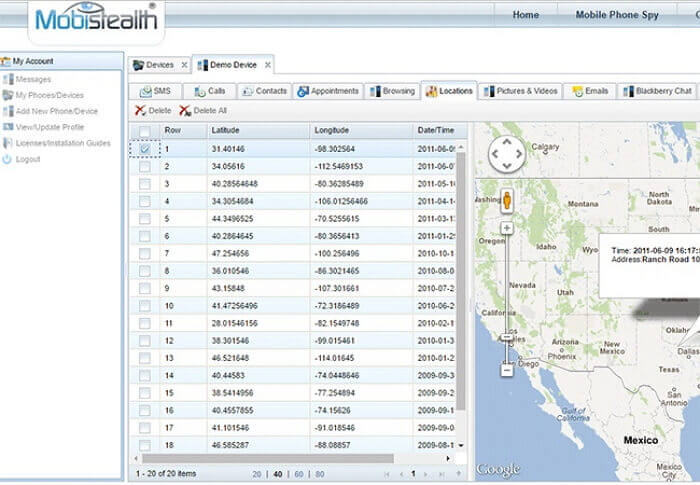 Pros
Can be installed easily within 30 minutes

Gives access to real-time details and notifications

It can be tweaked for changes remotely without touching the target device.
Cons
To capture messages in real-time, the device will have to be rooted.

Also, the MobiStealth cannot stay 100% undetectable.

Don't have an intuitive interface.
Copy9 is also one of the apps people consider when they're looking for an undetectable keylogger for Android. While the app has some very nice features, unlike Mobi Stealth, it can stay hidden on the target device so the person does not know they are being tracked.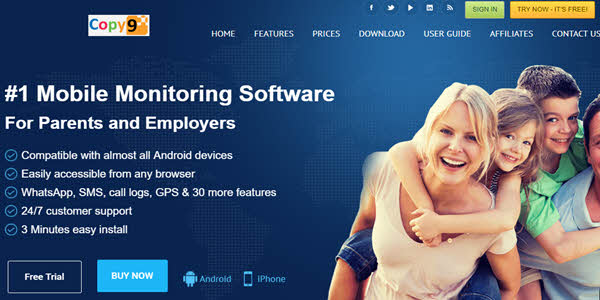 Pros
Keylogging features track SMS messages

Can function without rooting the device

Very easy to set up and install
Cons
Support is only available online via their website

No demo to show you how the app works
SpyEra is one of the apps anyone looking for a well-hidden keystroke logger for Android phones should consider. This app gives you access to track the target phone's messages, social media, location details, email messages and more.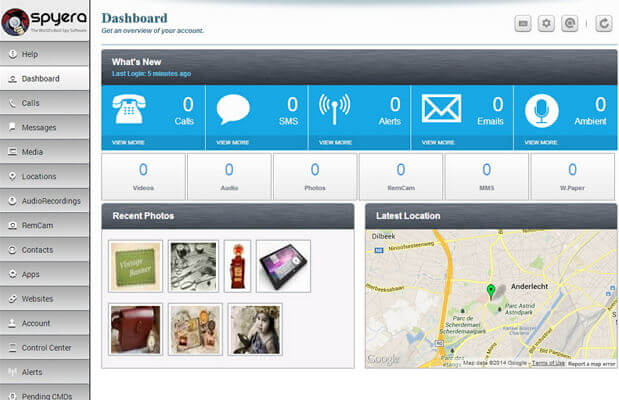 Pros
Can work stealthily and can be controlled remotely

It offers a hoard of spying features.

Available for many Android phones and OS versions.
Cons
It's not easy to install for people who are not tech-savvy

No demo version to help you see how the app works

Does not work with Android 8.0 Oreo version

It's pretty expensive for common people.
People who want to monitor their kids' activities on the phone can consider KidLogger as a good keystroke logger that we'll recommend for anyone looking for an undetectable keylogger for Android. This app has excellent features such as tracking messages, web activities, and more.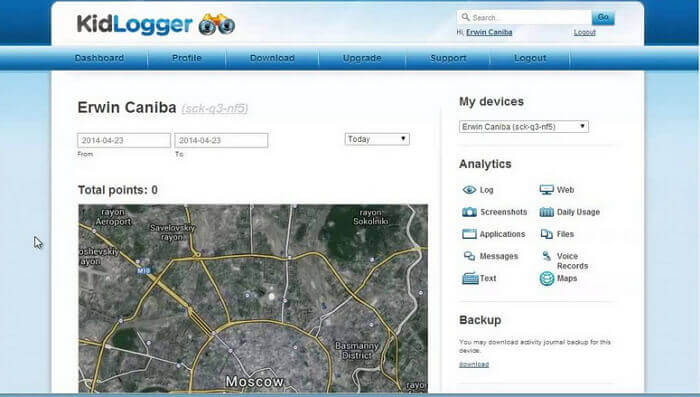 Pros
A free version is available

Can record face when face-timing
Cons
Requires rooting the device to work

Does not have a demo version
The Truth Spy undetectable keylogger for Android comes with a variety of features that will impress most people along with its keylogging feature. Some of these include its ability to track SMS, social media, and more.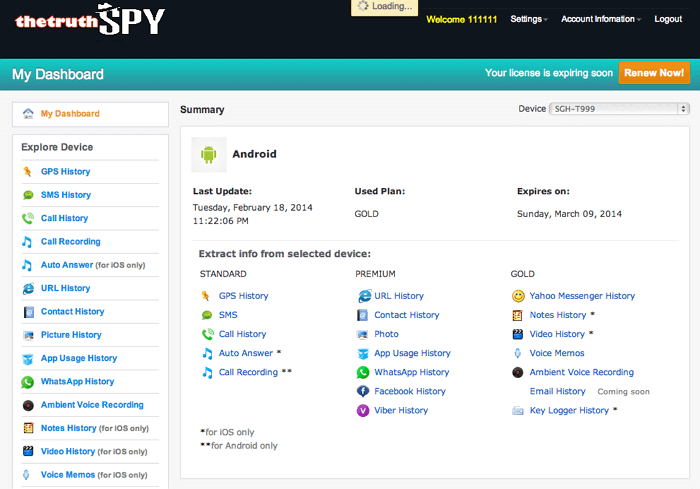 Pros
Free 2-day trial version makes it a good value proposition

The multiple tracking features can aid you to raise your spy game.
Cons
No demo provided to view the features.

Needs rooting for advanced features

The last update was in 2016, so it cannot work with latest Android.
FlexiSpy comes in as the last app on our review of the best hidden keystroke logger for Android phones. However, it is not the last in the actual sense of it. FlexiSpy packs great features and functionality and can help you track SMS, Whatsapp, social media, and GPS location.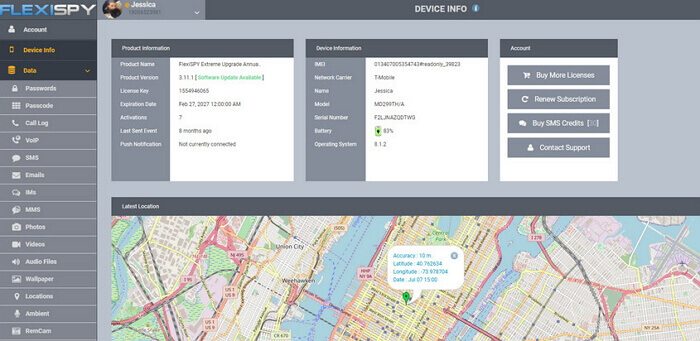 Pros
Handle multiple devices at once using individual dashboard.

Remote control of the app without the target knowing

Can stay undetected in recording keystrokes on target Android phone.
Cons
People who aren't that tech-savvy find it very difficult to use because it has a very complex user interface.

The prices for the subscription packages are quite steep.
Part 4: Criteria for Choosing a Good Undetectable Android Keylogger
Stealth/undetectable working mode
Importance:
For this topic, if you want to find a hidden keystroke logger for android phones, then the app must ensue 100% stealth. This can bring the best spying experience to you.
Are you curious about what makes a great keystroke logger for Android? Below are some of the areas you can start to look at for evaluation:
Ease of installation
Importance:
Of course, there is no way to track the keystrokes on target Android phone without installing apps. But the difference is that whether it can be installed easily or not. If you're looking for a great undetectable keylogger for Android, it has to be the one you can install without any effort.
Real-time data syncing
Importance:
This is more like functionality but it's something that's also very important.
If you would choose an undetectable keylogger for Android, you want to make sure it syncs data in real-time. This is important for not just the tracking and information details but also for GPS tracking. If the app doesn't sync data in real-time, you won't be able to access data as events unfold. This is a very important feature.
Exceptional functionality
Importance:
There are many apps on the market but only a few boasts the functionality that will truly impress you.
A good hidden Android keylogger should be able to perform a variety of functions that include spying and collecting important details from crucial apps such as SMS messages, email, WhatsApp, Facebook Messenger, Snapchat, and more. Some also have the functionality in recording websites browsing histories, even target has enabled the private mode.
Summary
Choosing an undetectable keylogger for Android is a wise decision if you want to monitor an Android phone without them knowing. And as our review shows, there are a lot of options you can choose from.
However, anyone looking for a single best free undetectable spy app for android with self activation can choose the MoniMaster which has earned its place as the 2022 Editor's Choice.
You can never go wrong with the MoniMaster app if you actually want the best among many of the hidden keystroke logger for Android phones out there. Its excellent features and capabilities are some of the reasons why it has emerged as the best keystroke logger for Android phones in 2022.