WhatsApp, a global messaging giant, introduces the "Status" feature, enabling users to share fleeting photos, videos, and text. But what if you desire an extra layer of security? How can you thwart others from capturing screenshots of your momentary updates?
Discover the secrets of preserving your digital sanctum in this article as we delve into the techniques of "how to prevent someone from taking screenshots on WhatsApp status. Your privacy, your control.
Does WhatsApp notify when you screenshot a story? No, WhatsApp does not notify users if someone takes a screenshot of their chat. This feature is not available on WhatsApp as of yet. However, if you have enabled the biometric lock feature on your device, the app will prompt you to authenticate yourself before taking a WhatsApp screenshot of a chat.
While there is no foolproof way to prevent screenshotting WhatsApp, it is essential to exercise caution when sharing sensitive information on messaging apps to protect your privacy.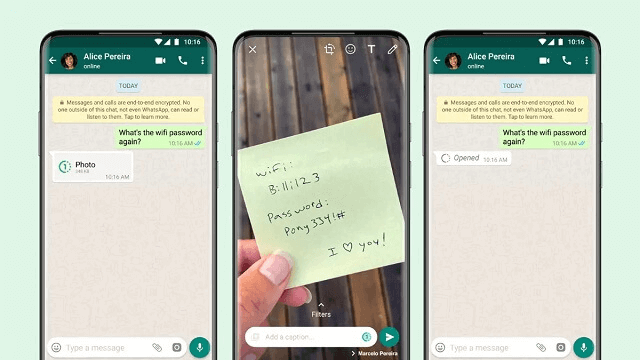 Why to Block Screenshots on WhatsApp?
There are several reasons why someone might want to block screenshots on WhatsApp.
Firstly, it can help protect the privacy of the user and their contacts. If someone shares sensitive information or personal pictures on their WhatsApp Status, they may not want others to save or share them without their consent.


Secondly, it can prevent the spread of fake news or inappropriate content. If users cannot take screenshots of a WhatsApp Status, they are less likely to share it with others.


Finally, it can help prevent cyberbullying or harassment. Overall, blocking screenshots on WhatsApp can provide peace of mind and protect users from the negative consequences of social media misuse.
How to Prevent Screenshot on WhatsApp Status?
How to block screenshot on WhatsApp status? Here are 4 methods for you! WhatsApp status screenshot block is possible! Read and try it!
Method 1. Adjust Status Privacy on WhatsApp
You can protect your WhatsApp status from screenshots by adjusting your privacy settings:
Open WhatsApp and tap the three dots in the top right corner to access "Settings."


Select "Privacy."


Scroll and tap on "Status."


Choose "My contacts except."


Customize your selection, then save by tapping "Done."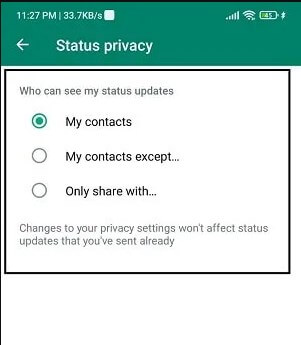 These steps allow you to control who sees your status updates, limiting it to your contacts. Alternatively, you can share your status with specific contacts using the "only share with" option, effectively preventing unwanted screenshots of your WhatsApp status. This method ensures your status remains private.
Method 2. Use "View Once" Feature to Block Someone From Screenshoting
To block someone from taking screenshots on WhatsApp, you can use a feature called "View Once." Here's how to do it:
Open WhatsApp and go to the chat where you want to send a view once message.


Compose your message or select a photo or video to send.


Before sending the message, tap the "1" icon, which represents "View Once," located next to the send button.


Once you send the message as "View Once," the recipient will only be able to view it once, and if they try to take a screenshot, it will be blocked. They won't be able to save the media or take a screenshot.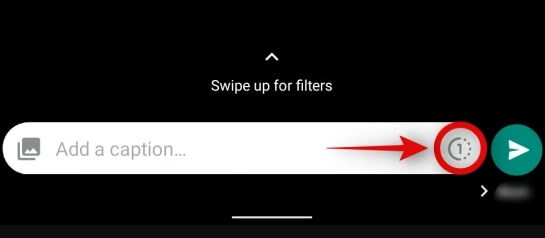 This feature was introduced by WhatsApp to enhance privacy for messages and media shared as "View Once". Keep in mind that this feature works specifically for "View Once" messages and doesn't apply to regular chats or media shared through other means.
NOTE:
Please note that if the person you're sending the message to is using an older version of WhatsApp, it may still be able to take screenshots of media that can only be viewed once. But this is temporary as the WhatsApp team is testing the feature.
Method 3. Block Someone Direcly on WhatsApp
You can easily prevent others from taking screenshots of your WhatsApp status by block someone directly on WhatsApp, follow these steps:
Open WhatsApp on your smartphone or web.


Search for the name of the person you want to block in your chat list.


Click on the three vertical dots (options menu) at the top right of the chat.


From the dropdown menu, select "More."


Then, choose "Block."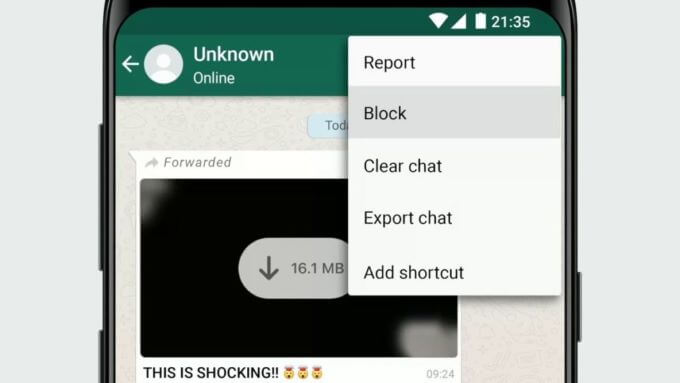 This will block the person on WhatsApp, and they will no longer be able to send you messages or see your online status. So they cannot screenshot on WhatsApp status. Keep in mind that if you have blocked someone, they won't be notified of the block, and you won't receive their messages. You can later unblock them following a similar process.
Method 4. Use Other Social Media Apps
Using other social media apps like Snapchat and Instagram, is an indirect way to safeguard your privacy. Here's how this method can help:
Snapchat and Instagram Stories: These apps offer a feature similar to WhatsApp status but with additional privacy controls. When you post a story on Snapchat or Instagram, you can choose who can view it, and they won't be able to take screenshots without your knowledge.


Privacy Settings: Both Snapchat and Instagram allow you to set your stories to "Private" or limit viewers to your trusted contacts, reducing the risk of unwanted screenshots.


Notification of Screenshots: These apps often notify you when someone takes a screenshot of your story, giving you more control over who captures your content.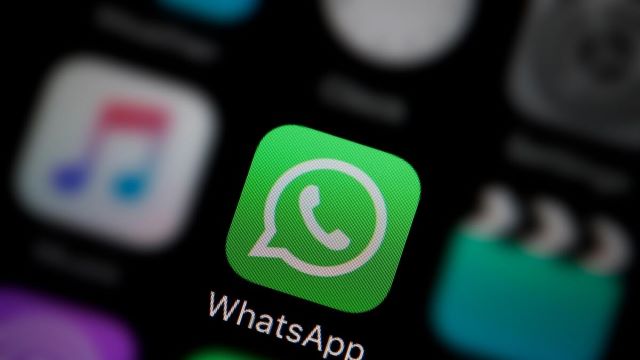 While this method can enhance your privacy when sharing updates, it's essential to remember that each platform has its own set of privacy settings and features. Be sure to configure these settings to your preferences and regularly review them to maintain your desired level of privacy.
How to Protect WhatsApp Status From Screenshot?
If you're concerned about is WhatsApp safe, you may want to prevent others from taking screenshots. While there is no built-in feature on WhatsApp to block screenshots, there are some workarounds that can help you achieve this. Here are some steps you can follow to prevent screenshots on WhatsApp Status:
Avoid sharing sensitive or personal information on your WhatsApp Status.


Adjust your privacy settings to limit who can see your status updates.


Regularly check who has viewed your status updates and block any suspicious users.


Use the built-in screen recording feature on your device to view the status updates instead of taking a screenshot.


Educate your contacts on the importance of respecting your privacy and not taking screenshots of your status updates without your permission.
Can you screenshot WhatsApp status without them knowing?
If you want to view someone's WhatsApp status without them knowing, you can use a parental control app such as MoniMaster for WhatsApp. This app is designed to help parents monitor their children's online activities and ensure they stay safe. However, it can also be used to discreetly view someone's WhatsApp status without them knowing.
Features of MoniMaster for WhatsApp
Real-time monitoring:
The app allows you to monitor the target device in real-time, so you can view WhatsApp status updates as soon as they are posted.
App activity tracking:
MoniMaster for WhatsApp tracks all app activity on the target device, including WhatsApp status updates, read all WhatsApp messages, and calls.
Remote access:
You can remotely access the target device and view WhatsApp status updates without being detected.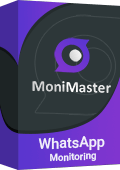 Stealth mode:
The app works in stealth mode, so the target user won't know that their device is being monitored.
Easy installation:
MoniMaster for WhatsApp is easy to install and can be set up in minutes, even if you have no technical knowledge.
By using MoniMaster for WhatsApp, you can view someone's WhatsApp status updates without them knowing, as well as monitor their other online activities to ensure their safety.
How to use MoniMaster for WhatsApp to Track Kids' Phones?
If you want to use MoniMaster for WhatsApp to track your kids' phones, follow these steps:
Step 1. Sign up and install MoniMaster for WhatsApp:
Sign up for MoniMaster for WhatsApp on their official website and choose a subscription plan that suits your needs.
Step 2. Activate MoniMaster for WhatsApp:
Install the MoniMaster for WhatsApp app on your child's device and follow the on-screen instructions to set it up.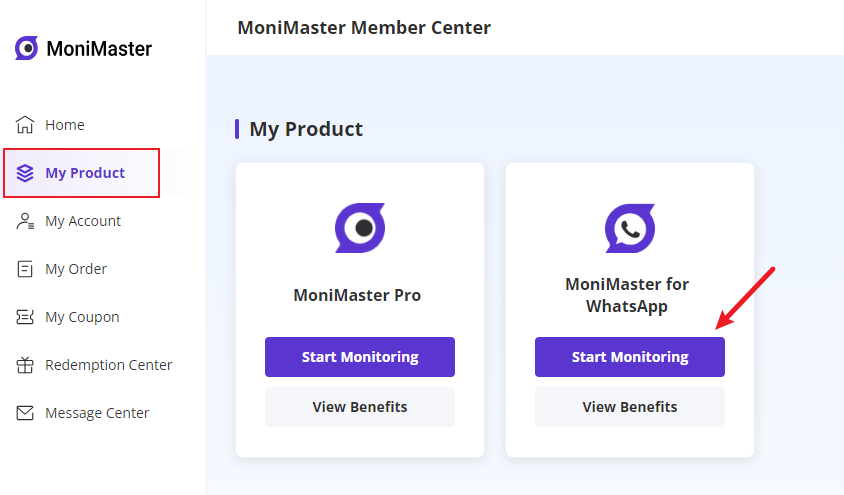 Step 3. View WhatsApp Status:
Once the app is installed and set up, you can access the MoniMaster for WhatsApp dashboard from your own device. From the dashboard, you can view your child's WhatsApp status updates, messages, calls, and other online activities.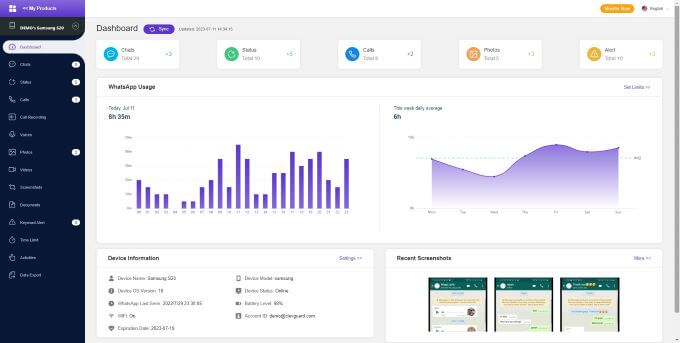 FAQs about WhatsApp Screenshot
Question:
Does WhatsApp tell you how many times someone viewed your status?
Yes, WhatsApp allows you to see how many times your status has been viewed. When you view your own status, you can swipe up to see a list of who has viewed it and how many times.
Question:
Is WhatsApp safe for sending private photos?
WhatsApp uses end-to-end encryption, which means that your messages and photos are secure and can only be viewed by you and the recipient. However, it's important to remember that once a photo is sent, it's out of your control and the recipient could still take a screenshot or save the photo.
Question:
Can an app prevent you from Screenshotting?
There is no built-in feature on WhatsApp to prevent screenshots. However, some devices and apps may have built-in security measures to prevent screenshots, such as the Secure Window feature on Samsung devices. Additionally, some apps such as Snapchat and Instagram have a feature that notifies the sender if a screenshot is taken of their content.
Conclusion
In conclusion, while WhatsApp doesn't have a built-in feature to prevent screenshots, there are ways to block screenshots on WhatsApp status and chats. Additionally, for parents concerned about their children's online safety, MoniMaster for WhatsApp is a recommended tool that allows for discreet monitoring of online activities.
With features such as real-time monitoring, remote access, and app activity tracking, MoniMaster for WhatsApp is a valuable tool for keeping children safe online.