Having a passcode on your iPhone ensures that all of your data is secure. This is great news if you lose your device, but if you forget your passcode, you'll be locked out of your phone and unable to use it.
Unfortunately, the only solution in this situation is to perform a complete factory reset and set up your phone from scratch. Fortunately, several methods can be used to how to factory reset iPhone without the passcode.
How to Reset iPhone to Factory Settings?
Before you know how to reset iPhone to factory settings, it is essential to comprehend the procedure's meaning.
Therefore, when you perform a factory reset on an iPhone, you will lose all of your data, including all applications, contacts, email accounts, and settings.
Data can be recovered from the last backup, though. For example, recover deleted messages on iPhone . However, if you have not activated iPhone backup, you cannot access the device's contents.
Scenarios
Because you have entered an incorrect passcode too many times, your iPhone has been disabled.
You want to sell your iPhone but are worried about potential security risks.
You've just bought a used iPhone from a stranger, but you have no idea what passcode they used.
Nothing you do appears to fix your iPhone's problem.
Way 1: iPhone Factory Reset Without Password Through MoniMaster for iOS
Using reliable software is the simplest and safest method how to iPhone factory reset without password. If you've forgotten your iPhone's passcode, the best software to help you is MoniMaster for iOS . These are the steps you need to follow.
Step 1. Get MoniMaster for iOS by clicking on the button below and filling out the registration form. Pick a plan that suits your needs.
Step 2. Get the MoniMaster app on the computer where you keep your iPhone backup by following the on-screen instructions.

Step 3. Use the USB cord to link your iPhone to your personal computer.
Step 4. Launch MoniMaster and the program will identify your iPhone. View iTunes Data and View iCloud Data are the two choices that appear. Click the iCloud data tab.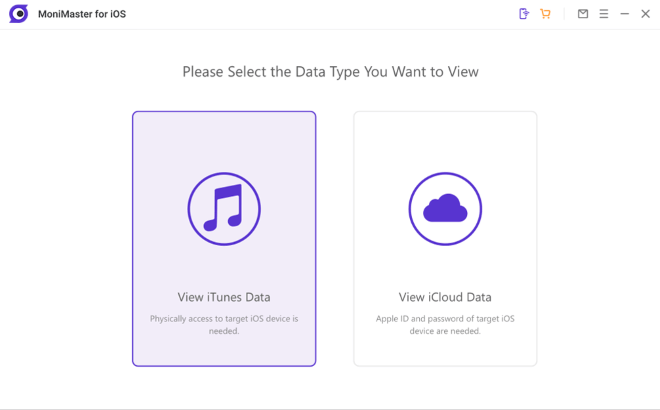 Step 5. Click iPhone with Data and needs Factory Reset from the next screen.
Step 6. After waiting patiently, the procedure will be finished, and you'll be able to use your Apple ID to restore a previous backup.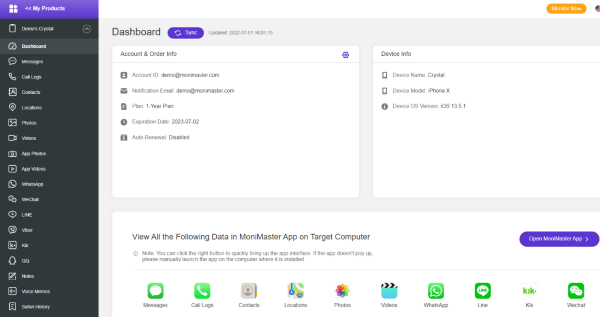 Way 2: iPhone Factory Reset Without Password Via iCloud?
Your iPhone's data can be wiped from a distance without requiring a password. To clarify, this is not referring to your iCloud password but rather the passcode to unlock your iPhone.
For this method to work, you'll need to remember both the Apple ID password and the Find My iPhone password. If not, then read on for other ways. How to factory reset iPhone without apple id password cannot be possible with this method.
Open icloud.com in your computer browser, then enter your Apple ID and password to log in.
To view your iOS devices, go to the "All Devices" tab in Find My iPhone. If you need to reset an iPhone, it should be selected here. Tap the 'Erase iPhone' option and click the button. The iPhone's passcode and all of its data will be deleted.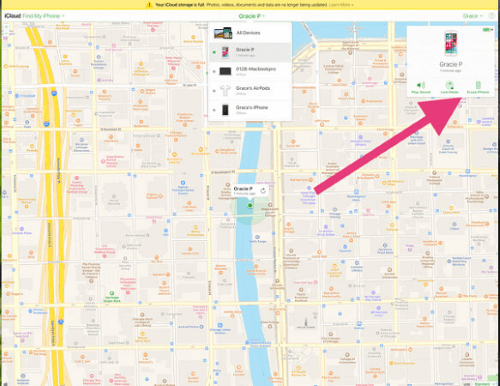 Locked out of your Apple ID because you forgot your password? Thanks to MoniMaster, it is still possible to reset an iPhone if you have forgotten your Apple ID password.
Way 3: iPhone Factory Reset Without Password By iTunes?
If you don't have access to an Apple computer, you can still reset your iPhone by downloading iTunes on a computer. To use this feature, your device must have been synced with iTunes in the past.
Method for Resetting an iPhone Through iTunes When You Forget the Password:
Launch iTunes and connect your iPhone to your computer through the Lightning cable. Select Summary on the left side of the page.
Once the drop-down has loaded, click "Restore iPhone" from the list. Restore your iPhone after verifying your selection in the new window. It will take some time to do this.
This will restore your iPhone to its state before the last time you backed it up.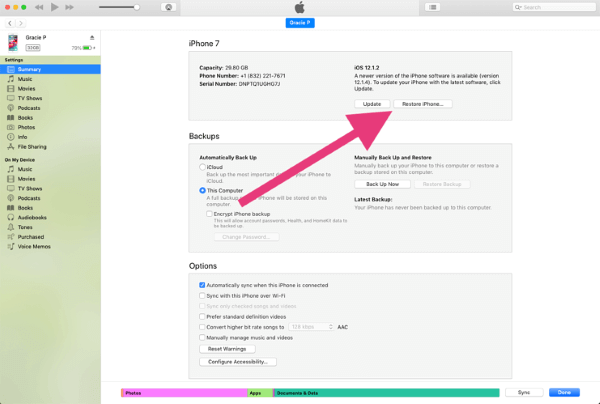 Way 4: iPhone Factory Reset Without Password with Find My iPhone?
Using Find My iPhone to reset an iPhone's password isn't very difficult, but it does involve a few steps. This is what you need to do.
With Find My iPhone, Here's How to Perform a Factory Reset Without Your Password
Access the Find My iPhone page using your iCloud credentials.

Log in using your Apple ID and password. Access to your normal Apple account is required, but your iPhone passcode is not.
Pick your iPhone from the available options.
The fourth step is to select the Erase iPhone option and then confirm your selection.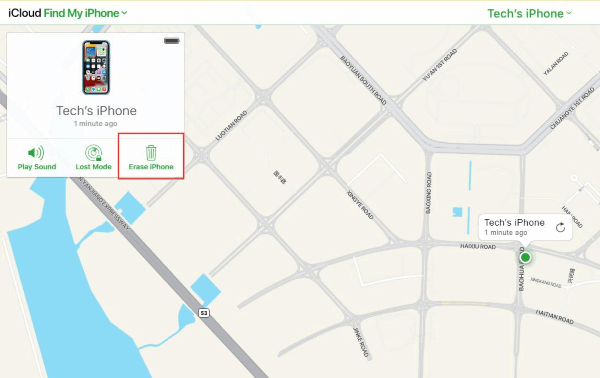 That's it. A new passcode can be set up on your device.
Way 5: iPhone Factory Reset Without Password By Recovery Mode?
If you've forgotten your iPhone's passcode and are wondering how to fast perform a factory reset, you have another option. To initiate the iPhone's recovery mode, you must have iTunes installed on your computer.
Methods for Resetting an iPhone Via Recovery Mode When You Forget Your Password
Open iTunes and select the "Recovery Mode" option.
Quickly hit the Volume Up button, then the Volume Down button, and then press and hold the Power button until the recovery mode screen shows on an iPhone 8 or later.
To enter recovery mode on an iPhone 7, press and hold the Volume Down and Power buttons simultaneously.
For iPhone 6S and before, press and hold the Home button in addition to the Top or Side button until the recovery mode screen displays.
Use a USB cable to link the device to your computer.
You'll see a message in iTunes asking if you want to restore or update your device. Select the Restore option.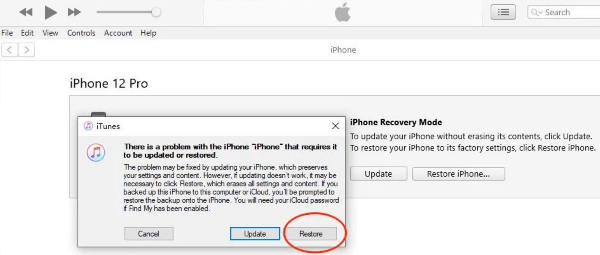 Way 6: iPhone Factory Reset Without Password Via Hard Reset Feature?
Do you need to know how to reset your iPhone without using a computer? Activate the combination button by simultaneously pressing the Volume Down and Home buttons.
When using an iPhone X, iPhone 8, or iPhone X Plus, press and hold the Volume Up button, the Volume Down button, and the side button simultaneously.
When using an iPhone 7, hold down the Volume Down button while pressing and holding the side button.
For iPhones older than the 6S, press and hold the Volume Down and Top buttons simultaneously.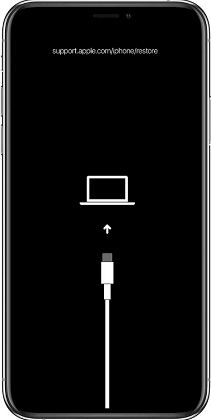 When you activate data recovery mode, you will be warned that all data on the phone will be deleted.
Now that you've restored your iPhone to its original settings, you'll need to go through the setup process as if it were a brand-new device.
FAQs about Factory Reset iPhone
How do I factory reset my iPhone with just the buttons?
Hold the Sleep/Wake and Home buttons down simultaneously for at least 10 seconds or until the Apple logo comes. Let go of the buttons once you see the Apple logo. The regular phone starting sequence will begin.
What code can unlock any iPhone?
Some individuals have simple passwords. The most obvious choice would be a six-digit PIN. Simple combinations like 111111, 000000, 123456, etc., can be tried. However, there is no foolproof method to open a locked iPhone.
How do I force my iPhone to factory reset?
Select General > Transfer or Reset iPhone in the Settings app. Choose one of the options below to complete the task: Get your new iPhone ready for content and settings transfer by doing the following:
Simply select the Get Started button and proceed with the on-screen prompts. When you're done, go back into Settings > General > Transfer or Reset iPhone, and then tap Erase All Content and Settings.
Conclusion
Hopefully, you completely understand how to reset an iPhone to factory methods without a password. Nonetheless, we advise you to download MoniMaster for iOS and perform a hard reset. This method is 100% effective, risk-free, and easy to use. Additionally, monitoring on the target iOS device can be done with MoniMaster.