The option to go back and edit or delete texts might be a game-changer for the iPhone. You have 15 minutes to revise the text of a message and 2 minutes to unsend it and effectively delete it if you make a spelling or grammar error or text the wrong person.
In the guide below, we'll go into further detail about iOS 16 unsend message, edit it, and how these two new messaging features work and how to perform them.
iOS 16 Messages Features
One of the most exciting features of iOS 16 that was introduced at Apple's recent WWDC 2022 event was the option to delete or edit previously sent iOS 16 messages.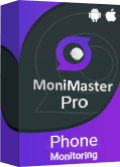 Use MoniMaster for iOS to Monitor iOS 16 Messages Without Knowing.
Check all incoming and outgoing calls & SMS

Spy on social media apps like WhatsApp, Instagram, Snapchat, Facebook, Viber, WeChat and more

Track cell phone location in real time and view location history

Remotely access the files on the target phone, like contacts, photos, call logs, etc.
Not only may this help you avoid humiliation if you unintentionally call a coworker an amorous name, but it could also provide an escape if you send the wrong person the incorrect message. Here's a brief rundown of the iPhone's built features for deleting or editing messages.
Edit a Message
In iOS 16, you have 15 minutes after sending an iMessage to make changes.
Step 1. Launch Messages on your iOS 16-powered iPhone.
Step 2. Open the chat containing the message you wish to edit.
Step 3. Edit the message you just long-pressed by tapping and holding on to it.
Step 4. Select Edit in the following dialogue box.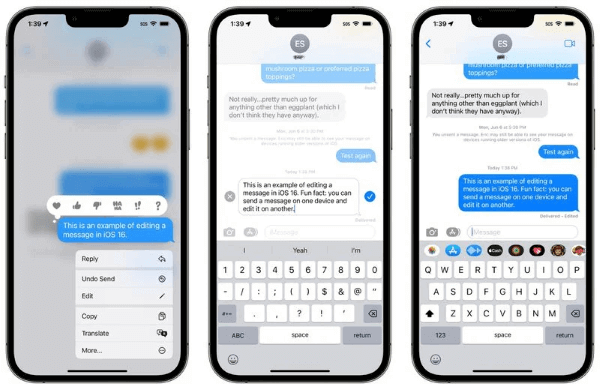 Make all desired edits to the message you wish to modify. When you're satisfied with the message, click the blue checkmark in the upper right.
After making these changes, the "Edited" label will appear in the message's read receipt.
Unsend Message
The undo send option allows you to withdraw an iMessage if you send it and then change your mind. An iMessage can be recalled up to two minutes after it has been sent.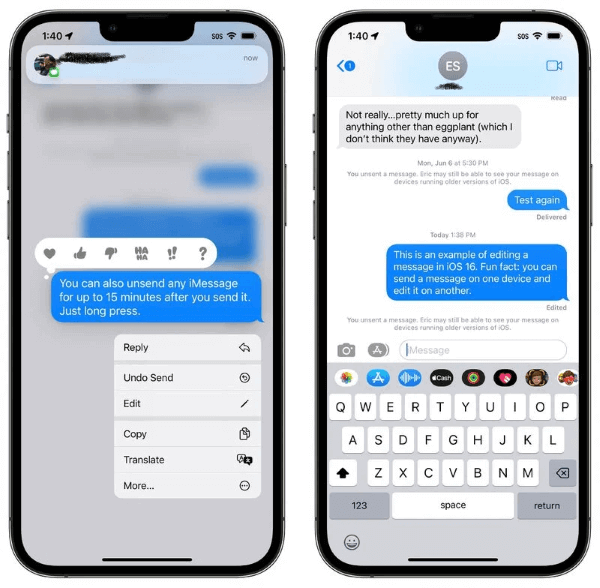 Step 1. Launch Messages on your iOS 16-powered iPhone.
Step 2. Navigate to the chat containing the message you wish to delete.
Step 3. Choose the message you wish to unsend and press and hold.
Step 4. After that, click the Unsend button in the dialogue box that comes up.
Like iMessage editing, iMessage unsending has its own restrictions that you should be aware of. If you try to use the capability to undo the sending of a message to a recipient who is using an older version of iOS, it will not work, and the message will not be unsent.
Even though the message will be deleted from your iPhone, the recipient will be unaware that you reversed your decision to send it. The following message is displayed to those who are still using an older version of iOS:
You managed to unsend a message! If [person] still uses an older iOS version, he may be able to read your message.
Messages now have a "Recently Deleted" tab in the "Filters" menu, where you can find all your deleted messages in one place. Here you can recover iOS 16 deleted messages that you did not want to delete.
You have the option of dealing with all of the messages at once using this interface's dedicated "Delete All" and "Recover All" buttons, or you may choose an individual message and choose whether to delete it or recover it.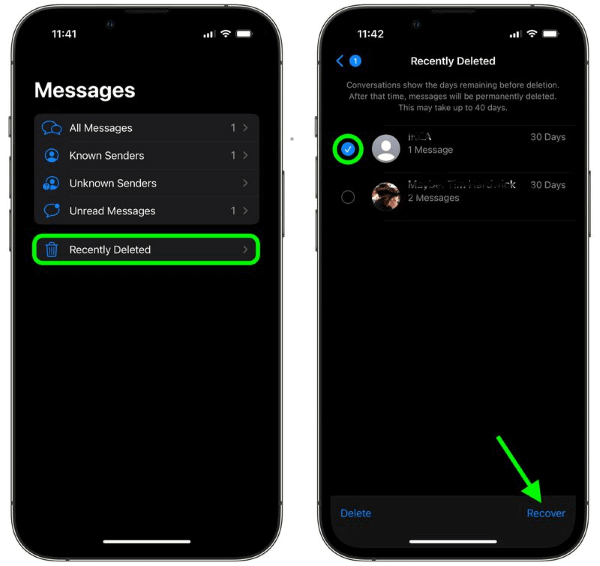 Junk Message Reporting
With the release of iOS 16, Apple included a new feature in the Messages app that allows users to report messages as spam.
It's a new addition to the Messages app's built-in "Report Junk" feature, which previously only allowed users to report blue bubble iMessages.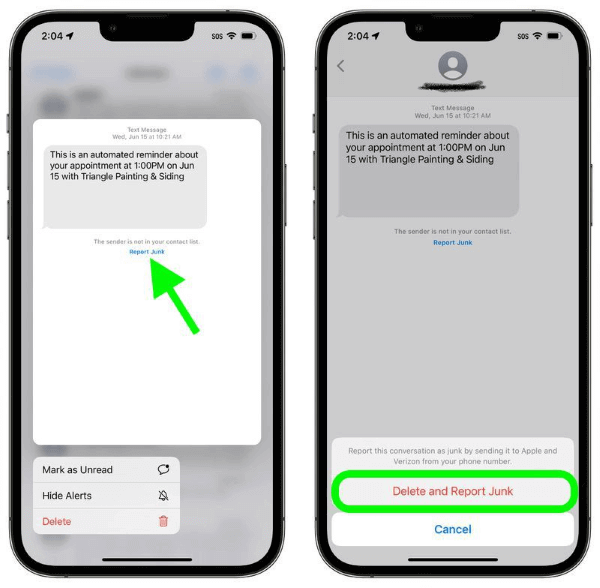 SMS and MMS messages can now be reported using the same option, which will notify Apple and your network operator and delete the offending message.
On an iPhone or iPad running iOS 16 or later, you can easily report a message from an unknown sender as junk by navigating to the message and tapping the blue Report Junk button that displays below it. Then, in the confirmation pop-up, select Delete and Report Junk.
Voice Messages
The little microphone located in the input field is used to activate speech-to-text by tapping on it, but in every other messaging app, this is the button used to begin recording a voice message.
Tapping and holding have no effect. Here is how to send voice message on iOS 16.
To start recording a voice message, you'll need to go to the iMessage app drawer, choose the "voice message app," and then press and hold the huge microphone that appears.
Upon release, the message is transmitted.
If you tap and hold, recording will begin; after you release the button, the play icon will appear, and you may type your message into the input box to transmit it (not very discover ably).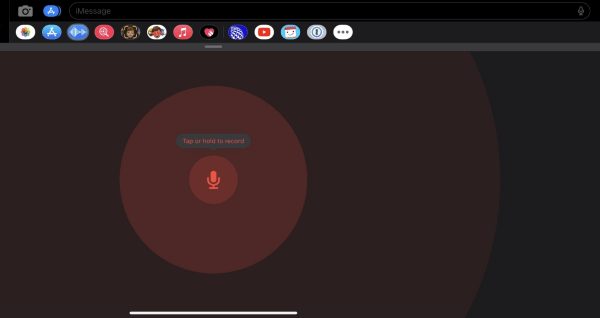 How to View Messages Without Phone?
You can depend on MoniMaster for iOS, a superb tool that can monitor over 20 different iPhone features.
WhatsApp, WeChat, LINE, Viber, QQ, Kik chat history, media files, emoticons, and more are all accessible for monitoring using this service.
You may read the target user's sent and received messages, even those that have been deleted.
Verifying iPhone Text Files: Access to iPhone Notes, Calendar, and Reminders data.
All incoming and outgoing calls can be recorded, you can view iPhone call history, together with the caller IDs, timings, and lengths of the calls.
Images, movies, and voice memos. Verify all media files on the target's iPhone.
See the target's Safari bookmarks and search history to get an idea of what sites they frequently visit.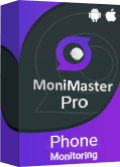 How To View messages by MoniMaster for iOS?
Download the app, signup and purchase the premium version to unlock all features. Then click "setup guide".
Take your time reading the setup instructions to get the app downloaded and running.
Here are the essential steps:
Download the software and set it up on the target's device.

Scan the data that was backed up.
Double-check your setup, then initiate web-based monitoring.
Step 1. Purchase Your Favorite Plan:
Click the "Buy Now" button to pursue a legitimate record utilizing a valid email address. Buy a permit to get close to all elements of this Android observing application.
Step 2. Setting up the MoniMaster App:
Click the "Verify Setup" button at the bottom of the "Setup Guide" page once you're done setting up and installing on the target device to ensure everything went well.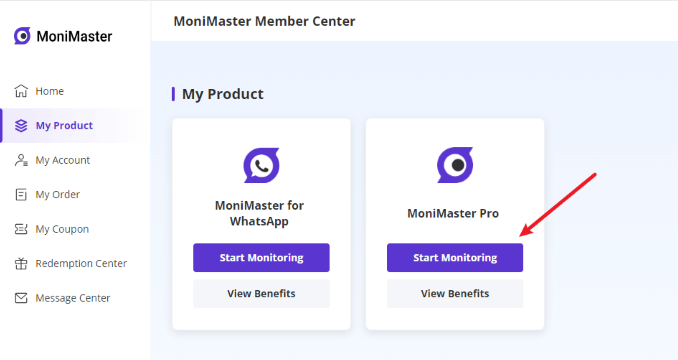 Step 3. Verify Setup:
Then, you'll be able to check all available information—including messages, call logs, WhatsApp, and more—in the online app.
Clicking the "Export" button will create a report on the computer based on the data being monitored.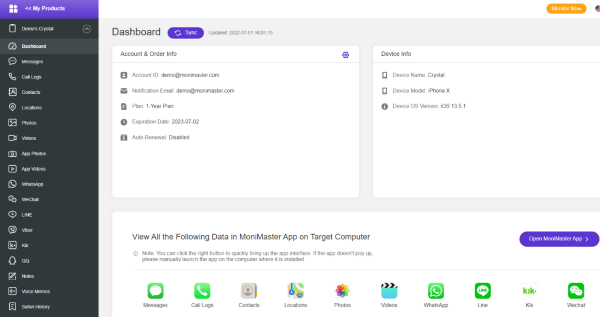 FAQs about iOS 16 Messages
Can you delete old messages on iOS 16?
If you realize you sent a message to the wrong person or the wrong thread within 15 minutes of sending it, you can quickly delete it by following the same steps as editing the message.
Are deleted iMessages gone forever?
An iPhone text message that has been deleted is not completely removed from the device. One copy is initially transmitted to the service provider's network. Next, the iPhone's internal database marks the copy as "deleted" rather than erasing it.
Can you delete an iMessage after it's sent?
You will have 15 minutes to edit the content of a message if you make a grammatical error or even text the wrong person, and you will have 2 minutes to unsend and effectively delete a text if you make a mistake.
Conclusion
In this guide, we have explained how to edit the sent message, unsend, recover and report a spammy message in iMessage running on iOS 16. These are great features, but a tool called MoniMaster for iOS can extend it further by allowing you to watch messages without the phone of someone. That is really helpful in tracking your children's activities.