Are you a concerned parent who wants to ensure a safe digital environment for your children on their iPhones? Look no further! In this comprehensive guide, we'll explore the powerful features of Family Link for iPhone and its best alternative. Whether it's managing screen time, setting app restrictions, or monitoring online activities, we've got you covered.
Does Family Link Work on iPhone?
Google Family Link, a powerful parental control app developed by Google, indeed extends its functionality to iPhones. It offers parents a comprehensive set of tool to manage and monitor their children's digital activities.
A. Compatibility and Requirements:
To leverage the benefits of Family Link on an iPhone, it is essential to ensure compatibility with the device. The app is compatible with iPhones running iOS 9 or higher, ensuring a wide range of device support. This means that if you have an iPhone 6 or newer, you can take advantage of Family Link's features.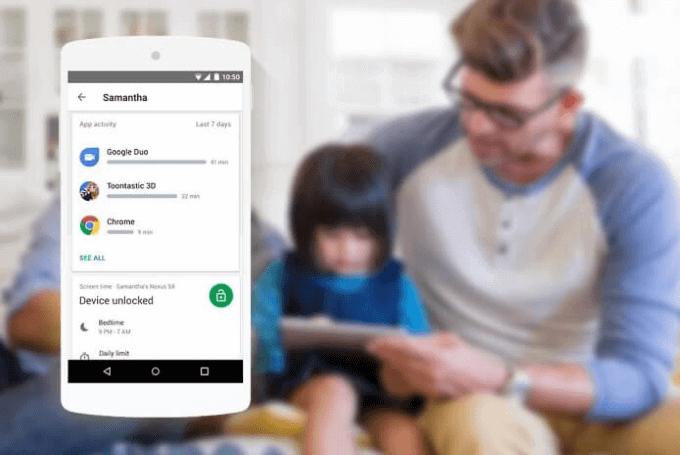 B. Key Features and Benefits:
Family Link empowers parents by allowing them to create a linked Google account for their child, granting them control over various aspects of their digital experience. With Family Link, parents can set screen time limits, manage app access, review app permissions, and even locate their child's device.
C. Limitations and Restrictions:
While Family Link offers a multitude of benefits, it's essential to be aware of its limitations and restrictions.
One of the primary limitations is that the child's device must have an Internet connection for Family Link to function properly.


Additionally, Family Link's monitoring features are limited to Google apps, and a few select third-party apps.
Let's explore how to set up Family Link on iPhone.
How to Set Up Family Link on iPhone?
Setting up Family Link on your iPhone is a straightforward process that ensures you can effectively manage and monitor your child's digital activities. To begin, you'll need to download the Family Link app for iPhone from the App Store and install it on your iPhone. Once installed, follow these steps:
Open the Family Link app and tap "Get Started."


Sign in to your Google account or create a new one to proceed.


Follow the on-screen instructions to set up your child's Google account.


Customize the settings according to your preferences, such as setting screen time limits, approving app downloads, and managing content filters.


On your child's iPhone, sign in to their Google account and download the Family Link app.


Link their device to your Family Link account by following the prompts.


Grant the necessary permissions to Family Link for comprehensive monitoring and management.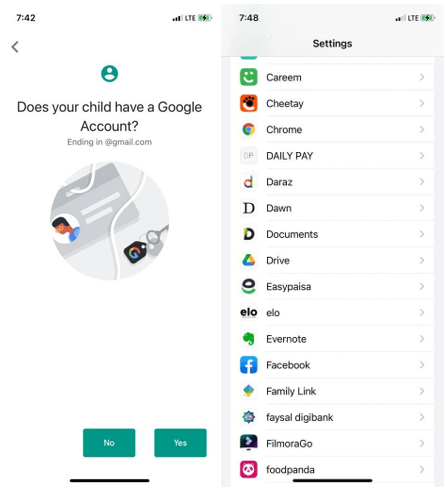 By following these steps, you'll successfully set up Family Link on your child's iPhone, allowing you to regulate their digital experience and ensure a safe online environment.
The Best Alternative for Family Link for iPhone
If you're seeking a powerful alternative to Family Link for iPhone that offers comprehensive monitoring and management features, look no further than MoniMaster . Designed specifically for iOS devices, MoniMaster provides parents with a reliable solution to ensure their children's safety in the digital realm. activities.
Real-Time Activity Monitoring:
MoniMaster allows you to monitor your child's phone activities in real-time, providing you with a clear view of their text messages, call logs, social media interactions, and more.
App Usage Management:
Take charge of your child's app usage by setting time limits and blocking access to specific apps that you deem inappropriate or excessive.
Monitor All Calls and Messages:
With MoniMaster, you can view all incoming and outgoing calls on the target iPhone, also monitor all messages. It provides you with detailed information about each number, including the caller's name and other contact details.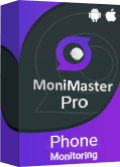 GPS Location Tracking:
 Stay informed about your child's whereabouts with MoniMaster's GPS location tracking feature, allowing you to ensure their safety and provide peace of mind.
Geofencing Alerts:
Set up virtual boundaries and receive alerts whenever your child enters or leaves designated areas, helping you to keep track of their movements and ensure their safety.
With its extensive range of features, MoniMaster offers a comprehensive solution for monitoring and managing your child's iPhone activities. Its user-friendly interface and advanced functionality make it an excellent alternative to Family Link for iPhone users who are looking for enhanced control and protection in the digital age.
In the following section, we will compare Family Link and MoniMaster to help you make an informed decision regarding the best option for your specific requirements.
How to Monitor Kids' Phones by MoniMaster for iOS?
Monitoring your child's phone activities using MoniMaster for iOS is a straightforward process. Here is how to monitor kid's phones by MoniMaster for iOS:
Step 1. Purchase and Install:
Visit the MoniMaster website and choose the appropriate subscription plan. Follow the instructions to download and install the MoniMaster app on your child's iPhone.
Step 2. Create an Account:
Launch the app and create your MoniMaster account by providing the necessary information. Ensure that you use a valid email address to receive important notifications and updates.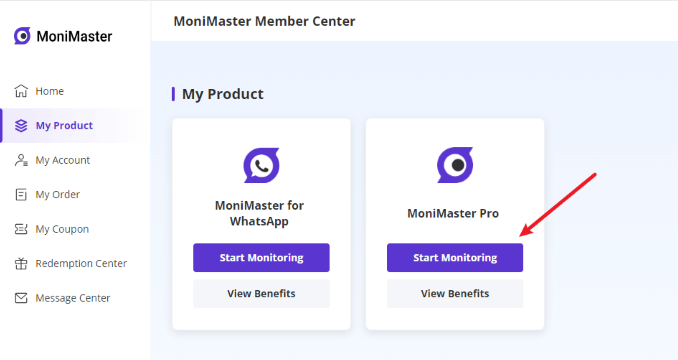 Step 3. Grant Permissions:
On your child's iPhone, open the Settings app, navigate to "General," and then select "Device Management." Enable the necessary permissions for MoniMaster to access and monitor the device effectively.
Start Monitoring: Once the setup is complete, log in to your MoniMaster account on your own device or computer. You'll gain access to a comprehensive dashboard where you can view your child's phone activities, such as messages, call logs, social media, and more.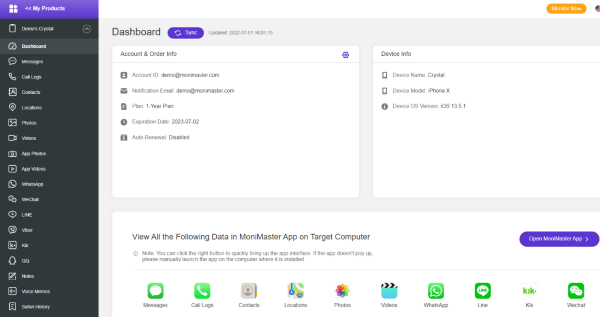 By following these steps, you'll be able to effectively monitor your child's iPhone activities using MoniMaster.
Comparison Between Family Link and MoniMaster
Below is a comparison chart highlighting key features and functionalities of both Family Link and MoniMaster:
| | | |
| --- | --- | --- |
| | Family Link | MoniMaster |
| Price | Free | Subscription-based |
| Compatibility | iOS and Android | iOS and Android |
| Track Location | Yes | Yes |
| Monitor Messages | Yes | Yes |
| Track Social Media | Limited | Yes |
| Capture Screenshot | No | Yes |
| Monitor Browsing Activity | Yes | Yes |
It's important to evaluate your specific requirements and preferences before making a decision on the parental control app that best suits your needs.
FAQs about Family Link for iPhone
Question:
1. Can I control my child's iPhone from my Android?
No, Family Link is designed by Google and primarily intended for Android devices. It does not provide the capability to control an iPhone from an Android device.
Question:
2. Does Apple have something like Family Link?
Yes, Apple offers a similar parental control feature called "Screen Time" for iPhones and other iOS devices. It allows parents to manage their child's device usage, set limits, and restrict access to certain apps and content.
Question:
3. Can an iPhone be monitored by an Android?
Monitoring an iPhone from an Android device requires the use of third-party apps like MoniMaster or similar alternatives. Family Link, being a Google-developed app, does not support monitoring an iPhone from an Android device directly.
Conclusion
In this comprehensive guide, we explored Family Link for iPhone, its setup process, compatibility, features, and limitations. We also introduced MoniMaster as the best alternative, highlighting its advanced monitoring capabilities. With its comprehensive features, user-friendly interface, and tailored functionalities, MoniMaster stands out as an excellent choice for parents seeking to monitor and protect their children's digital lives.