With the launch of iOS 17, Apple has packed a slew of exciting new features into its latest release. From improved performance to improved multitasking capabilities, the iOS 17 update will make your phone faster, more efficient, and more secure. Read on to learn more about all the exciting new features iOS 17 has to offer.
What's New in iOS 17?
Apple will release the newest version of its iOS operating system: iOS 17. This version of the OS comes with a variety of new features and improvements, making it a great upgrade for users of all types. Here's a look at some of the exciting new features and improvements included in iOS 17.
Contact Poster:
With the iOS 17 update, you can customize the style of your contact's call in the Call screen to make it more personalized. You have the option to apply different effects to photos or create your own Emoji to express your personality. Additionally, you can adjust the fonts and colors of the caller interface to create a layered photo theme, and apply these customizations to different contacts.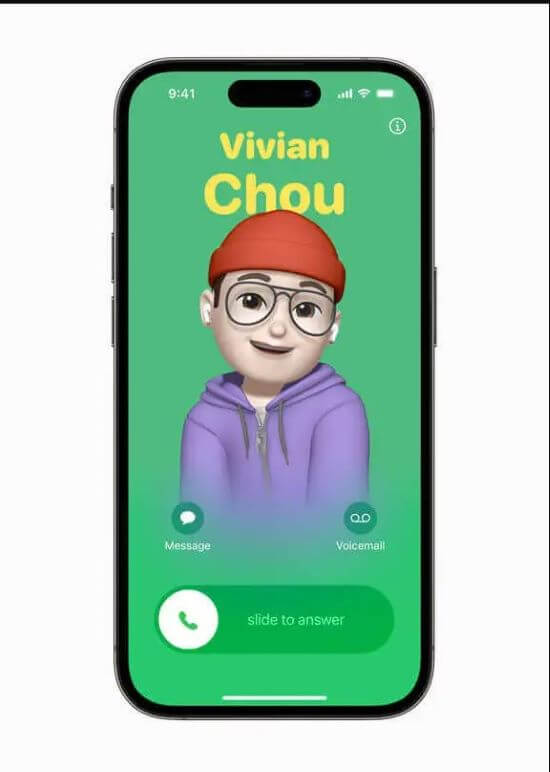 The "Contact Poster" feature is not limited to the Phone app alone. It is also available for third-party calling apps, so you can enjoy this personalized experience when using other calling apps as well.
Real-time voice mail:
Instant Voicemail is an incredibly convenient feature that provides a transcript of a message as soon as it is left, allowing you to quickly understand the content of the message.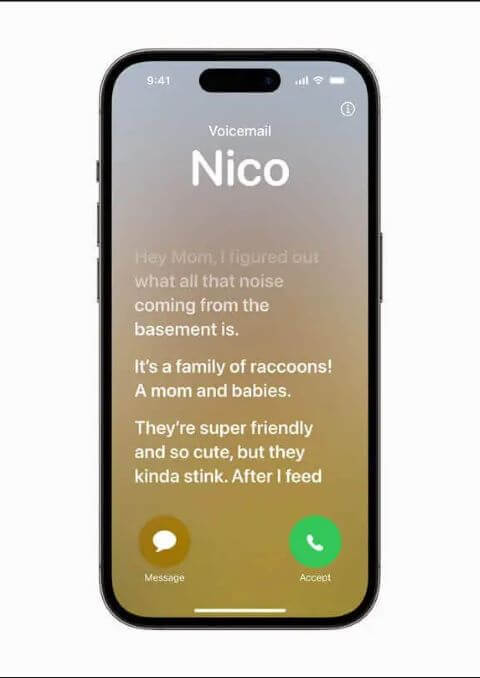 Another helpful feature of Live Voicemail is its ability to identify and filter out calls marked as spam by the telecom operators. These spam calls are immediately rejected and will no longer appear as Live Voicemail. This feature can be easily accessed on your device and ensures complete privacy protection.
FaceTime Message:
FaceTime offers voice and video messaging, which makes it easier to call people you can't reach. If the person you're calling can't pick up, you can choose to record a video or leave a voice message for them to hear later.
Message Change:
Quickly swipe out the iMessage App menu: Simply tap the new "+" button to reveal a selection of your most frequently used content, and swipe up to access other iMessage Apps for even more colorful and sophisticated messages.
Improved search functionality: The new Filters make searching easier and help you quickly narrow down your search. You can also add additional filters to find the specific content you're looking for.
Share and View Location: With the new feature, you can easily share your location using the + button. When you share your location, it is immediately updated in the conversation.
Voice message content transcription: When you send a voice message, it is automatically transcribed, allowing you to read it now and listen to it later. These new features in iOS 17 make messaging more convenient, informative, and enjoyable!
Safe Messaging: The new Safe Trip feature lets your contacts know that you have safely arrived at your destination. It automatically shares your status update when you return to your home, office, or any other designated location.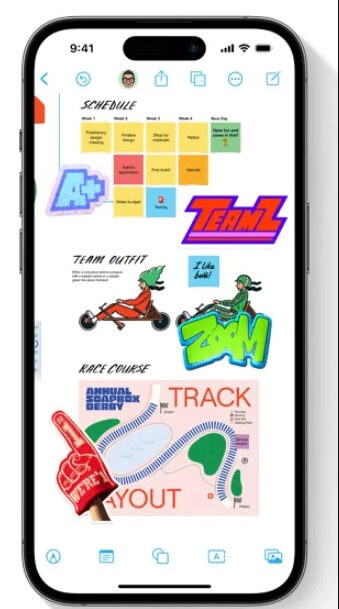 Auto-correct:
In the latest update, a new language model has been introduced to enhance the accuracy of "AutoCorrect". This feature now corrects grammatical errors more comprehensively and offers predictive suggestions as you type, resulting in improved typing efficiency.
Standby:
iOS 17 brings a new Standby feature that is activated when your iPhone is charging and placed in landscape mode.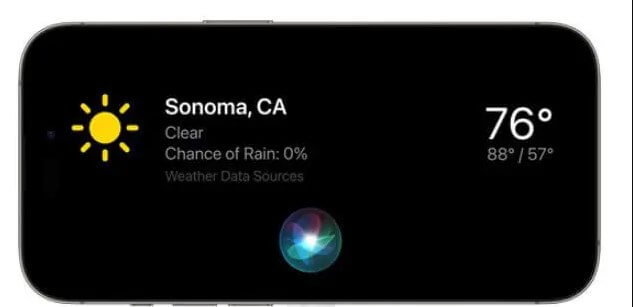 Standby Mode offers a full-screen Live View, allowing you to easily view important information from a distance. This feature is particularly handy when your iPhone is placed on a nightstand, kitchen counter, or work desk. You have the flexibility to customize Standby mode by choosing different clock styles, photos, or widgets according to your preferences.
AirPods:
AirPods introduce new features in iOS 17, such as Adaptive Audio, Personalized Volume, and Conversation Awareness, a dynamic blend of Pass-Through Mode and Active Noise Cancellation that makes conversing in noisy environments easier.
Journal:
Apple has introduced a new 'Journal' app that provides personalized suggestions to inspire your journal writing. You can enhance each entry in your Journal by adding photos, music, audio, and more. This app offers a comprehensive and immersive writing experience, allowing you to effectively capture and reminisce about significant moments and emotions in your life.
Health:
The Health app now includes a Mental Health Tracker feature that allows users to monitor various aspects of their mental well-being, such as mood, stress, sleep, and other related indicators. Users can log their emotions throughout the day and track how these indicators change over time.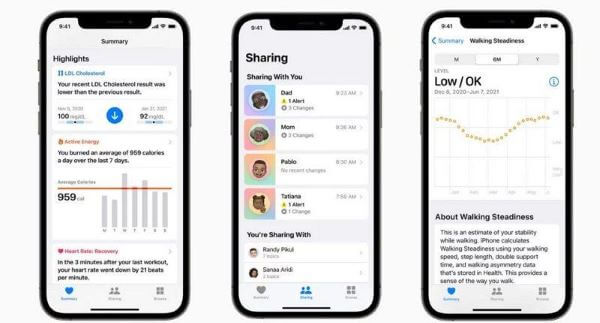 Additionally, the Health app introduces Mental Health Alerts, which analyze sleep patterns, physical activity, and other behavioral data to identify potential mental health issues and send notifications to users.
In iOS 17, the Health app expands the Positive Thinking option, offering a range of exercises aimed at promoting calmness and mental well-being.
Safari:
The Safari browser on iOS 17 categorizes and browses different topics, such as work and private, with each topic category having its own browsing history, cookies, tab groups, and preferences, making it easy to switch between topic categories. Private browsing with Safari allows users to lock the window they're browsing with Face ID or Touch ID.
Maps:
You can now download maps for offline use, allowing you to access them even without an internet connection. The augmented reality feature for pedestrians has also been enhanced, enabling you to scan buildings and receive instant turn-by-turn directions. This improvement makes navigation more intuitive and convenient, ensuring a seamless experience while exploring your surroundings.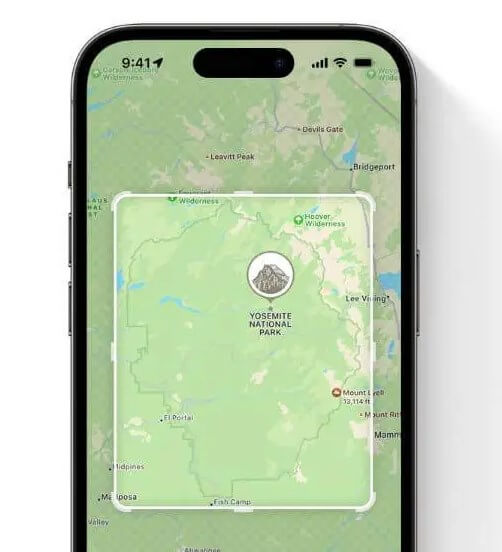 AirDrop
Simply hold your iPhone close to another iPhone or Apple Watch and use the new "NameDrop" feature to easily share contact information. And you can also share with your friends by doing the same, making it easier and more intuitive to listen to music, watch a movie or play a game with them.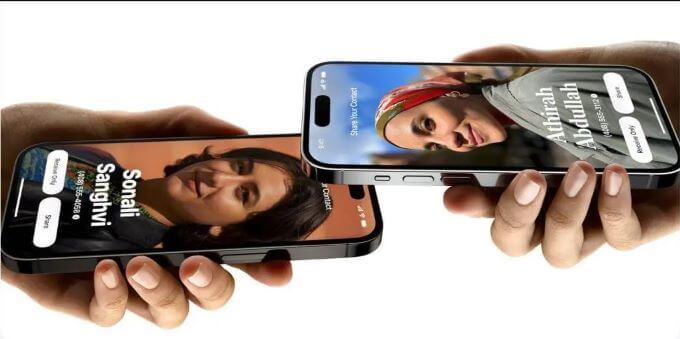 AirTag
You can attach an "AirTag" to your everyday items, making it convenient to locate them. Currently, AirTag can be shared with up to five people, allowing for quick retrieval of items when needed.
Furthermore, the separation alerts for sharing have been enhanced. You can now customize the settings to receive alerts when you are a specific distance away from your AirTag. This feature enables you to prevent the loss or forgetting of items more effectively and provides advanced knowledge of your proximity to them.
Apple Music
Since the introduction of "SharePlay" in iOS 15, you can share your iPhone and iPad screens with your friends, and even watch movies and listen to music together. In iOS 17, CarPlay music can be supported, so you can select your favorite music in the car with your iPhone.
Visual Look Up
The latest iOS 17 Visual Look Up has also been improved with the ability to find recipes through photos and directly label the menu contents.
More Features
Interactive Widgets
Sticker Creation
Photos
Mail
Weather App
Reminders
Find My
Wallet App
Overall, iOS 17 is a great update and it brings a lot of new and improved features to users. From call recording to improved notifications, dual apps, split screen, and better Siri, there are a lot of great features that make the user experience even better.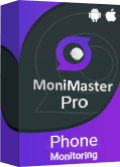 Use MoniMaster for iOS to Monitor iOS 17 Without Knowing.
Check all incoming and outgoing calls & SMS

Spy on social media apps like WhatsApp, Instagram, Snapchat, Facebook, Viber, WeChat and more

Track cell phone location in real time and view location history

Remotely access the files on the target phone, like contacts, photos, call logs, etc.
Conclusion
In conclusion, iOS 17 has many exciting new features that make using your device easier and more enjoyable. From the Interactive Widgets to the improved Privacy options, there is something for everyone to enjoy. Whether you are a power user or just a novice, iOS 17 has something for you.