How can you monitor your child's text messages on your iPhone? How can you see to whom they are text messaging on iPhone? If you've thought of these questions, this post is surely for you.
But with the changing technology, the dimension of this subject has changed. Privacy intrusion and parental instincts are clashing together.
Why Keep An Eye On Your Children's iPhone Messages?
Responsible parents protect their kids from potential harm. Monitor child text messages on iPhone is a responsibility. The fact is most of the time children spend time online, where anyone can publish anything.


If you've got young children using the iPhone, parental controls are a necessity to ensure they are kept safe from threats online. This post summarizes ways how to track text messages on iPhone. Read on to find out more.
How To Track Text Messages On iPhone?
If you have known how to set up parental controls on text messages. Once you do that now you will come across the need to double-check and make sure whether those methods are effective or not. This is the point where you may think about using remote monitoring software.
If you are searching for remote monitoring software, you have to think about using  MoniMaster for iOS. Various tools can help you to monitor text messages on an iPhone.
This app is the best way to know about your kid's activities history. If you are worried about online activities and text messages on your iPhone, then you need to use MoniMaster for iOS
How MoniMaster Can Assistant You?
MoniMaster is a super assistant for tracking on iPhone.
Monitoring Of Social Apps:
MoniMaster for iOS provides the facility of monitoring WhatsApp, and several other social platforms which include, LINE, hack viber messages, QQ, WeChat, and Kik chat history, as well as media files, emojis, and much more. You can visit the MoniMaster website to know much more.
Messages Reading Of iPhone:
If you are looking parental control app to monitor text messages then MoniMaster for iOS is the right option for you. You can read the sent and received messages, even you can read the deleted data by the target user.
Text Files:
It gives access to view data of iPhone's Reminders. Calendars and notes data would be in your access.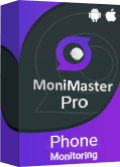 Calls & Contacts of iPhone: 
Track all the incoming and outgoing calls with nameson the target phone. All the contacts, timestamps, and call duration can be checked.
Media Files:
Any type of multimedia files stored on the target iPhone can be checked. It includes photos and videos. Even any type of hidden multimedia in any folder can be accessed by MoniMater iPhone Monitoring.
How To Use MoniMaster For iOS?
By following these steps we can use
Step 1. Create a Valid Account:
Click on the "Sign Up" button using an authentic email address. And you can buy a license to get access to all features of this iOS monitoring app. Then, you will be led to the "My Products" page for further confirmation and process.
Step 2. To Complete the Configuration You Can Follow the Setup Guide:
On the "My Products" page you will find the plan which you have to purchase and click on the "Setup Guide" button along it. Read the instructions carefully about how to download and install the application.
Here are the main steps to follow:
Download & install the app on the target's computer or laptop.
 Must Scan the backup data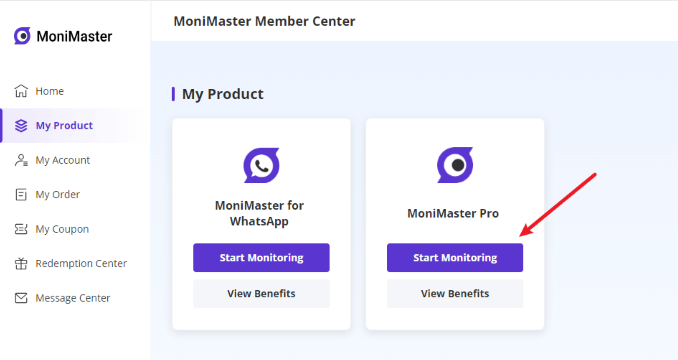 Step 3. Verify Your Setup and You Can Start Monitoring on the Web App:
After completing the installation on the target computer, click on the "Verify Setup" button at the bottom of the "Setup Guide" page.
Now, you will be able to check all the available data types on the web app.
If you want a report for the monitored data, you will tap on the "Export" button to produce a report on the computer.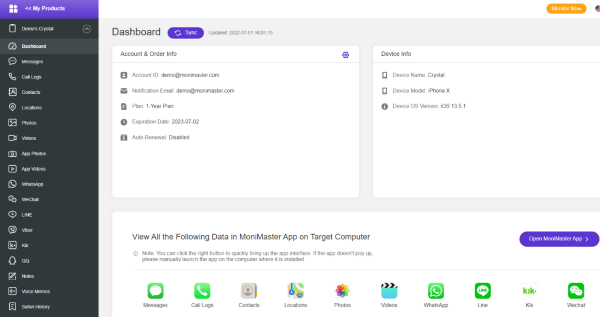 Use iMessage to Monitor Text Messages
One of the easiest ways to track text messages is to use Apple's built-in iMessage service. See iMessages without knowing is an alternative to traditional text messages. Rather than your cell phone provider's texting server iMessage is sent through Apple's servers. iPhones, iPads, iPods, Mac computers, and Apple Watches are currently allowed iMessage to sync.
To track messages on the iPhone, you have to link the iPhone's iMessage account to iCloud.


After this step link this same iCloud account to another iPhone, iPad, iPod, Mac computer, or Apple Watch.


All messages sent via iMessage will also show up on any linked device.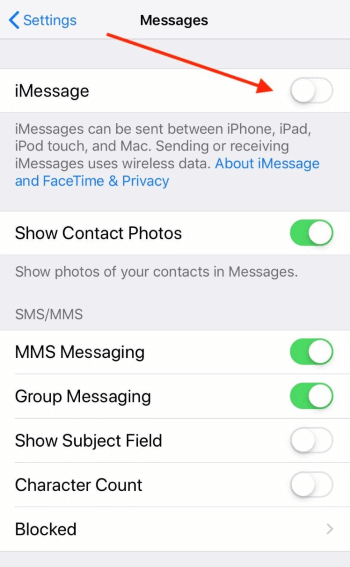 Limitation:
iMessage works only on iOS devices. If the iPhone is receiving messages from another non-iOS device or Android, or the text is a cellular text rather than an iMessage, these messages will not forward to you. Another issue with using iMessage is that you will be sharing the same iMessage account with the other  iPhone and which may get confusing.
Forwarding Messages To Track Messages On iPhone:
iPhone's iMessage feature can be used to forward messages present on another iPhone whose messages you need to access.
Here's how you can do it.
Go to Settings and tap "Messages"


Go to "Send and Receive"


And all the numbers you have access to must be listed here.


Tap "Use your Apple ID for iMessage"


 A prompt should appear here.


Choose the "Use Other Apple ID" option.


Return to Settings and tap "Messages" again.


Enable the "Text Message Forwarding" feature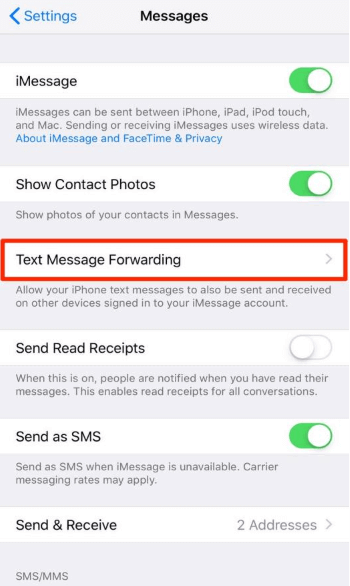 Limitation:
This method requires the child's Apple ID credentials otherwise, the message forwarding will not work.Now, you can select the device on which you want these messages to be forwarded. A code will be provided to enable the whole thing.
Monitor Messages Through iCloud Sync
You can use Apple's cloud message sync feature if you use  iOS 12 or later. Via this, you can access more data than just messages.
Steps on how to enable iCloud message sync.
Go to Settings.


Tap "iCloud".


Toggle "Messages" to on in the "iCloud" menu. This would sync messages on all devices with running the same iCloud account.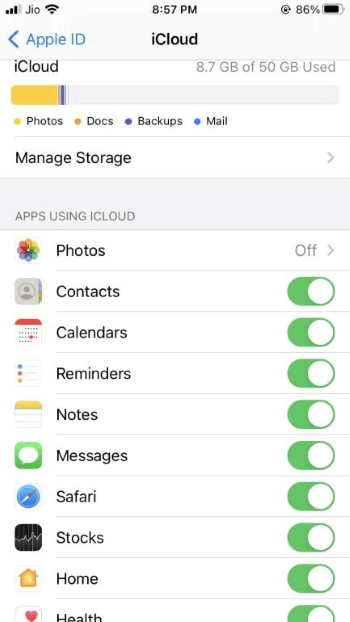 Limitation:
Your messages may also appear on your child's phone because the iPhone will run the same iCloud with sync turned on, so be careful and attentive.
FAQs about Track Messages On iPhone:
How can I check message history on my iPhone?
You can view iMessage history by tapping Messages. Now scrolling through your conversations. If your device has settings to never delete conversations, then all messages will be stored on your device and you can look through them.
How to Receive Text Messages on Two Phones?
For iPhones, you have to use message forwarding as well as sign into both devices under the same Apple ID to receive text messages on two iPhones.
How can I receive text messages from another iPhone to mine?
On your iPhone goes to Settings > Messages > Text Message Forwarding. Here, If you don't see Text Message Forwarding, then go to Settings > Messages. Turn it off iMessage, then turn it on. Click on  Send & Receive,  Use Your Apple ID for iMessage, and sign in with the same Apple ID which you used on your other devices.
Can my husband get a copy of my text messages from another iPhone?
This happens due to using the same Apple ID for iMessage on both devices.  It can be resolved by two methods:
Go to Settings >Messages > Send & Receive, tap the ID, sign out, then the next step is to sign back in with a different ID.  You are able to still share the same ID for purchasing in Settings>iTunes & App Stores.


For this purpose use both phones and go to Settings>Messages>Send & Receive and uncheck the email address shown under "You can be reached by iMessage at".
How do I stop my text messages from going to my wife's iPhone?
Setting then Messages then go to Text Message Forwarding, and turn off those devices that you don't want.
This would stop all SMS texts from going onto other devices. For iMessage, you need to sign out of iMessage on all devices if you do not want to receive messages.
Conclusion:
We must say thanks to the relatively discrete functionality, as text messaging is considered a feasible messaging option. There are many threats that surround our lives that have moved us into virtual space.
Kids can now browse the Internet safely, and partners have new ways to steal behind their backs. That's why people are searching for the MoniMaster for iOS app that tracks text messages.