Question:
How to remotely access Android phone? Is it possible to remote phone access?
Although, many users think that remotely accessing a device is impossible. Contradictory to such beliefs, the task is executable. But conventional ways aren't good enough, as modern devices are simply too secure to get unwarranted access.
But if you use the services of a professional monitoring application for such a procedure, you will have remote phone access. You can get access to your phone and even other people's. Here we'll give you 6 best tools to remote phone access.
Part 1:MoniMaster to Remotely Access Someone's Android /iPhone
It seems that remotely monitoring a device is not an easy task. But it is possible with the help from a professional 3rd party program.
These sort of programs are designed to access other devices remotely, they will provide easy access without any hassle. There are several apps with such capabilities available on the market and we have decided to go with MoniMaster after going through a few of them.
Features of MoniMaster
Remotely access target Android and iOS devices with 100% secrecy.

It can monitor over 25 kinds of data. Phone logs such as SMS, Call history or Media files. All kinds of social media files such as WhatsApp, Snapchat, LINE, WeChat, Instagram...

Track the real-time location for both Android and iOS devices.

Remotely control the camera of target device.

Remotely capture screenshots of target device.

Export all the synced data to check all the details.
Steps of Using MoniMaster
Step 1. Create a Monimaster valid account..
First of all you need to "Sign Up" an account with MoniMaster. You have to use your authentic email address and other details in order to complete the registration. Then buy a proper plan to enjoy the features.
Step 2. Install the MoniMaster Instagram spy app on the target phone to finish the process.
Then, the website will lead you to "My Product" page. Find the plan you just purchased and click "Setup Guide" option to learn how to download and install the app on the devices you want to monitor. After installation, you need to login with the licensed email to finish the setup.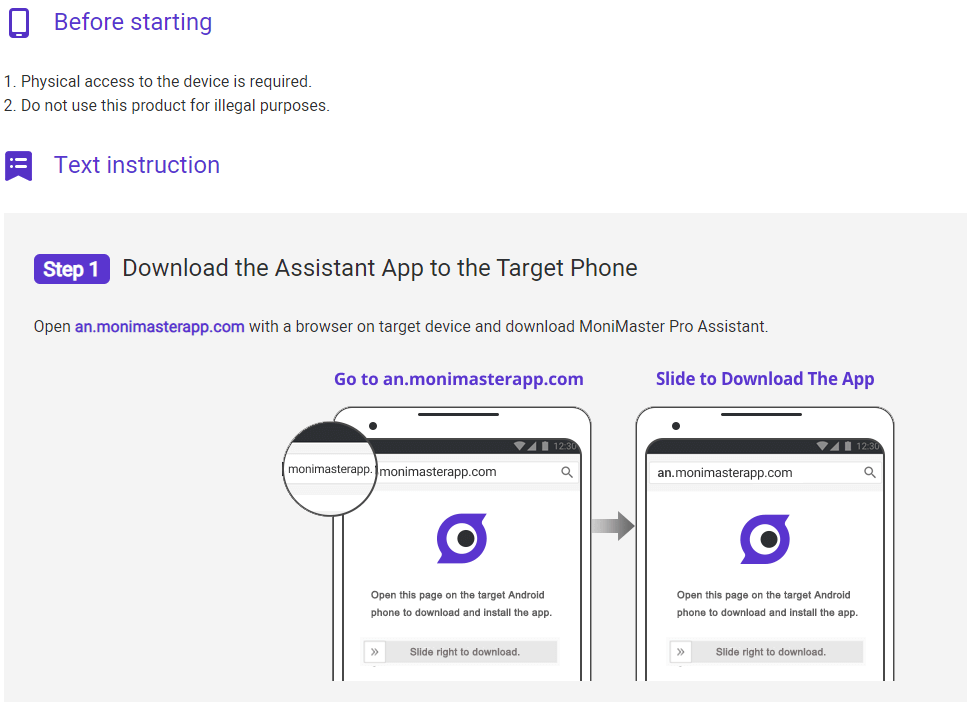 Step 3. Start remoting phone access by using Monimaster.
After completing the installation you have to go the "Dashboard" in order to view the data of the target device. Just click on the left side of the panel in order to select the type of data you want to view.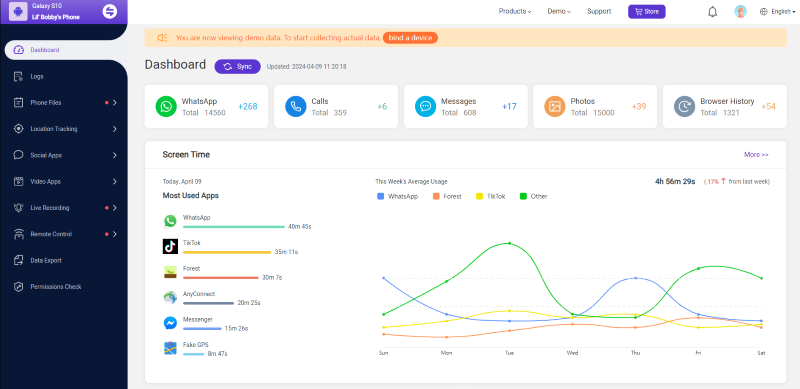 MoniMaster is clearly a great application, for the most parts, this is a very convenient application for the users. The instant access and simplicity are the main reasons behind the popularity of this particular application but there are also certain other advantages of using MoniMaster.
Why you Choose MoniMaster
It is a professional application with great technical support.

The price is also not taxing on your wallet.

The invisible feature is also very nice and effective.

Remote access all the contents of the target device with out them knowing.

The Wi-Fi logger is capable of tracking the device even if the GPS is turned off.

The keylogger feature let you can even view the deleted data on target device.
NOTE:
So, to answer your question "How to remotely access Android phone?" The answer is very simple, you can use MoniMaster but there are also other such applications available but we found the said application very user-friendly and reliable. You can view the demo to know more.
Part 2: Access Own Android/iPhone Remotely with Screen Mirroring Tool
"Can I remotely access my phone?"
Well, there are several ways to achieve that. A device monitoring application can be used or a Screen Mirroring tool.
You will find a number of programs online, capable of screen mirroring and choosing the best one will be very complicated for you. So, we took this chance and compiled a list of top 5 screen mirroring apps for you. Some of these apps work on Android devices, some on iPhone and there are apps that work on both platforms.
1. TeamViewer
TeamViewer is the first name comes to mind when discussing screen mirroring. This app is compatible with both Android and iOS platforms. It is fast, easy and provides open source screen mirroring.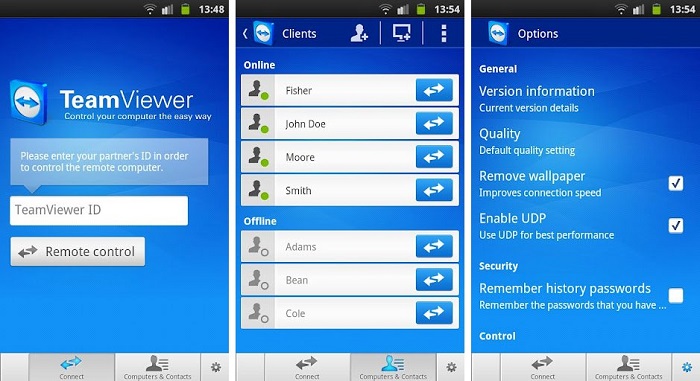 1. TeamViewer can provide you access to documents, files, apps and another type of files very easily.
2. Operation is very convenient and one of the most interesting features of the app is multi-monitor.
3. The monitoring can be performed on multiple screens at the same time.
2. ApowerMirror
ApowerMirror is a very simple, user-friendly screen mirroring application. It is easy to use and compatible on multiple platforms like Android and iOS. You can easily view other mobile screens on your mobile device.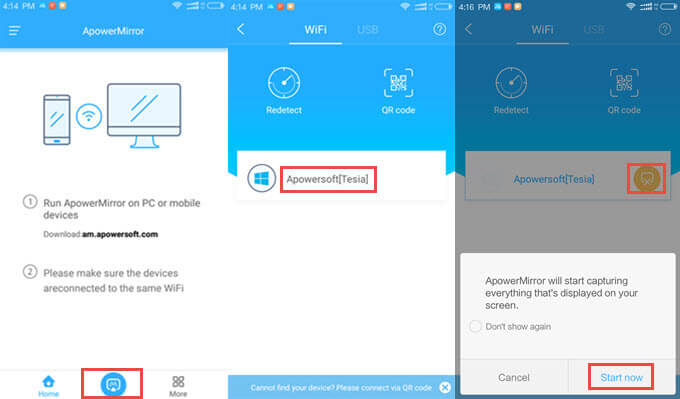 1.You will be able to stream movies, videos, access photos, and even documents.
2.The unique feature of this app allows you to adjust the mirrored screen to your convenience.
3. AirServer Connect
AirServer Connect is another excellent example of screen mirroring apps. Compatible with both Android and iOS, this app lets you mirror the target device very easily.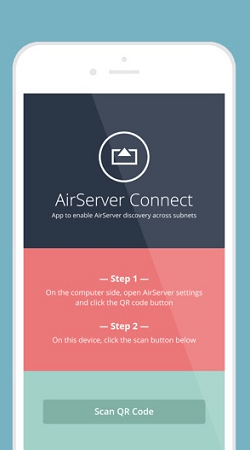 The application performs via QR code, by scanning the code with the target device you will be able to establish a connection.
4. Mirroring360
One of the most used and trusted screens mirroring app is Mirroring360. The app is used and referred with users all over the globe. Even most of the developers use this application during their presentation.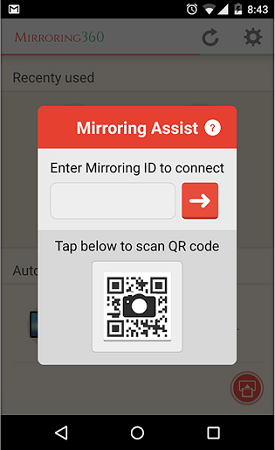 You should consider this application. Mirroring360 is available only for Android devices but it hasn't been updated in a while.
5. VNC Viewer
VNC Viewer is an exceptional addition to this list. This is a great mirroring application, easy to use and very effective. Works with both Android and iOS, the application is very secure.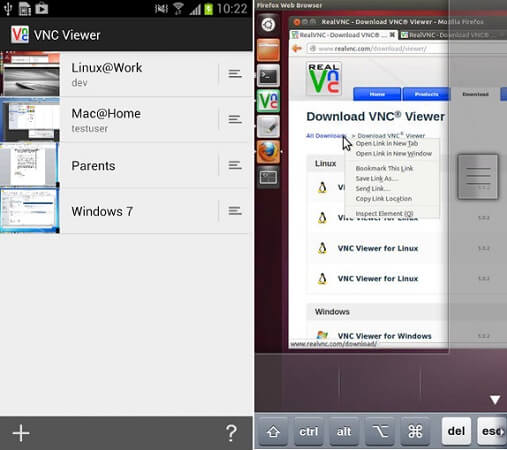 The VNC Viewer app has basically made screen mirroring easier and seamless experience.
Conclusion
Overall, remote access Android phone is possible using a capable device monitoring application like MoniMaster. It is highly recommended! And screen mirroring is also an equally advance and effective procedure for accessing smartphones. We have detailed a few effective screen mirroring application for your convenience.