Nowadays, Android spy apps are being used to take secret pictures. These apps have the basic function of taking secret snaps passively without shutter sound, and allowing the user to capture the moments of interest anytime without anyone's consent.
Then, how to take secret pictures without knowing by Android? It's rather important to choose a truly useful spy app to take secret photos with Android. In this article, you will find the best secret photo-taking Android app. Just keep on reading to find out!
How to Secretly Take Photos on Android
Secretly take pics of your spouse's lover might sound like a cool feature, and you can achieve that by using an awesome app called MoniMaster. It is an Android data monitoring app through which you can take secret photos from your monitored phone easily and less noticeably.
Advantages of MoniMaster Secret Picture
While capturing the photo from the target phone's camera, the shutter sound and the flash will automatically turn off, so it's a totally secret behavior without anybody knowing.

You can still take photos even when the target phone screen is locked, which ensures you take snaps as much as possible.

The secret photo file is saved in a hidden folder on the monitored phone, so there is no worry that the phone user will notice it.

The picture can be previewed anytime, and it also allows you to download the photo instantly if you need.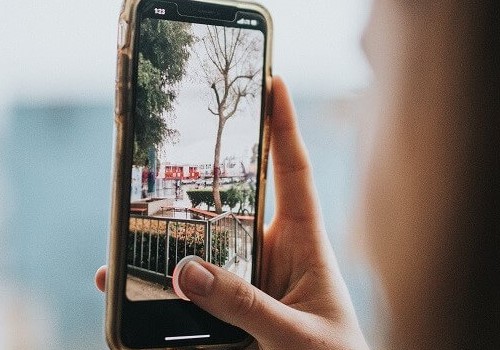 How to Use MoniMaster Secret Photo-taking App
MoniMaster is very simple to use and you can refer to the following steps to learn how to secretly take photos from the target phone step by step:
Step 1. Create a Valid Account
First, you need to sign up with valid email address. And then purchase a suitable plan to get access to all the app features. After purchasing, the website will lead you to "My Products" page to proceed further.
Step 2. Install the App on the Target Phone and Compete the Setup Procedure
Follow the "Setup Guide" to finish this step.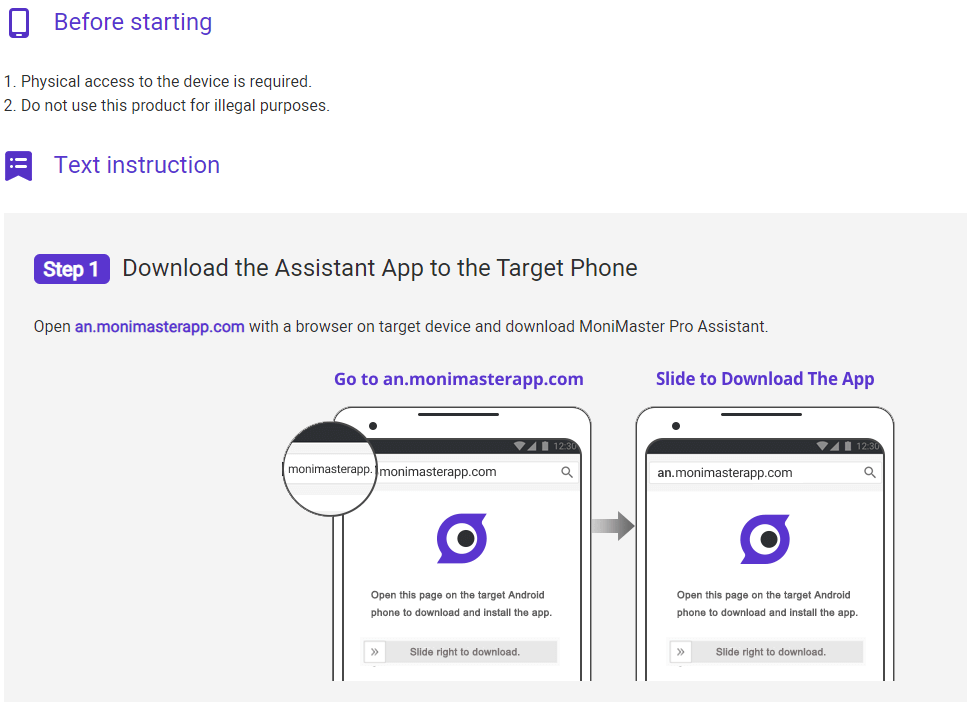 You will need to download and install the app onto the target phone, so physical access to the target Android phone is required. Once done, you need to follow the app instructions to complete the rest configuration.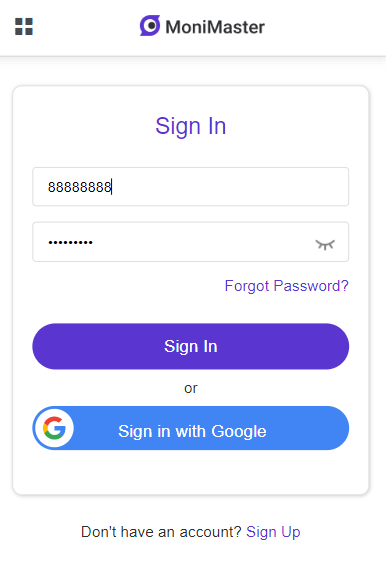 Step 3. Verify the Setup and Start Taking Secret Photos
After finishing all the required procedures on the target phone, the icon of MoniMaster app will disappear on the monitored phone, so the user can never find it. Then you need to verify the setup by click on the "Verify Setup" option, and you will go to the online dashboard to view the data of the target phone. (Emphasize again: You will spy on the target phone in the web control panel, not on the phone app.)
If you want to take a photo, just go to "Remote Control" and select the option "Take photos". And then you can see a "Shoot" button on the side. Select this option and the photo you have secretly taken will be uploaded to the dashboard. You can also take the secret photo album.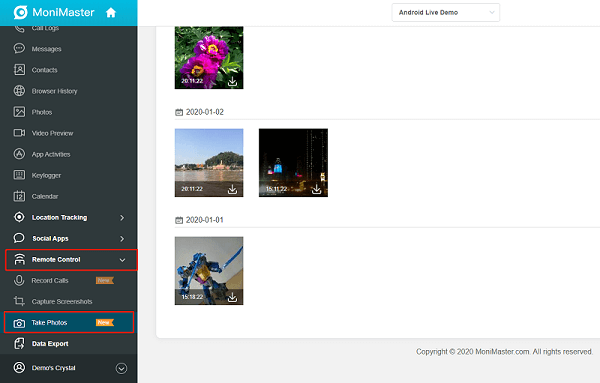 By following the above steps, you can take a secret photo remotely. If you're still confused about this feature, you can visit the free demo to better understand the app. And in case any assistance requires, you can also visit MoniMaster support page.
Other Features of MoniMaster Secret Photo-taking App
Actually, MoniMaster is not just a secret photo-taking application. It also has many other spying features which makes it stand out. With MoniMaster, you can check the entire private but "shared" information with just a few clicks.
It can monitor all the popular social apps nowadays, including WhatsApp, Facebook, Messenger, Snapchat, Instagram, etc., which means you can spy on the chatting history (messages, photos and stickers) of the target phone.

It's also able to record nearly all the basic data of a phone, such as phone call history, text messages, contact information, browser history, photos and videos, etc.

Apart from the secret spying feature of taking snaps, it supports phone-recording, screenshot-capturing and location-tracking as well.
Besides, it's more than a spying app, it can also be used for some another special scenarios. For example, you can capture photos if your target mobile is lost, so you have the photographic evidence to find the thief, which can help you capture an illegal act.
NOTE:
As for the price, you can get all amazing features at a very economical price. Three pricing plans are optional, and all of which offer the same spying service, so you can choose whatever you like to start monitoring someone's phone right now.
Conclusion
Finally, when it comes to how to secretly take photos on android again, selecting there are many secret photo apps available in the market. But Monimaster is the best one, through which you can secretly taking pictures. It has some unique characteristics such as taking secret photos anytime and anywhere, saving photos in a hidden folder, viewing and exporting photos and more. MoniMaster is highly recommended for the best secret photo app. Don't miss this powerful spy app, and try it right away!