Question:
Is it possible to hack iCloud if you don't have any access?
Yes, it is possible to hack iCloud without knowing it. iCloud makes it simple for you to get your information from every one of your gadgets with no problem. It likewise backs everything up, so you realize it is protected on the off chance that you lose a gadget.
Although the drawback of having every one of your information put away online is not safe, the hacker can attack it. There are a lot of online applications and programming that can do this, which is known as "MoniMaster".

Can iCloud be Hacked?
First, you want to check whether it is even possible. What's more, the response is yes. It is conceivable. iPhone is thought and one of the world's most popular brand names. They try to refresh their security conventions intermittently to make it harder for hackers to hack into their administration; however that doesn't imply that it should not be possible. Multiple ways can take care of business.
You can utilize phishing methods that include sending somebody a URL, which they expect to place in their login subtleties.

Unclear to them, they give you admittance to their login subtleties by doing this.

In any case, the least difficult and maybe the best way is to utilize hacking applications that can assist you with getting into anybody's iCloud with practically no issue. MoniMaster is one of the most outstanding applications available that can help you do this.
How to hack iCloud effectively?
Way 1: Hacking iCloud by MoniMaster iOS Monitoring
Among cell phones, the popularity of the iPhone is high. Furthermore, many children have their iPhones for correspondence or learning these days. They can approach the unfiltered web, which might prompt their phone compulsion and a shaky organizational climate.
To screen the nearby telephone records on their iPhone isn't sufficient. The information put away in iCloud ought to likewise be checked. This information might uncover what your children do on the web. And you can do this by MoniMaster iOS Monitoring.
Features of MoniMaster iOS Monitoring
Online dashboard upheld.
You can look at all the iCloud information on the web-based dashboard with no program restrictions.
Access erased information on a gadget.
It permits you to see the current information, yet in addition, the erased data on your youngster's iPhone contact.
Send out the information to PC.
Send out the message type information (different kinds of information in the unique organization) to your PC in the configuration of CSV.
Track phone location easily.
You can use this feature to keep an eye on their activities, and specific location.

Steps of MoniMaster iOS Monitoring
Step 1. Make a Valid Account.
Click on the "Sign up" button to enlist a substantial record utilizing an actual email address. Buy an arrangement to get sufficiently close to all highlights of this iCloud checking arrangement.
Step 2. Check iCloud Credentials.
Then, at that point, you will lead to the "My Products" page for additional activities. Click on the "Setup Guide" button to enter the iCloud accreditations of the objective client you need to screen. Kindly note, ensure the iCloud account is substantial and the iCloud ID you filled in is correct. On the off chance that Two-Factor Authentication is off on the objective iPhone, you will go to the web control board.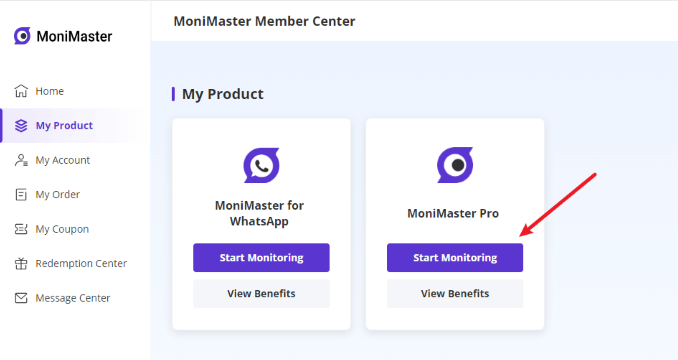 Step 3. Begin Monitoring on the Dashboard.
In the wake of entering the web control board, you can begin checking on the objective iOS gadget now and view every one of the information from a distance, like contacts, updates, photographs, recordings, notes, and so on. On the off chance that it's the initial opportunity to match up information from the telephone to the dashboard, it will invest in some opportunity to finish the information sync.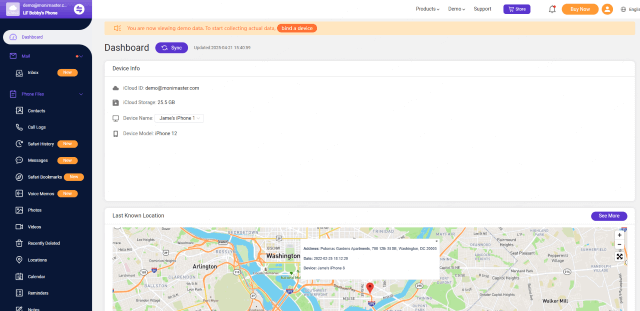 Advantages of Using MoniMaster
The most disguised and savvy approach is following the send and getting messages through this MoniMaster.
Watch out for the subtleties of the send and got messages, including beneficiary names, numbers, and time stamps.

Remotely track the objective's messages with 100 percent mystery.

The deleted messages are reachable.

You could look through specific messages with catchphrases.

All information is available on the internet-based dashboard progressively.
Way 2: Hack an iCloud Account with Security Questions
Assuming that you fail to remember the current password for your iCloud account, you can depend on security questions or one more related iOS gadget to get to your iCloud account. This part will direct you to hack an iCloud account with a security question.
Step 1. Open your program and go to the failed to remember apple site. You should now enter the iCloud record and snap Enter key to continue.
Step 2. Go to the Security Questions page and answer the inquiries. Assuming you are hacking another person's iCloud account, you should address these inquiries you know the responses to, for example, the birth date, city where guardians met, his youth moniker, work, pet, etc.
Step 3. After responding to the security questions, you can get to this iCloud account. Additionally, you can decide to reset the iCloud secret word and do different tasks.
How to Prevent iCloud Account and Password from Being Tracked
Identifying iCloud spyware is an undeniably challenging undertaking. Initially, as all information is gotten to on the web and nothing is introduced onto the iPhone, it's unrealistic to distinguish by looking at the actual gadget.
Besides, unlike other tech monsters, such as Google, Google, Apple doesn't make full access logs for iCloud accessible to their clients, so spotting unapproved access online is likewise precarious.
If you are worried about this sort of assault, there are things you can do to safeguard against it:
Change the secret phrase for your Apple ID. We suggest changing your private key each several months and not utilizing the very secret word that you use for different administrations.

Incapacitate iCloud reinforcements on your gadget. It implies underpinnings of your device will never again be put away on the web and can't be gotten to by hackers. Make sure to reinforce your telephone to iTunes on your PC, all things being equal.

Use two-step verification for your ID. While possibly not currently turned on, we suggest doing so as it guarantees that you're the leading individual who can get to your record, regardless of whether somebody knows your secret word.
FAQs about Hacking iCloud
Can someone hack my iCloud with my phone number?
If your iPhone upholds everything to your iCloud account, somebody can watch your action by getting to your iCloud account from any internet browser. They would require your Apple ID username and secret phrase to do this, so assuming you realize that an outsider has that data, there are a couple of steps you should take.

Can someone see my texts with my Apple ID?
If you do share an ID and accept it is a relative, have them set up their ID and set up Family Sharing so you can share bought content. Another way that an individual could see your iMessages is by assuming they were endorsed into your Apple ID in the messages settings.
How do I get into iCloud without a password?
Over-the-air procurement from Apple iCloud without requiring the client's Apple ID or secret key is incredible information, and no other organization on the planet can get it done. You can get access to your iCloud and recheck your data.

Conclusion
Thus, it is feasible to hack iCloud. In any case, as we said previously, it might be conceivable with the right instrument. Up to this point, from what we have seen, MoniMaster iOS Monitoring is what you will require. It is an able application with cutting-edge works that bypass Apple's safety efforts and get to iCloud effectively. There are extra benefits of utilizing this application as well. Generally, there could be no more excellent method for getting to somebody's iCloud.