Question:
Is it possible to track calls on iPhone?
Yes, of course! Whether you're trying to keep track of a loved one's communication activities or you're a business trying to monitor employees, you can use a variety of methods to view an iPhone call history remotely.
In this article, we'll provide a step-by-step guide on tracking call logs on iPhone. We'll also discuss the various tools available to help you monitor and track iPhone activities.
Part 1: How to Monitor Calls on iPhone Of My Own?
Viewing the call history of your own iPhone is very easy. But check someone's call history online takes some time. Though, a few of the customers have questioned, regarding the fact that, they have found it difficult or they are still struggling to get a detailed call history.
As a matter of fact, it is very simple and there's more than one way to do it. You can either get the call history directly from the iPhone or you can do it via the iCloud, both procedures are equally effective.
Way 1: View Call History from iPhone Directly
So, if you want to know how to track calls on iPhone, this is the direct method for you. Just read and implement the following steps:
Step 1. First, unlock the iPhone and press the Home button to access the Home Screen.
Step 2: At the bottom of the iPhone you will find the Phone App logo, tap on it;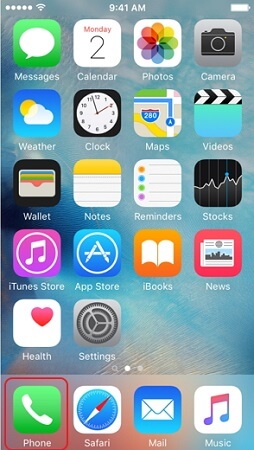 Step 3: The Phone app interface will appear and you need to tap on "Recent" tab.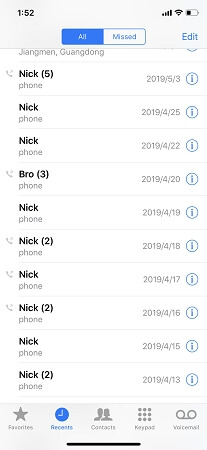 Step 4: here, you will see your call history that includes all the incoming, outgoing and missed calls.
Step 5: Go through them and tap on "i" to view the details regarding a particular call log.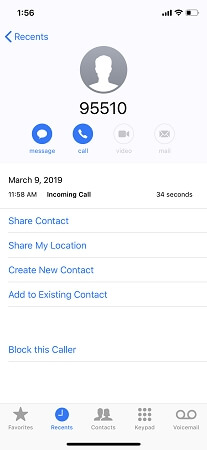 As you can clearly see, the answer to how to look up history on iPhone is very easy and simple. As mentioned before, there is another way, it is detailed below.
Way 2: Track Phone Calls On iPhone from iCloud
As you are using an iPhone you have the capability to view your call history in two different ways. The first one is the usual one, where you get to view the call history directly from your iPhone but this one is quite different and only available for iOS devices.
In this method you will be able to view your call history via the iCloud app. Here's how to check call log on iPhone via iCloud, and you can also hack iCloud without knowing:
Step 1: Go to your iCloud account via your iPhone.
Step 2: Then, you have to back up your iPhone via iCloud. So, inside the iCloud account click on "iCloud Backup" and then click on "Back Up Now".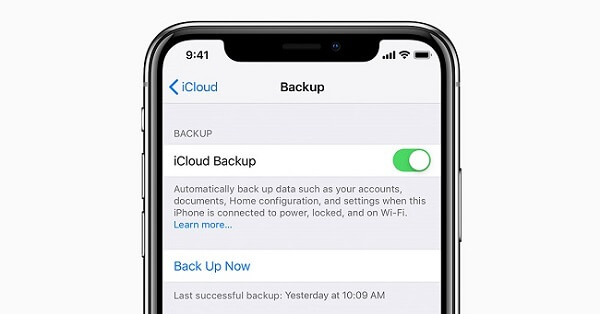 Step 3: You need to make sure that the device is connected to the Wi-Fi for the duration of this procedure or the backup process will get interrupted.
Step 4: Now, log in to your iCloud account again after all the information are backed up. So, go to the iCloud.com and provide your login information.
Step 5: After you have logged in to your iCloud account, you will be able to view your call history.
This procedure is not usually preferred by the users but it does provide you with another sort of access to your iPhone call history.
Part 2: How to Check Other's Call History on iPhone?
Most people wants to access call log on iPhone of their child or life partner, it is important for the them to know who are in contact with their kids or husband/wife.
Unfortunately, iPhone or any of its apps does not provide any parental control services but you can use other professional third-party programs to get access to your kid's call history.
Our first and the most obvious choice is MoniMaster. It is a parental monitoring program and its prospects are excellent. MoniMaster support both iOS and Android monitoring. It supports over 20 types of files monitoring via two ways. Such a professional tool make monitoring so easy, it even can view the deleted data on target device.
Steps to View iPhone Call Log by Using MoniMaster
Step 1. Join and Purchase
Firstly you have to open the website or you can download it. Click on "Sign Up" use your authentic email and purchase the license to use this monitoring app.
Step 2. Setup and Verify
Then you have to choose "My Product". After that you have to click on "Setup Guide". Then you have to install it on the target phone or computer and scan the backup data. After installing it on the target phone you have to go to the setup guide option and then click "Verify Setup".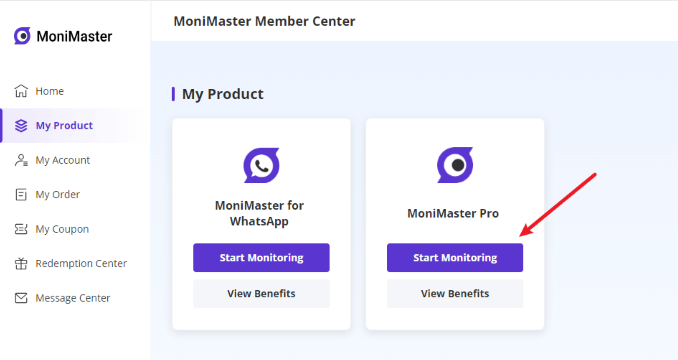 Step 3. Start Checking History on iPhone
Now you can monitor someone's history on Dashboard. Click "Browse History" and you can check the recent history.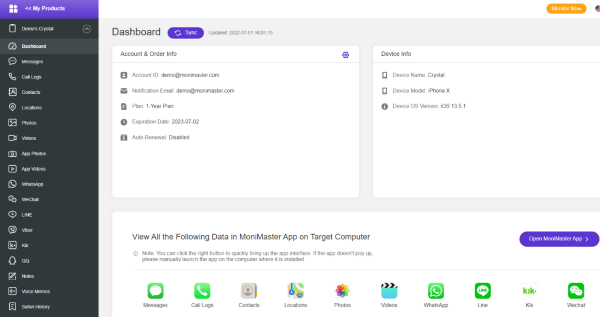 Bonus: Find the Excellent Features of the Best iPhone Call History App
These apps are the best way to access such details but among other apps we found our experience with MoniMaster quite excellent and useful. One of its main features is to get the call history with details; so, if you get this app you will be able to view call history among other things.
Here's a peak into all its other features:
Location tracking:
Track a cell phone location is one of MoniMaster's special features. It can track the location of target android phone anytime you want.
Message tracking (Including social media messages):
It can track text messages of the target Android device including the texts sent and received on social media.
Screenshot capture:
It can capture screenshots of the target Android device screen if you want.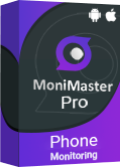 Keylogger:
Keylogger feature helps this app to provide you control over the keystrokes of target Android device.
App activities:
It will allow you to monitor the app activities of target Android device that includes the installation, uninstallation and other app activities.
Call log monitor for iPhone:
It can track call history of the target Android device. You will know about every incoming, outgoing and missed calls of that device.
Browser history tracking:
MoniMaster can track the web browsing history of target device. You will know which websites were browsed from that device anytime.
Wi-Fi logger:
It will allow you to check which Wi-Fi connection is used by the target Android device.
Photos tracking:
It can allow you to monitor the photos of target Android device.
Conclusion
So, needless to say viewing the call history is very different in iOS and Android devices but ultimately the procedures are very easy. If you are using an iPhone or your kid is using an iPhone you can follow the mentioned directive to view the call history on an iPhone. Especially MoniMaster, as the app provides various other features and accessibility to the target device.