Computer spy means to monitor someone's desktop or hack into someone's computer to spy all the activities. This can be applied to monitor at home or company for the purpose of catching a cheating spouse or monitoring the employees.
All these need a professional computer spy software to realize. Since there are plenty of options for computer spy programs, making the right choice is essential. This article will help you out in this selection process.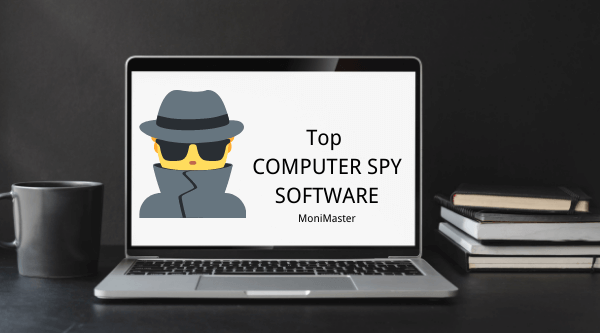 Part 1. What Are the Necessity of a Computer Spy Software?
Yes, the main purpose here is to find out the top best computer spy software, but we also need to have a idea of the significance to computer spying.
1. For employer and company
As discussed above, it is very essential for a company to invest in computer spy software to avoid any kind of unwanted activity in the office space, which could hinder the overall success of the company. Basically, computer spy software would help the employer keep a check on all the activities of their employee during working hours, then this can help you to increase the employee's productivity.
2. For parents
With computer spy software, even parents can ensure safety of their kids in the online world. Since the internet is full of inappropriate content, it is very important that parents keep a close watch on what their kids are accessing. Through computer spy software, you can monitor your child's computer to make sure that they do not access porn websites or any other kind of inappropriate content online.
3. For the couples
Computer spy software can also be used to check if your partner is cheating on you or not. If you ever doubt that your spouse, boyfriend, girlfriend, or partner is cheating on you, use such a tool to check their online activities on their computer to know the truth and put your thoughts to rest.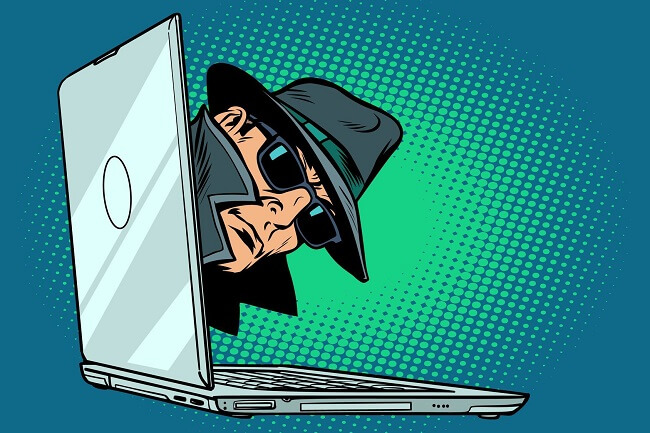 Part 2. What Information can you Glean with a Computer Spy Software?
This article is going to introduce some top computer spy softwares in the internet for different purposes. So you should know what data does different types of software can monitor on the computer.
With computer spy software, almost all the activities on a computer can be monitored. But the tool in employee monitoring and for personal usage is different among the existed computer spy software. A few of the details which you can access through computer spy software are given below.
For employee's computer spying:
Get the latest productivity reports.

Get the latest browsing history reports.

Get the screenshots of the desktop.
For the personal computer spying:
Track all the browsing histories from different browsers.

Record every keystroke made on the computer.

Monitor all the incoming and outgoing emails.

Monitor all the online chats, including the voice notes, images, and videos exchanged.

Tracking the files activity.

Capture real-time screenshots of the computer.
These are just some of the many activities which can be monitored when you use computer spy software.
We can know from the above that the computer spying emphasis is large different vary from the purposes. So you need to choose the one suit for your demand. Now, let's explore the top 6 computer spying software with details.
Part 3. 6 Best Computer Spy Software for 2020
Now that you know how important computer spy software can be, let us look at the six different software for spying on computer activities, which are the best among the ones that are available.
1. ClevGaurd MoniVisor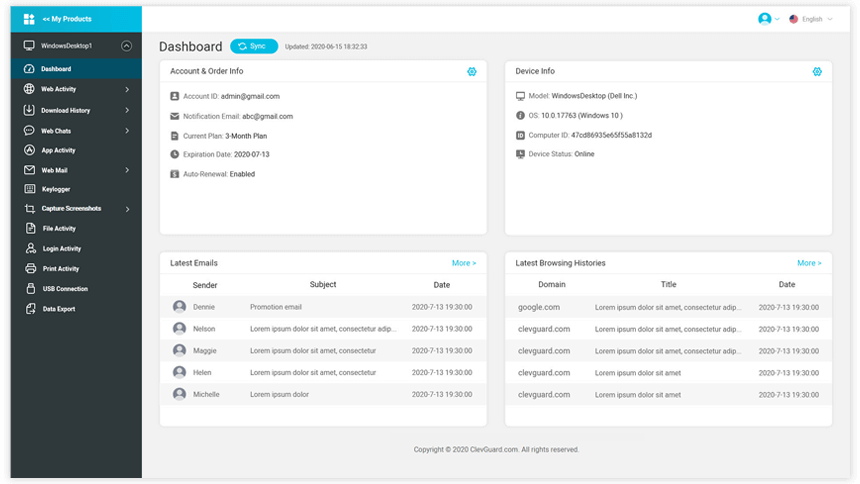 MoniVisor is undoubtedly the best computer spy software, which is perfect for how to spy on someone's computer without them knowing. And it's a wonderful Windows spy software to collect all the contents from the target computer remotely. If you are constantly worried about what your employees are up to when you are away or are worried about your children accessing inappropriate websites online, this tool is perfect for you.
It comes with a set of advanced computer monitoring features which perfectly combined with the features of some specialized employee computer monitoring softwares or family computer spying tool.
Features:
Social media message monitoring of web WhatsApp, Twitter, Facebook(Messenger), Skype and Instagram. You can access to all the chats, media files like photos & videos and even the video and voice calls.

Internet and download history tracking: You can keep tracking of all the browsing history from Chrome, Firefox, Edge, Opera and Internet Explore.

Monitor sent and received emails:All the email contents can be read and all the cantacts can be checked. It supports Gmail, Yahoo mail and Outlook.

Auto-screenshots of computer screen: This can let you to start a screen shooting on the target computer but without any notifications.

Keystroke recorder:It records all the keystrokes accurately.

Login activity monitoring: Track the login and logoff activity to know if the target is online and offline.

App activity tracking: This can let you know the usage of each app on the computer.

USB connection checking: Check the activity of mouse and keyboard even the connected cell phone.

Print and file activity recording: Record the printed files and documents.
Pros
Offers multiple features.

Allows stealth monitoring.

This software is free of any form of viruses.

The featured console is easily accessible.

Your privacy and data stays protected.

Clear guides on how to use the software is present.

Very stable software. To constantly sync data from the target computer.

You get access to free lifetime updates.
Cons
It doesn't have the free version to try except the free demo.
2. ActivTrak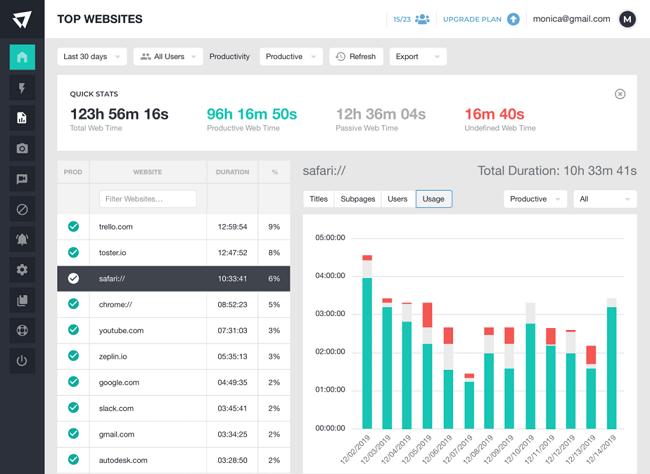 This is an excellent computer spy software free which works by installing an agent on every computer you wish to monitor remotely. This installed agent gives the live status of each and every computer on which it is installed. It can monitor all the activities on the computer in real-time. This software also features a productivity screen, which can be used to evaluate your employees' productivity periodically.
Features:
Vulnerability protection

Security event log

Real-time activity tracking

Employee monitoring

Computer Usage reports

Threat detection
Pros
The user interface is pretty clean and easy to use.

It is free of cost for 7 days.
Cons
The reports are not presented in a simple manner.

The keystrokes are not recorded.

The price is pretty high.
3. TheOneSpy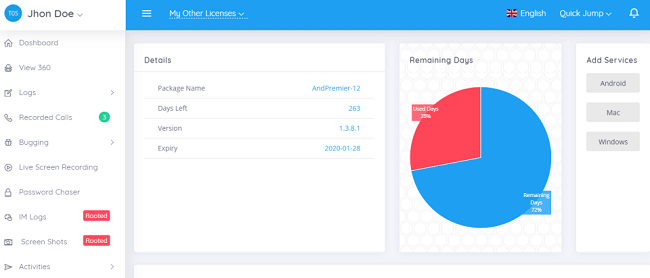 TheOneSpy offers complete monitoring solutions for parental and employee monitoring purposes. Apart from computers, this tool is completely compatible with phones and tablets as well. It also offers the convenience of controlling the target device without physically accessing it. The surveillance and tracking features of this tool is excellent.
Features:
Social media message exchange monitoring

Voice call recording

Record computer screen

Access the details of browsing

Remotely control apps
Pros
Offers plenty of advanced features.

Highly reliable.
Cons
Eats up the computer battery.

It does not support Macbooks.

You will need to physically access the target device to perform upgrades.
4. SpyAgent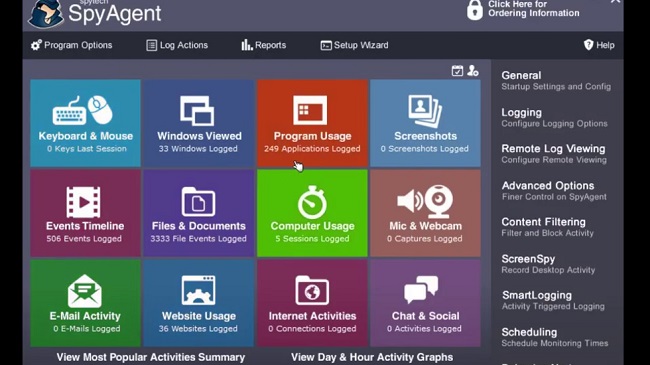 SpyAgent is a highly reliable computer monitoring tool that can be used to keep a check on the activities of your employees as well as your kids. This can be a great tool to maintain productivity of your employees. Also, you can use it as a parental monitoring tool if you are worried about your kids being exposed to inappropriate content online.
Features:
Chat client blocking

App and website content filtering

Remote email delivery of logs

Real-time activity alerts
Pros
Easy to use interface.

Works in stealth mode.
Cons
Not compatible with mobile phones.

Advanced reporting is absent.

Less features at a high price.
5. Kickidler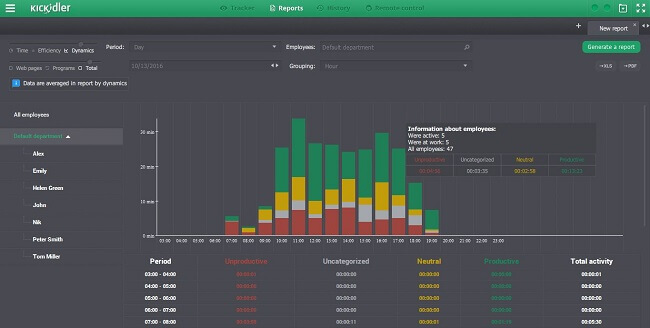 This is another great Windows spy software which records all the activities of your employees on their computer and presents it to you for monitoring purposes. Through this software, you can know what your employees are working on, which websites they are visiting, and which applications are being used by them.
Features:
Employee activity recording and playback

Time tracking

Efficiency analysis

Detection of violations
Pros
It has a very appealing user interface.

The target computer can be accessed remotely.

It ensures that no data is leaked or deleted.
Cons
Email communication cannot be monitored.

This software cannot be integrated with cloud-based services.

Printing activities from the target computer cannot be monitored.
6. Employee Desktop Live Viewer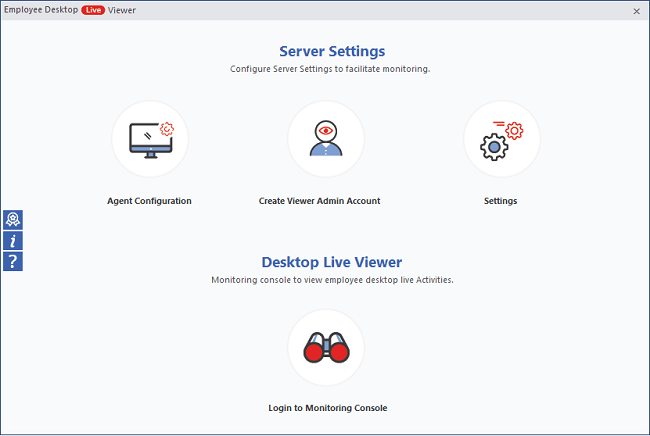 This is one of the most powerful computer spying programs for monitoring the desktop activities. It mimics a surveillance camera and records each and every movement on the computer. This software would install a monitoring agent on the computer of the employee either manually or remotely, after which every time the computer is on, all the activities on it get recorded.
Features:
Multiple system monitoring

Monitor computer in different locations

Invisible monitoring

Shutdown, warn, or restart in emergency
Pros
It has the option for activity monitoring, both online and offline.

Instant messages to the computers being monitored can be sent.
Cons
Recorded videos cannot be stored on the cloud.

The free trial version becomes functional only after 15 days.

The trial version does not feature all the advanced functions.
Can you Spy on Someone Without Installing Software?
No, it's impossible. If you want to spy on someone's computer, you must have to hack into someone's computer with a class of professional tool.
Summary and Editor's Pick
Monitoring the activities of your employee is very essential if you wish to maintain or improve the productivity of your workforce. The list of software mentioned above are great for this purpose. They can be even used to keep a check on your kids' activities online and can also help you be sure about your partner, not cheating on you.
Among all the above-mentioned software, the best one should be MoniVisor, and it is highly recommended for employee, parental, and spouse monitoring due to the following reasons.
It has a very easy to use interface.

Available at a reasonable price.

Comes with advanced monitoring features.

Works in stealth mode.
These are just a few of the many reasons why MoniVisor is the right choice when it comes to picking the ideal computer spy software. If you are wondering about how to spy on someone's computer without them knowing using this software, here are the few basic steps.
Step 1: Sign up for an account using a valid email address and purchase a suitable plan.

Step 2: Download and install the software on the target computer by following the given guide.

Step 3: Use the created account to login into the online dashboard to start monitoring the computer activities.
This is how easy it is to install and use the computer spy software.