There are times when you wonder how to view Safari history on another device. Let's say you were reading a quite interesting article on the MoniMaster website on your iPhone using the Safari browser. Sadly, someone interrupted you from finish reading it. Later, while using another device, you like to continue reading the article. To do that, you just need to check your Safari history to locate the website. If the Safari history showing on other devices are available for you at anytime, it could definitely save you a lot of effort, right? This article will introduce you to ways of how to view Safari history on another device.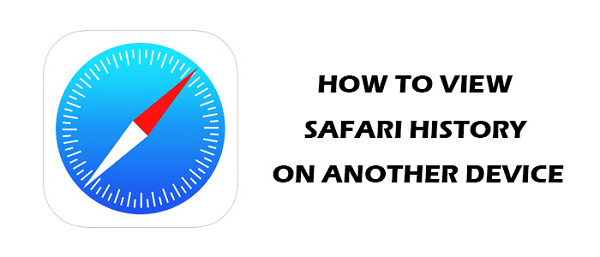 Method 1: How to View Safari History on Mac?
Device Available: Mac Only
To view iPhone Safari history on Mac, the "Show all tabs" button lets you check your iOS device Safari history on your Mac. This method works only if you launch Safari in Cloud preferences (on your Mac) and Settings>iCloud (on your iOS device).
Step 1. On your Mac, tap the "Show All Tabs" button in the Safari browser. Here, you can see a list of websites or web pages opened on your iPhone/iPad or opened on your computer.
Step 2. Locate the target webpage or website and then click it to open it.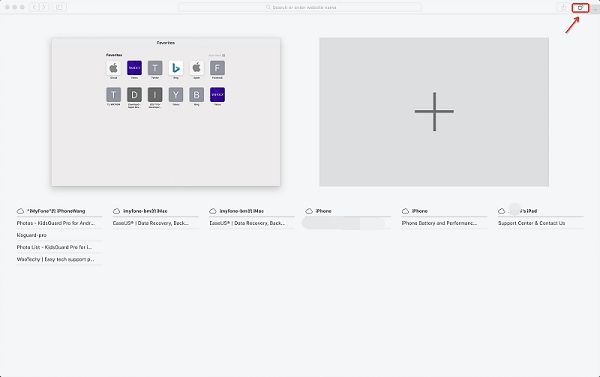 Yes, it is that simple - just two-step process to view safari history on another iOS device. But, this method only applied to view iPhone/iPad/iPod touch safari history. Moreover, what if you want to check out your Safari history from Windows PC? Continue reading to find out.
Method 2: How to View Safari History on Mac and Windows PC?
Device Available: Both Mac and Windows PC
Concerns like can I see deleted Safari history, how to view iPhone Safari history from/on computer, or how to view someone's safari history demand a powerful Safari viewer. For that, MoniMaster is the ultimate choice to make.
MoniMaster lets you view your Safari history, even deleted ones on another device. It is indeed of great help to view someone's web browsing history without letting the target person know. So, if you're parent, then this app comes in very handy for you. You can have peace of mind by keeping yourself up-to-date about what your kid is surfing. As a result, you can protect your kid from surfing something bad. If you want to know how to view other people's search history, keep reading and never jump off the page since you may be miss an excellent way!
How to Use MoniMaster?
Below is the simple step-by-step guide to help you learn how to use MoniMaster to view Safar history on another device, so let's see how it works:
Step 1. Create an Account
Go to MoniMaster official website, tap on the "Sign up Free" button to create an account. You have to provide an authentic email address to complete the sign-up process. Then, get the plan in order to access all the features of the MoniMaster. In a while, you'll be redirected to the "My Products" page.
Step 2. Complete the Setup
When you enter the "My Products" page, you need to locate the purchased plan and then tap on the "Setup Guide" button to start the configuration process. Then, you need to install the MoniMaster app on the target's system and select the target device you would like to scan.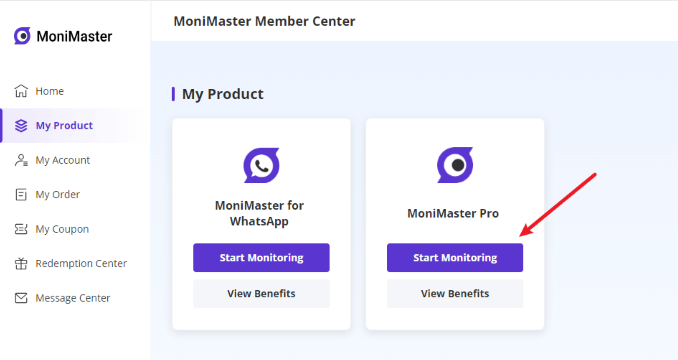 Step 3. Start Monitoring
After getting the app on the target device, tap on the "Verify Setup" button in order to verify the setup.
In a while, you can view all the available data you can view of the monitored device on the web app. To view Safari history, click on the "Safari History" tab. Here, you'll see all the webpages opened, even the deleted ones with the exact date and time. If you want to check your bookmarks also, then click on "Safari Bookmarks".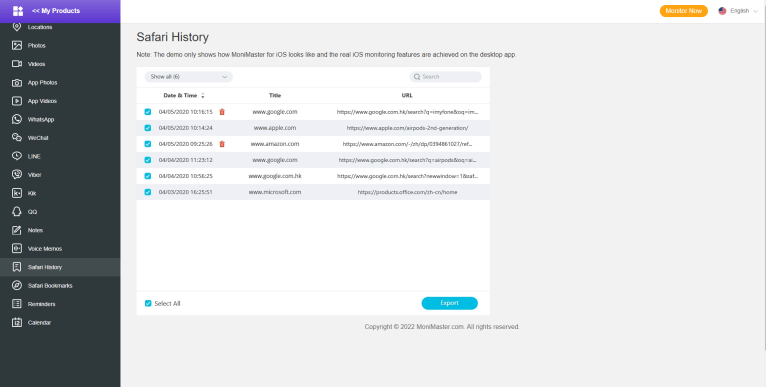 Advantages of MoniMaster:
That's it. MoniMaster is a powerful Safari viewer because it can do much more than you can expect. So, let's have a quick overview of its key advantages:
Other's Safari history can also be monitored: Apart from helping you track your own Safari history; it also allows you to view other's Safari history.

No limits for the viewing devices: You can track Safari history on both Mac and Window PC.

Even view deleted Safari history: You can not only view all of the existing Safari history, but also deleted ones.

Safari history data can be exported: All the tracked data can be transferred to a local system that's something no other alike tool offers.
Well, MoniMaster is much more than just a Safari viewer. With its assistance, you can even track someone's social media like WhatsApp, read all the incoming and receiving text messages & calls, and view any kind of media files saved on the target iPhone. In short, it is an all-in-one iOS monitoring tool you can ever have. If you still find any question about the app, you can move to the free demo to have a clear look.
Again, MoniMaster works to monitor your iOS device's Safari history on another device, be it Mac or Windows PC.
Conclusion
That's all on how to view Safari history on another device. There come many situations when you find yourself in the need of checking webpages opened on your iPhone in Safari from the computer. That's when the above two mentioned methods come of great help. But, can other people view your search history or when it comes to how to view other people's safari search history, MoniMaster is the solution you need. MoniMaster lets you do much more than just tracking your or someone's web browsing history. The best thing about it is that you will gain access to both the data accessible on the target device and one that has been deleted. It offers a free demo, so give it a try right now!