Looking for a powerful and reliable tool to monitor anonymous messages? Look no further than MoniMaster!
I'm excited to introduce you to this incredible solution for keeping tabs on all types of anonymous messaging apps. With its advanced features and user-friendly interface, MoniMaster is the perfect solution for parents, employers, and anyone else who wants to stay in control of their digital world. So why wait? Try MoniMaster today and experience the peace of mind that comes with knowing you're always in control.
MoniMaster Unique Advantages in Monitoring Anonymous Messages
MoniMaster is a powerful monitoring tool that can record and report information about a child's communication history, chat content, media files, etc. This enables parents and guardians to keep abreast of their children's online activities and take timely action to protect their physical and psychological safety.
Here are some unique advantages of MoniMaster in monitoring anonymous messages:
More comprehensive monitoring coverage
You can monitor all kinds of anonymous sms and anonymous text messages, including SMS, text messages, and messaging apps such as Skype, Discord,Line, Kik, WeChat, etc.
Higher monitoring efficiency
MoniMaster can capture all the communication records, including chat content, photos, videos, and voice messages, within seconds.
Easier-to-use interface
It is user-friendly and easy to use. Even if you are not tech-savvy, you can easily use this secret message app without difficulty.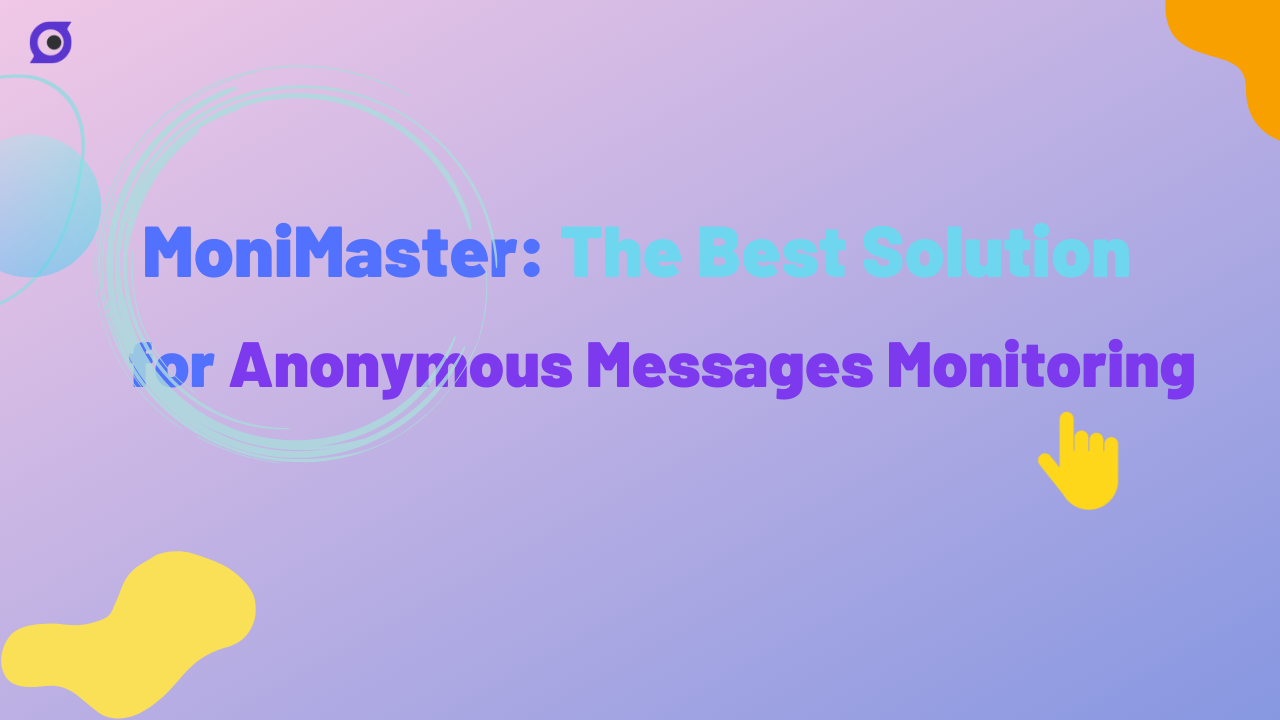 Offline browsing
This best anonymous messages app supports an offline browsing function. Even if the monitored phone is not connected to the Internet, users can view the communication records, chat contents, and other information on the monitored phone through the offline browsing function of MoniMaster monitoring software.
Real-time monitoring
MoniMaster Keylogger can monitor various applications on the monitored phone in real time. You can view all kinds of information on the monitored phone anytime, including the messages sent and received , call logs, browsing history, and social media activities.
This monitoring software provides a comprehensive solution to the problem of anonymous messages, ensuring that parents can take timely action to protect their children from online threats.
How to Use MoniMaster to Monitor Anonymous Messages?
Installation and Configuration of MoniMaster:
To purchase and install MoniMaster, you need to visit the official website at Monimaster website. The website provides detailed information about the different plans and pricing options for iOS and Android devices.
Step 1: Create an account
Click on the "Sign In" button and sign up for a good account using an authentic email address. Then sign up for a Monimaster account and purchase a package that best suits you. And, you will be led to the "My Products" page for further process.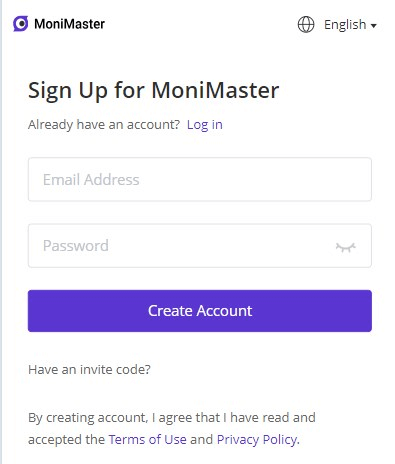 Step 2:  Follow the setup guide to complete the configuration
On the "My Products" page, you can find the plan you purchased and click "Setup Guide". Read the instructions carefully to learn how to download and install the application to set it up.After download and install the app on the target device, sign into your account, and follow all the setup procedures. After completing the setup and installation on the target phone, don't forget to click the "Verify Setup" button at the bottom of the guide page.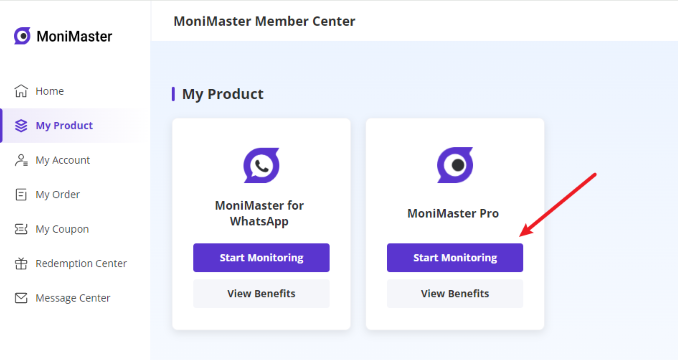 Step 3: Click the panel on the left side of the dashboard to choose which data you want to check
After you verify the setup you will be redirected to the Monimaster dashboard.If it's the first time to sync data from the phone to the dashboard, it will take some time to complete the data sync.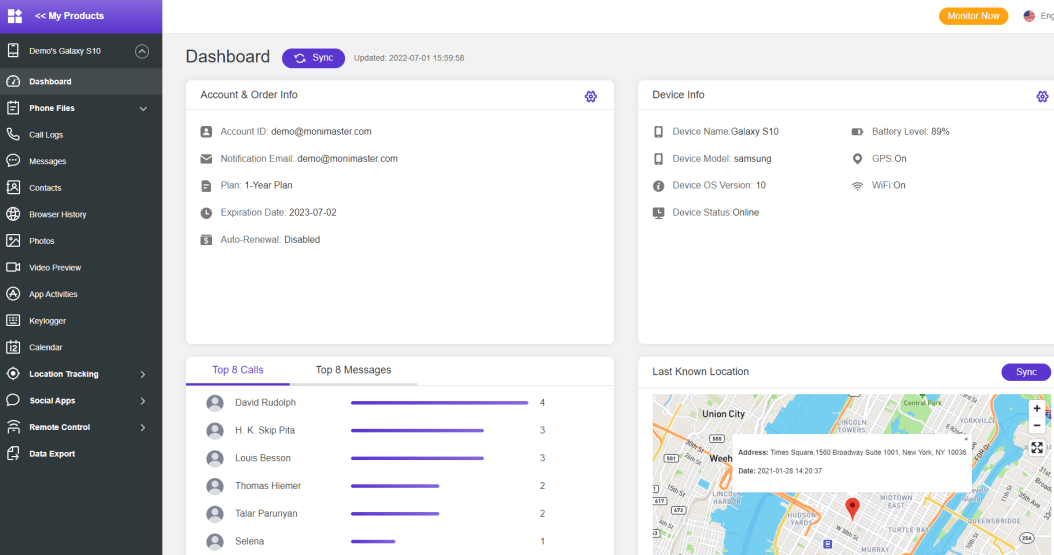 After follow the instructions to install MoniMaster on your child's device,you can then start monitoring.If you do not fully understand the process, here is a complete guide on MoniMaster installation for Android.
MoniMaster's Unique Privacy Protection
Remotely track the target's messages with complete secrecy
MoniMaster's advanced monitoring capabilities allow you to closely monitor the details of sent and received messages, including recipient names, numbers, and time stamps. You can even remotely track the target's messages with complete secrecy, giving you peace of mind that your monitoring activities are completely discreet.
Even if the user has deleted a message, you can access it through the MoniMaster monitoring software. This feature is especially important for parents who want to monitor their children's online activities and ensure cyberbullies or predators are not targeting them.
Search for certain messages using keywords
MoniMaster allows you to search for certain messages using keywords. This feature is particularly useful for employers who want to monitor their employees' conversations for potential policy violations or other issues.
All the data monitored can be synced in real time
All the data monitored by MoniMaster can be synced to an online dashboard in real time. This means you can access the data from any device with internet access, giving you complete control over your monitoring activities.
Preventing any unauthorized access or misuse of the data
MoniMastert ensure that the monitored data is only accessible to authorized users, preventing any unauthorized access or misuse of the data.
Why Security Experts Trust MoniMaster for Anonymous Message Monitoring?
As technology advances, more and more people are using anonymous messages to communicate with one another. While this can be a convenient way to stay connected, it can also threaten individuals and families.
With the sender's anonymity, it is difficult to determine the true source and intent of the message, which can lead to bullying, harassment, and other dangerous situations.
To address these concerns, MoniMaster offers a unique solution for monitoring anonymous messages.
But don't just take our word for it. Experts in the security field have praised MoniMaster for its credibility and authority.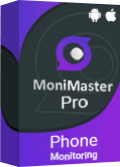 Caroline, a satisfied user, MoniMaster helped her solve the mystery of her daughter's immature relationship with a boy.
Lucas also expressed his amazement, stating that he can now easily monitor his son's online activities.
Flora shared how MoniMaster helped her keep tabs on her boyfriend's texting habits without giving rise to unpleasant feelings. Paul acknowledged that there is room for improvement and recognized MoniMaster as a relatively good choice among all competing applications.
With such positive reviews from experts and users alike, it's clear that MoniMaster is a top-notch tool for monitoring anonymous messages.
Real-Life Examples Scenarios
Here are some practical examples of how MoniMaster can be used in real-life scenarios:
MoniMaster can help parents monitor their children's online activities, including anonymous messaging. It can capture and report on message content, media files, and communication history, allowing parents to identify potential threats and take action to protect their children's safety.
Employee Monitoring
Employers can use MoniMaster to monitor their employees' communications and ensure that sensitive information is not leaked or shared through anonymous messages.
Personal Use
Individuals can use MoniMaster to monitor their anonymous messaging activity to ensure their private information is not being shared or used inappropriately.
Conclusion
MoniMaster is the ultimate tool for secure and efficient tracking. Anonymous message monitoring is made easy with MoniMaster. With its comprehensive coverage, high efficiency, and real-time monitoring capabilities, MoniMaster can help protect children's physical and psychological safety online.