How to hack into someone's Gmail? If you have the same question in your mind. The answer is not easy. This article is all about how to hack someone's Gmail without knowing. As when you log in to your account. You received a login alert or notification from Gmail.
How to Access Someones Gmail without Konwing on Phone
You cannot operate an Android device without a valid Gmail account. While accessing someone's device requires access to the Gmail account. If you are worried about your kids and looking for surveillance on them. You can track them in different ways.
One of the common ways is to use parental control applications. MoniMaster Android Monitoring is one of the best parental control applications. Using this application, you can get access to the Gmail account of your child. Besides Gmail, the application has some more features.
NOTE:
Monimaster is a useful monitoring app. It supports Android and iOS devices. Next we introduce Monimaster for Android in detail including its features and installation steps.
If your target one is an iOS user. You can click the "View Demo" button to know more features about iOS Monitoring.
Features of MoniMaster Android Monitoring
1. Monitor Social Media Apps
Using MoniMaster you can get access to all types of social media activities of your kids such as Facebook, Instagram, WhatsApp, and Other Applications.
2. Track Text Messages
You can get access to all types of text message using MoniMaster.
3. Track GPS Location
MoniMaster shares a real-time location with you. so you don't have to worry about. where your kid is going.
4. Spy on Call Logs and Contacts
When you install MoniMaster on someone's phone, you can get access to the contact saved in the phone as well as the call logs.
5. View Phone Files
Accessing media files on someone's phone is now possible with MoniMaster. You can view all types of photos, videos, or any other file stored in the target device.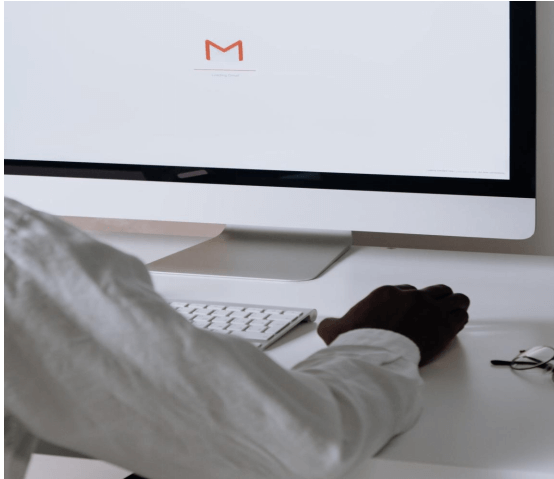 How to Hack Someone's Gmail by Monimaster?
If you want to hack someone's Gmail. The best option to use is third-party tracking applications like Monimaster. You can access Gmail in less than a minute with this app. The hacking process starts after the Monimaster setup. It consists of three steps. Each step is described below.
Step 1. Create an Account with a Valid Email Address..
Click the button "Sign Up". Use an authentic email address and fill out all the necessary details. Then purchase a plan you afford. Different plans are available on the MoniMaster website.
Step 2. Install the MoniMaster app on the target phone.
Then, the website will lead you to "My Product" page. Find the plan you just purchased and click "Setup Guide" option to learn how to download and install the app on the devices you want to monitor.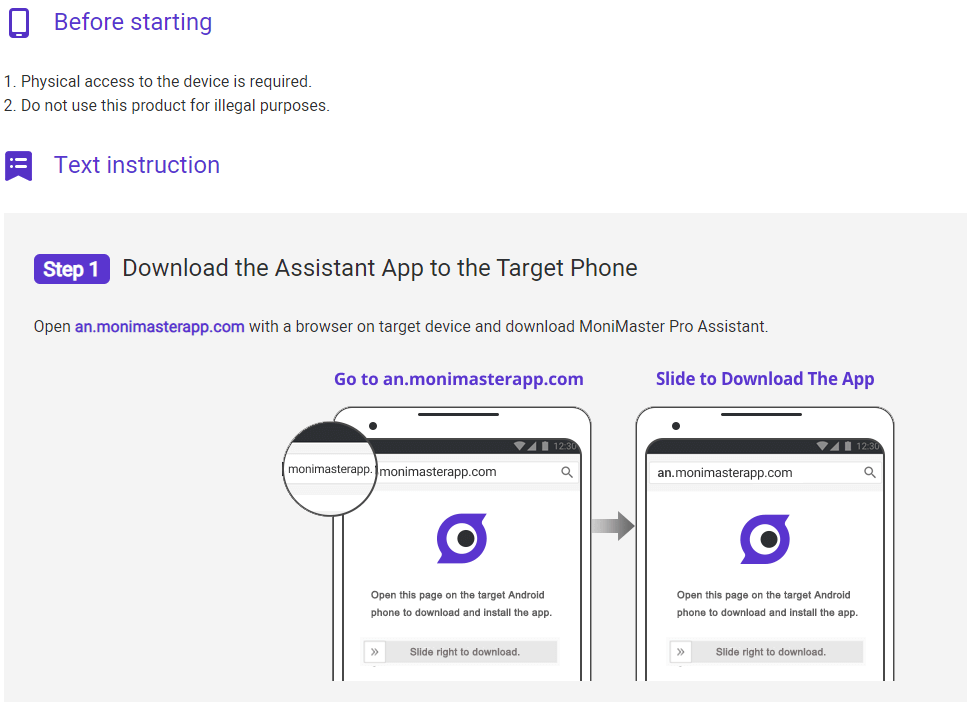 Step 3. Start checking Gmail by using Monimaster.
Make sure the device is connected to the internet during the verification and hacking process. Once the 3rd step are completed, the phone is in your complete control, verifing setup at the bottom of the "Setup Guide" page. This is where you are able to check Gmail amd all data types you want to supervise on the Dashboard.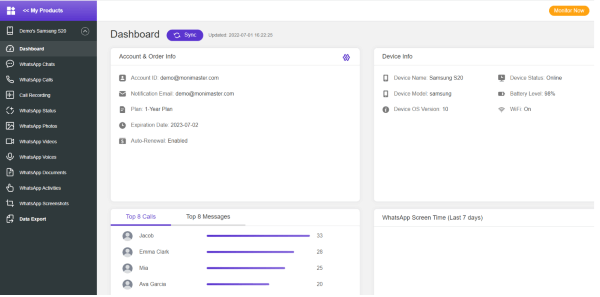 What are the Packages Available?
Monimaster is a paid application. To use the application, it is mandatory to sign up for a package plan. Different types of packages are available with different types of services. We are sharing different packages for the Monimaster. Also, you can check it from the official website of MoniMaster.
1-Month Plan
You can get unlimited service of Monimaster for one month for just $29.95. The offer will renew automatically. You can cancel it at any time.
3-Month Plan
3 Months plans offer unlimited service of Monimaster for one month for just $89.85, But you will get it for $49.95 or $16.65/ month. The offer will renew automatically. You can cancel it any time.
1-Year Plan
Subscribing 1-year plan, you will get in $99.95 or $8.32 / Mo. The offer will renew automatically. You can cancel it any time.
Why choose Monimaster to Hack others' Gmail?
Choosing MoniMaster to hack others' Gmail is the best option. The other person will not be able to know about the hacking activity. Besides this, you can use it for all types of devices. If you are using MoniMaster, it has a lot of advantages. Some common advantages are.
1. Access to the media files in the device.
2. Access to social media activities like Facebook, Instagram, WhatsApp, and other apps.
3. Real-time GPS location access.
4. Access to text messages and applications installed.
5. Call log, browsing history, and other related activities.
6. Facility to download data on the computer.
How to Access Someone's Gmail without Getting a Notification on Desktop
Although hacking a Gmail account is not so easy as described by different websites. But there are some bugs, that hackers can get the advantage of it. Here we will discuss three different ways to hack someone's Gmail.
1. Using the Browser's Password Manager
Each browser has a password manager that store different password that we use for login purpose on different websites. Each website has its own method to access the password managers. Once you log in to a computer you can see the password for your target Gmail account. Use the log-in credentials to get access to Gmail. For example, let's check for Chrome.
Step 1. Google Chrome: Click on the menu button select "Settings".
Step 2. Click on "Auto-Fill". Now scroll down for the "Passwords" section. And click "Manage passwords".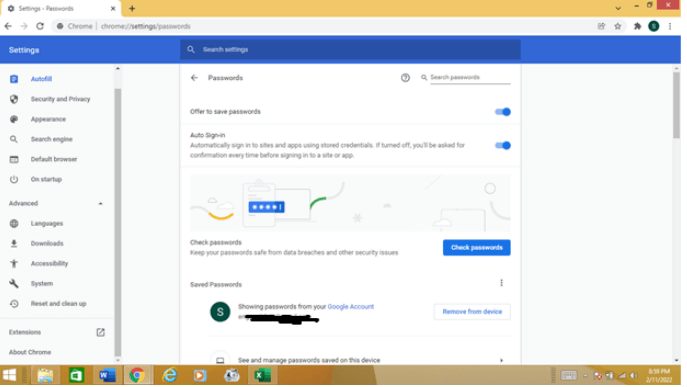 2. Using Keylogger
Hackers use the keylogger software to hack and get access to the personal data of someone. Besides this, it also maintains a complete record of software visited and the programs opened on a computer. To hack someone's Gmail follow the step mentioned below.
Step 1. Install a key logger software such as actual keylogger, kid logger, and many more.
Step 2. Install the software on the target person's computer.
Step 3. After installation finish the setup and start the recording.
Step 4. You can view the log to know about the info you want. Also, you can export data to another device.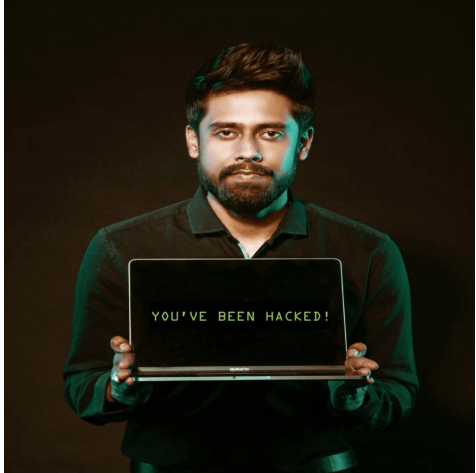 3. Using Browser Extension
The browser extension is the third method to hack someone's Gmail account. Using this method, the person will not be able to know during the hacking process. A browser extension is a type of trojan, loaded on the browser. When the target site is loaded. It gets the required data.
Step 1. To hack a Gmail account, install a browser addon on the target person. When the target person uses the websites for browsing, it will collect the relevant data.
Step 2. Use Google activities to get info about the target person.
Step 3. Once you get user email and password, you can use them for login purposes.
FAQs about Hacking Gmail
Can someone log into my Gmail account without me knowing?
Gmail is a secure platform. And it is not possible for hackers to attack the website and get access to data. However, there are different ways, using that can compromise your account. And can log in to your Gmail account. But these are on behalf of the user, not Google.
What can a hacker do with your email address?
When a hacker gets your email address, he/she can reset your password in different ways. Can take control of the different devices associated with the email addresses. Also, they can copy credit cards or other social profile information. And you can suffer a lot.
Can someone hack you if you email them?
Sending an email cannot hack you directly. But if the hacker gets your email, they can perform different tasks with your email. Like using the email address, they can get access to the associated devices. And there is a risk of serious information being loss.
Conclusion
In this article, we thoroughly discussed how to hack someone's Gmail without Knowing. Will on the Gmail side, it is not possible to hack your account. But there are different approaches that hackers can use to get unauthorized access to your google account. So always be aware of Keylogger apps, Browser's extensions. And never log in on public computers. If you are looking for getting access to your kid's accounts. You can use MoniMaster parental control app.