In today's modern and digital era, everyone is worried about their privacy. No one wants to share their internet history with other people. When people connect to public wifi, they are always worried about their privacy. And they have a question, can you check internet history from a router. To know the answer, it is important to know How to check browsing history on wifi router.

How to See Internet History on Router-3 Steps
Checking the internet history on the router is not a straightforward job. It needs a lot of expertise and sound knowledge of computer architecture. Although it is not permitted to see someone's browsing history. But if you are a responsible parent, you can perform this checking on your kids. There are three different ways to check internet history on WiFi router.
NOTE:
If you are interested in How to Check Browser History on iPhone. Please move to part 3. Here we have MoniMaster iOS Monitoring to check all browser history on iPhone.
Features of MoniMaster iOS Monitoring:
Spy on social media apps like WhatsApp, WeChat and more.

Track cell phone location in real time and view location history.

Check all incoming and outgoing calls & text message.

Remotely access the files on the target phone, like contacts, photos, call logs, etc.

Receive detailed daily, weekly, and monthly reports of your child's online activity.
For window
Computer devices are mostly connected to the WiFi routers. Whether it is a workplace or home. Most of the daily work is done via computers. And computers are operated through windows. So, we can check browsing history on WiFi Router using our computer. The method is simple and described as below.
Steps
Open the command prompt on your computer by press and Hold Window and R Key.
When the box opens, type cmd and press Enter or OK button.
Now a new window will open, Type Ipconfig and press Enter. It executes the command.
Copy the IP address in front of the Default Gateway. And paste in the browser to log in to your router.
Login to your router admin portal by providing your user name and Password.
After login, you can view the IP addresses that were accessed under the Outgoing Log Table category.
Limitations:
The limitation of this method is that you cannot access complete addresses, mostly you get IP addresses, which need further tools like nslookup, dig and host to know the exact addresses.
For MAC
Just like Windows, you can also check browsing history on Wifi Router using MAC. However, the method of checking is somehow different. In this method, you will also need to get the IP Address. You can get the Ip address in the following method.
Steps
Click on the Apple logo at the left corner of your Mac Screen.
Click On system Preferences Network Setting, WIFI Setting, Active Connection, IP Address.
Login to your router Dashboard by copying pasting your IP Address.
Once you log in, check for the WiFi Browsing History.
You can view the IP addresses that were accessed from the server.
Limitations:
In this method, you also get the IP address, which needs further tools like nslookup, dig and host to know the exact addresses.
Using Router Logs to Check Browsing History on Wifi Router
Router Logs consist of the list of IP addresses that were accessed from different devices connected to the same router. Further, you can perform different tasks when you access the log system. We mentioned two different methods above. One is using windows and the second is using Mac. Using the Router logs to check browsing history on the wifi router you have to perform the following action.
Click on the Apple logo at the left corner of your Mac Screen.
Login To the browser click on the Advance setting.
Now Click on System and Then System Log.
The system log consists of the IP addresses accessed using this router.
You can copy the IP Address and Use different dig and Host methods to know about the exact Domain Name servers.
Limitations:
Different routers have different approaches to getting router logs. So, the method may not work on some routers.

Some Routers store the whole and some routers store a specific part of Information.
How to Check Browser History on iPhone
We discussed two different ways to check the browsing history of a WiFi router. Similarly, you can use different approaches to check browsing history on iPhone. One of the best methods is to install a third-party parental control pr tracking application. You can try MoniMaster for this task.
As mentioned earlier, Monimaster is a parental control application. It works on iOS as well as the Android operating systems. Using MoniMaster you can access the target iPhone and check the browsing history without any hassle. All you need is to
Step 1. Sign up with MoniMaster account credentials.
Click on the "Sign up" button to enlist a substantial record utilizing an actual email address. Buy an arrangement to get sufficiently close to all highlights of this iCloud checking arrangement.
Step 2. Download the MoniMaster App for iOS.
Then, at that point, you will lead to the "My Products" page for additional activities. Click on the "Setup Guide" button to enter the iCloud accreditations of the objective client you need to screen. Kindly note, ensure the iCloud account is substantial and the iCloud ID you filled in is correct. On the off chance that Two-Factor Authentication is off on the objective iPhone, you will go to the web control board.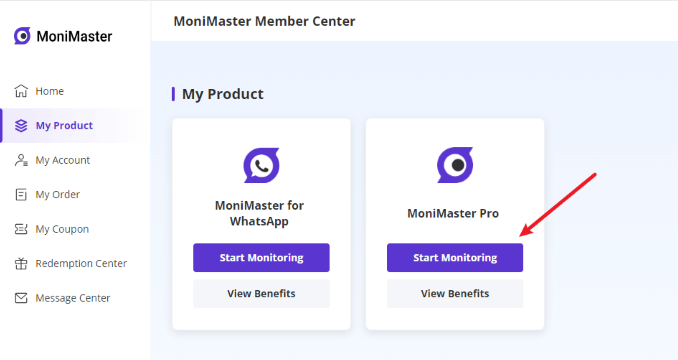 Step 3. Begin checking history on the Dashboard.
In the wake of entering the web control board, you can begin checking on the objective iOS gadget now and view every one of the information from a distance, like contacts, updates, photographs, recordings, notes, and so on. On the off chance that it's the initial opportunity to match up information from the telephone to the dashboard, it will invest in some opportunity to finish the information sync.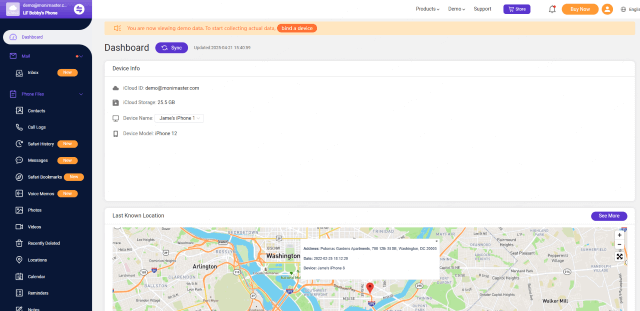 MoniMaster Features for checking Browsing History
As mentioned, using MoniMaster for iOS monitoring you can get access to the browsing history of the target device.
Using MoniMaster You can check all types of URLs accessed via Wifi and Mobile data.

MoniMaster enables you to know about the date and time of browsing history.

It enables you to track the browsing history even in Incognito mode.

Besides Browsing history, it gives you access to track GPS location , Social media Activities, Call logs, and SMS tracking.

The data can be viewed in real-time on an online dashboard.
What else can MoniMaster iOS Monitoring do?
Just like android MoniMaster is one of the best tracking applications for iOS Monitoring. All you need is to install it on the target device and complete the setup. Some common features are:
Location Tracking.
MoniMaster will share the exact location of the target iOS device. You can access it in real-time.
Monitoring of text messages.
The Application helps you to track text message that is sent from the target device.
Track calls.
Just like tracking text message, MoniMaster also tracks the phone calls on the target device. Monimaster has access to all dialed, missed, and received calls.
Monitor social media.
MoniMaster monitors all types of social media apps. for example WhatsApp messages, Facebook, or Instagram.
How to Delete Wi-Fi History
Once you are able to know, how to check browsing history on Wifi Router. You can perform other tasks too. Like copying the log data, and deleting the log data. Two different methods are used for deleting WiFi History.
Clear log
This method consists of deleting all types of logs from the WiFi router history. This may include different types of logs like browsers, administrative and system logs. Etc. when you login to your router, you will see different types of logs. Marking specific or selecting all logs will clear the log history from the wifi router.
Use VPN
Another way to protect your log history on the WiFi router is to Use VPN. Virtual Private networks hide your history. And nobody can access it. All you need to Install VPN and turn it on before browsing. It will hide your IP address. And hence your browsing history will not be tracked.
FAQs about Checking Browsing History
Can the WiFi owner see what I search incognito?
Incognito mode skips temporary files while accessing the internet using browser. This may include passwords, Forms, and cookies data. So, when you are browsing in incognito mode. Still, the WiFi owner or the administrator will see your logs, what you are visiting or you have accessed.
How do I hide browsing history from WiFi owner?
When we browse on the internet, our data passes through the ISP. So, it is important to hide our browsing data from unauthorized access by the ISP administrator. It is possible in different ways, like changing the DNS Setting, Browsing with Tor, or using a VPN.
Can my parents see my phone's WiFi history through the router?
In simple words, the answer is Yes. If your parents have access to the WiFi router log. Then can access these logs and can check your browsing history. Similarly, any other person that has access to the Wifi administrative setting, can also see your browsing history.
Conclusion
Everyone cares about their privacy, whether they are kids or adults. So, they always search for the answer to the question. How to check browsing history on Wifi Router. In this article, we discuss different methods to check browsing history using the WiFi router. Also, different tracking Apps like MoniMaster are used to get direct access to browsing history of someone. We also discuss how to hide the browsing history and clear the wifi log history.