Question:
Have you ever wondered if it's possible to hack into someone's Facebook account?
Facebook pages can be associated with a specific group or community. There are other Facebook fan pages as well. The only person who has the authority to change the contents of a Facebook page is the Page's administrator.
While some would have you believe that hack Facebook page is difficult , any programmer or social engineer can tell you that this is wrong; there is no such thing as an unbreakable code, and there is no such thing as a website that you couldn't exploit in some way.
How to Hack a Facebook Page?
Hack Facebook Online
Did you believe that only professional hackers could hack the Facebook account? The answer is NO! You'd be startled to learn that anyone with a basic understanding of computers can easily hack a Facebook account. This allows them access to personal data about you and your activities, leading to severe consequences.
So, how do these hackers gain access to Facebook accounts and take data? Let's start with the basics.
The following is a list of procedures to perform to hack a Facebook account online:
1. Create a login page that resembles the Facebook login page.
2. Create a login page handler script to save login credentials to your database.
3. After storing or retrieving a user's login credentials, redirect them to the original Facebook page.
4. Create a database to keep your Facebook username and password.
5. Send the user the link now.
6. Make a web portal where you can see all of the hacked Facebook account ids and passwords.
Use MoniMaster Android Monitoring to Hack a Facebook Page
MoniMaster offers a variety of mobile phone monitoring options for Android and iOS devices that do not require the target phone to be rooted or jailbroken. All the monitored data can be downloaded and viewed on your home computer.
Next we introduce Monimaster for Android in detail including its features and installation steps. If your target one is an iOS user. You can click the "View Demo" button to know more features about iOS Monitoring.
Without rooting the target device, this Android surveillance tool allows you to see practically all of the data on your children's phones. The online data viewing dashboard can provide you with a completely confidential monitoring system.
How Monimaster Assists Parents in Keeping an Eye on Their Children
You should be aware of their location:
Track a cell phone location and check detailed location history. Set up Geo-fences as safe zones (home, school, etc.) and receive notifications when your child enters or exits certain areas.
Take action ahead of time:
On your child's Android phone, go through all of the photos/videos in the gallery and read all the sent/received/deleted text messages. If you receive any odd messages, take action ahead of time.
You should be aware of who they are messaging:
With Android phone monitoring software, you can keep track of your child's social media app activities, including shared images, emojis, and stickers.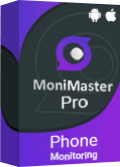 Advantages of choosing Monimaster Android Monitoring
Monimaster Android Monitoring takes data from an objective phone, moves it to a secure dashboard control point, and transmits any data gathered.
You usually download the product and insert it into the target phone tool to start the next system.
You will now be able to observe and review all remote control panel access data once the facility has been completed.
Monimaster apps can supply consumers with images, program history, instant messages, call history, texts, and contacts, depending on the package they purchase.
The following are the primary advantages of using the Monimaster Android Monitoring App.
1. Increase the amount of information available
You can download the Monimaster android on the target cell phone without going too far, and it will tweak the information as reinforcement.
2. Employee Monitoring
Currently, most commercial companies are well-equipped with Android-based smartphones and other devices.
3. For digital parenting, place parental controls on your children
The end-user can gain remote access to the target mobile phone of children using the Android operating system. Furthermore, you can utilize various options for the mobile phone Monimaster app, and you can use live screen recorder software to install parental controls.
4. Prevent your partner from cheating
People in partnerships, particularly women, are pretty active in using a monitoring tool to spy on their partners' mobile phone habits, and they have certain doubts.
How to Hack Facebook Page by MoniMaster Android Monitoring
Due to a security flaw in the Facebook business management endpoint, a third-party program can hack a Facebook account page with limited rights. The victim will permanently lose admin access to the Page.
The steps are as follows:
Step 1. Join and Purchase
Utilize your email address to make a legitimate record and purchase the arrangement you want. Add your actual data and submit the information for further steps.

Step 2. Download and Install
Log in to your account and complete all of the setup steps. Complete the arrangement methodology, introduce the application, and sign into the record. After this, you will lead to the monitoring page.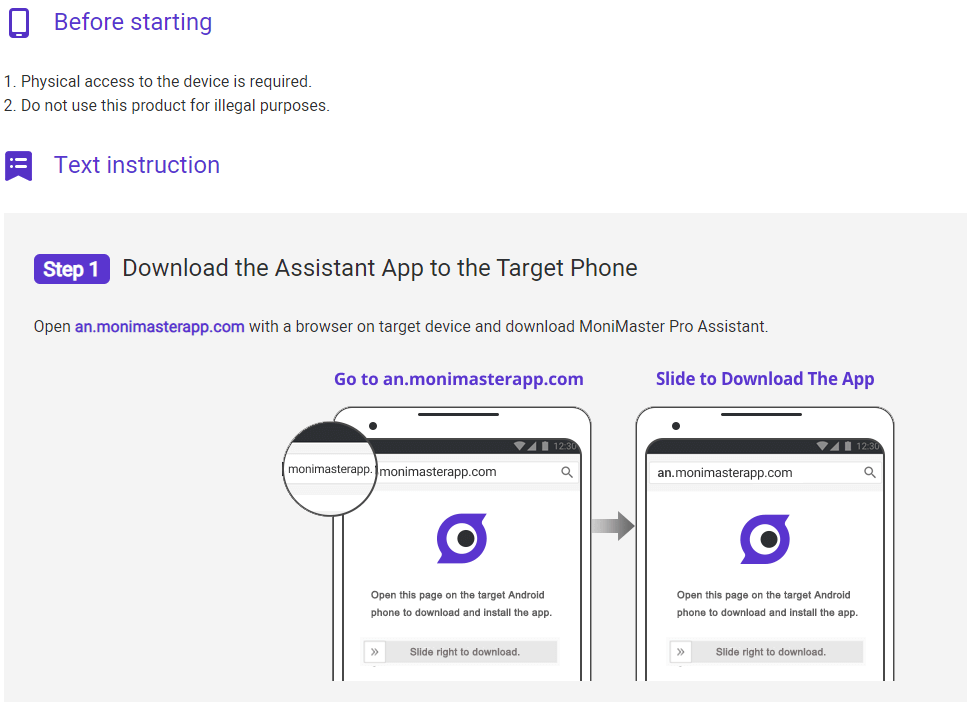 Step 3. Go to your dashboard and look at the data from the target phone.
Check Your Setup and Login to the Dashboard to Begin Monitoring. Click the panel on the left side of the dashboard to select which data you wish to examine. You can check and take action on your family members' phones.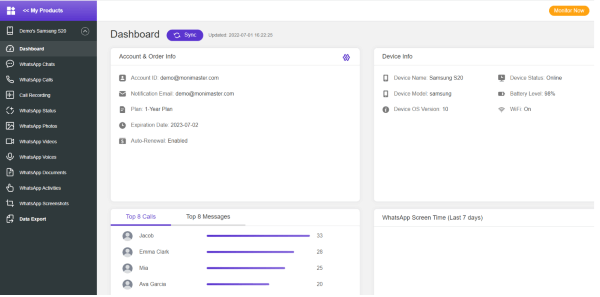 How to Delete Facebook Page
The 14 days after you deactivate a Facebook page, it will remain viewable to the public. You must first unpublish something if you want it to be invisible to the public. Here are some steps that can help you how to delete a Facebook account.
1. On the Facebook website:
Step 1. Log in to your account on the Facebook website.
Step 2. Select Pages from the left-hand sidebar menu on the Facebook homepage.
Step 3. Select the Page you want to delete from the Pages you manage section. If a pop-up appears asking you to link your Page to WhatsApp, close it.
Step 4. Scroll down the left-hand sidebar menu and select Settings at the bottom of the list.
Step 5. Scroll to the bottom of the General tab of the Settings page and select Remove Page.
Step 6. In the pop-up, click Delete Page after clicking the blue hyperlink Delete [your page name].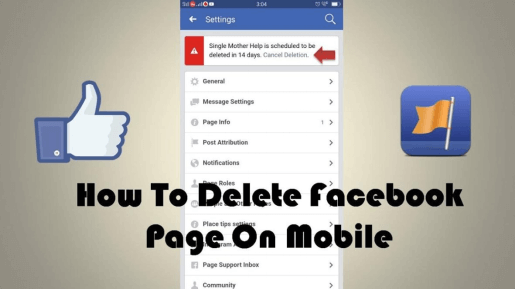 2. The Facebook Mobile app
Step 1. Go to your Android or iOS device's app store and download the app.
Step 2. Tap the three horizontal lines symbol in the bottom-right area to bring up the Pages menu.
Step 3. Select the Page you want to delete from the Pages You Manage section.
Step 4. Select the gear-shaped Settings icon in the top-right corner.
Step 5. Using the General tab at the top of the Settings page, go down to the Remove Page section.
Step 6. After hitting the blue hyperlink Delete [your page name], choose Delete Page from the pop-up menu.
How to Change the Facebook Page Name
The name of your Facebook page is undoubtedly the essential aspect of its brand identity. It would help if you gave your Facebook page a name when you created it, so you may not have chosen the best Facebook page name and wish to change it now. Fortunately, you may modify the name of your Facebook page at any moment.
Let's have a look at how to change the Facebook page name
1. If you want to change your name, you can have some difficulties.
2. Our name policy does not apply to your name.
3. You've changed your name in the last 60 days or tried to change it too many times.
4. On Facebook, you were previously prompted to confirm your name.
The name on any of the entries in our ID database does not match yours. If you're still having problems changing your name, you can request a name change and confirm your name by filling out this form.
What Happen When Someone Search for the Old Facebook Page Name?
When you change your username, everyone else sees the old one as unavailable. You can only alter your username once as far as you are concerned. Try to persuade one of your pals who hasn't changed their username to check if yours is still available; they'll notice it's labeled as unavailable.
FAQs about Facebook Page
1. How do I delete a Facebook page without waiting 14 days?
You wish to deactivate the Facebook page.

Select Settings -> Select Security from the drop-down menu, then Edit next to Apps and Websites.

You have to Log in using your username, and password is unchecked.

Change the time before cookies expire to never under Cookies.
2. Why can't you permanently delete your Facebook page?
The most common reason for a user's inability to delete a Page is that they are not an administrator of the Page. If you're an administrator and still can't delete your Page, it's possible that another administrator canceled the deletion before the 14-day deadline.
3. How often can I change my Facebook page name?
You can alter the name of your Page as many times as you want, as long as the changes are spaced around seven days apart.
4. Can you merge two Facebook pages with different names?
Yes, this method can merge two Facebook pages with different names.
They share the same name and are used to describe the same item. You can request a name change for one of your Pages if you want all of your Pages to have the same name. You can seek to merge your Pages when the change has been accepted, and they have the same name.
5. How will I know if my FB has been hacked?
Something has changed, which is the most obvious clue that you've been hacked. You may be unable to access your Google account using your usual username and password, or strange purchases may have been made on one of your bank accounts.
Conclusion
If you're wondering if you can learn how to hack Facebook Page, yes, but you'll need to be technically proficient to do so.
So Monimaster Andriod Monitoring app is one of the best monitoring apps that can help you hack or monitor other accounts or devices.