Question:
Is tracking girlfriends phone difficult?
Some people may find tracking phones a little insensitive and a breach of privacy. Whereas, some people just want to carefully watch their partner on their latest doings or movements – especially if the relationship is strained and snooping is really necessary. Worry no more, these applications can track your girlfriend and can be downloaded on Android for free!

Without further ado, here are the 8 Best Phone Tracking Apps to Spy on Girlfriend.
MoniMaster is not just to keep children's mobile history or keep them away from internet perverts. But it can also be used on tracking your girlfriend's phone and satisfy all the information you needed from them without being seen. The app is user-friendly and quick to use – making it perfect for everyone including those who are not technological enthusiasts.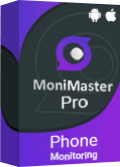 The MoniMaster Phone Tracker app is compatible with both a Android and iOS. You can track my girlfriend for Android and iPhone free. The following things are some of the many features of this app.
See sent and deleted messages:
The names, numbers, and timestamps of each message on your girlfriend's phone can be seen without them knowing it.
Cost-efficient:
MoniMaster consist of many features to track anyone – you can avail all features for a very affordable price.
Social apps tracking available:
The popularity of social media can allow your girlfriend to communicate with anyone. You can check who is chatting with whom on whatsApp, and other social apps like LINE, Viber, WeChat, and many more.
Keep an eye on their location:
MoniMaster gives both map and satellite views to see the current setting of your girlfriend.
Convenient dashboard:
An online dashboard is available for you to access all the data of target phone using one tracking device.

What We Like:
MoniMaster has a Wi-Fi and Key logger. This means that the app automatically monitors all the Wi-Fi and Key used by the target app.

Physical access to the target device is not needed.

Easy operation and many tools are available for more efficient use.
What We Don't Like:
Limited trial period only.
Qustodio
Aside from filtering content and applications on kids'devices, Qustodio sets the competition behind by having a lot of features fitted in one app. You can use this app to locate, track your girlfriend's SMS and calls, and get reports on your phone about it.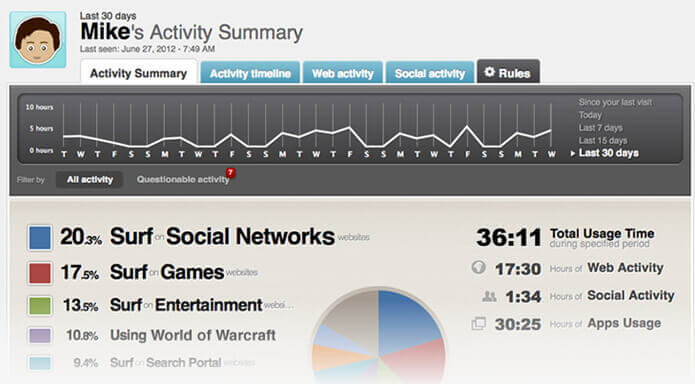 Compatibility: MAC, Windows, Chromebook, Android, and even Kindle
Top features:
1. Tracks certain phone calls and SMS, and you can block the number without accessing the target device.
2. Qustodio is recognized as one of the best phone tracking apps.
3. You can get notifications through SMS and emails.
4. Filter applications or websites to automatically block any dating sites.
5. Allows you to have complete control of the target device.
What We Like:
Includes a user-friendly and easy access dashboard.

The screen time of your girlfriend can be displayed.

A free version is available – which includes 1 target device and basic protection Qustodio features.
What We Don't Like:
Too expensive. Can cost you $140 a year.

The web filtering sometimes doesn't work.
mSpy
mSpy is another undetectable tracking app for your girlfriend's cellphone. You will be able to keep an eye on them 24/7 wherever you are, with 100% secrecy! Moreover, all their information is secured and properly stored – and you're the only one who can access it.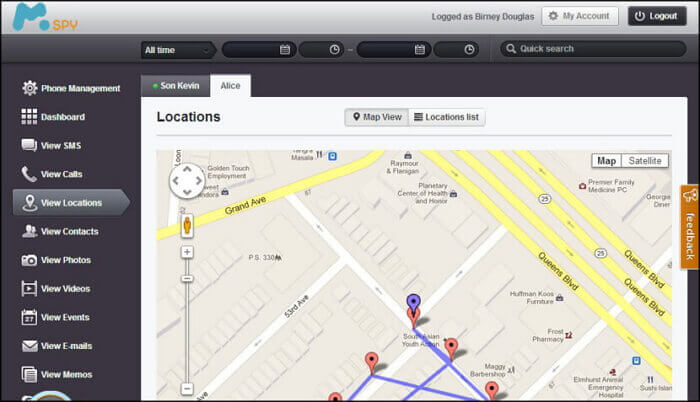 Compatibility: Android and iOS
Top features:
1. mSpy has 24/7 multi-lingual support, this will help you to raise any concern at any time of the day.
2. mSpy is considered a budget-friendly tracking app.
3. You can track calls, SMS, location, browser history, social apps, photos, videos, and any other online activity of your girlfriend using mSpy.
4. mSpy has great, intuitive, and easy to use software.
5. The installation process is seamless. You can even set up the app in just 5 minutes.
What We Like:
Any phone activity of your girlfriend is updated every 5 minutes.

You can promptly receive any alerts.

Only 3 steps are required to track your girlfriend's cellphone.
What We Don't Like:
Physical access to the target device is necessary.

User's credentials are needed.
KidsGuard Pro
Also known as KidsGuard Pro, it has been known to be one of the most efficient apps when it comes to tracking online activities of people. With the apps 30 monitoring features, you can choose how you want to track your girlfriend's cellphone.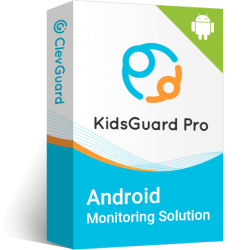 Compatibility: Android and iOS. Aside from that, KidsGuard Pro is very generous with free trials. Meaning, you can spy on your girlfriend for free.
Top features:
1. Allows you to view deleted messages, data, or even call logs.
2. Track browser histories and record current calls.
3. Specified and understandable activity reports.
4. Social media tracking.
5. See all the phone and any app screenshots.
What We Like:
KidsGuard Pro is very cost-effective. For only $9 a month, you can have all the monitoring features they have.

Undetectable on the target device.

Protects your privacy and personal information.
What We Don't Like:
There are times that the features are unreliable and don't work.

Constantly restarting and updating.
Cocospy
Cocospy is another popular tracking app that you can use to monitor your girlfriend's phone activities. Many people are fond of this app because you don't have to jailbreak or physically access the target device – making a full secrecy tracking. Also, Cocospy is completely cloud-based which means that every feature is done remotely.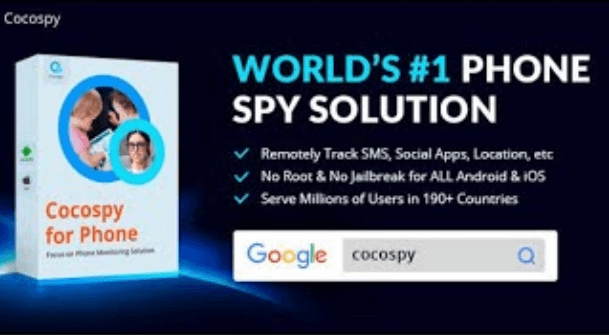 Compatibility: Android and iOS.
Top features:
1. With Cocospy, you can track your girlfriend's messages, calls, application lists, videos, and more.
2. It's 100% undetectable. A good thing if you don't want to compromise any affection you have for your partner.
3. The dashboard and software interface is very user-friendly.
4. Cocospy can still work even if the target device is in stealth mode.
5. Helps you track your girlfriend's live and accurate location.
What We Like:
Customer service is available 24/7.

Setting up only last for 5 minutes.
What We Don't Like:
There are no free trials available.

It's a little expensive compared to other phone tracking apps.
Hoverwatch
This tracking app will let you keep tabs on your girlfriend through a smartphone or iPhone. Hoverwatch allows you to monitor their contacts list, messaging histories – even the deleted ones, and any shared files on Viber, WhatsApp, and even Facebook. The last feature is probably the reason why Hoverwatch has been a popular tracking app that everyone uses to keep an eye on their loved ones.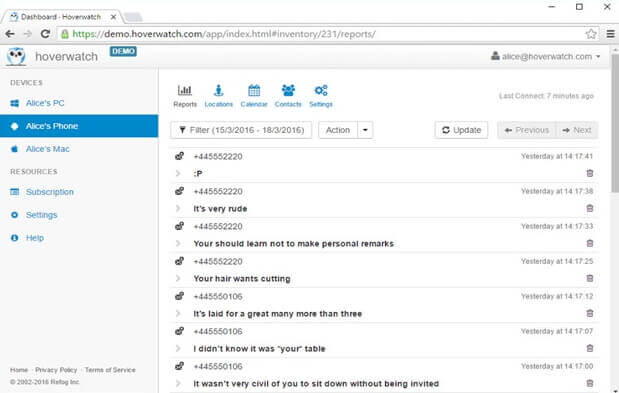 Compatibility: Android, Windows, and iOS.
Top features:
1. Allows you to track messages and shared files or links on Facebook, WhatsApp, Snapchat, and many more.
2. Can record calls and lets you view screenshots on Android.
3. Detects if your girlfriend just changed her sim card.
4. Track app installation of the target device.
5. Monitor to-do list and camera.
What We Like:
Full secrecy. This means that you can keep an eye on your girlfriend without her knowing it.

Location tracking is available.

Considered the best key logger app.
What We Don't Like:
Cost $25 a month and can only track 1 device.

Balances are not always updated.
Spyzie
Spyzie is known for being the revolutionized phone monitoring that anyone can use to watch their loved ones close. From tracking your children's online activities to watching your girlfriend's phone movements, Spyzie has got all the answers to your problem. A lot of tracking features are available on this app and it's no doubt that Spyzie can track any target device you can think of.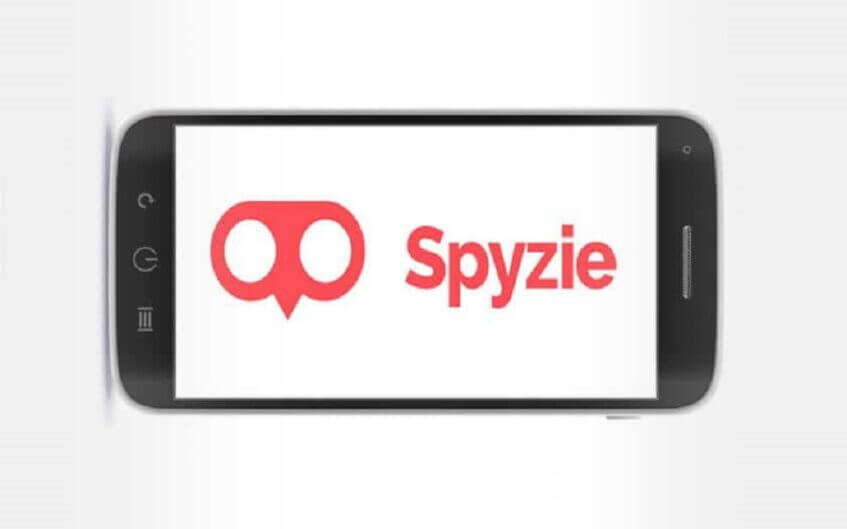 Compatibility: Android and iOS.
Top features:
1. Spyzie has a Geofence alert.
2. It can track SMS, calls, and the location of your girlfriend.
3. Spyzie can spy on any messages on social media apps like Facebook, Instagram, Snapchat, Viber, and WhatsApp.
4. The viewing and recording of call logs are very easy.
5. The dashboard and the software itself are very easy to use, which makes it accessible to anyone including persons who are not technological devotees.
What We Like:
You can set up Spyzie in just 3 simple steps.

Creating an account is free.

If you're looking for a cost-efficient phone tracking app, Spyzie is your answer.
What We Don't Like:
Customer Service is not available 24/7.

The advanced features of the app are sometimes not compatible with the target device.
FlexiSPY
The best thing about this phone tracking app is you can intercept the calls of the target device. It also allows you to listen ambient to the phone call and VoIP recordings. FlexiSPY offers the best feature when it comes to monitoring call logs and live phone calls. So if you want to eavesdrop whenever your girlfriend is talking with someone, use FlexiSPY.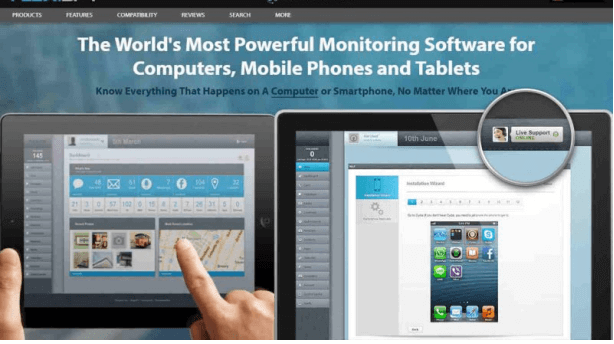 Compatibility: Android, iOS, Windows, and MAC.
Top features:
1. Aside from call interceptions, FlexiSPY offers call recordings on Viber, WhatsApp, Facebook, LINE, Hangout, Skype, and many more.
2. Geo-fencing alerts are available.
3. You can monitor and closely watch all the installed applications, browsing activities, and even the wallpaper images of your girlfriend.
4. Automatically updates every movement of the target device.
5. You can run in hidden mode. 100% secrecy.
What We Like:
You can remotely deactivate and hide the software on the target device.

The app is easy to install and set up.

There's a visibility option on both the target and monitoring device.
What We Don't Like:
Despite having a lot of app features, FlexiSPY is very expensive. Their pricing ranges between $29 to $199 a month.

Free trials are not available.
Conclusion:
Surveilling your girlfriend's phone doesn't have to be public or vulgar. Keep in mind that you can eavesdrop, record their conversations, track messages, keep an eye on their location, and fully monitor their online activity movements without being seen.
Out of all the given phone tracking apps, MoniMaster is considered to be the best tracking app because it has lots of advanced security features that make monitoring a lot easier and convenient.