You can't simply request that the specialist track someone's phone if you speculate that your close person is misleading you about anything. No compelling reason to stress, as there are ways to track a mobile phone and monitor the devices to learn a lot of details about the user.
In this article, we are going to help you learn about the best phone tracker available for you. These free cell phone tracker apps will help you know everything about the target device and monitor their activities in almost everything.
1. MoniMaster to Track Target Phone without Permission
MoniMaster is one of the best app to track phone. It is a very amazing tool because it allows the user to use all the tracking features at low prices. It's a family plan to empower users to track more than one device for at one time. MoniMaster is very easy to use and compatible with both iOS and Android devices.
What Makes MoniMaster Great?
There are various reasons due to which this tool is considered as best tool ever that are stated as follows
Track all the incoming and outgoing messages:
MoniMaster provides recipient names, numbers, and time information each messages. It also provides information about the deleted messages and most frequent contacts who texted the target device user. No other phone tracking app can provide so much detailed information.
Access the live call logs:
It will allow you to access the live call logs of the target device. Including the name of the contacts, phone number, call type, call duration and date details. Only MoniMaster can provide this much detailed information. The contact list of the target device can also be accessed by Monimaster.
Get the GPS:
MoniMaster will help you to know the real time location of the target device by using GPS. Also geofencing technology will allow you set an area for the target device. It provides the location history and real time location with highest accuracy.
MoniMaster provides the detailed browsing history of the target Android device even in private browsing mode. It will allow you to know the last visited time, website URL, website title and even search through the list of web browsing history. It's far better than all the other phone tracking competitors.
Access the media files:
You can access the media files including photos, videos and capture screenshot of the target device screen anytime. It's an effective solution comparing to other competitors of MoniMaster.
You can also have a Free Demo to experience this best phone tracker app! Try now!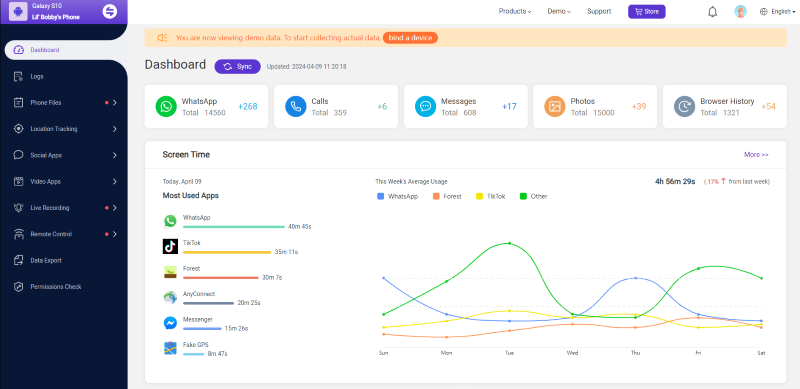 2. MobiStealth
MobiStealth is additionally one of the main 10 versatile phone tracking app that accompany a wide scope of spying highlights. The tool is capable to provide a wide range of features for beginners to professional users. So the features it is offering tracking for instant messages, application list, screen talks, social media, track location, messages, pictures, keylogging, encompass recording, call recording, and Gmail logging.
Features:
Along with mobile monitoring, it also offers desktop or PC monitoring.

In this you can pay for one-day usage like its price for one day to use all the features is $0.50.

It also offers broad tracking at nominal prices.

It is easy to download and install.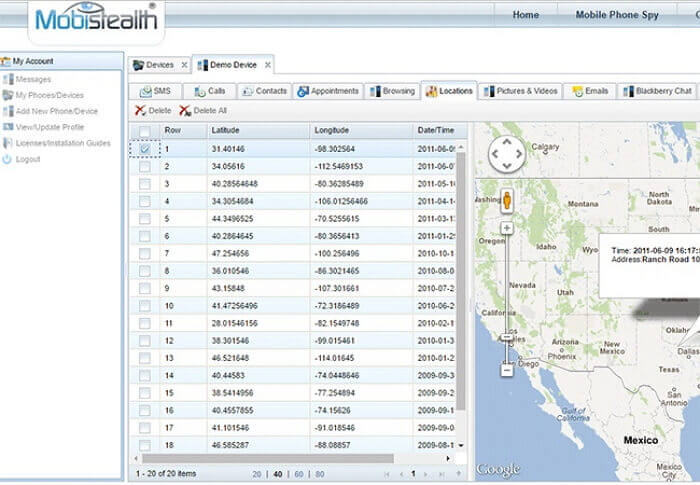 3. FamiSafe
FamiSafe is one of the best mobile tracking tools, capable to track the text messages along with the various additional features. Once you have installed the app, it totally hides itself in the background of the device so that the person does not realize that someone is tracking him. FamiSafe is one of the best options for parents/wives/boyfriends/girlfriends/friends/employers etc. to track their close persons or employees and prevent then by going on the wrong path.
Feature:
It is capable to track the location of the target device.

FamiSafe provides the detailed app activity report to the users that include time schedule and the usage time amount of each app.

This tool detects harmful contents in target device from device text messages, or any other app.

You can also check the app usage activity provided in a list where you will be able to block any harmful or distracting app of your choice.

It has web filter, screen time, location history etc. features.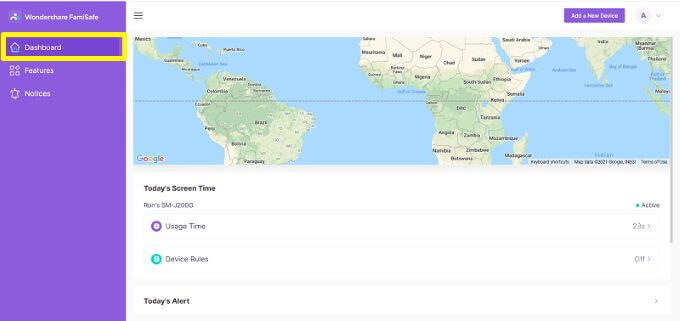 4. Mobile Tracker Free
Mobile Tracker Free is a secret spying tool that comes in three plans. It provides free services to users with limited features. This tool is in our list because of its free account there is no tool which is capable to provide services for free. Only premium plan of the tool is capable to track the unlimited data of the targeted device. You can use this tool if you are happy with the limited services for free.
Features:
It can secretly track text SMS and social media messages of the targeted device.

It is capable to track the GPS location of the devices.

Users can remotely access the targeted mobile device.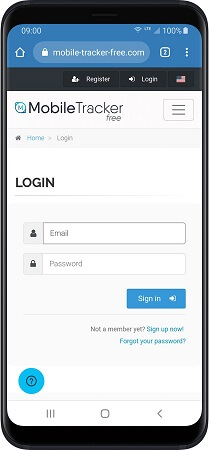 5. Highster Mobile
Highster Mobile enables you to screen your mobile phones remotely. It works both on Android and iOS gadgets and is anything but difficult to set up. The application refreshes tracking at an interim of 5 minutes and can be gotten to from any gadgets with a functioning web network. Other than following trackings, the application not exclusively can follow exercises like survey instant messages, call history, photographs, recordings, and Facebook messages, yet also can trigger the camera stealthily to take mystery pictures and recordings of the surroundings at your order.
Features:
It provides a 1-day free trial to the users.

It is capable to find the lost mobile phone.

Its control panel or dashboard is user-friendly.

It supports mobile as well as PC.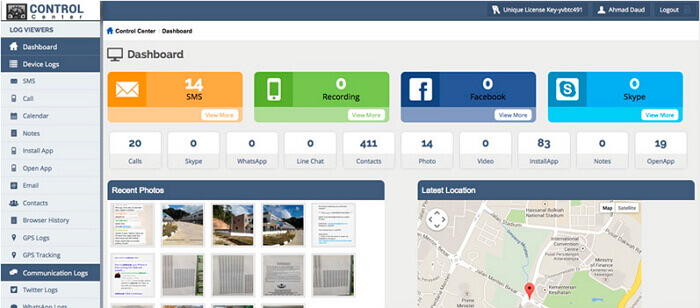 6. iSpyoo
iSpyoo is the versatile mobile tracking app intended to keep an eye on your workers and shield your kids from the risks of the online world. Since it is a spying application, it turns out to be imperceptible. The recognized element of this top of the line mobile phone following application is that it gives you a chance to screen video approaches Viber and Skype as well. Different highlights it supports incorporate tracking following, read instant messages, SMS, see call logs, record calls, see contacts, photographs, recordings, IM visits, messages, and web perusing history.
Features:
It provides 48 hours free trial after signup.

It is counted in the cheapest tracking software.

It is capable to track social media video calls as well.

Available for Android as well as iOS devices.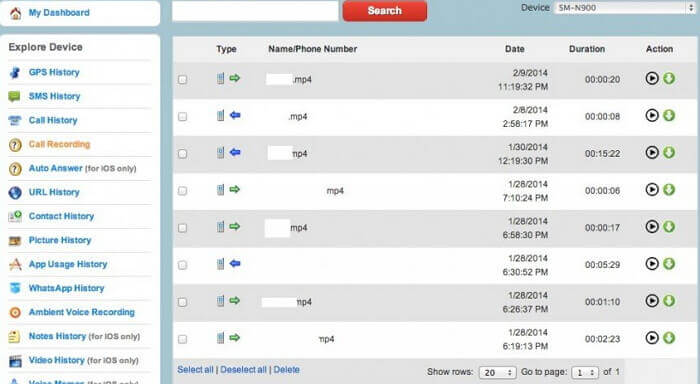 7. Spyera
Spyera has been a standout amongst other government operative applications ever accessible for Android devices and it functions as a GPS tracker also. With the following component in the application, you can discover someone's GPS tracking and see it on the screen of your gadget. This app makes it very simple to find where your accomplice, your children, your companions, and your relatives are.
Features:
It allows users to listen to live calls.

Track all the activities of the mobile devices.

Not supported by iPhone devices.

Keylogger feature log keystrokes.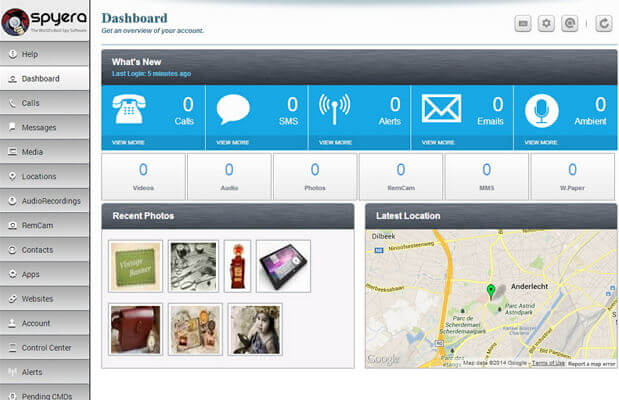 8. Phone Sheriff
PhoneSheriff is especially intended for guardians who need to monitor the telephone and tablet exercises of their children. It isn't generally a spying application because a youngster is informed before introduce it on his gadget. Notwithstanding, on the off chance that you need to screen your kid inattentiveness, its symbol highlight can be killed as well. It isn't simply made to screen kids yet screen representative exercises as well.
Features:
It is one of the best parenting control applications.

It can access the camera and record mobile surroundings.

Only compatible with Android devices.

Offer web blocking and mobile blocking remotely.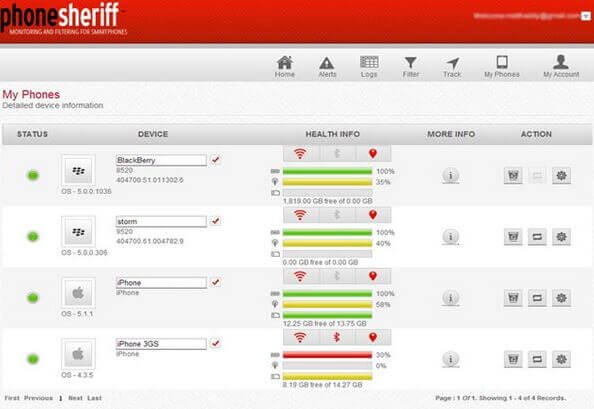 9. MobileSpyAgent
MobileSpyAgent is a basic and dependable portable covert operative application that basic following highlights. If you are searching for a spending choice and you needn't bother with a confounded apparatus, this one is for you. It gives you a chance to get to instant messages, see call history, photograph, recordings, track Location, get gadget data like memory use, IMEI, program history, see introduced applications, notes, schedules, and the sky is the limit from there.
Features:
User-Friendly Interface.

Spying features are very accurate.

Pocket-friendly tool.

Track both mobile and desktop devices.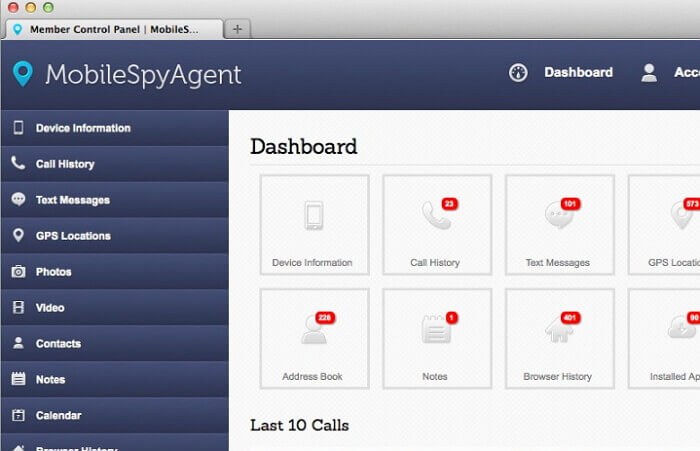 10. StealthGenie
StealthGenie is another portable spying application for 2020 that gives you a chance to screen all exercises on cell phones running iOS, Android and Blackberry. With StealthGenie, you can peruse approaching and active instant messages, messages, call logs, track GPS tracking, moment emissary visits, remotely screen the telephone and block the calls.
Features:
To use all spying features you need to buy a premium package.

This is the cheapest mobile tracking application.

It is compatible with blackberry, android and iOS devices.

Conclusion:
The above listed free tracking apps are both user-friendly and pocket-friendly. These tracking device apps are considered as best mobile phone tracker apps of 2022. You can choose any one of them as per your requirements. But according to our experience, MoniMaster is the best mobile phone tracker among all these apps.