A new model of phone is launched and you want to change your existing phone to a new model. But you are worried about your WhatsApp messages. When you switch your phone, in most cases you will lose your WhatsApp conversation. If you know where is WhatsApp messenger google drive backup is. You can easily transfer WhatsApp messages from android to iPhone or any other phone.
How to Read WhatsApp Messages Without Transfer?
Is it possible to read WhatsApp messages without transfer and without WhatsApp backup? The answer is absolutely yes, but you have to be a smart guy to do this. All you need is to go for a third-party monitoring application. i.e. MoniMaster Android Monitoring.
Let you read WhatsApp messages without transfer and WhatsApp Backup. Using Monimaster you can avail the following features in WhatsApp Monitoring.
WhatsApp Messages Monitoring:
The Monimaster WhatsApp monitoring enables its users to check WhatsApp messages of any target device. It does not matter what type of mobile operating system you use. Monimaster works fine on Android. Besides this, you can get access to deleted WhatsApp messages on any target device using Monimaster.
WhatsApp Calls:
You can call for free to your WhatsApp contacts using WhatsApp Messenger. Similarly, you can receive calls without any additional charges except for Data usage. The Monimaster WhatsApp monitoring let you get access to all types of call logs. i.e. Missed received, and dialed calls on any target device. Besides this Monimaster give you the facility to record WhatsApp calls without knowing..
Access to WhatsApp Status:
MoniMaster WhatsApp monitoring enables you to view and save WhatsApp status unanimously.
Access to WhatsApp media:
Another important feature of Monimaster WhatsApp monitoring is to access WhatsApp media. You can get access to all types of media, including Audio, Video, images, documents, etc.
Other features:
Monimaster is equipped with other worth mentioning features. This includes all types of other social media applications such as Instagram, Facebook, Twitter, WeChat, etc. Besides this,, it gives you access to all types of media stored in the target device as well as other web activities.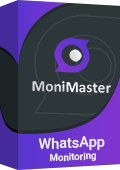 Steps of using MoniMaster
Accessing any device using Monimaster is simple and easy. You just have to follow the three steps mentioned below. One-time access to the target device and a valid monimaster account is mandatory for this process.
Step 1. Purchase Your Favorite Plan:
Buy the plan you like and fill in the relevant information.
Step 2. Follow the Set Up Guide:
Install it in your desktop app or phone and download it to your target phone. When the value plan and buy are finished, you'll naturally be taken to a site page named "My Products and Orders Management." Here, you can track down your request, click "Arrangement Guide" and complete the expected arrangement on the Android gadget referred to.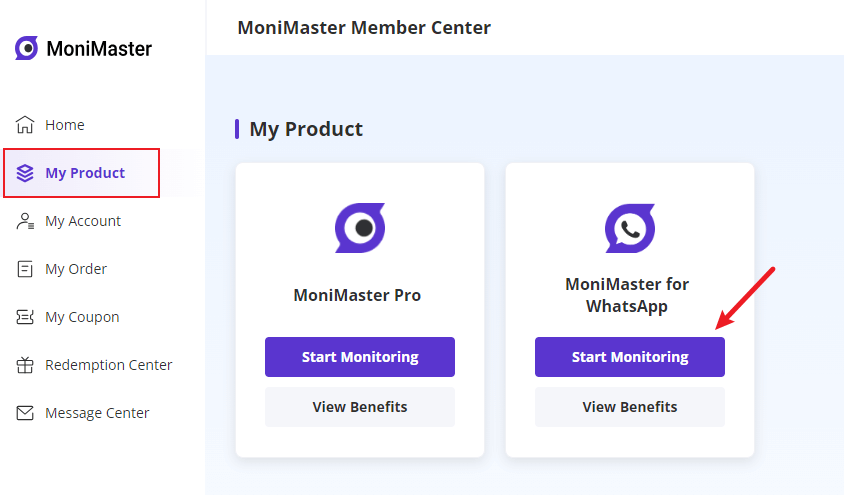 Step 3. Set Up and Start Monitoring:
The last step is Verification. Click on the Verify Setup button. You can do this on the target device after the installation and configuration. Once this process is complete, you are ready for Monimaster WhatsApp monitoring..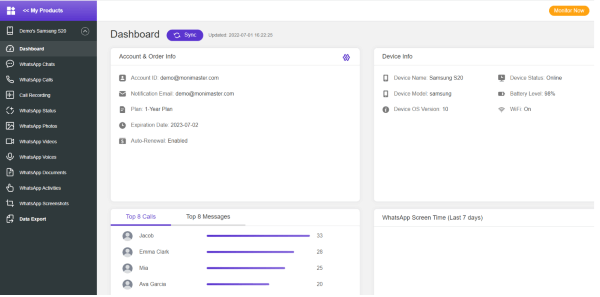 How to Transfer WhatsApp Message to New Phone?
If you have bought a new phone and are worried about your old WhatsApp messages. There is nothing to worry about. We will let you how it works. We will discuss these methods for both Android and iOS operating systems. So let's start with android.
For Android:
Most people have android phones, so this method is for android users. The common method that we can use for how to transfer WhatsApp messages to a new phone i.e. Android. Is to use Google Drive Method.
Google drive saves your WhatsApp messages backup. So if you have changed your device, you can just transfer the latest backup file saved on your device. It will restore your messages on the new device. Also, the latest backup is saved in your Google account.
Go to your WhatsApp on old Phone.

Tap on "More Option>

Go to Setting>Chats>Chats Back Up>Back up to Google Drive

Now Set Back Up frequency >Choose your Account>Back Up
Now Launch WhatsApp on New Phone.
Tap on Agree and Continue>Verify>Verification Code

Now click on Restore>Next

You can restore a backup from google drive backup.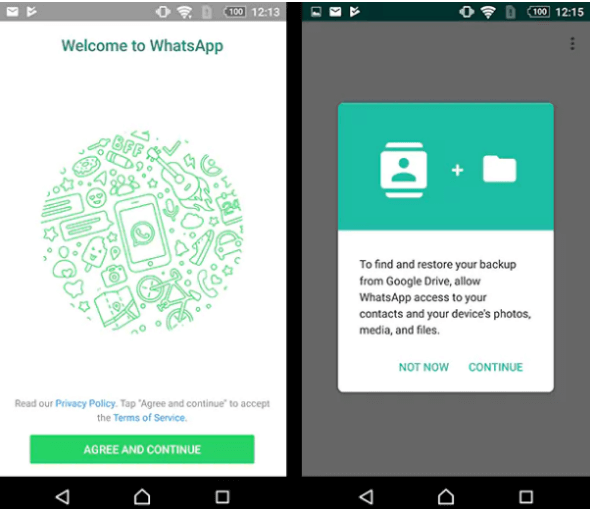 (2.) Transfer WhatsApp Messages via Email
The next method is to transfer WhatsApp messages via Email. You can do it in the following way. This method is helpful for a small number of messages.
Go to WhatsApp>Settings>Chat Settings>Chat History>Tap on>Email Chat
Select the messages that you want to send to the new device.
Click on Additional Media or No Media
Enter your Email Address and Tap send.
Now Sign in to your email account in New device.
You will now be able to see messages on your new device.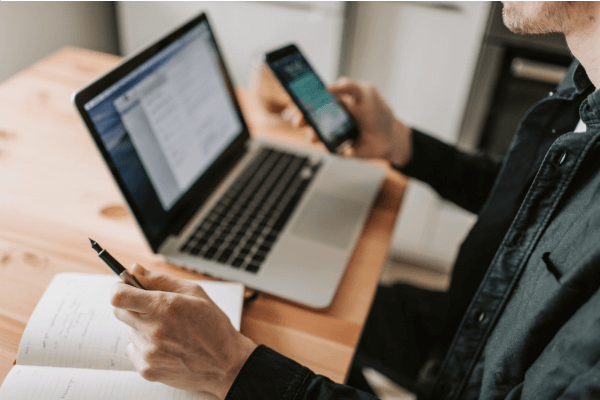 2. For iOS:
The next method of how to transfer WhatsApp message to new phone Is from android to iPhone. We can use the method of WhatsApp backup from android to iPhone. Let's discuss it in detail.
WhatsApp Backup from iCloud
Just like Google drive on Android, iCloud is used on iPhone. Make sure, that your iCloud account is signed in. And you are continuously back up your WhatsApp message to your iCloud Account. Now follow the steps mentioned below.
Launch WhatsApp and go to Setting.
Go to Chat Setting->Chat Backup>"Back Up Now>
Make the latest Backup
Now Signed in to your new iPhone and launch WhatsApp->Agree & Continue
Verify Your Account > Restore Chat History > restore from iCloud Backup.
You are done.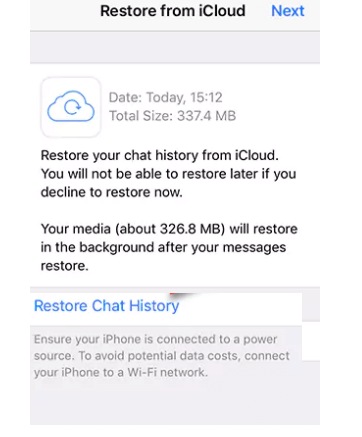 How to Backup WhatsApp from Android to iPhone?
WhatsApp let you transfer messages from android to android and iPhone to iPhone. But you cannot transfer WhatsApp messages in cross-platform app directly. Such as you cannot directly transfer messages from android to iPhone or vice versa. For this, you have to use a third-party tool called the iTransor tool.
The iTransor tool uses three steps to create a backup, restore, and export WhatsApp file between Android and iPhone. Here are the steps mentioned below.
The First step is to connect your device to the computer and open the program. Your device will be detected automatically by computer.
The next step is to transfer WhatsApp. This time you will be asked to select the type of WhatsApp that you want to transfer. You can search for the latest backup store on your android phone or iPhone. During this process all messages, audio, videos, documents and images will be transferred.
After the data is transferred your device will restart. And you will be able to see your WhatsApp data on your destination device.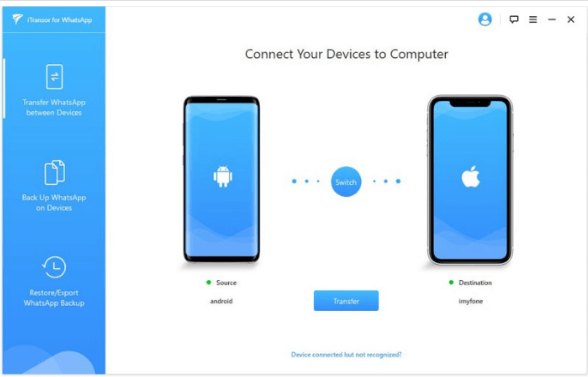 FAQs about WhatsApp Backup
How can I recover my 1-year-old WhatsApp without backup?
If you don't have any WhatsApp backup stored in your account or device. Still, you can recover your 1-year-old WhatsApp without backup by using a recovery tool. Different tools are available such as Monimaster. Tenor share data recovery etc. these tools can help you to recover 1-year-old messages.
Are deleted WhatsApp messages gone forever?
No. if you delete a WhatsApp message. It doesn't mean that these messages are gone forever. You can still recover it in many ways. Such as for backup stored in iCloud or google drive account or in local storage. And you can restore it from there.
Where do deleted WhatsApp messages go?
WhatsApp does not have any recycle bin that will store the deleted file. But it creates backups after a specific interval of time as allowed by the user. Such as daily, weekly, and monthly backup. So when you delete a message, it removes it from the database but is stored in a backup file. So go to WhatsApp and then Database file. There you will see it.
Can I merge two WhatsApp accounts?
Till now, it is not possible to merge two WhatsApp accounts. As the app does not offer this facility. Besides this, there may be a chance of data loss. So you cannot merge two WhatsApp Accounts. However, you can transfer data from one device to another device in the predefined methods mentioned above.
Will I lose WhatsApp conversations if I change my phones?
If you change your phone, you will not lose your WhatsApp conversation. As WhatsApp allows you to transfer messages from one device to new one. in this article, we have discussed different ways how to transfer WhatsApp message to new phone. We discussed both android and iOS devices.
Conclusion
If you are changing your phone to the latest model but worried about your WhatsApp conversation. There is nothing to worry about. You can transfer WhatsApp message to new phone in the different methods mentioned above. Also, you can get access to WhatsApp messages and other web activities of any target device using MoniMaster.