Question:
Can you record a phone call on iPhone?
Learn how to record phone calls on your iPhone with four different methods, including call recording apps and advanced techniques. Discover how to listen to phone calls and live surroundings for a comprehensive guide on gaining more control over your iPhone. Unlock its full potential now!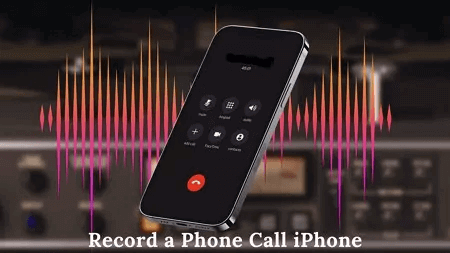 How to Record a Phone Call on iPhone?
1. Google Voice
We begin our journey by exploring the effectiveness of Google Voice as a versatile solution. Here is how to record a phone call on iPhone free using Google Voice:
Activate Google Voice: Begin by signing up for a Google Voice account and linking it to your iPhone.


Adjust Settings:  Access the Google Voice settings and enable call recording.


Initiate Call Recording:  During a call, press "4" to start recording; an announcement will notify all parties.


Access Recordings:  Recordings are saved to your Google Voice account, accessible online.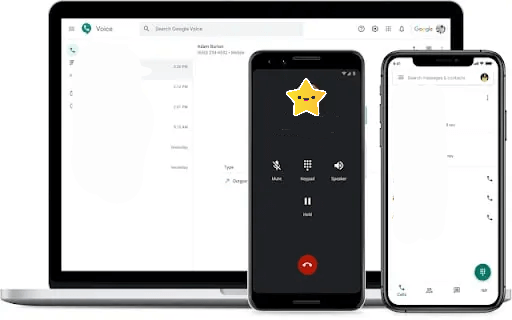 Pros:
Free to use.


User-friendly interface.


Cloud storage for recordings.
Cons:
Call recording notification may be audible to all parties.


Quality may vary based on network conditions.


Limited customization options.
2.  Voice Memos
As iPhones continue to evolve, so do the ingenious ways to harness their capabilities. Among them, the pre-installed Voice Memos app emerges as a discreet yet potent tool for recording phone conversations.
Locate Voice Memos: Find the Voice Memos app on your iPhone's home screen.


Initiate Recording: Launch the app and tap the red record button to start capturing audio.


Phone Call Recording: During a call, activate the Voice Memos app and begin recording simultaneously.


Save and Organize: Once the call concludes, stop the recording and label it for easy retrieval.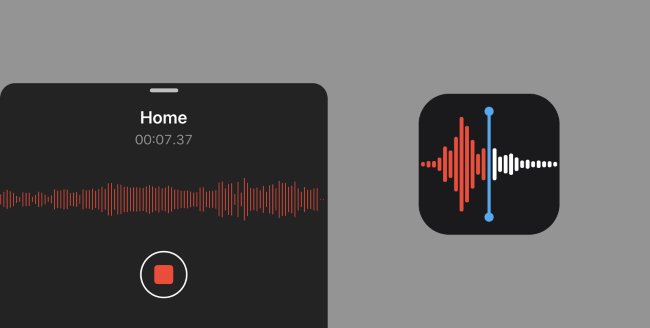 Pros:
Seamless integration, no additional downloads required.


Simplistic user interface.


Easy access to all recordings.
Cons:
Limited to audio recording only.


Call recording process might not be discreet.


Quality influenced by microphone sensitivity.
3. Use a Mac with QuickTime
When it comes to innovation, Apple's ecosystem continues to offer ingenious solutions. Employing your Mac in tandem with QuickTime Player introduces a powerful method for recording phone conversations.
Connect iPhone to Mac: Use a USB cable to link your iPhone to your Mac.


Open QuickTime Player: Launch QuickTime Player from your Mac's Applications folder.


New Audio Recording: In QuickTime, select "File" and choose "New Audio Recording."


Configure Input Source: Click the arrow next to the record button and choose your iPhone as the audio input.


Commence Recording: Start the call on your iPhone, then hit QuickTime's record button.


Save Recording: Once the call concludes, stop the recording and save the audio file.
Pros:
High audio quality and customizable settings.


Seamless synchronization with your Mac.


Option to edit and enhance recordings.
Cons:
Necessitates a Mac and a USB cable.


Process may be less intuitive for beginners.


Limited to Mac users.
Leverage the power of your Mac and QuickTime Player to capture phone conversations with unmatched precision and clarity.
4. Use Screen Recording Feature
In a world where innovation knows no bounds, iPhones continue to surprise us with their hidden capabilities. The Screen Recording feature, nestled within the device, presents a unique approach to record a phone call on iPhone that captures both audio and visual elements.
Enable Control Center Access: Navigate to "Settings," "Control Center," and "Customize Controls" to add Screen Recording.


Access Control Center: Swipe down (iPhone X or later) or up (iPhone 8 or earlier) to open the Control Center.


Initiate Recording: Long-press or 3D Touch the record button in the Control Center.


Capture Audio: Tap the microphone icon to enable audio recording.


Start Call Recording: Open the call screen, dial your contact, then begin the screen recording.


End Recording: Conclude the call and stop the screen recording from the Control Center.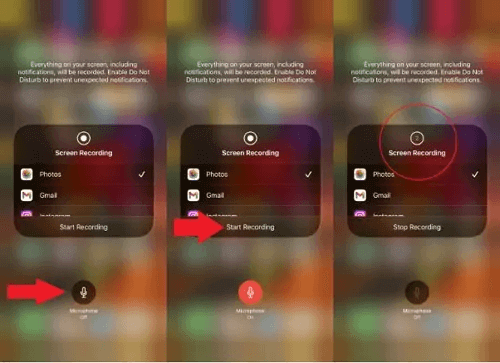 Pros:
Captures both audio and visual aspects.


No need for third-party apps.


Convenient access via Control Center.
Cons:
Audio quality may vary based on microphone sensitivity.


Screen recording indicators may be visible to all parties.


Larger file sizes due to video recording.
Unlock the dual power of audio and visual recording with your iPhone's Screen Recording feature.
Use Call Recording Apps to Record a Phone Call on iPhone
1. TapeACall
In the realm of call recording, dedicated apps like TapeACall have emerged as a beacon of convenience, transforming your iPhone into a versatile tool for capturing conversations effortlessly.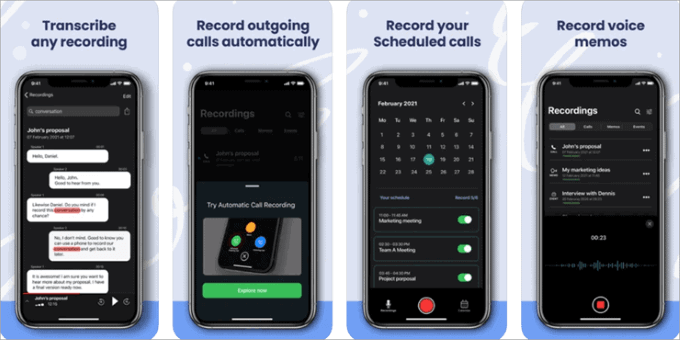 Pros:
Seamless Integration: TapeACall seamlessly integrates with your phone's native calling app, ensuring a user-friendly experience.


Easy Recording:  Initiating recording is as simple as pressing a button mid-call.


Cloud Storage:  Recordings can be securely stored in the cloud, saving valuable device space.


Playback and Sharing: Access, playback, and share recordings conveniently within the app.
Cons:
Subscription-Based: While a free trial is available, access to full features may require a subscription.


Internet Connection: Quality might be influenced by network conditions.


Legality Concerns: Check local laws and regulations regarding call recording.
TapeACall empowers you to effortlessly preserve conversations with remarkable ease.
2. Rev Call Recorder
Embarking on the quest for the perfect call recording app, we encounter Rev Call Recorder, a dynamic tool designed to elevate your iPhone's communication prowess.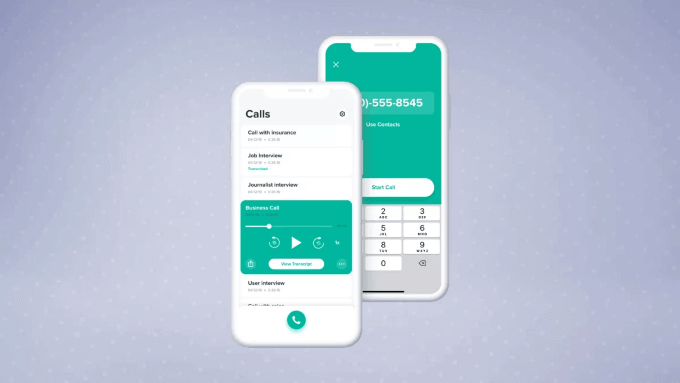 Pros:
Crystal-Clear Quality: Rev Call Recorder boasts high-quality audio capture, ensuring every word is preserved in pristine clarity.


Transcription Services: Seamlessly convert recorded calls into text transcripts for easy reference and sharing.


User-Friendly Interface: Intuitive design simplifies the recording process, catering to users of all levels.


Secure Storage: Recordings are stored securely in the cloud, safeguarding your valuable conversations.
Cons:
Subscription Model: Premium features may require a subscription, although a trial period is available.


Internet Dependence: Relies on a stable internet connection for optimal performance.


Regional Restrictions: Availability may vary based on your geographical location.
Rev Call Recorder emerges as a versatile companion in your call recording endeavors.
How to Listen to Phone Calls and Live Surrounding?
In an era driven by technological innovation, MoniMaster emerges as a powerful and comprehensive monitoring solution, designed to empower users with insights into device activity. Whether for parental oversight or ensuring data security, MoniMaster offers a range of features to enhance your control over Android and iOS devices.
Features:
Call Monitoring:
Gain the ability to check call history online in real-time, fostering a deeper understanding of communication patterns.
Message Tracking:
 Access text messages and chat histories, providing a holistic view of digital conversations.
App Management:
 Supervise app usage, granting you the power to regulate screen time and content consumption.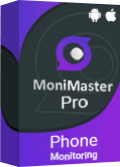 Location Tracking:
 Pinpoint the device's location, fostering a sense of security and awareness.
Live Surrounding Monitoring:
 Record audio from the surrounding environment of the target device, and real-time phone surrounding live of the screen to ensure a safe digital environment.
Data Privacy:
 MoniMaster emphasizes data security, ensuring your monitoring activities remain discreet and protected.
MoniMaster for Android embodies a new era of control and transparency, enabling users to harness the potential of monitoring technology for a variety of purposes, from safeguarding loved ones to optimizing device usage.
How to Use MoniMaster for Android?
Step 1. Download and Install:
Begin by visiting the official MoniMaster website and downloading the Android version. Download and set up the application on the intended device.
Step 2. Grant Permissions:
Follow the on-screen instructions to grant the required permissions for MoniMaster to function effectively.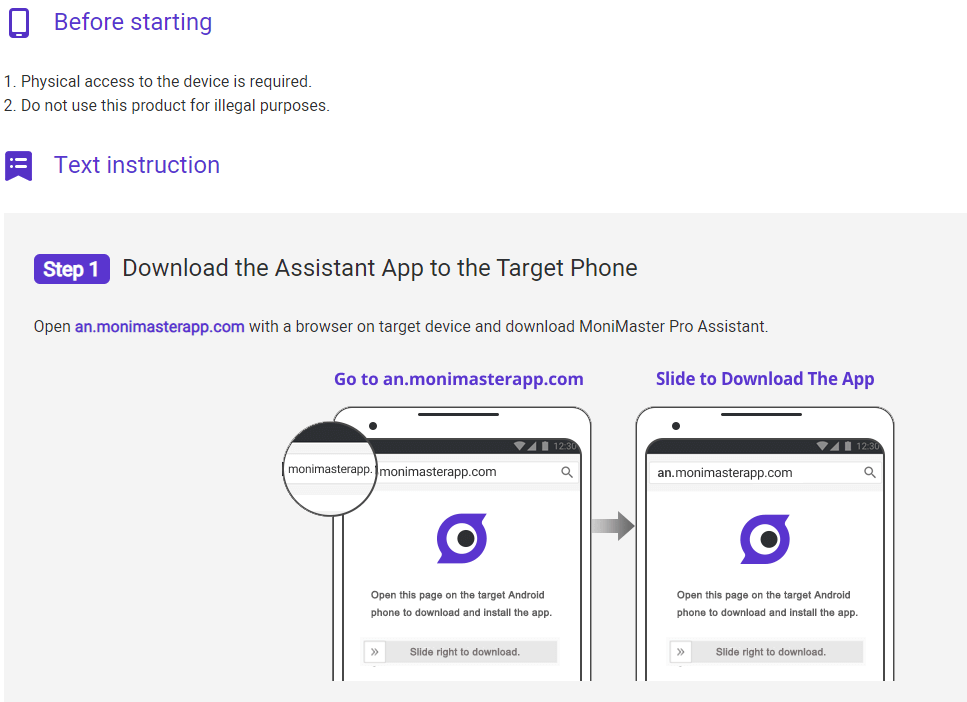 Step 3. Real-time Call Listening:
To listen to phone calls, navigate to the call monitoring feature in the dashboard and initiate live call listening.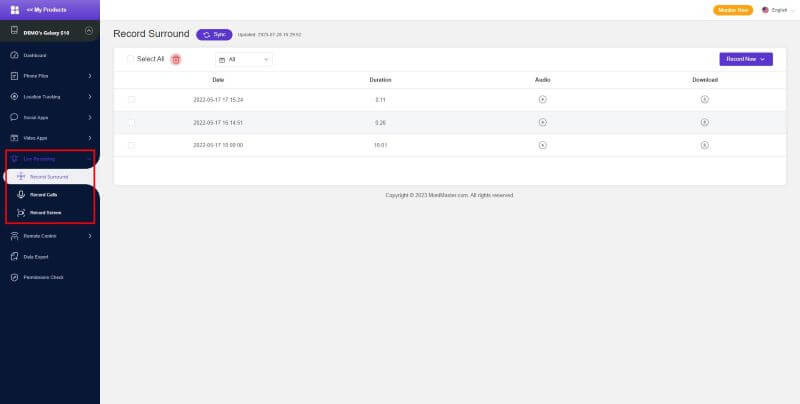 Conclusion
Discover a world of call recording possibilities with our comprehensive guide. From utilizing built-in iPhone features to dedicated apps like TapeACall and Rev Call Recorder, we've unraveled diverse methods. For Android users seeking enhanced control, MoniMaster offers an all-in-one solution, empowering you to listen to calls, track messages, and more. Elevate your device experience with MoniMaster today.