Losing track of your iPhone can be a heart-stopping moment in our tech-driven lives. "Where's My iPhone: How to track a cell phone location for free using Google Maps and other methods" delves into the lifesaving capabilities of Apple's Find My iPhone feature.
Have you ever wondered how you can effortlessly locate your device or ensure your data remains secure, even when your iPhone seems to have vanished into thin air? Let's unravel the mystery behind this invaluable tool.
How to Track Someone's Phone by Find My iPhone?
1. Enable Find My iPhone in Settings:
In an age where our smartphones have become extensions of ourselves, ensuring their security is paramount. The Find My iPhone feature, a marvel of modern technology, empowers us to keep tabs on our devices like never before.
Launch the Settings app and scroll down to tap on your Apple ID banner.


Then, proceed to choose "Find My" followed by "Find My iPhone."


Toggle on the "Find My iPhone" and "Send Last Location" switches.


By enabling this feature, you're setting the stage for precise location tracking and increased chances of finding a lost iPhone or stolen device.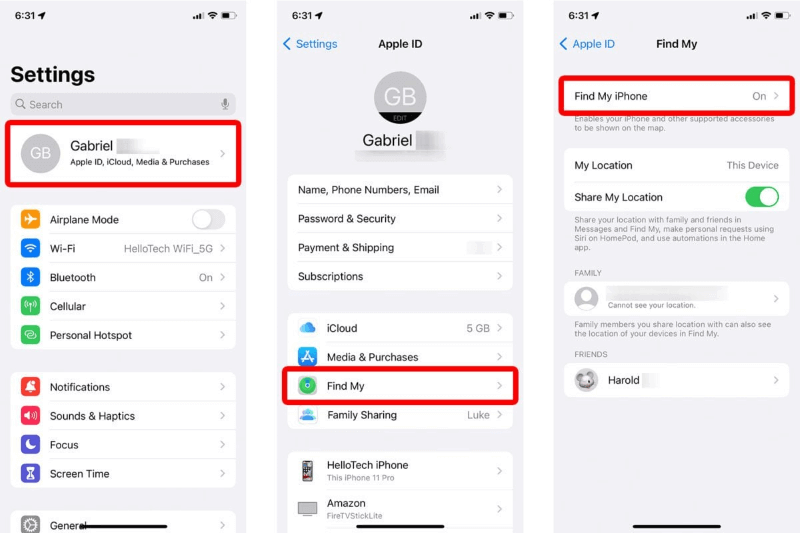 Remember, preparation is key, and with Find My iPhone at your side, you're arming yourself with a powerful tool to locate your phone or assist others in finding theirs.
2. Use Find My iPhone on Web
When it comes to finding a lost or stolen iPhone, the web becomes your ally through the Find My iPhone feature. This online interface expands the reach of your search, making tracking a seamless experience. Here is how to track someones phone without them knowing using find my iPhone on web:
Launch your preferred web browser and visit the iCloud website (www.icloud.com). Sign in utilizing your Apple ID information.


Once you're logged in, locate and click on the "Find iPhone" icon. This will initiate the Find My iPhone web app.


The web interface will display a map with the locations of all your Apple devices. Select your missing iPhone from the list of devices.


With your device selected, an "Actions" menu will appear on the screen.


Depending on your device's status, you can track its movements in real-time or take necessary actions to safeguard your data.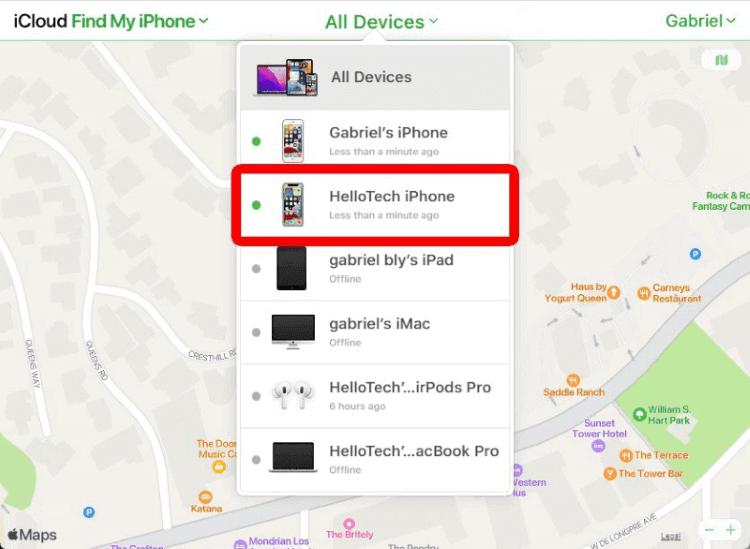 3. Use the Find My App to Track Someones Phone
The Find My App introduces a seamless and user-friendly way to track someone's phone, adding a layer of reassurance to our interconnected lives. Here is how to track a cell phone location for free:
On your iOS device, open the Find My App. If not pre-installed, you can download it from the App Store.


Sign in utilizing your Apple ID information. The app will display a map with the locations of devices associated with your Apple ID.


Select the "People" tab located at the screen's bottom. Here, you'll discover a roster of individuals who've shared their location with you. Select the person whose phone you want to track.


The app will display the person's location on the map. You can zoom in to get a detailed view. It's worth noting that the person must have shared their location with you for this feature to work.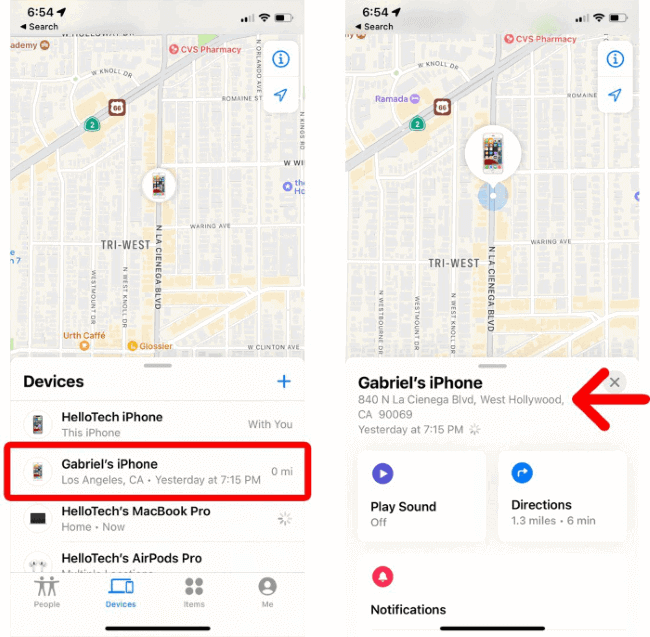 4. Track Cell Phone Location Free - Google Maps
In a world where smartphones are our constant companions, harnessing the power of Google Maps for tracking cell phone locations has become a game-changer. Here is how to track cell phone location free google maps:
Open the Google Maps app on your device. If not installed, download it from your app store.


Sign in with your Google account. Tap the menu icon (three horizontal lines) situated at the top-left corner, then choose "Location sharing."


Choose the contact you want to share your location with or request location sharing from.


Specify the duration for which you want to share your location. You can also choose the level of accuracy and whether to share in real-time or until you manually stop sharing.


The recipient will receive a notification and a link to view your real-time location on Google Maps.
How To Erase iPhone Via Find My?
Misplacing your iPhone can be unnerving, especially when sensitive information is at stake. Fortunately, the Find My feature not only helps you locate your device but also empowers you to take proactive steps to protect your data.
Open the Find My app on another iOS device or access it through the iCloud website (www.icloud.com) on a computer.


Sign in utilizing your Apple ID information. Enhanced security through two-factor authentication might be necessary.


Choose the lost or stolen iPhone from the list of devices shown on the map.


Tap on the device's icon and then select "Erase iPhone." A confirmation prompt will appear.


Confirm your decision to erase the device. Keep in mind that this action is irreversible and will delete all data on the iPhone.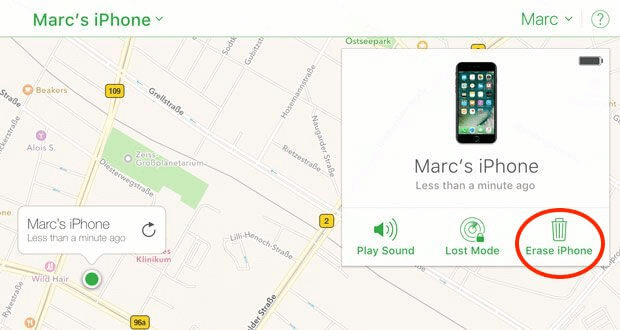 Whether your device is out of reach, or you suspect it's fallen into the wrong hands, this method ensures that your personal data remains under your control.
How to Track Phone Without Them Knowing?
In a world where digital privacy is paramount, the ability to discreetly track a phone can be valuable for various reasons. MoniMaster is a comprehensive monitoring tool designed to provide discreet insights into iPhone activities.
It offers a range of features that operate stealthily, ensuring that the target user remains unaware of the monitoring process.
Some key capabilities include:
Message and Call Monitoring:
Gain access to text messages, iMessages, call logs, and even deleted messages, allowing you to track communication patterns discreetly.
Location Tracking:
 Trace mobile number current location and view location history, enabling you to ensure the safety of loved ones or track the whereabouts of a lost phone.
App and Web Activity:
 View a comprehensive list of apps used, websites visited, and media files shared, providing insights into the user's digital behavior.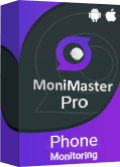 Social Media Monitoring:
 Keep an eye on social media interactions, posts, and messages on platforms like WhatsApp, Kik, and more. You can see WhatsApp deleted messages on iPhone.
Undetectable Operation:
 MoniMaster operates discreetly in the background, ensuring that the user remains unaware of the monitoring activities.
Whether for parental control or security reasons, this tool provides the insights needed while respecting privacy boundaries.
How to Use MoniMaster for iOS?
Step 1. Purchase a MoniMaster plan:
Click on the "Join Now" button and select a plan that best fits your requirements. Provide the necessary information to complete the purchase process.
Step 2. Complete the configuration process:
Go to the "My Products" page, where you will find the plan you have purchased. Locate the "Setup Guide" button associated with your plan and click on it.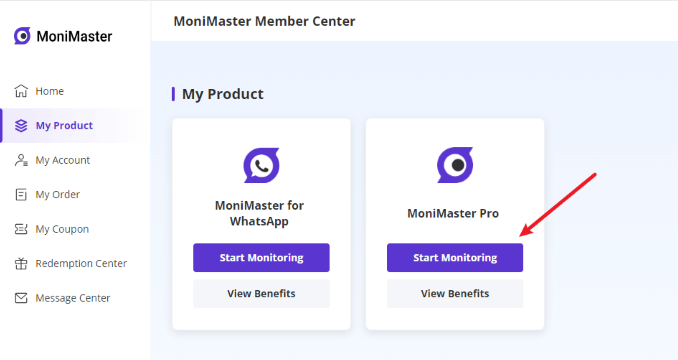 Step 3.Start monitoring:
Once setup successfully, MoniMaster will sync and display the iPhone's data. Explore messages, calls, locations, apps, and more.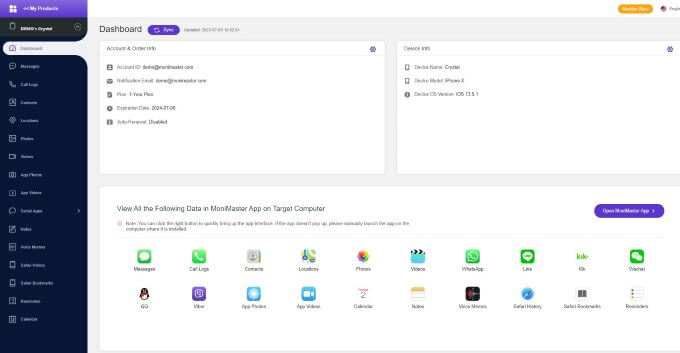 FAQs about Where's My iPhone
No, tracking is not possible when the iPhone is switched off as it requires a connection to transmit location data. But to find a stolen phone, use third-party tracking apps. MoniMaster Android Monitoring is the best app to track your phone, even if it's switched off.
Question:
2. Can I Find My iPhone using Google?
No, Find My iPhone is an Apple service. Google's Find My Device is for Android devices.
Tracking by phone number is not supported. Use Apple's Find My service or dedicated tracking apps for accurate location tracking.
Conclusion
In a world where smartphones play a central role in our lives, the quest to track them discreetly has gained significance. MoniMaster emerges as a potent solution, offering comprehensive monitoring features while respecting privacy boundaries. Safeguard your loved ones and gain insights effortlessly with MoniMaster's discreet capabilities.